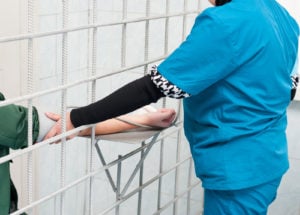 What Is a Correctional Nurse?
As the first healthcare provider that a prisoner comes into contact with, the Correctional Nurse is responsible for the initial prisoner assessment and determining whether the offender needs to be transferred to a more intensive level of care, often outside the correctional facility. Traumatic injuries, mental health, and communicable diseases are common in this setting and the nurse is often sought to stabilize the prisoner until they can be transferred. Managing chronic conditions and medication administration is another key aspect of the role.
Becoming a Correctional Nurse
To be considered as a good candidate for a correctional nursing position, it's important to make sure your credentials and experience are in order. After all, this isn't the easiest nursing assignment on the roster. Generally, an individual will have to have considerable experience as well as specialized correctional training in order to be deemed competitive.
What Are the Education Requirements for a Correctional Nurse?
With a college or university degree that leads either to an ADN or BSN, nurses become eligible to sit their state's NCLEX-RN examination which qualifies them to use the title Registered Nurse or RN. These requirements are a minimum for consideration for the role, though BSN credentials are preferred.
Any Certifications or Credentials Needed?
Ideal credentials for Correctional nurses often require experience and appropriate certification or professional development in Emergency nursing, Medical-Surgical nursing, and an interest in corrections work. Because of the intensity of this position, newly licensed nurses should be wary of taking on a position in this field without prior hospital experience. In many situations the nurse is the only healthcare professional on-site and must be able to map out the appropriate course of action, with adequate safety measures, as well as consideration of the therapeutic role of nursing in a corrections setting - all without consulting a physician. Nurses in corrections settings must also have a deep understanding of the mental health and social perceptions and biases at work in offenders, as well as an understanding of prison culture, norms and procedures.
The National Commission on Correctional Healthcare (NCCHC) offers the CCHP-RN certification in correctional nursing.
Eligibility requirements for the CCHP-RN include:
Current CCHP certification
Current, active RN license within a U.S. state (for Canada and U.S. territories, credentials will be reviewed on a case-by-case basis); the license must not be restricted to practice in correctional settings only
Equivalent of two years full-time practice as a registered nurse
2,000 hours of practice in a correctional setting within the last three years
54 hours of continuing education in nursing, with 18 specific to correctional health care, within the last three years
Where Do Correctional Nurses Work?
Typically, Correctional nurses work in jails and penitentiaries, juvenile facilities, and secure group homes for young offenders. Correctional nurses may be employed by the state, or through third-party contractors that provide correctional services to the state.
What Does a Correctional Nurse Do?
The Correctional or prison nurse, works with juveniles and adults who have become a part of the correctional system. Required to be the first-on-scene healthcare provider, it's important to recognize that the correctional nurse is working with limited resources in a potentially dangerous situation. Like other environments, providing quality healthcare is of high priority, however it is balanced with the need to maintain facility security and public safety. Correctional nurses must work closely with Correctional Officers to ensure the safety of all.
What Are the Roles & Duties of a Correctional Nurse?
Assume charge nurse duties in lieu of supplementary staff
Rely on evidence-based findings and sound ethical judgement to meet patient needs
Ensure compliance with established standards of the facility in question
Ensure that information is conveyed to appropriate personnel regarding patient/offenders
Monitor treatment ensure that patient/inmate exploitation of facilities and procedures does not occur
Work to improve cost effectiveness without sacrificing safety or security
Manage physical safety requirements for patient/offenders and corrections staff
Provide other services and duties as assigned by charge nurse or supervisor
Maintain records of medications, patient records and supplies in accordance with the facility procedures and state regulations
Provide health counseling to patient/offenders
Provide a mental health referral to patient/offenders
Provide an initial diagnosis and treatment for some illnesses and injuries as approved
Adopt a therapeutic approach to promote and restore patient/offender well being
Correctional Nurse Salary & Employment
Both corrections and nursing are fields that are projected to experience rapid growth throughout the next decade. As long as incarceration is in existence, having nurses that serve this population will be a requirement. Correctional nurses make an average salary of about $68,000 as surveyed by Indeed.com - this is determined by the state in which they work and their qualifications. Years of experience, additional certifications and type of correctional facility can influence salary and opportunities for advancement.
Helpful Organizations, Societies, and Agencies
Estelle vs Gamble (1976)*
*Please note that RegisteredNursing.org has established a general practice of not including case law as reference material for nurses and students throughout its resources, however, given the vulnerable nature of incarcerated offenders as well as their generally poorer health outcomes due to a variety of factors, we made the decision to include as reference a 1976 Supreme Court case that has had immeasurable impact on the patient/inmates and the field of correctional nursing.
Correctional Nurse FAQs
Because working with inmates can be high-risk, correctional nurses must take special precautions to stay safe on the job.
One risk that is more prevalent in correctional facilities is communicable diseases. There is a higher risk for bloodborne pathogen exposure such as Hepatitis B and C, HIV, and even tuberculosis. Nurses can stay safe by always using gloves, masks, goggles, and other personal protective equipment when there is a risk of exposure. Routine tuberculosis screening is also required, but nurses should be aware of the signs and symptoms of TB and report them immediately.
Nurses are also at risk of physical injury. Many inmates have mental illnesses or are violent criminals. Nurses should always be on alert to stay safe. They should never turn their back on an inmate, and always have access to an exit, alarm, or communication device. Correctional officers should accompany nurses for added protection.
While nurses should always act respectful and professional on the job, it's especially important in the correctional setting. Some inmates might react if they perceive the nurse as disrespectful or condescending.
Nurses should also keep tabs on equipment. Stethoscopes, bandage scissors, even ink pens can be used as weapons. Some of these items are necessary to perform nursing care, which is why nurses should always stay alert.