Nurse Attorney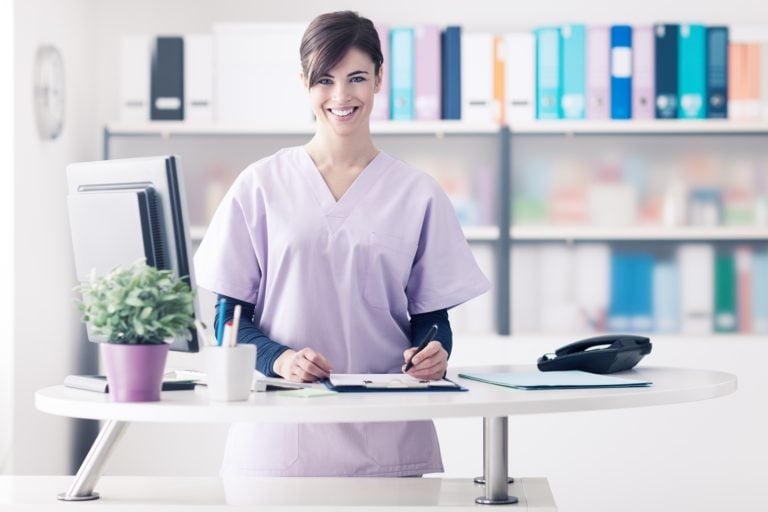 What Is a Nurse Attorney?
Nurse attorneys are licensed as both registered nurses and attorneys. This dual role allows them to integrate law into their healthcare practice or organization, or address healthcare concerns in their law practice. Healthcare cannot be delivered without laws governing practice and regulations to ensure safe patient care. In the complex world of healthcare, more and more crossover is seen between the two entities.
Becoming a Nurse Attorney
A strong interest in both law and healthcare leads many to become nurse attorneys. Whether one starts out in the medical field or the law field, becoming a nurse attorney requires the completion of both a law degree and a nursing degree, and many choose to work in one field to gain experience while pursuing the additional degree.
What Are the Education Requirements for a Nurse Attorney?
Those interested in becoming a nurse attorney should first pursue a nursing degree through a two- or four-year university. Obtaining an associate's degree (ADN) or bachelor's degree (BSN) in nursing is required.
After completion of an accredited nursing program, successful completion of the NCLEX-RN is required for licensure.
Nurses interested in law usually choose to work in the healthcare field for a few years before pursuing their law degree. Completion of the Law School Admissions Test (LSAT) is required before applying to a law school. Admission requirements for most law schools include:
A bachelor's degree from an accredited university (law-specific degree is not required)
Completion of the LSAT
A "personal statement" outlining the individual's personality/characteristics
Letters of recommendation
Completion of the application packet (or online)
Law school can take two to three years to complete. After graduating with a Juris Doctor (JD) degree, successful completion of the state's Bar Exam is necessary to be licensed.
Any Certifications or Credentials Needed?
Generally, a nursing degree and a license to practice law is all that is required to be a nurse attorney. However, obtaining certification in specialties of interest may help if a nurse attorney wishes to focus on a specific patient population. For example, certification in gerontology can help the practice of a nurse attorney in life care planning or completing advanced directives for aging patients.
Where Do Nurse Attorneys Work?
Nurse attorneys can work in either legal or healthcare settings. In legal settings, they may work in:
Law firms
Private practice
Insurance companies
Government bodies
Freelance writing, publishing, or consulting (focus on law/litigation)
In the healthcare setting, nurse attorneys can work in:
Hospitals
Clinics
Education
Freelance writing, publishing, or consulting (focus on healthcare)
What Does a Nurse Attorney Do?
By having the role of both nurse and attorney, nurse attorneys have a multitude of duties and roles. The roles also cross over, as both healthcare and law can often be intertwined. Their knowledge of healthcare and disease processes can assist in malpractice cases, while their knowledge of law can help medical personnel work safely and within their scope of practice.
What Are the Roles & Duties of a Nurse Attorney?
From defending providers in malpractice cases to lobbying for healthcare reform, nurse attorneys have many opportunities to utilize their skills in both worlds. Duties may include:
Represent healthcare providers in malpractice cases
Serve as an expert witness
Assist in personal injury or workers' compensation cases
Review medical records for insurance companies to resolve claims
Work with risk management departments in hospitals to ensure safe practices and healthcare policies are being followed
Educate healthcare staff on regulations surrounding their practice
Lobby for healthcare-related organizations to create change in healthcare delivery
Write for legal or medical journals
Nurse Attorney Salary & Employment
While the Bureau of Labor Statistics does not have information on nurse attorneys specifically, the field of nursing is expected to grow 16 percent through 2024, while the job outlook for attorneys is expected to grow 6 percent in the same time frame. This projection, along with the opportunity for nurse attorneys to operate their own business and set their own wages, makes it an attractive career choice.
According to indeed.com, the average annual salary for an attorney is $94,615*, while the average salary for a registered nurse is $71,095 annually*. These values are dependent of state/city of employment or if the nurse attorney is self-employed.
* as of 7/5/2017
Helpful Organizations, Societies, & Agencies