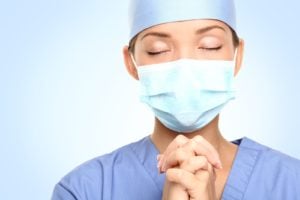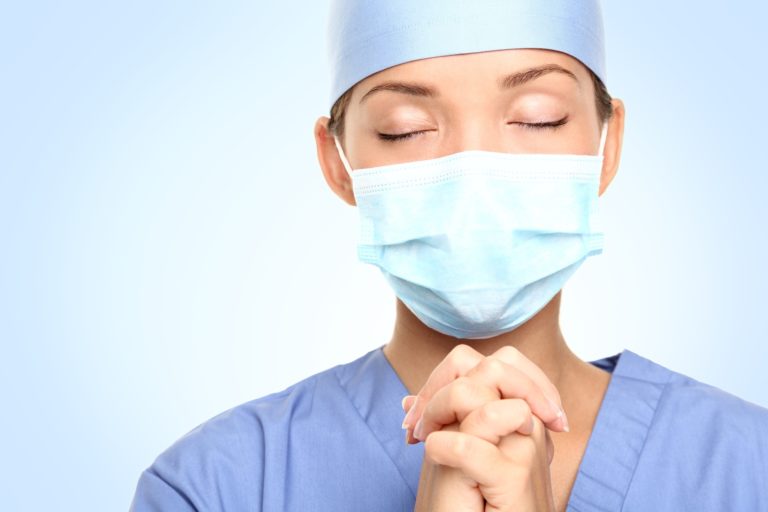 What Is a Parish Nurse?
A parish nurse, also known as a faith community nurse, is a nurse who cares for members of a parish or faith community. They integrate faith and healing to promote wellness within the community they serve.
It is a relatively new specialty of nursing, beginning in the 1980s in Chicago. According to the Health Ministries Association, it was officially recognized as a specialty in 1998 by the American Nurses Association. Scope and standards of practice for faith community nurses were first published at that time as well.
Becoming a Parish Nurse
A parish nurse should have a keen sense of community, the desire to help others, and have an unshakeable foundation and knowledge in their spiritual beliefs. As with any nurse, they must demonstrate compassion and patience with the community they serve. Since parish nursing can be emotionally demanding, nurses should be able to adequately handle stress and emotionally draining situations and have a dedicated support system of their own.
What Are the Education Requirements for a Parish Nurse?
Those interested in the specialty of parish nursing should first pursue a nursing degree through a two or four-year university. Obtaining an Associate's Degree in Nursing (ADN) or a Bachelor's of Science in Nursing (BSN) degree is required. Many organizations prefer BSN-educated nurses, as they complete training in community/public health, which is a large component of parish nursing.
After completion of an accredited nursing program, successful completion of the NCLEX-RN is required for licensure.
Are Any Certifications or Credentials Needed?
While certifications/credentials are not required for parish nurses, there are a few ways that a parish nurse can gain authority in the field.
The American Nurses Credentialing Center (ANCC) has offered a registered nurse-board certified (RN-BC) in faith community nursing in the past. However, this certification is now available for renewal only.
The Ministry of Church Health also offers courses in the field of parish nursing. Courses include:
Foundations of Faith Community Nursing

Entry-level knowledge of parish nursing
Prepares nurses for board certification through ANCC

Faith Community Nursing Coordinator Course

Prepares nurses for leadership/management positions
Also focuses on funding, communications, and documentation

Educator Course

Prepares nurses to teach the Foundations of Faith Community Nursing Course
Looking for parish nurse certification or need help finding a faith-based nursing school?
Where Do Parish Nurses Work?
Most parish nurses work in churches, but they can also work in social services agencies and hospitals. Most hospitals have chapels, chaplains, and other spiritual leaders available for patient care needs. Some hospitals are faith-based organizations as well. They can also work independently, providing spiritual guidance and healing to members of their faith community
What Does a Parish Nurse Do?
Parish nurses work similarly to holistic nurses- incorporating mind, body, and spirit to assist members of their community to heal and maintain overall health. Specifically, parish nurses may:
Provide preventive health screenings
Visit members of their parish in homes or hospitals
Counsel parishioners on medical or health issues
Volunteer in various community service establishments (shelter, soup kitchens, etc.)
Provide community resources to parishioners
Educate patients on preventive health/health maintenance
Lead support groups
What Are the Roles & Duties of a Parish Nurse?
Parish nurses take a holistic approach to health and wellness, to include spiritual wellness. Roles and duties include:
Providing spiritual support to patients when faced with difficult health issues
Serving as a liaison between patients, the community, and members of the health care team
Mentoring volunteers and other members of their parish
Starting up support groups
Serving as a patient advocate/resource person
Educating patients on the importance of faith in relation to health and wellness
Parish Nurse Salary & Employment
While there is no published data specifically describing parish nursing, the field of nursing is expected to grow 16% by 2024, according to the U.S. Bureau of Labor Statistics. This is a much faster than average growth, and it is possible that faith community/parish nursing is included.
While there is no published information specifically on parish nurse salary, indeed.com reports the average salary for registered nurses, in general, is $71,081 annually. This figure may vary depending on city and state of employment, any certifications held, and the organization.
Helpful Organizations, Societies, & Agencies
Parish Nurse FAQs
Parish nurses are unique in that they employ faith to promote healing and wellness within a community. Certification is not always required. However, it does demonstrate that the nurse has extended education in faith and healing and is trained in addressing the needs of the body, mind, and spirit as a whole.
While certification as a parish nurse is not usually required, it's beneficial for nurses who are interested in parish nursing to take courses to become certified. For the most part, general nursing focuses on the body. Parish nursing focuses on the mind and spirit.
There are several colleges that offer courses in Parish Nursing. For example, Concordia University Wisconsin offers certification to nurses as well as non-degree and graduate students. Students can attend in-person workshops, conferences, or take Christian Caregiving courses.
Shenandoah University also offers Faith Community nursing courses. The program is mainly online, with two face-to-face visits required. Nurses can earn 40 continuing education courses.
West Virginia University has a Faith Community Nursing course as well. Most of the course is online, with one optional on-campus visit available.
A parish nurse in a church acts as a liaison between the medical needs of the congregation while considering the spiritual impact. For example, the parish nurse can advise on health matters such as immunizations or blood transfusions as it relates to the particular beliefs of the religion.
Contrary to common belief, the role of the faith community nurse is not just in the Catholic or Christian faiths. Specifically, nurses can serve as a Jewish Congregational Nurse or Muslim Crescent Nurse. Nurses are serving in this spiritual capacity all over the world with over 15,000 registered nurses in the specialty field. In 2005, the American Nurses Association approved the Scope and Standards of Practice for Faith Community Nursing.
Parish nurses also serve their congregation by making home visits to home-bound members or those in the church who are ill to act as an advocate and educator. Often times the parish nurse will manage the activities of the church volunteers. It is not the intent of the role of the parish nurse to provide direct medical care to members of the church, rather, the role is more of a health and spiritual translator.