Pain Management Nurse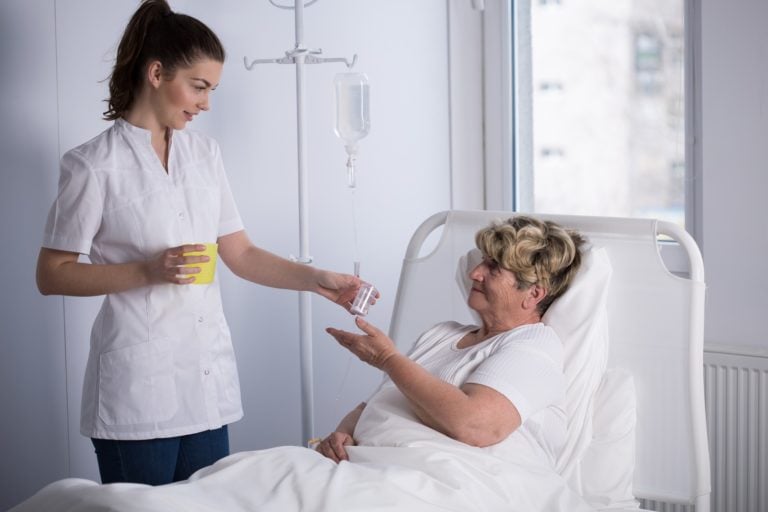 What Is a Pain Management Nurse?
Pain management nurses are registered nurses who specialize in the care of patients with chronic, sometimes debilitating pain. They are experts on pain management interventions and techniques.
In 2001, the Joint Commission on the Accreditation of Healthcare Organizations (JCAHO) introduced standards for healthcare providers to address pain assessment and management, to include more aggressive pain management such as opioid administration.
After about 10 years, the number of patients who developed opioid addictions/dependence skyrocketed. According to the American Society of Addiction Medicine, of the 20.5 million people with substance use disorder, 2 million had substance use disorder involving prescription pain medications. This epidemic led to healthcare providers finding alternative and safer pain management techniques, such as:
Acupuncture
Chiropractic medicine
Vitamin therapy
Stress/Relaxation techniques:

Yoga
Hypnotherapy
Guided imagery
Massage

Spinal blocks
Botox injections
Exercise/diet changes
Transcutaneous Electrical Nerve Simulator (TENS) units
In 2005, the American Nurses Association recognized pain management as a nursing specialty. Nurses working in pain management assist with patients who may suffer from the following:
Fibromyalgia
Diabetic nerve pain
Nerve/spinal injuries
Status post motor vehicle accidents
Chronic Headaches
Stroke pain
Radiculopathy
Degenerative disc disease
Cancer pain
Becoming a Pain Management Nurse
Nurses learn the basics of pain management in their accredited nursing programs. They are taught to assess pain, intervene per physician's orders, and evaluate the patient's response to pain. Pain management nurses are more specialized in that the patient population they serve are typically people suffering from chronic pain due to illness/disease. Pain management nurses should have top-notch assessment skills (to include non-verbal cues), enjoy teaching, and have lots of patience, as one pain management technique is not effective for every patient. Continuous assessment and reassessment may be needed.
What Are the Education Requirements for a Pain Management Nurse?
Those interested in the specialty of pain management should first pursue a nursing degree through a two or four-year university. Obtaining an Associate's Degree in Nursing (ADN) or a Bachelor's of Science in Nursing (BSN) degree is required. After completion of an accredited nursing program, an aspiring nurse must pass the NCLEX-RN examination, which is required for licensure.
In some healthcare organizations, a BSN degree is preferred. Nursing program graduates are encouraged to check each employment opportunity for minimum requirements.
Are Any Certifications or Credentials Needed?
The American Nurses Credentialing Center (ANCC) offers a Registered Nurse-Board Certified (RN-BC) credential in the specialty of Pain Management. Eligibility for credentialing includes:
Hold a current, active RN license
Have practiced the equivalent of two years full-time as a registered nurse
Have practiced in a nursing role that incorporates pain management (assessment, education, or research) for at least 2,000 hours in the prior three years
Have completed 30 hours of continuing education in the prior three years, with 15 hours related to pain management
The exam is computer-based, and is 175 questions. Certification is valid for five years.
Additionally, Advanced Cardiac Life Support (ACLS) and sedation certification may be required if invasive pain management procedures are performed.
Where Do Pain Management Nurses Work?
Pain management nurses can work in a variety of medical settings. As healthcare providers battle the opioid epidemic, more alternative pain management techniques are being employed in:
Hospitals
Outpatient clinics
Private medical offices
Rehabilitation facilities
Sports medicine
Oncology
What Does a Pain Management Nurse Do?
Pain management nurses are responsible for assessing patient care needs, implementing a treatment plan, and evaluating the response. Specifically, pain management nurses may:
Administer pain medications via various routes, i.e. intravenous, intramuscular, or intrathecal
Monitor patient receiving conscious sedation
Recover patients after receiving sedation
Review medical records
Assist physicians with invasive pain management techniques
What Are the Roles & Duties of a Pain Management Nurse?
Nurses specializing in pain management play an integral role in patients' recovery from injury, management of chronic illness, and overall well-being and quality of life. Roles and duties include:
Assessing individual medical and psychosocial patient care needs
Collaborating with physician to develop a plan of care
Assisting in implementation of treatment
Evaluating and documenting patient response to interventions
Educating patients and families on available treatments for them to make an informed decision
Demonstrating patience and empathy to patients who are suffering from pain
Pain Management Nurse Salary & Employment
While the Bureau of Labor Statistics does not have data specifically on pain management nurses, it does outline the job outlook for rehabilitation counselors, a field which is expected to grow 9% by 2024. This, along with the projected 16% growth by 2024 for registered nurses, indicates a promising career opportunity for pain management nurses.
According to indeed.com, pain management nurses earn an average salary of $101,295 annually. This figure may vary depending on city and state of employment, degrees or certification held, and the organization of employment.
Helpful Organizations, Societies, & Agencies