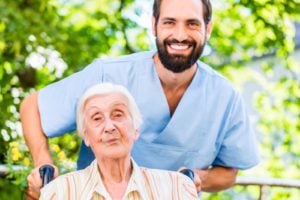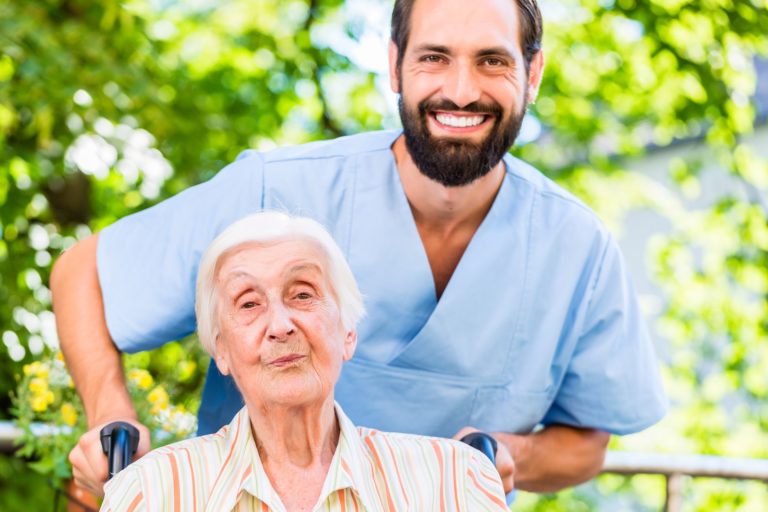 What is Geriatric Nursing?
Geriatric nurses specialize in the care of older patients and are a crucial part of the healthcare team in helping older adults maintain their mobility, independence, and quality of life. They are trained to anticipate the needs of aging adults and work closely with primary care physicians, attending physicians, social workers, and families to provide individualized care to elderly patients. Geriatric nurses focus on age-related diseases and health concerns, including the following:
Osteoporosis
Cancer
Stroke
Alzheimer's disease/dementia
Arthritis
Chronic pain
Poly-pharmacy
Medication tolerance
Falls
Nutritional deficiency
Impaired mobility
Incontinence
Geriatric nurses can also address psychosocial issues. Older adults may have impaired mobility that can result in feelings of loneliness, depression, and isolation. Mental health is as significant in geriatric patients as physical health. Additionally, abuse (physical, psychological, and financial) and neglect are a concern among the elderly. In fact, an estimated 4 million older adults experience abuse and neglect, according to the American Psychological Association, and geriatric nurses can work as advocates for them and provide them the resources they need.
Becoming a Geriatric Nurse
Those considering a position as a geriatric nurse should have experience and interest in caring for an aging population. These patients present a unique set of challenges and require a unique set of skills to address them. A nurse willing to act as an advocate, resource, and liaison is an added benefit.
What are the Education Requirements for a Geriatric Nurse?
Nursing students can begin their careers in geriatric nursing by completing courses in nursing programs. Many nursing schools have geriatric nursing modules that are incorporated into the program. Nursing students can also perform clinical rotations in healthcare facilities that specialize in geriatric nursing, such as skilled nursing facilities or geriatric-centered hospital units.
Any Certifications or Credentials Needed?
Practicing Registered Nurses can obtain certification in gerontological nursing. RNs must complete an examination for certification, which lasts five years. The American Nurses Credentialing Center (ANCC) offers certification for nurses who:
Currently hold an RN license
Have two years of full-time RN experience (or equivalent)
Have a minimum of 2,000 hours of clinical practice in the specialty of gerontological nursing within the last three years
Have completed 30 hours of continuing education in gerontological nursing in the last three years
Where Do Geriatric Nurses Work?
Geriatric nurses can work in a variety of healthcare settings such as:
Hospitals
Skilled nursing facilities
Nursing homes
Retirement centers
Memory care centers
Outpatient ambulatory care clinics
In-home care/ Home health
Clinical educators in healthcare facilities, universities, and community colleges
Case management (BSN-prepared RNs)
What Does a Geriatric Nurse Do?
Geriatric nurses are trained to anticipate the needs of an aging patient population, and possess the skills needed to act on their behalf.
What Are the Roles & Duties of a Geriatric Nurse?
The roles and duties of a geriatric nurse may include:
Patient education
Medication management
Liaison between patients, family, and care providers
Maintaining functional mobility
Maintaining psychosocial health
Bedside nursing care of geriatric patients
Geriatric Nurse Salary & Employment
While the field of nursing is rewarding in and of itself, specializing in geriatric nursing can be especially rewarding. In the United States, Baby Boomers are growing older and often account for more healthcare visits than younger Americans. This means the demand for geriatric nurses is increasing. The median salary for a geriatric nurse is $66,169 annually. However, salaries can vary depending on the state and city, years of experience, employer or facility, and degree and certifications held.
Helpful Organizations, Societies, and Agencies
Geriatric Nurse FAQs
As with any area of nursing, geriatric nursing presents a unique set of challenges. Perhaps one of the most significant challenges is death and dying. Aging patients are more prone to terminal illness, and facing the possibility of death is not only challenging for the patient and family, but nurses as well. Nurses also may go through the stages of grief and should be able to identify their coping mechanisms. Facing the issue of death and dying also brings up the nurse's feelings of mortality, which can lead to anxiety and depression.
Other issues such as dementia and cognitive decline, physical deterioration and loss of mobility that lead to falls, and other ailments that result in the loss of a geriatric patient's independence can be hard on all involved. Families must often make decisions regarding 24-hour care, whether it's with them or in a care facility, and geriatric nurses are usually the ones to provide resources for care.
Abuse and neglect are, unfortunately, prevalent among the aging populations. Regardless of the cause, geriatric nurses must be able to identify abuse and neglect and take the appropriate action to protect the patient. While abuse and neglect are prevalent, it still presents a challenge for nurses. It is painful and disheartening to witness abuse.