ICU Nurse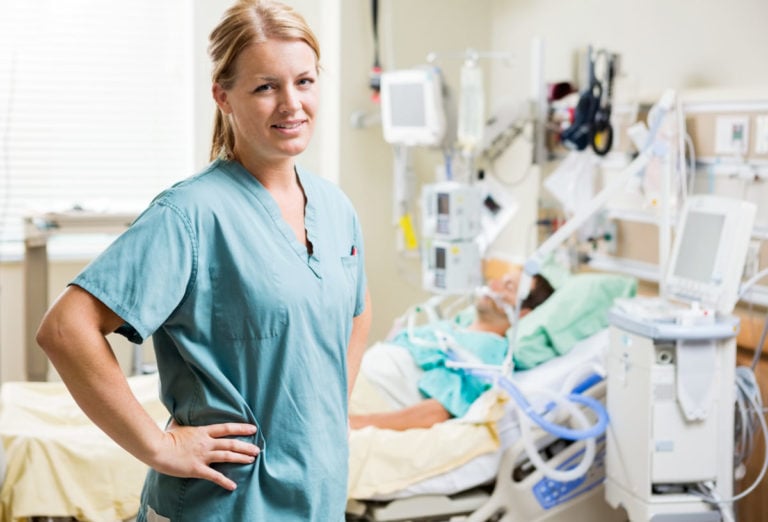 What Is an ICU Nurse?
Complex and challenging, Intensive Care (ICU) or critical care nursing requires an advanced technical skill set, a calm manner, and a postive life philosophy. ICU nurses provide care for life-threatening medical conditions and injuries and may work with patients from the neonatal ward to seniors. These patients have often experienced traumatic illnesses or accidents. The role is complex, as ICU nurses work to maintain and restore health to patients through careful management of their various bodily systems. Many nurses choose to specialize in working with a particular segment of the population. ICU nurses require excellent communication and leadership abilities, as well as the capacity to carry out complex directions.
What's the Difference Between an ICU Nurse and Floor Nurse?
A patient admitted to the floor, meaning medical-surgical, orthopedics, or other specialty, is considered to have a stable condition or disease process, which may or may not deteriorate to unstable.
If the floor patient's condition deteriorates, the ICU team responds rapidly and appropriately to stabilize the patient's condition; the patient may be transferred to the ICU for closer monitoring.
ICU nurses care for patients who are considered unstable. This means either they have an unstable respiratory system or cardiovascular system, or have a high likelihood of one or both of these systems becoming unstable and require closer monitoring.
ICU interventions such as intubation, starting vasopressors, or pacing a patient's heart (among other interventions, which are highly situation-dependent) may be initialized quickly and efficiently due to the higher level of care in the ICU.
What Are Common ICU Standards of Care
ICU standards of care are guided by the hospital's policies and procedures and by the American Association of Critical Care Nurses (AACN). Generally accepted standards of practice include:
Check and record vital signs every hour
Head-to-toe assessment and documentation every 4 hours
Lab draws usually at least daily
Repositioning and skin integrity check every 2 hours
Wound care every shift
Frequent evaluation of continuous telemetry monitoring
Constant critical thinking to determine worst case scenarios for each bodily system and systematic preparation for each scenario
There are some interventions that are practiced much more often by ICU nurses, and may include administering vasoactive drugs for hemodynamic instability, hypothermia protocol after a cardiac arrest, intubation for respiratory failure, CPR, performing Advanced Cardiac Life Support (ACLS), and others.
Becoming an ICU Nurse
Nurses with a love for data and management of a single patient's condition and outcomes generally do well as ICU nurses. An inquisitive mind and attention to processes is equally important. ICU nurses are deeply compassionate and are unafraid to advocate on behalf of their patient to family members who are distraught.
What Are the Education Requirements for an ICU Nurse?
With good undergraduate marks and nursing licensure, any nursing student who is interested in ICU nursing should seek a Nursing Student Externship. Usually available to senior nursing students in the final year of their program, the externship allows students to assist RNs in the ICU, benefiting greatly from the nurses' experience and mentorship. Formal externship programs are often posted online by hospitals; your college or university will often have these opportunities posted for nursing students as well. Many Nurse Externs transition into an RN New Graduate Internship program once they pass the NCLEX.
For experienced RNs, making the transition into the ICU requires applying to an ICU position and usually engaging in a training program either before applying or concurrently with the application. These positions and criteria are hospital-specific but often include a didactic and mentorship portion, working under the guidance of a senior ICU nurse until success criteria and leadership in the role have been achieved.
Any Certifications or Credentials Needed?
At present, RN licensure requires either an ADN or a BSN degree; many hospitals prefer to hire BSN candidates, or those who finish their degree concurrently with employment.
The American Association of Critical Care Nurses (AACN) offers many certifications. For adult ICU nurses, the CCRN is a certification for acute/critical care nurses. Additional modules focused on pediatrics and neo-natals are offered too.
Contact hours are required to renew the CCRN. Options are to renew by retaking the exam or by completing Synergy CERPs in the required areas, paying the fee of up to $200, and maintaining an unencumbered RN license.
Where Do ICU Nurses Work?
Due to the nature of the work that they do, and that they need specialized equipment and resources to care for their patients, it's common for hospital networks to share resources, locating an ICU unit (and its nurses) at larger hospitals, centralized hospitals, and teaching facilities in order to maximize the resources that patients might require. Hospitals without critical care facilities have transfer agreements with the nearest intensive care unit. ICU nurses work almost exclusively within their unit; not much work is done by way of policy or outreach due to the nature of the role.
What Does an ICU Nurse Do?
A critical care nurse works in the intensive care unit of a hospital with either pediatric, neonatal, or adult populations. They may specialize, depending on the needs of the patient demographic and the size of the hospital in which they work.
ICU nurses work at high ratios with patients who already have, or have a high likelihood of developing, a life threatening complication, and trauma or disease process as ICU patients require intensive and frequent nursing care, assessments and monitoring."
What Are the Roles & Duties of an ICU Nurse?
Work with the interdisciplinary team to develop a plan of care to stabilize patients
Adept at communicating, critical thinking, leadership and patient advocacy – both on behalf of the patient and the medical team
Utilize highly developed physical assessment skills
Make quick decisions while multitasking
Administer a variety of lifesaving treatments efficiently and effectively
Closely monitor one or several patients
Prioritizes patient care plan based on patient needs and care resources
Identifies patient and family learning needs; educates appropriately
Closely documents patient care, protocols and unit procedures
Is culturally aware
Demonstrates understanding and ethics surrounding patient confidentiality and risk management
Move patients to comfort care for end of life
What Specialties Exist for ICU Nurses?
Neurological ICU Nurse
Neurological ICU nurses work with patients that have experienced a traumatic brain injury and/or spinal cord injury of some type. The work includes:
Frequent neurological assessments
Intracranial devices are common
Extensive knowledge of spinal cord and brain injuries
Use of medications to lower intracranial pressure and control blood pressure are common
Cardiac ICU Nurse
Cardiac ICU nurses are involved with patients who have had or who need cardiac surgery or a cardiac catheterization procedure, are experiencing a non-ST elevated myocardial infarction (NSTEMI) and need medical management. Cardiac ICU nurses regularly perform the following duties:
Frequent hemodynamic and telemetry monitoring
Use of intracardiac devices including Swan-Ganz (pulmonary artery) catheters and intra-aortic balloon pumps (IABP)
Use of medications to control heart rate, rhythm, cardiac output, and blood pressure are common
Medical ICU Nurse
Medical ICU care for patients with sepsis, pneumonia, withdrawal from a substance such as alcohol or drugs, stroke, myocardial infarction, active gastrointestinal bleeding, or other complications. Medical ICU nursing procedures can include:
Frequent hemodynamic monitoring
Use of ventilators and hypothermia equipment common
Use of medications and fluids for fluid resuscitation, hemodynamic instability, and infections are common
Trauma ICU Nurse
Trauma ICU nurses work with patients who have sustained injuries due to a motor vehicle crash, fall, attempted homicide, attempted suicide, drowning, or similar events. Trauma ICU nursing may include:
Rapid assessment and detection of complications from trauma
Broad knowledge of brain, spine, chest, orthopaedic, and abdominal injuries
Close monitoring for small changes which may require emergent interventions
Burn ICU Nurse
Burn ICU nurses care for patients with a large surface area of burn injury. Procedures can include:
Assess, treat, and manage wounds
Treating sepsis
Maintain airways and ensure adequate perfusion
Pain management
Transplant ICU Nurse
Transplant ICU admits patients who have received or are about to receive an organ transplant such as cornea, heart, liver, or kidney. Transplant ICU nurses are responsible for the following:
Monitor closely for organ rejection
Maintain hemodynamic stability
Equipment such as chest tubes and ventilators are common depending on the type of organ transplanted
Pediatric ICU Nurse
The PICU nurse sees miraculous recoveries as well as heartbreaking losses; some nurses find this especially difficult when children are the patients. Pediatric ICU nursing care includes:
Close monitoring of respiratory status
Treatment of congenital diseases
Neonatal ICU Nurse
Neonatal ICU or NICU nursing is for infants with life-threatening injuries or diseases. NICU nurses perform the following practices as part of their role:
Extensive knowledge of congenital illnesses and diseases affecting newborns
Trauma and accidental injuries are common
ICU Nurse Salary & Employment
Projected by the BLS to experience steady, higher-than-average growth over the next decade, there will be plenty of industry wide growth for nurses who want to enter the ICU. With advanced certifications and the option to specialize, nursing for critical care patients will always be in demand.
The average salary of an ICU nurse is $64,764, though data tends to lean toward the upper end of the scale, topping out at $93,717. Just as with other jobs and industries, salary is affected by a nurse's location, experience, education and any certifications he or she may have or be pursuing.
Helpful Organizations, Societies and Agencies