Wound Care Nurse Certification
Wound care nurses care for patients with much more than bumps or bruises. They are highly skilled nurses who work with both simple and complex wounds, ostomies, skin issues from incontinence, surgical wounds, and pressure ulcers. They are up-to-date on current wound care recommendations and available products, and work closely with all members of the healthcare team to help promote healing. Additionally, not only do they focus on healing current wounds, but they spend a great deal of time educating patients on avoiding wounds and skin breakdown.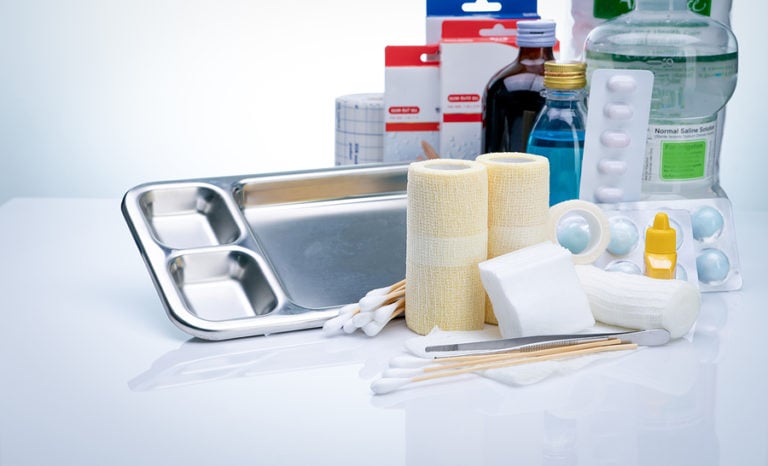 Why Do I Need a Wound Care Nurse Certification?
Because wounds arise from different etiologies, nurses must be skilled in selecting the appropriate treatment plan to promote healing and foster compliance from patients and families. There are many factors that affect healing, and wound nurses must have sharp assessment skills to determine if physical or psychosocial factors are creating barriers to healing. By earning certification in wound care, it demonstrates that the nurse has a high level of experience in wound care and has been trained in the specialty. Additionally, to be able to practice as a wound care nurse, certification is often required.
How Do I Get My Wound Care Certification?
After deciding on a program and paying a registration fee, most courses allow you to start immediately. The preferred programs will allow you to self-pace the curricula and complete modules around your schedule. Wound Care Certification programs are typically comprised of several modules that include training videos, study guides, and quizzes. After passing the final examination, you immediately become a Wound Certified Nurse.
When considering a wound care certification, you should consider the price of the program, the flexibility of completion, and the value of the instruction and resulting credential.
Why Should I Learn More About Wound Care?
Millions of patients across the U.S. are affected by non-healing wounds every year. The demand for healthcare professionals who are highly skilled in acute and chronic wound care has never been greater. Wound care, including prevention, management, and treatment, is a cornerstone of the healthcare industry and can have a significant impact on patient outcomes and morbidity rates, particularly for older patients.
I Am Currently in Nursing School. Can I Still Get My Wound Care Certification Even If I'm Not a Registered Nurse?
Yes, there are programs that allow you to gain certification before you graduate. This is incredibly valuable because it allows you to enter the field with significant expertise, which can give you an advantage when applying for jobs. However, if you complete certification while you are a student, your certificate may have a different title since you are not yet a registered nurse.
Where Can I Get a Wound Care Nurse Certification?
There are several organizations that offer wound care nurse certification. Some are open to members of the health care team other than nurses, and some are exclusively for nurses. Additionally, there are many education programs that help prepare nurses to sit for the certification exams through the organizations listed below:
Wound, Ostomy, and Continence Nursing Certification Board (WOCNCB)
Certificate Name: Certified Wound Ostomy Continence Nurse, Certified Wound Ostomy Nurse, Certified Wound Care Nurse, Certified Ostomy Care Nurse, Certified Continence Care Nurse, Certified Foot Care Nurse. All of the above, except for the certified foot care nurse, is available for advanced practice nurses as well.
Credential Awarded: CWOCN, CWON, CWCN, COCN, CCCN, or CFCN
Cost: The cost for one specialty is $395; two specialties $510; three specialties $610; four specialties $670
Certification Requirements & Eligibility
There are specific requirements depending on which specialty wound care certification is desired, as well as if it is an RN or APRN seeking certification. Applicants are advised to determine the specific requirements based on their needs. The requirements for a Certified Wound Ostomy Continence Nurse (CWOCN), for example, include:
Have a current RN license
Hold a BSN or higher nursing degree
Graduated from an accredited WOC education program within the previous 5 years, OR
Have had direct patient care/clinical hours/continuing education credits as a post-baccalaureate nurse while practicing as an RN, 50 continuing education credits must directly apply to the specialty certification sought
1500 direct patient clinical hours must be completed within the previous 5 years, 375 of which should occur in the year prior to application
National Alliance of Wound Care and Ostomy (NAWCCB)
Certificate Name: Wound Care Certified Certification. Can be in wound care, diabetic wound care, nutrition wound care, ostomy, lymphedema lower extremity
Credential Awarded: WCC, DWC, NWCC, OMS, LLE
Cost: $300
Certification Requirements & Eligibility
Requirements for this certification exam vary depending on the certification sought. For example, the general wound care certification eligibility requirements include:
Have completed a skin and wound management education course OR
Have a current, active certification from the WOCNCB (see above) or the CWS from the American Board of Wound Management
Have completed 120 hours of clinical training with an approved preceptor OR
Have completed 2 years full time or 4 years part-time experience in an approved profession with direct wound-care experience, can be in management, education, or research
American Board of Wound Management (ABWM)
Certificate Name: Certified Wound Care Associate, Certified Wound Specialist, Certified Wound Specialist Physician
Credential Awarded: CWCA, CWS, CWSP
Cost: CWCA: $375, CWS: $575, CWSP: $995
Certification Requirements & Eligibility
Depending on the three available certifications, requirements may vary. For example, requirements for the wound care associate applicants include:
Must be a healthcare professional with at least 3 years of wound care experience
Sales and marketing professional in the wound care industry with at least 3 years of wound care experience
Professional licenses must be unrestricted
While the wound care associate certification is open to various professions, the wound care specialist certification is open to a more specific group of healthcare professionals, such as DO, DPM, DVM, MD, NP, PA, PT, RD, and RNs
American Board of Wound Healing (ABWH)
Certificate Name: Physician Certification in Hyperbaric Medicine, Physician Certification in Wound Care, Certified Hyperbaric and Wound Specialist, Certified Hyperbaric Specialist, Certified Skin & Wound Specialist
Credential Awarded: FACHM, FAPWCA (for physicians). CHWS, CSWS, CHS (for other disciplines, including nurses)
Cost: CHWS: $395, CSWS: $320, CHS: $320
Certification Requirements & Eligibility
The physician certification has different requirements than other disciplines. The CHWS, CSWS, and CHS certification requirements may also vary. For example, the requirements for the Certified Skin & Wound Specialist certification include:
A minimum of two years of experience in a hospital or outpatient facility with training in wound care
A minimum of 200 hours of wound care training and practice experience for the previous two years
Have completed 12 continuing education credits in wound care. Must provide a copy of the certificate of completion
Completion of core competencies in wound care. An employer must verify and validate the clinical experience.
How Long Does It Take to Get My Wound Care Certification?
Depending on the program that you choose, certification can take between days and months. If programs are in-person or strictly scheduled, program length may be pre-determined and unchangeable. Online programs provide more flexibility, and some even allow you to self-pace so that you can work toward certification in your spare time while also performing your regular job duties. For most students, the ideal program is 100% online and allows self-pacing so that the entire certification can be completed in a matter of days or weeks
How Much Does a Wound Care Certification Program Cost and What Does It Include?
Depending on the program, certification can cost between several hundred and several thousand dollars. Some programs separate the price of course cost from educational materials, so be cognizant of hidden fees. Students typically seek programs that charge a one-time price for unlimited access to the entire program, the certificate, and the CNE credits. Some certification courses also have lifelong benefits, such as access to a community of wound care experts.
One way to assess certification programs is by looking for those that offer a free first module. That will allow you to assess the quality of instruction and education and make an informed decision.
What Is the Structure of Wound Care Certification Programs?
The most convenient certification programs are typically comprised of several modules addressing different aspects of wound care. These are accompanied by study guides, regular short assessments, and a final comprehensive examination. Upon completion of the program, nurses gain a Wound Care Certificate, Continuing Education Credits (CNE), and invaluable expertise.
Who Teaches the Certification Course?
This depends on the course and is an important factor to consider when choosing a program. As you assess certification options, ensure that the instructor and the organization have good reputations and that the program has been developed with input from experienced wound care physicians. If possible, seek testimonials from wound care experts within the organization who can attest to the program's efficacy.
What Kinds of Topics Are Covered in Wound Care Certifications?
Depending on the course you choose, the curriculum may differ slightly. However, in order to gain a comprehensive understanding of wound care, you should seek programs that offer evidence-based education on the following topics:
Acute and chronic wound management. Acute and chronic wounds are incredibly prevalent wounds that have different healing processes and treatment needs. Knowledge of these wounds is critical for wound care nurses.
Wound healing. Understanding the process of wound healing is critical and informs your ability to recognize atypical wounds or delayed wound healing.
Wound care treatment options. As a wound care nurse, you must understand the factors involved in effective wound healing and corresponding treatment plans.
Atypical wounds. Recognizing atypical wounds is an important skill for wound care nurses.
Infection control. Nursing homes have a long history of infection control deficiency, so education on this topic is highly valued.
Geriatric skin conditions. Many wound care patients are geriatric, so understanding their risk factors and skin conditions is incredibly important.
Wound rounds and assessment. Wound rounds and assessments are a critical aspect of wound care, as they are when providers communicate about treatment, strategize ongoing care, and classify wound healing.
Regulatory requirements for pressure ulcers. Pressure ulcers are one of the most commonly cited violations of state nursing home regulations, so familiarity with requirements is valuable.
How to prevent re-hospitalization. The focus on wound care patient re-hospitalization has increased significantly in recent years, and nursing facilities can face costly penalties for avoidable re-admissions. Nurses who understand and can help prevent re-hospitalization are critical.
Effective wound care certification programs should also include modules about support surfaces, management, and treatment of vascular ulcers, nutrition, and delayed wound healing.
Who Is Eligible to Become a Wound Certified Nurse?
Eligibility depends on the certification program that you choose, but most are open to all healthcare professionals including nurses, physician assistants, physicians, occupational therapists, physical therapists, and medical assistants. Some programs require several years of nursing or wound care experience, so you may want to focus on programs that are open to nurses in all stages of their careers. Continuing education credits are only offered to nurses, including RNs, LPNs, LVNs, ARNPs.
Do I Need Prior Experience in Wound Care to Register for the Course?
It depends on the program. Some require three years of wound care experience, while others require none at all. The benefit of programs that do not require experience is that they provide advanced wound care skills and knowledge to nurses at any stage in their careers.
Do I Have to Go to a Physical Testing Location to Take the Final Exam and Get My Certification?
For programs that are 100% online, all coursework, quizzes, and the final exam can be done from wherever you are.
What Happens If I Do Not Pass the Final Exam? Can I Still Get Certified?
For some programs, you will have to pay to re-take the exam or re-do the course. In order to avoid this possibility, you want to look for a program that allows unlimited attempts at the final exam with no additional cost.
How Does Certification Help Me to Improve Patient Outcomes?
When you have advanced knowledge in wound care, you are able to quickly determine the ideal way to prevent or treat your patients' wounds. This includes an improved ability to identify atypical wounds and delayed healing, conduct wound assessments, and prevent pressure ulcers and readmissions. The training you receive with Wound Certification programs will help you make informed, evidence-based decisions that facilitate the very best patient outcomes.
Once I Become a Wound Certified Nurse, Will I Have to Renew My Certification at a Later Date?
Some programs require recertification, but others are valid for your lifetime. This is an important consideration when choosing a program.
What Does It Mean to Earn Wound Care Credentials?
Once you complete the coursework and final exam for a Wound Care Certification program, you will earn the distinction of Wound Certified Nurse. This title is industry-recognized by peers, employers, and patients alike and indicates your expert status in wound care. This indicates that you have an advanced understanding of wound healing and wound care practices and will be a valuable addition to any wound care team.
See All Nursing Certifications