The 6 Most Important Considerations in Choosing an Online Nursing Program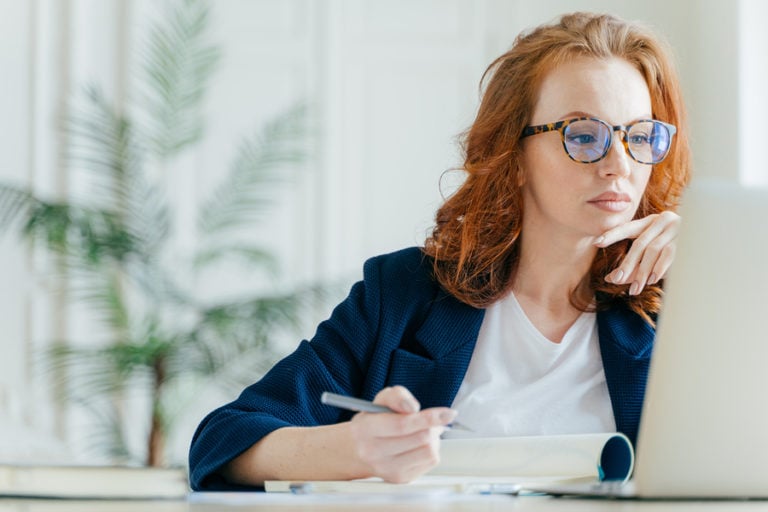 Are you looking to start or advance your nursing career? Online nursing programs can offer flexible schedules and self-paced courses, making them a popular choice if you need to continue working or fulfill other responsibilities.
While online education can present certain challenges, nurses already possess the critical traits needed for success such as self-discipline and good organizational skills. Time management skills are a must for online education. Keep in mind that you may also be required to complete additional hands-on clinical requirements.
The variety of online nursing programs that are currently available can make it difficult to pinpoint the program that best meets your needs. Ask yourself some key questions as you determine your path, and then assess your shortlist of programs using the guide below.
1. Type of Program
The first step in choosing an online nursing program is deciding which type of program will help you meet your goals.
Are you looking for a blended/hybrid Associate's Degree in Nursing (ADN) or Bachelor of Science in Nursing (BSN) program? Blended programs allow students to take online classes alongside hands-on clinical experiences.
Are you a college graduate looking to complete the nursing requirements for a BSN degree?
Are you a Registered Nurse (RN) whose facility requires you to complete a BSN degree?
Are you looking for a Master's program (MSN) for your particular clinical area of interest?
Are you considering a Doctor of Nursing Practice (DNP) program?
Are you seeking a "bridge" program, such as RN-to-MSN or BSN-to-Doctorate in Nursing? Bridge programs allow you to complete the desired degree in less time than it would take to earn both degrees (i.e. BSN and MSN), eliminating the need for a separate program.
2. Accreditation
Choosing a program that is accredited, or meets a high level of academic standards, is the single most important choice you will make when selecting a nursing program. Choosing an accredited institution and program over a non-accredited option can affect your qualification for jobs, admission into another program as you continue your education, ability to transfer credits, and eligibility for financial aid and licensing or certification exams.
It's important to ensure that both your chosen institution and the nursing program are accredited.
The primary national bodies of accreditation for nursing programs are the Commission on Collegiate Nursing Education (CCNE) and the Accreditation Commission for Education in Nursing (ACEN). The CCNE accredits baccalaureate, graduate, and residency programs. The ACEN accredits these programs, as well as LPN and ADN programs. Instead of national accreditation, programs can choose to be accredited by their regional accreditation body.
While others may exist on the institutional level, the Accrediting Bureau of Health Education Schools (ABHES) is the only body of accreditation that's recognized by the U.S. Department of Education
3. Length of Program and Time Requirements
Determine how much time you can devote to your studies. Are you disciplined enough to manage a self-paced program? Would you prefer a structured schedule? Talk with the school to understand the requirements and how long the program takes to complete.
Are the classes at set times or can you access them at odd hours?
How much time will be spent on clinical experiences?
Do the clinical hours work with your schedule?
4. Prerequisites and Credit for Work Experience
Does your chosen program require prerequisite courses (common for BSN programs)?
Will your previous course credits transfer to the current program?
Is there a minimum GPA requirement, or required SAT or ACT scores?
Is there an entrance exam? TEAS?
Does the program give credit for work experience?
5. Is It Right for Me?
Present these questions to the admissions counselor, and also ask if any previous graduates are willing to speak with you about their experiences.
What is the experience level of the faculty? Look for instructors with extensive clinical experience.
Are the classes structured in a way that accommodates different learning styles?
Will you have access to faculty members and an academic advisor?
Does the program feature online forums for student interaction?
Does the program provide a specialization in your area of interest? This factor is particularly important in Masters and Doctorate programs.
What percentage of graduating BSN students pass the NCLEX on the first try?
What percentage of graduates secure a job within 3 months of graduation?
Does the school provide career placement assistance?
6. Cost
While the cost of a nursing program will certainly play a role in your decision, avoid letting it deter you from exploring a program. While the costs of online nursing programs vary, the cost you see isn't necessarily the cost you will pay.
Are you eligible for financial aid or scholarships?
What payment plans do they offer?
Are they connected with facilities that will pay for your education if you work for them after graduation?
Online nursing education is a great choice for beginning or advancing your career. Use this guide to help you choose your next online nursing program, and stay confident that your choice will serve your career well.

Latest posts by Janine Kelbach, RNC-OB
(see all)