DNP Programs in Michigan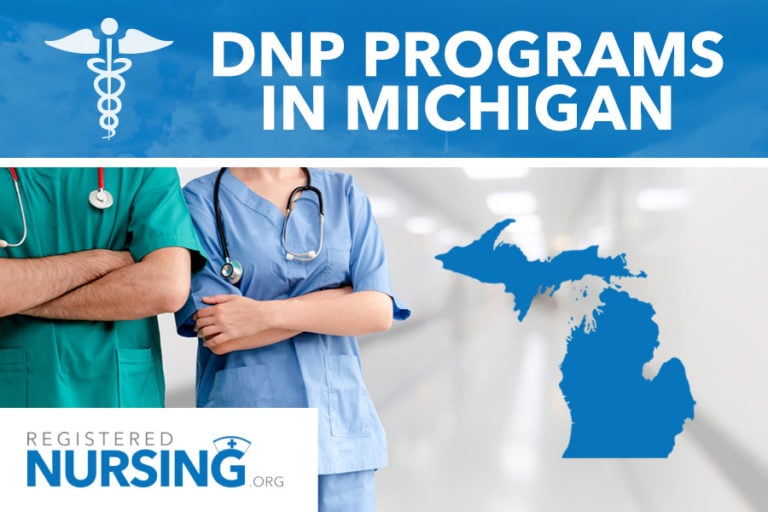 After working at the bedside, many nurses strive for a higher degree of clinical expertise. Earning a doctorate in nursing practice (DNP) is an excellent way to demonstrate the highest level of excellence in nursing.
Many nurses choose to remain in direct contact with patients and work as an advanced practice nurse, nurse anesthetist, or clinical nurse specialist. However, some aspire to become educators, informatics/technology experts, executives, or nurse leaders. Working in executive leadership allows nurses to translate evidenced-based healthcare into practice. Obtaining a DNP is the gateway to those career paths.
Choosing a DNP Program
For some, choosing to go back to school for a higher degree is a significant step that can impact one's current work-life balance. Many do not know where to start when choosing a DNP program. Many considerations need to be factored in when making a choice, there are some basics that any prospective student should think over.
What to Consider When Choosing a DNP Program
Cost– This is probably the most significant consideration for nurses. In Michigan, the average cost to attend a DNP program is $830 per credit for state residents. Out-of-state residents may pay a higher tuition rate. This average is just for tuition- university fees, supplies, and living expenses are an additional cost. Many schools offer financial aid which helps offset the cost.
Online Options– Most of the DNP programs in Michigan offer online learning (with little-to-no campus visitation requirements) or hybrid learning (both online and campus learning). DNP programs provide as much online education as possible to accommodate working nurses. The programs that have campus visitation may offer weekend "intensives" to assist students further.
Accreditation– There are two nationally recognized accreditation bodies that nursing schools must have- the Accreditation Commission for Education in Nursing (ACEN) or the Commission for Collegiate Nursing Education (CCNE). All ten of the DNP programs in Michigan are accredited by the CCNE.
Residency Options– Depending on the track, clinical hours may be required along with a final DNP project. Supervised clinical hours must be in the specialty area of study, and the requirement is usually around 1000 hours. Some programs allow students to apply clinical hours from a previous MSN program towards the DNP requirement, but students are encouraged to reach out to individual schools to find out. Students must also find clinical preceptors – either a physician or other advanced-practice nurse to serve as a mentor in their area of study.
Saginaw Valley State University offers a DNP program for both BSN and MSN-prepared nurses. The program is mainly online, with only one or two required Saturday seminars per semester. The program may take three to four years to complete depending on the nurse's entry point and if attending full or part-time. Nurses on the BSN to DNP track may obtain certification as an FNP at the completion of the program.
For more information and details about admission, prospective students are encouraged to visit their DNP page on their website.
Admission & State Licensing or Certification Requirements
Admission
Requirements for admission to DNP programs in Michigan may vary. Requirements depend on the entry point and track of study. For example, BSN applicants may have slightly different requirements than an MSN applicant. However, general admission requirements may include:
Current, unencumbered Michigan RN or APRN license
BSN or MSN degree
Specific GPA (usually 3.0 or higher, depending on the school)
Completion of a course in statistics
Submission of a resume/CV
Provide a writing sample or written narrative
Interview with faculty
Provide letters of recommendation
Certification
Specialty certification is required for initial licensure in Michigan. Graduates of a DNP program who have never held certification are eligible to sit for certification in their specialty area. For example, nurse practitioners may become certified in Pediatrics, Family medicine, Adult/ Gerontology, or psychiatry. Nurse anesthetists must also be certified. Examples of national certification agencies include:
Licensing
DNP graduates may or may not need licensure; MSN APRNs who go on to earn a DNP do not need to be re-licensed. However, BSN nurses who become APRNs must become licensed as such in Michigan.
As stated earlier, specialty certification is required for licensure in Michigan. Other licensing requirements include:
Valid RN license
MSN or DNP degree from an accredited school
Submit online application and pay application fee
Complete a background check
Establish a written prescription authorization with a supervising physician
For more information, Michigan's Board of Nursing has an FAQ page for licensees.
Michigan BSN to DNP Program Options
Seven of the ten accredited DNP programs offer BSN to DNP tracks. Most courses of study are for the nurse practitioner track, but some schools provide options such as systems leadership and informatics. BSN to DNP tracks may take three to four years to complete, depending on if the student attends on a full or part-time status.
The University of Michigan Ann Arbor offers a BSN to DNP option with many career opportunities. Students may choose from the following specialty tracks:
Adult-gerontology acute care NP
Adult-gerontology primary care NP
Pediatric acute care NP
Pediatric primary care NP
FNP
Nurse Midwifery
A total of 500 residency hours are required, along with a scholarly project. The program is designed to be completed in three or four years. For more information, prospective students may visit their DNP page.
Related Education Paths
Helpful DNP Agencies and Organizations in Michigan
List of Campus and Online DNP Programs in Michigan
Ann Arbor, MI
Big Rapids, MI
Center, MI
Detroit, MI
East Lansing, MI
Flint, MI
Grand Rapids, MI
Livonia, MI
Marquette, MI
Rochester, MI
Ypsilanti, MI
Are we missing your school's program or need to update information listed? Please contact us so we can make the necessary changes.
Find DNP Programs By City: