DNP Programs in South Carolina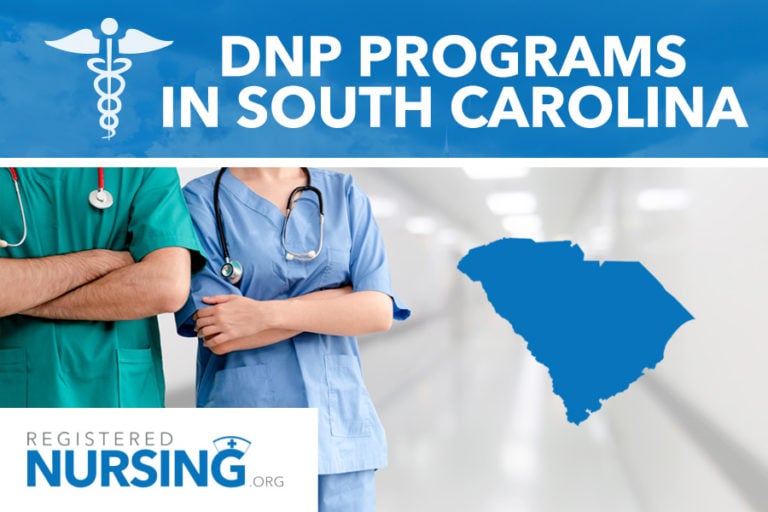 Nurses enter the field of nursing to help patients; it is a calling as well as an art. While nurses exhibit compassion, professionalism, and confidence while caring for patients, they also have traits that are not always apparent at the bedside. Nurses may demonstrate advocacy and leadership, and fight for policy change that will lead to improved patient care outcomes.
Nurses who wish to employ these traits to a higher degree and role would do well in earning a Doctor or Nursing Practice. The DNP is the highest degree a nurse can receive. Many nurses who earn this degree choose to work as an advanced practitioner or move to executive-level nursing roles such as a Nurse Leader, Nurse Executive, or work in Nursing Informatics.
DNP programs are designed to prepare BSN or MSN nurses as leaders in their field. The length of time needed to graduate depends on their entry point and track of study. MSN to DNP students may only spend two years of school while BSN-DNP students may spend four. A minimum of 1,000 clinical practicum hours is required to earn a DNP as well as a DNP project.
Choosing a DNP Program
For many nurses, earning a higher degree comes later in one's career. When out of academia for a while, many nurses may not know where to start when researching schools. However, there are fundamental starting points when deciding on a DNP program. South Carolina has only two accredited DNP programs, and the following describes essential considerations in detail to help students choose.
What to Consider When Choosing a DNP Program
Cost – The cost of tuition is sometimes a priority in selecting a DNP program. One of the accredited DNP programs in South Carolina charges $835 per credit, and another $552. It's important to recognize that these figures are just the cost of tuition per credit and does not include any university fees or cost for supplies. Additionally, tuition fees change, so nurses are encouraged to check the school websites for the most up-to-date tuition. Financial aid is also available at most schools.
Online Options – DNP programs are designed to assist working nurses in earning a higher degree. Both schools in South Carolina offer online or hybrid learning. Campus visitation, when required, is minimal and sometimes set up as "intensives" on weekends or over a specified number of days to make it as convenient as possible. Typically, MSN-DNP has more online-only options available.
Accreditation – The Commission on Collegiate Nursing Education (CCNE) or the Accreditation Commission for Education in Nursing (ACEN) are the two certifying agencies in the United States for nursing programs. Nursing education, at all degree levels, needs to be standardized to ensure students practice at the same level. As stated earlier, South Carolina has two accredited DNP programs, both of which are approved by the CCNE.
Residency Options – A minimum of 1,000 practice hours are needed to earn a DNP. Many schools allow MSN-DNP students to apply hours from their MSN program towards the DNP. DNP students must also complete a final project, identifying a healthcare-related concern and proposing solutions to improve outcomes.
Following graduation, DNP-NP graduates in South Carolina have the opportunity to apply for a fellowship program is Lexington Medical Center. This fellowship helps NPs gain more specialized skills in areas such as cardiology, endocrinology, rheumatology, rural health, orthopedic, and more.
The University of South Carolina's DNP program is open to master's degree nurses, and the program is a minimum of 33 credits to graduate. The courses of study include a DNP-Nurse Executive and a DNP (no concentration). The Nurse Executive track is 39 credits in length. The program is almost entirely online, although campus visitation may be required for the DNP project proposal or intensives.
As stated earlier, the program is currently only open to MSN graduates. The BSN to DNP track is currently under revision.
For more information, prospective students may visit the university's DNP FAQ website.
Admission & State Licensing or Certification Requirements
Admission
Different universities have specific admission requirements. While many DNP programs have similar admission criteria, students are encouraged to visit each school's website to determine exact requirements.
General admission requirements may include:
Current RN or APRN license
BSN or MSN degree
GPA of 3.0 or higher
Letters of professional reference (specific requirements may vary, i.e., from a Doctorally-prepared RN or physician)
Written goal statement (or other writing samples)
Resume/CV
Interview with faculty (may be in-person or by phone)
Prior completion of a statistics course
Previous clinical experience
Certification
Specialty certification is required for APRN licensure in South Carolina. Nurses who graduate from a DNP program with an NP, Nurse Midwife, CNS, or CRNA focus must obtain specialty certification to become licensed. For example, new nurse practitioners (or NPs changing their specialty) must become licensed in a specialty such as:
Adult/Gerontology
Pediatrics
Acute Care
Women's Health
Psychiatry/Mental Health
While specialty certification is required for APRN licensure in South Carolina, new graduates have up to a year to submit to the board. The board's website also links applicants to a list of approved certifying agencies.
Additional certifications (not required for licensure) include specialties such as Nurse Informatics and Nurse Executive.
Licensing
Along with specialty certification, the South Carolina nursing board outlines other licensing requirements on their website including:
Active RN license (or meet all qualifications for RN licensure)
MSN or DNP degree
Apply for prescriptive authority

Specifications include 45 contact hours of pharmacotherapeutics
Completion of 20 hours of continuing education is required every two years

Complete a background check/fingerprinting
Complete online application/pay necessary fees
South Carolina BSN to DNP Options
Many BSN nurses seek higher degrees, even to the level of a DNP. South Carolina has one program available for BSN applicants. The Medical University of South Carolina offers BSN-DNP students the opportunity to become primary care nurse practitioners in the following specialties:
Adult-Gerontology
Pediatrics
Family Medicine
Psychiatric-Mental Health
The BSN to DNP program is online except for on-campus intensives that take place once a semester. The university has a healthcare simulation center with high-tech adult and infant simulators as well as machines that simulate various clinical areas such as emergency and operating rooms. They even have a device that simulates giving birth!
Additionally, the DNP website reports that the university's online DNP program is ranked # 2 in the US by the US News and World Report.
For more information, students may visit the DNP FAQ section of their website.
Related Education Paths
Helpful DNP Agencies and Organizations in South Carolina
List of Campus and Online DNP Programs in South Carolina
Anderson, SC
Charleston, SC
Clemson, SC
Columbia, SC
Greenville, SC
Are we missing your school's program or need to update information listed? Please contact us so we can make the necessary changes.
Find DNP Programs By City: