Online Master's in Healthcare Administration (MHA)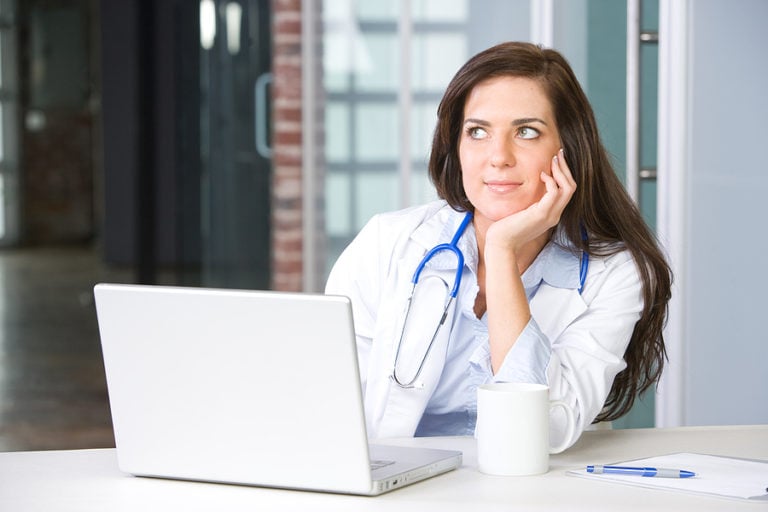 Becoming a nurse does not mean one is limited to the bedside care of patients. Many nurses are drawn to the systematic, organizational, and business side of healthcare. Some hope to promote and facilitate change from a higher level and from a business-minded standpoint. When nurses take on advanced-level roles in leadership positions, they bring a unique patient-centered focus to healthcare delivery that benefits patients as well as the organization. The Master's in Healthcare Administration (MHA) is one such route that nurses can take.
Which Online MHA Program is Right for Me?
When nurses decide to return to school for a higher degree, they may be unsure where to start. Some have been out of academia for many years. The following are points that should be considered when selecting an MHA program:
Is the Program Accredited?
This is one of the most important considerations nurses should examine when selecting a school. The MHA program should be accredited by organizations such as the Commission on Accreditation of Healthcare Management Education (CAHME) or the Commission on Accreditation for Health Informatics and Information Management Education (CAHIIM). Not only does proper accreditation ensure that national education standards are met for the MHA program, it ensures the nurse will not face issues with licensure after graduation.
What Is the Program Format?
Nowadays, more and more master's degree programs are offered online as well as on-campus. In nursing, most nurses who return to school are already currently working. Having the option to enroll in an online program allows for flexibility for working nurses. On the other hand, some prefer the face-to-face instruction and peer support that comes with on-campus learning. Whichever format the nurse prefers, there are plenty of options available.
What Courses Will I Take?
Unlike a dual MSN/MHA program, nurses are not required to take the standard advanced-practice nursing courses such as advanced pathophysiology, pharmacology, and advanced health assessment. Rather, the focus is on mainly general leadership concepts, financial and executive management, and healthcare policy. Students are encouraged to take a look at a few schools to see if the curriculum in an MHA program will meet their educational goals.
How Much Will It Cost?
The cost to enroll in an MHA program depends on several factors. The location, reputation of the school, delivery format, and the residency of the student are all factors when it comes to expenses. Students should look at the school and program overall-not just which school is the least expensive. Additionally, students should plan on additional costs such as parking, supplies, and technology. Fortunately, most schools are very transparent when it comes to describing the cost of an MHA program of their websites. Again, students should research each school to find out which one meets not only their academic needs, but financial needs as well.
Online MHA Programs
Seasoned nurses may not have had the luxury of online learning when they attended nursing school. Fortunately, online courses are becoming more and more popular, especially with graduate-level programs. Colleges and universities recognize that grad students are likely needing to continue to work or may have families they need to take care of, which makes online learning more and more popular.
Other benefits of an online MHA program include:
Flexible Schedule
One of the main perks of online learning is the flexibility of the program. Nurses work all different shifts, so they may need to review content and work on assignments in their downtime- which may mean in the middle of the night, evenings, weekends, and holidays. Additionally, students learn at their own pace which results in a greater chance of success. Students can also choose to take one or as many classes as they can to set the pace of their program.
Affordability
While graduate programs are notoriously pricey, those opting for online graduate school may have a benefit over those opting for a traditional classroom-based program. One of the reasons for the lower overall cost is that there is no expense for parking or for the gas used to commute. Additionally, some schools don't charge out-of-state tuition for students enrolled in online programs.
Program Length
Enrolling in an online program means that students have the option to learn at their own pace. While some schools do set time limits for students to complete the program (i.e., six years), students can still spend more time on content and concepts that they need to master rather than being expected to master them at the same pace as the rest of the class. On the flip side, students can accelerate their pace by taking more classes and getting the work done faster.
Accessibility
The accessibility of online programs is another significant selling point when selecting an online MHA program. Students can log on whenever they can or need to. They can communicate with both instructors and peers at any time. This is extremely beneficial for busy, working nurses. Also, the content is always available anywhere and anytime.
Ever consider a Dual MSN/MHA program?
MHA Program Curriculum
Unlike other graduate programs nurses may choose, the MHA degree is not nursing-focused. Rather, it is more focused on healthcare systems and principles of leadership and management. While specific course topics may vary between schools, most MHA programs include courses in:
Leadership and management in healthcare
Informatics
Quality and Safety
Healthcare policy
Ethics and legal issues in healthcare
Financial management
Organizations and systems management
In addition to the above concepts, students must complete a capstone project as a graduation requirement. This ensures they can apply what they have learned in healthcare administration to tackle real-world issues in healthcare.
MHA Specializations
Within the Master's in Healthcare Administration program, students can choose a specialization depending on what they wish to focus on. Choosing a specialization within the program can help students acquire niche knowledge and skills to assist them in honing in on specific areas of care. The following are several popular MHA specializations available to students.
MHA – Gerontology
The Master's in Healthcare Administration – Gerontology specialization educates students in organizational structure, healthcare policy and analysis, and management within the gerontology field caring for aging adults. This program is well suited for students who wish to hold leadership roles within healthcare – particularly those who seek management roles within long-term care. Common coursework often includes:
Physiology and Psychology of Aging
Legal Aspects in Health
The Management of Senior Community Programs
Foundations of Careers in Long-Term Care
New York's Long Island University, for example, offers a 42-credit MHA – Gerontology program.
MHA – Leadership
Those pursuing director-level roles within healthcare may wish to pursue an MHA with a Leadership specialization (sometimes referred to as Leadership and Organizational Development). This broad concentration gives students the managerial skills to lead a wide variety of healthcare organizations. Those interested in coaching, team-leading, and professional development within the healthcare realm may find this an advantageous specialty within the MHA framework. Courses may include:
Strategic Healthcare Planning
Healthcare Operations Management
Marketing in Healthcare
Health Administration Change Leadership
Capella University is one school that offers an MHA Leadership concentration.
MHA – Population Health
The MHA with a specialization in Population Health, or Population Health Management, focuses on the complex healthcare needs of diverse populations. Factors such as culture, education, and employment can all affect population-based medicine. Understanding these factors can improve and enhance patient care. The MHA – Population Health degree can help administrators identify gaps in care and create more customized programs for the populations they serve. Coursework often includes:
Community Health
Managerial Epidemiology
Health Promotion
Duquesne University offers an online Master of Health Administration with a Population Health concentration.
MHA – Informatics
Those with an interest in secure and accurate healthcare data to ensure quality patient care may choose to enroll in an MHA with an Informatics specialization. This program teaches students to design and implement technology to support healthcare organizations. It emphasizes IT applications in the evaluation of administrative systems, to include financial and clinical healthcare systems. The curriculum may include courses in:
Computer-Based Patient Records
Health Information Management Systems
Leadership, Management, and Meaningful Use of Health Care Technology
Philadelphia-based Saint Joseph's University is home to an online MHA with an Informatics concentration.
MHA – Global Health
The MHA with a Global Health specialization is geared toward students interested in international healthcare delivery. The program's curriculum seeks to give students a broader understanding of global health issues and cross-cultural communication to inform local healthcare systems. This type of program often involves international travel to get a deeper sense of international healthcare in action. Aside from studying abroad, students will learn concepts in:
Global Health Management
Alternative Systems of Healthcare Delivery
European Health Systems
The University of Scranton, located in Pennsylvania, offers an online MHA with a Global Health specialization.
How Much Does an MHA Program Cost?
The cost to complete an MHA program depends on the school, program, and even location. When researching the cost of MHA program, it's imperative to include additional fees such as university fees, supplies, the cost to commute (if applicable), and technology needs. Most schools are transparent with costs and fees associated with the program, so thorough research and planning is essential. Additionally, most schools offer some type of financial aid or scholarships which help offset the cost.
As an example of cost, the University of Cincinnati's MHA online program is $732 per credit (for residents). The website also lists a complete breakdown of fees and estimates the total cost of the MHA program for residents as $7,309 per semester.
What Are Some Career Options for a Nurse With an MHA?
Nurses who hold a master's degree in healthcare administration have many career options, primarily in leadership and management. Examples of career options include:
Chief Executive Officer (CEO)
Chief Operations Officer (COO)
Healthcare Administration Organizations & Helpful Resources
List of Colleges Offering Online MHA Programs
Browse through our state-by-state list of Online Master's in Healthcare Administration programs below to find the perfect MHA program today!
Jump to Your State Listings
Arizona
Arkansas
California
Colorado
Delaware
Florida
Georgia
Illinois
Indiana
Iowa
Kansas
Kentucky
Louisiana
Maine
Maryland
Massachusetts
Michigan
Minnesota
Mississippi
Missouri
Montana
Nebraska
Nevada
New Hampshire
New Mexico
New York
North Carolina
North Dakota
Ohio
Pennsylvania
South Carolina
Tennessee
Texas
Vermont
Virginia
Washington, DC
Wisconsin
Wyoming
Are we missing your school's program or need to update information listed? Please contact us so we can make the necessary changes.
RELATED DEGREES