Chief Nursing Officer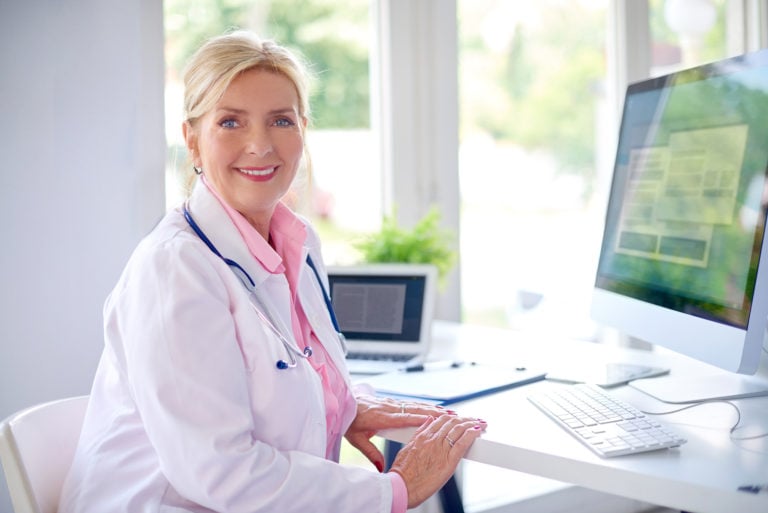 What Is a Chief Nursing Officer?
At the top of nursing management positions within a healthcare organization is the position of the Chief Nursing Officer (CNO) or sometimes referred to as Chief Nurse Executive (CNE). The CNO's role is complex and requires several years of nursing and leadership experience to be up to the task. They are responsible for overseeing and coordinating the daily activity within the nursing department by being the spokesperson for nurses while planning, organizing, and directing the overall operations of nursing and patient care services. Chief Nursing Officers take into consideration the business perspective of the hospital system, best practice, and the needs of nursing staff while facilitating efficient and effective departmental operations. Today's CNOs are frequently involved in implementing the nursing department budget while achieving consistent quality patient outcomes and adhering to healthcare delivery guidelines and standards.
Becoming a Chief Nursing Officer
Becoming a Chief Nursing Officer requires years of dedication beginning with completing a nursing education and obtaining a state license as a registered nurse by passing the NCLEX-RN, administered by the National Council of State Boards of Nursing. To be a successful CNO, the nurse should work several years in the clinical setting while eventually gaining experience in leadership roles. It is a common expectation that a nurse aspiring to be a CNO will have 5+ years of managerial experience before pursuing an executive administrative role.
What Are the Educational Requirements for Chief Nursing Officers?
Chief Nursing Officers are required to have a Bachelor's of Science in Nursing (BSN) degree from an accredited four-year nursing school. If already a registered nurse, it's possible to complete an RN to MSN degree program, bypassing the BSN step. Receiving a Master's of Science in Nursing (MSN) degree that is concentrated in Nursing Administration or Leadership in Health Care Systems, or a dual MSN degree alongside a Master of Health Administration (MHA) – see Dual MSN/MHA, or a Master of Business Administration (MBA) – see Dual MSN/MBA, is quickly becoming the standard for achieving leadership roles within the business of healthcare. In some cases, large health organizations will prefer candidates with a Doctor of Nursing Practice (DNP) specializing in executive administration.
Are Any Certifications or Credentials Needed?
There are various credentialing centers that offer certification options that compliment a Chief Nursing Officer's degree education and professional experience. The decision to work toward one of these certifications, and which one, may depend on the specific job setting. One certification option is the Nurse Executive certification (NE-BC) through The American Nurses Credentialing Center (ANCC). Nurse executives must have an active RN license, hold at least a bachelor's degree, be working in a mid-level administrative role, and complete 30 hours of continuing education in nursing management every three years to be eligible. Certifications in Executive Nursing Practice and Management and Leadership (CNML) can be obtained from the American Organization for Nursing Leadership (AONL), which also offers a tailored certification course for nurse leaders specifically involved in executive nursing practice called the CENP. The American College of Healthcare Executives (ACHE) is another credentialing resource. Read more for further clarify on nurse executive certifications.
Where Do Chief Nursing Officers Work?
Chief Nursing Officers typically work overseeing nursing departments and are the voice for nurses to other healthcare and business administrative professionals in boardrooms. They usually work full-time, although their hours may be irregular (such as 12-hour shifts), in the evenings, overnight, or on the weekends, depending on the employer and situation.
Settings where Chief Nursing Officers may find employment include:
Hospitals
Outpatient care centers
Clinics
Group physician practices
Rehabilitation facilities
Government agencies
Healthcare system corporate office
What Does a Chief Nursing Officer Do?
A Chief Nursing Officer is usually involved in advising senior management on best nursing practices, creating retention programs, establishing compensation wages, managing nursing budgets, planning new patient services, conducting performance assessments, and representing nurses at board meetings. They manage personnel via implementing the recruitment, hiring, and retention processes. Chief Nursing Officers may be required to manage the staff working in multiple nursing departments in their health care system while reporting directly to the organization's Chief Executive Officer (CEO).
What Are the Roles and Duties of a Chief Nursing Officer?
Creating a nursing environment that fosters collaboration
Partnering with physicians to ensure a smooth workflow
Ensuring that nursing standards are upheld
Maintaining regulatory and compliance approvals and accreditations
Working with senior management and medical staff to develop strategic plans
Cultivating relationships across functions and departments
Serving as a spokesperson for the entire nursing department
Promoting the mission, vision, and values of the organization.
Organizing, directing and administering nursing-patient care service best practice
Maintaining quality assessment and improvement
Facilitating opportunities for education and professional advancement of employees
Establishing and monitoring evaluation of performance improvement
Chief Nursing Officer Salary & Employment
According to the U.S. Bureau of Labor Statistics (BLS), the 2018 median wage for all chief executives was $104,980 with elevated median salaries of $189,600 for the month of May. The BLS does not report a salary specifically for Chief Nursing Officers, but PayScale reports a current average salary of $127,308, or a median hourly wage of $51.14. Salary ranges can vary widely depending on location and other important factors including education, certification, skills, work history, and the number of years within the profession.
The entire nursing field continues to experience a critical shortage, and the demand for qualified nursing administrators will remain high for the foreseeable future. According to the BLS, employment of health services managers, like Chief Nursing Officers, is expected to grow much faster than the average at 23 percent, thus creating around 73,300 new openings before 2022. However, since there's usually just one Chief Nursing Officer in a system, competition between nurse managers for available positions could be fierce.
Helpful Organizations, Societies, and Agencies