MSN Degree Programs in Virginia
Rich in history and antiquity, the state of Virginia, like many southern states, has a great need for healthcare workers, including nurses. Registered Nurses can command higher salaries and be employed by preferred healthcare institutions when they have a Master's of Science in Nursing degree. Nurses wanting career advancement now have more ways to attain this goal. 
From accelerated or bridge options (RN/BSN to MSN) to standard and direct entry MSN programs, individuals in Virginia can obtain an MSN via a number of avenues.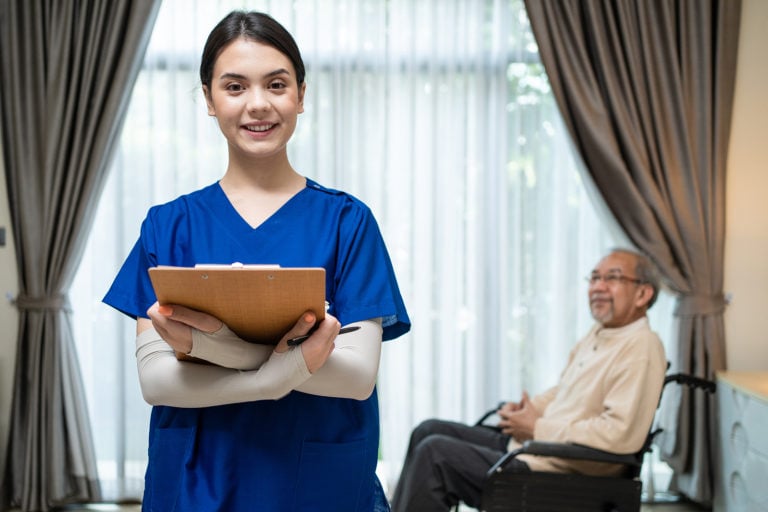 RN to MSN and BSN to MSN Programs
Nurses often say their profession is a calling more than just a job. For those dedicated RNs who feel they are called to do more, professional advancement in the form of an MSN degree is attainable via bridge RN to MSN or BSN to MSN programs in Virginia. With online, on-campus, and hybrid delivery options for classes, nurses are bound to find a program that is right for them. A few RN to MSN options exist for nurses with associate's degrees while others allow nurses to complete an RN to BSN followed immediately by the MSN. The benefit of bridge options is that they allow students to count coursework twice, which speeds up the degree completion timeline. 
Typical Program Length:
Approximately 5 full-time semesters for an RN to MSN
At least 3 full-time semesters for a BSN to MSN
Typical Admissions Requirements:
ADN or BSN from an accredited university (degree level may vary by program)
Minimum GPA of 3.00
Completed application
Current, unencumbered license as an RN 
Some clinical experience 
Resume and personal statement or essay 
Accelerated & Master's Entry Nursing Programs
Educated professionals can change the trajectory of their careers as they change the lives of others when they become Generalists or Clinical Nurse Leaders. The University of Virginia offers a direct-entry master's pathway for those with bachelor's degrees outside of nursing. The academically rigorous program prepares students to work as generalist nurses across the health care spectrum. Preparing for the NCLEX-RN is also part of the program. In the course of study, students gain clinical experiences in labor and delivery, surgery, mental health, public health, and pediatrics. 
Typical Program Length:
At least 2 years of full-time study plus clinicals 
Typical Admissions Requirements:
Bachelor's degree from an accredited university in a non-nursing field
GPA of 3.0 or higher and submission of official transcripts
Completion of prerequisite courses in science and statistics within the past 5 years
Application and resume 
Three letters of recommendation
2023 List of MSN Programs in Virginia
There are at least 5 RN to MSN programs being offered in the state of Virginia; of these, some of the modalities include online studies, in-class and a combination of the two. You can earn your degree while you continue to work and gain experience. When you obtain your degree you put yourself ahead of the game in what types of specialties become available to you; these specializations include nurse anesthetist, critical care nursing, and different management or administrative positions.
MSN Programs By City:
Arlington, VA
Charlottesville, VA
Fairfax, VA
Hampton, VA
Lynchburg, VA
Norfolk, VA
Richmond, VA
Roanoke, VA
Winchester, VA
Are we missing your school's program or need to update information listed? Please contact us so we can make the necessary changes.