Nurse Practitioner Schools in Alaska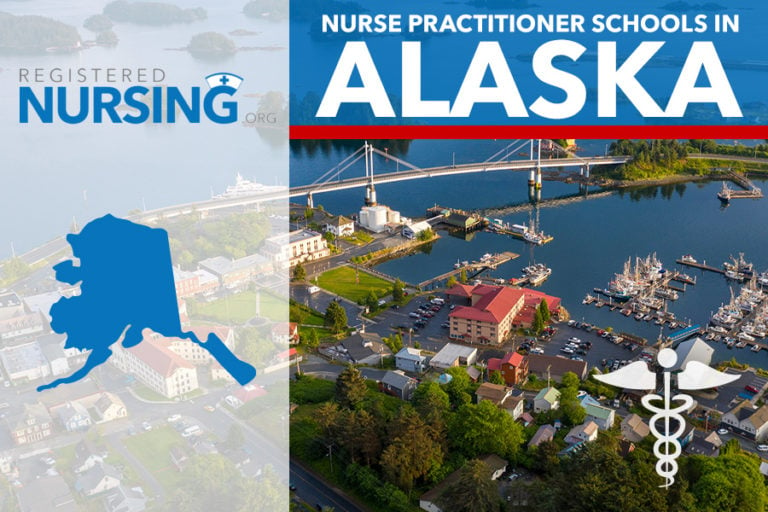 For nurses in Alaska looking to advance their careers by becoming nurse practitioners (NP), the state boasts numerous pathways. Whether a student aims to achieve a Master's of Science in Nursing (MSN) or the even more advanced Doctor of Nursing Practice (DNP) degree, there are so many opportunities for nurse practitioners, a field of advanced practice nursing which is growing rapidly. With sub-specialties in areas like pediatrics, psychiatrics, and family health, advancing to a nurse practitioner role is an excellent career move for motivated RNs.
Choosing a Nurse Practitioner Program
It's imperative to choose a good nurse practitioner program in order to succeed in the career. The following are important things to consider when researching NP programs:
Accreditation- Properly accredited programs convey quality and trust. The Accreditation Commission for Education in Nursing (ACEN) and the Commission on Collegiate Nursing Education (CCNE) are two of the main accrediting bodies for NP programs, and any good school will have at least one of these accreditations.
Program Cost- Tuition fees are generally listed per credit, and students in Alaska can expect to find tuition in the $400-$500 per credit hour range. DNP programs are overall more expensive than MSN programs, as they require more credits. Tuition often does not include additional mandatory expenses, such as course materials, labs, and other fees.
Program Length- While total length can vary due to many factors, including location and degree level, master's level programs typically take 2-3 years to complete, with doctoral programs taking around 4 years from start to finish. Both programs typically require a student to already hold a BSN degree.
Internship/Externship Opportunities- Nurse practitioner programs require a certain amount of hands-on clinical hours. Many schools have partnerships with area hospitals and medical facilities and can help students arrange the necessary internships and externships they will need in order to graduate.
Online/Campus Options- Students have an array of choices in how they choose to earn their NP degree. Online learning is an increasingly popular option, but traditional classroom-based programs are also widely available. For those on the fence, hybrid options are beginning to crop up, which combine online coursework and in-person classroom based learning.
Admission and Certification Requirements
Students will typically find the following admissions requirements in Alaska:
Bachelor or graduate degree in nursing from an accredited program
Minimum undergraduate GPA of 3.0
Copy of active, unencumbered Alaska RN license
Minimum on year of clinical experience as an RN
Minimum grade of 'C' in a research methods course and statistics course
Current resume
Three letters of recommendation
Completed application form
Licensing/Certification
Certification for most of the nurse practitioner specialty areas can be obtained through the American Nurses Credentialing Center (ANCC). Generally, applicants must hold an active RN license and have completed a graduate-level nursing program in an applicable specialty.
NPs must be registered through the Alaska Board of Nursing as an Advanced Nurse Practitioner (ANP). Eligibility requirements include:
Must hold an Alaska RN license
Official transcript sent directly from school of nursing verifying that the applicant has met all educational requirements
Provide current certificate as a nurse practitioner in an approved specialty area
Submit a written plan detailing the applicant's clinical practice, expected category of clients, and more
Complete an application and pay all associated fees
Alaska Nurse Practitioner Agencies and Organizations
Schools That Offer Nurse Practitioner Programs in Alaska
With the demand for nurse practitioners expected to grow by 31% through 2024, entering an accredited NP program in Alaska is an excellent opportunity for nurses to take on more responsibility, improve patient outcomes, and earn higher salaries.
Anchorage, AK
Graduate Certificate ProgramsMSN Programs
3211 Providence Drive
Anchorage
,
AK
99508
(907) 786-4406
Are we missing your school's program or need to update information listed? Please contact us so we can make the necessary changes.