Nurse Practitioner Schools in South Dakota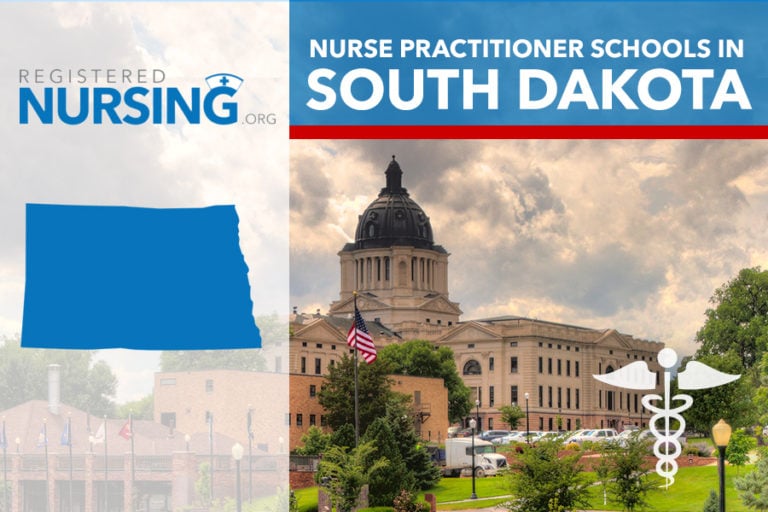 Nurse practitioners are currently in high demand in the United States. The demand is due to a nationwide physician shortage, increased demand by health care consumers, and an increase in the aging population.
According to the Bureau of Labor Statistics, South Dakota specifically is projected to have a 24.3% increase of nurse practitioners by 2024.
Registered nurses looking to expand their practice can find job stability and opportunity as a nurse practitioner. In South Dakota, NPs can act as primary care providers, and diagnose, treat, and prescribe under a collaborative agreement with a physician (if the NP has had less than 1,040 practice hours).
Choosing a Nurse Practitioner Program
Attending graduate school is a weighty decision, one that should not be taken lightly. Many prospective students aren't sure where to begin when researching schools. The following considerations should be addressed when choosing a program:
Accreditation- Most states require the advanced-practice RN to have completed an accredited graduate program before licensure. The Commission on Collegiate Nursing Education (CCNE) or the Accreditation Commission for Education in Nursing (ACEN) are accreditation entities that are nationally recognized, so students should find schools that have earned this accreditation. There are three accredited nurse practitioner programs based in South Dakota.
Program Cost- While cost is a significant factor in choosing a graduate program, it's important to recognize that most schools strive to promote educational opportunity and success, and therefore have financial aid options available such as payment plans and scholarships. The average cost to attend graduate school in South Dakota is $ 460 per credit. However, this does not include additional university fees, books, or supplies.
Program Length- The length of time to complete a graduate program depends on several factors. Assuming the nurse already has a bachelor's degree, it can take two-to three years to complete an MSN program, and four years for a DNP program. This time frame is assuming the student is attending full-time. For nurses who do not have a bachelor's degree, it can take an additional year to complete the NP program.
Internship/Externship Opportunities- Students enrolled in an NP program are required to complete a specific number of supervised clinical hours in their specialty of choice (500-600 hours) before graduating. This requirement ensures the nurse practitioner has gained the necessary skills and experience to practice after graduation. Some states have nurse practitioner residency programs to extend clinical learning further. However, South Dakota currently does not have a program available.
Online/Campus Options- With South Dakota being a geographically large state and having only three campuses offering nurse practitioner programs, distance learning is almost necessary for prospective students. Luckily, two of the three accredited schools offer distance learning. Not only does this assist students with traveling to campus, but it allows them to learn at their own pace and direction.
Admission and Certification Requirements
Admission requirements for graduate study can vary between South Dakota schools, but students may be required to:
Current licensure as an RN with at least one year of RN practice
Have a bachelor's degree in nursing from an accredited university
Have maintained a GPA of 3.0
Completion of Basic Life Support (BLS), Advanced Cardiac Life Support (ACLS), and the Pediatric Advanced Life Support (PALS) (necessary for clinical rotations)
Provide three letters of recommendation
Submit a current resume/CV
Provide a written statement of goals
Complete an interview with faculty
Complete a health questionnaire, physical exam, immunization record, and criminal background
Licensing/ Certification
Specialty certification (i.e., Adult, Family, Pediatric, etc.) is required for licensure in South Dakota. NP graduates can take the certification exams offered by the American Academy of Nurse Practitioners Certification Program (AANP-CP), American Nurses Credentialing Center (ANCC), National Certification Corporation (NCC), or the Pediatric Nursing Certification Board (PNCB).
Other requirements for initial licensure in South Dakota include:
Current RN license
Submit fingerprints/ criminal background check
Have official transcripts sent from the university to the board
Complete the Education Verification form, part of which should be supplemented by the Dean/ designated representative from the school verifying education and accreditation
Complete the Practice Verification form-if the applicant has worked as licensed NP more than 1,040 hours, a collaborative agreement with a physician is not needed. Otherwise,
Completion of a collaborative agreement must be submitted
If prescribing controlled substances, additional application/ registration is required
South Dakota Nurse Practitioner Agencies and Organizations
Nurse Practitioner Programs
Becoming a nurse practitioner is a momentous step in a registered nurse's career. Many universities offer tools for students to be successful to include options for flexibility, financial aid, and alternative study methods. Prospective students are encouraged to find the program that best fits their needs.
Brookings, SD
Graduate Certificate ProgramsMSN Programs
1015 Campanile Ave.
Brookings
,
SD
57007
(605) 688-4121
Yankton, SD
1105 West 8th Street
Yankton
,
SD
57078
(605) 668-1545
Are we missing your school's program or need to update information listed? Please contact us so we can make the necessary changes.