Nurse Practitioner Schools in Wyoming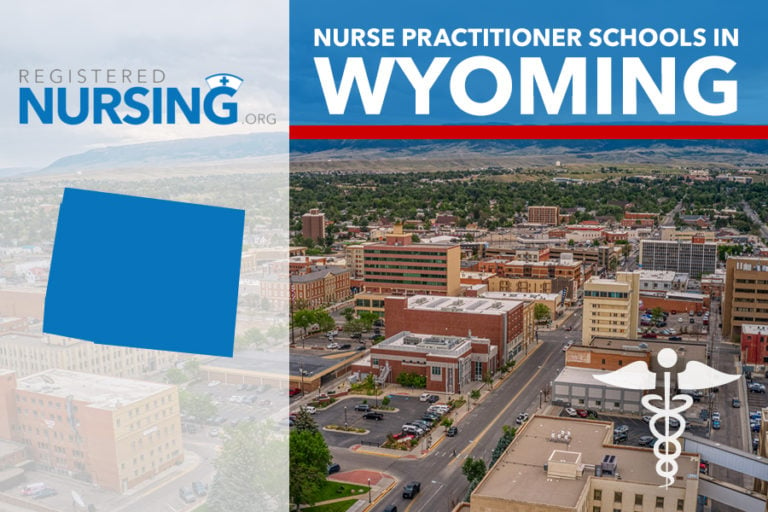 Registered nurses in Wyoming looking to advance their careers may decide to pursue continued education via a Master's of Science in Nursing (MSN) or Doctor of Nursing Practice (DNP) degree. These degrees offer the opportunity to enter a career as a nurse practitioner (NP), a highly sought after and in-demand nursing role. NPs can specialize in niche areas, such as family nurse practitioner, psychiatric nurse practitioner, and more.
Choosing a Nurse Practitioner Program
Deciding to become a nurse practitioner is just the first step. Prospective students must then choose a good nurse practitioner program. Remembering to check for the following will provide much needed peace of mind:
Accreditation- Programs that are properly accredited are held to high standards and are generally good bets. Look for accreditations from the Accreditation Commission for Education in Nursing (ACEN) and the Commission on Collegiate Nursing Education (CCNE).
Program Cost- Tuition for the University of Wyoming, which offers the main NP program in the state, is around $400 per credit hour. Keep in mind that tuition can fluctuate, and generally does not include other mandatory expenses such as books, course materials, and other fees.
Program Length- Program length can vary based on full-time or part-time attendance, but an MSN usually takes 2-3 years to complete and a DNP takes roughly 4 years. Online programs may have more flexibility, which means total length will vary.
Internship/Externship Opportunities- Most schools with NP programs have relationships with hospitals and other medical facilities in the area, at which students can complete their required clinical hours. It's always a good idea to check with a prospective school regarding internship/externship opportunities as it relates to the NP program.
Online/Campus Options- Online programs are seeing a huge boost across the nation. There are also traditional campus programs, as well as hybrid programs, which combine some online coursework with classroom-based labs and lectures.
Admission and Certification Requirements
Students will typically find the following admissions requirements in Wyoming:
BSN from a nationally accredited nursing program
Minimum GPA of 3.0
Official transcripts from all previously attended colleges/universities
2-3 page personal essay
Current CV/resume
3 professional letters of recommendation
On campus interview may be required
RN license
Licensing/Certification
Certification for most of the nurse practitioner specialty areas can be obtained through the American Nurses Credentialing Center (ANCC). Applicants must have an active RN license and have completed a graduate-level nursing program in an applicable specialty.
The Wyoming Board of Nursing can issue an advanced practice registered nurse (APRN) license. Eligibility requirements include:
Graduate degree in nursing with a clinical specialty or an advanced practice registered nurse specialty
Completion of an advanced program of study in a specialty area in an accredited nursing program, along with having taken and passed a national certification exam in the specialty nursing area
Wyoming Nurse Practitioner Agencies and Organizations
Nurse Practitioner Programs
Nurse practitioner careers are highly revered, and expected to grow by 31% through 2024. NPs enjoy higher salaries, more autonomy, and increased job responsibilities, and many consider it a highly rewarding career. Wyoming is dedicated to providing solid educational opportunities for advancement in the nursing profession.
Laramie, WY
1000 E. University Ave
Laramie
,
WY
82071
(307) 766-1121
Are we missing your school's program or need to update information listed? Please contact us so we can make the necessary changes.