Connecticut Post-Graduate Certificate in Nursing Programs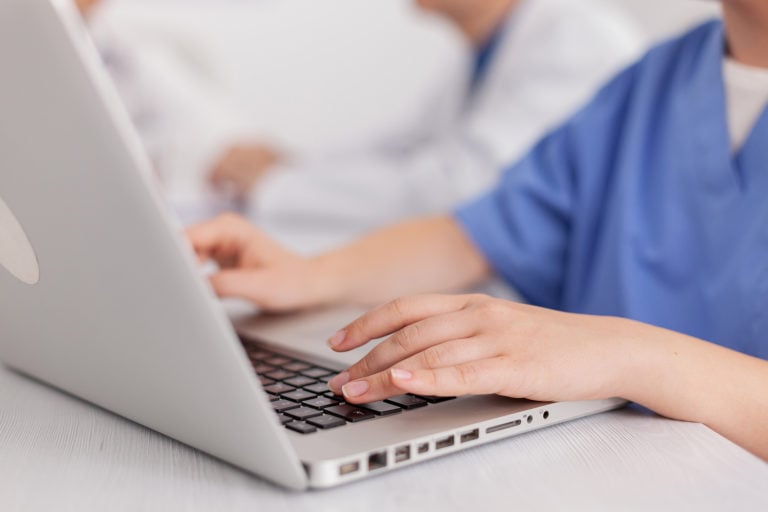 After earning a master's degree in nursing, RNs may advance their careers by completing a post-graduate certificate in nursing program. These programs allow nurses to master specialties that weren't explored in their MSN degree program.
For some Connecticut nurses, a post-graduate nursing certificate is a way to enhance their qualifications for career advancement. Others may want to specialize in new areas of nursing to allow future career changes. With each new specialty, nurses may find that they have more career options and greater job security.
Post-Graduate Certificate in Nursing Admission Requirements in Connecticut
Post-graduate certificate programs in Connecticut are only open to registered nurses who have already earned a master's degree. Other admission requirements may apply, depending on the school offering the certificate course. For example, nurses must meet the following requirements when applying for the Family Nurse Practitioner Certificate Program at Southern Connecticut State University:
MSN from an accredited nursing school
Current Connecticut RN license
Current health records
Current CPR training
This school also requires applicants to successfully pass an interview with the school's nursing department. No GRE or MAT test scores are needed, but other Connecticut schools may have that requirement. Some schools may also require malpractice insurance and professional references or recommendations.
Post-Graduate Certificate in Nursing Classes and Courses
The courses required for a post-graduate certificate program in Connecticut will vary, depending on the specialty of focus for each certificate. Most programs will provide some level of mentorship or clinical practice where hands-on learning is encouraged.
For example, the following courses are required to complete the Post-Master's Teaching Certificate in Nursing at the University of Hartford:
Perspective Transformation I: Socialization into a Community of Scholarly Caring (3 credit hours)
Theories of Learning and Teaching for the Health Professions (3 credit hours)
Practicum and Seminar in Nursing Education (3-4 credit hours)
Program Length
Post-grad nursing certificate programs in Connecticut can range from 12 to 27 credit hours, and possibly more for some specialties. Most programs are completed within a few years, and some are completed in a year or less. Part-time scheduling is permitted because most RNs maintain full-time employment while completing their certificate.
Tuition and Cost of Attendance
Tuition varies from one Connecticut school to the next, but students can expect to pay at least $500 if not more per credit hour. There are also other fees that nurses should consider, including the cost of commuting to and from the school, books and other supplies. Most schools also have mandatory fees that all students in select programs must pay.
Online Post-Graduate Nursing Certificate Programs in Connecticut
Online post-graduate nursing programs are convenient for working RNs who don't have the time to attend class on campus. Connecticut nurses can enroll in online certificate programs at Sacred Heart University in Fairfield.
Featured Online School
The University of Connecticut is a great example of a school that offers post-graduate certificates for RNs ready to advance their careers. There are three certificate programs available to RNs who maintained at least a 3.0 GPA in their master's degree programs:
Adult Gerontology Acute Care Nurse Practitioner (AGACNP)
Adult Gerontology Primary Care Nurse Practitioner (AGPCNP)
Neonatal Acute Care Nurse Practitioner
Neonatal Nurse Practitioner (NNP)
To qualify for this program, nurses must submit three letters of recommendation and a resume.
Post-Graduate Certificate in Nursing Career Pathways in Connecticut
Post-graduate certificates in Connecticut won't always lead to a new job title. In many cases, they allow nurses to advance to higher-salary positions or to transition to a new area of nursing. Some specialties that nurses may claim after completing a master's program and a post-graduate nursing certificate program include:
Post-Graduate Nursing Certificate Salary & Job Outlook
Nurses who specialize in education and secure positions as nurse educators can expect to earn $73,633 per year on average. There is currently a shortage of qualified nurse educators across the country, so this is a good time for RNs to consider a post-graduate certificate program in nurse education.
MSN graduates who become Nurse Practitioners and then secure specialties through post-graduate nursing certificate programs in Connecticut can expect to earn an average of $98,000 annually. That figure varies between specialties, and the average is much higher in select career paths.
List of Connecticut Post-Graduate Certificate in Nursing Programs
Registered nurses ready to advance their careers or add to their list of specialties can explore post-graduate certificate in nursing programs at the following Connecticut schools.
New Haven, CT
Orange, CT
Storrs, CT
West Hartford, CT
Are we missing your school's program or need to update information listed? Please contact us so we can make the necessary changes.