Post-Master's Nursing Administration Certificate Programs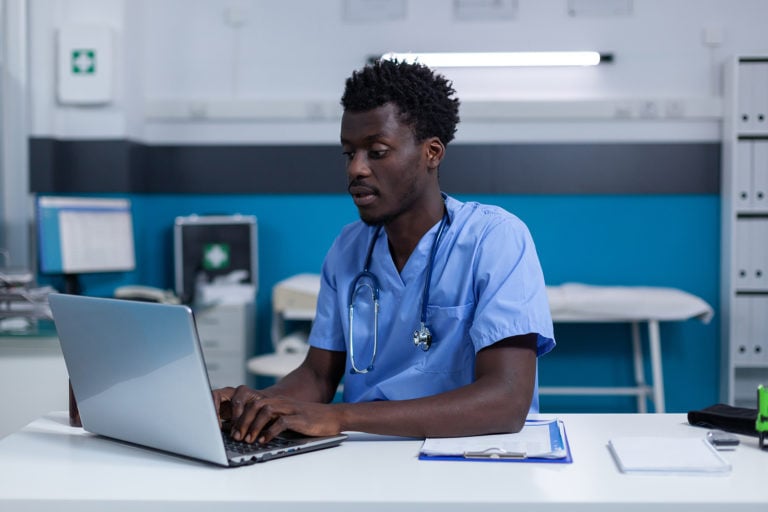 Advanced practice nurses looking to expand their scope within the administration and management realm may wonder what their options are. For those who have already earned a Master's of Science in Nursing (MSN), earning a higher degree such as a Doctor of Nursing Practice (DNP) may seem like the only option. However, post-master's nurse administrator certificate programs do exist, allowing nurses to specialize without having to earn another degree type. Leadership positions for the MSN-educated nurse can be achieved efficiently via the post-master's certificate pathway.
Choosing a Post-Master's Nursing Administration Certificate Program
Once a nurse has decided to earn a post-grad certificate in nursing administration, they will have to decide on the right school. Not every school will offer this niche pathway, and the ones that do may vary in quality. To find the right fit, students should research programs thoroughly, taking the following into account.
Accreditation– One of the most important aspects of post-master's certificate programs and schools is proper accreditation. Accredited schools are vetted thoroughly and held to high academic standards. Common accrediting bodies include the Accreditation Commission for Education in Nursing (ACEN) and the Commission on Collegiate Nursing Education (CCNE). Students should look for these organization's stamps of approval before settling on a post-master's nursing administration certificate program.
Cost– Program expenses, including tuition and incidentals, can add up. When researching a post-master's nursing administration certificate program, students are encouraged to consider the full cost of the program. Things like course materials and application fees should be factored in. Expenses can range from affordable to astronomical depending on city, school type, and other factors, so comparing a few programs and determining overall value is encouraged.
Program Length– Depending on what courses a prospective student has already taken, the post-master's nurse administrator program can require anywhere from 18 to 38 credits hours. Students should consider their goals, each school's curriculum, and the quality of instructors and courses before deciding on a program. The shortest offering may not be best; likewise, a lengthy program may not be worth the additional time.
Online Options– Online, or "distance learning" programs, have grown in popularity over recent years. Convenience and flexibility are the main advantages of this type of program, and employed students appreciate the ability to study when their schedules allow. Many schools are also offering "hybrid" program options, which consist of a mixture of online classes and traditional campus lectures/visits. It's a good idea to see what program options are available at your school of choice.
Internship/Externship Options– The post-master's nurse administrator certificate program may require a certain number of clinical or internship hours. If this is the case, finding a school with partnerships at local hospitals or health facilities can be very helpful. Before enrolling in a program, students should find out about these requirements and see if the school helps place them locally.
Online Post-Master's Nursing Administration Certificate Programs
It may have been years since a prospective post-master's nursing admin certificate program student has attended class, and many are curious to know if an online version is worth it. There are many reasons why a student might want to consider an online program, but they are not necessarily for everyone. Considering the advantages and disadvantages of online and traditional programs is highly encouraged.
Online vs. Classroom-Based Post-Master's Nursing Administration Certificate Programs
Online programs can be a lifesaver for busy working professionals who might otherwise not be able to swing a post-grad certificate program. Those with children and family obligations are also often drawn to this program option. The flexibility of these programs cannot be beat, as students can work from home and study when they see fit. Commuting, parking, and other time-consuming related endeavors are virtually eliminated with online programs, which is a big plus. Once only available at a select few schools, online offerings are growing rapidly, giving students many choices if this is the route they wish to go.
Traditional programs, however, also have their place. Those who struggle with time management or procrastination may prefer the consistent structure of classroom-based programs. Students have more opportunities to interact with professors, staff, and other students, which can aid in learning comprehension. Classroom programs may also be preferable to those who aren't great with technology, as online programs often require the use of laptops, webcams, and specific software.
For those who can't quite decide, or who find aspects of each program type intriguing, hybrid options may the ideal solution. While not available through every school, this is another growing program type due to high demand.
Post-Master's Nursing Administration Certificate Admissions Requirements
Students should take care to ensure that they meet or exceed all admissions requirements from their school of choice before applying. While each school and program may have a slightly different set of requirements, most include some combination of the following:
MSN degree from an accredited, board-approved institution
Official transcripts from all colleges attended
Current, active RN license
Minimum GPA of at least 3.0
Prior completion of undergrad courses in statistics and/or nursing research may be required
Two or more professional letters of recommendation
Personal statement or essay
Completed admissions application
Post-Master's Nursing Administration Certificate Curriculum
The post-master's nurse administrator curriculum is typically comprised of leadership and management-based nursing courses. A capstone project or practicum hours may be required. Class titles may include:
Scientific Underpinnings of Practice
Transformational Leadership
Informatics in Healthcare Systems
Healthcare Finance: Concepts & Issues
Strategic Planning & Project Management
Administrative Management in Healthcare Organizations
Helpful Resources
Other Degree Programs
List of Post Master's Certificate Nursing Administrator Programs
Jump to Your State Listings
Arizona
Arkansas
California
Illinois
Indiana
Iowa
Kansas
Kentucky
Maine
Massachusetts
Michigan
Minnesota
Mississippi
Nebraska
New Jersey
New York
North Carolina
Ohio
Oklahoma
Pennsylvania
South Carolina
Tennessee
Texas
Utah
Virginia
Are we missing your school's program or need to update information listed? Please contact us so we can make the necessary changes.