Best Nursing Schools in Nevada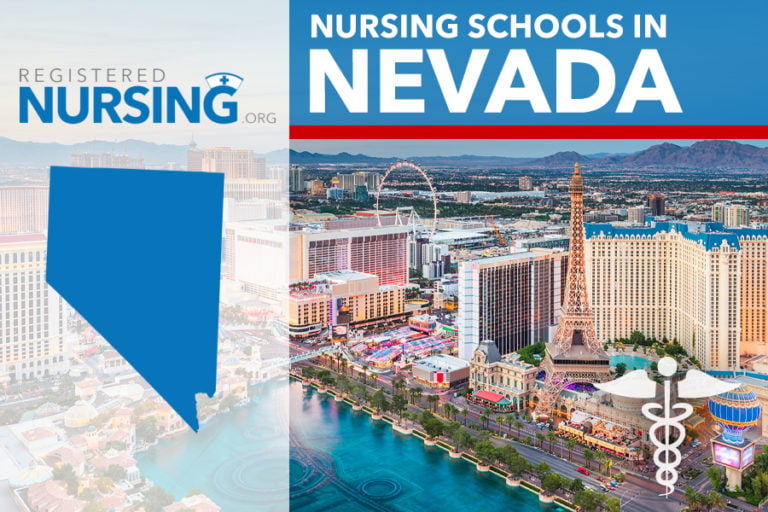 If you are looking for a rewarding and lucrative career in healthcare, look no further than registered nursing in the state of Nevada. Not only are nurses in demand in the state, but they are paid handsomely as well. The Bureau of Labor Statistics reports the average salary of a registered nurse in Nevada at $88,380. With a variety of nursing programs offered at schools in the state, becoming a registered nurse in Nevada couldn't be easier.
For RN bridge programs visit:
Best RN Programs in Nevada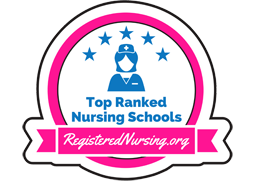 Selecting the best nursing school in Nevada can be difficult. To make the process easier first look for a school that supports students towards licensure and beyond. A great way to measure this is through NCLEX-RN "pass rates." We have ranked the top 5 nursing schools in Nevada by analyzing current and historical NCLEX-RN "pass rates", meaning the percentage of graduates who pass the exam, out of the 12 RN programs in the state. Programs reviewed include schools that offer an Associate in Nursing (ADN/ASN), BSN, or Direct-Entry MSN Degree.
For more information on our top nursing school rankings, see our Methodology Page (https://www.registerednursing.org/rn-ranking-methodology/).
1500 College Pkwy
,
Elko
,
NV
89801
Score: 97.03
Great Basin College in Elko, Nevada is home to an excellent associate degree in nursing program that prepares students for entry-level RN careers. GBC graduates are evidence-based thinkers who use their findings to remain competent and insightful in a contemporary clinical environment.
Program Details
Programs: Associate in Nursing
Phone:

(775) 327-2317
1300 Nevada State Dr
,
Henderson
,
NV
89002
Score: 94.76
Nevada State College in Henderson, Nevada produces exemplary nursing graduates. With flexible BSN offerings, graduates join the workforce and maximize healthcare for diverse and sometimes vulnerable patients, families, and communities.
Program Details
Programs: BSN
Phone:

(702) 992-2000
8363 W Sunset Rd, Suite 200
,
Las Vegas
,
NV
89113
Score: 93.99
The Las Vegas campus of Arizona College of Nursing offers students a high-quality BSN program that can be completed in just 3 years. With sessions starting roughly every 8 weeks, 6 times per year, students can begin their nursing education sooner to join the ranks of registered nurses all over the state and country.
Program Details
Programs: BSN
Phone:

(702) 831-5000
18600 Wedge Parkway, Building B
,
Reno
,
NV
89511
Score: 93.87
Truckee Meadows Community College is located in Reno - a short drive from Lake Tahoe. TMCC nursing graduates excel at synthesizing theory and clinical experience to best serve their patients and healthcare teams.
Program Details
Programs: Associate in Nursing
Phone:

(775) 850-4054
2201 W College Pkwy
,
Carson City
,
NV
89703
Score: 93.32
Western Nevada College is located in the state's capital city of Carson City. With an excellent nursing program, nursing educators adeptly guide students toward effective communication, accountability, and clinical knowledge so that graduates easily fill the gaps in area nursing care.
Program Details
Programs: Associate in Nursing
Phone:

(775) 445-3000
ADN Programs in Nevada
If you're not sure what kind of nursing degree to pursue, a good place to start is with an Associate's Degree in Nursing (ADN). This 2-year program will prepare you for a variety of nursing jobs and is one of the quickest ways to earn your education. Plus, this program is often available at junior and/or technical colleges, making it a very accessible option no matter where you are located.
Over 5 schools in Nevada offer a board-approved and accredited ADN program.
What to Look For in an ADN Program in Nevada
To choose the right program for you, you'll need to research schools carefully. There are a few factors you can consider to ensure a good fit, including:
Accreditation
Accreditation from respected industry associations provides credibility for schools and programs. Look for accreditation from national organizations like the Commission for Education in Nursing (ACEN) and/or the American Association of Colleges of Nursing's Commission on Collegiate Nursing Education (CCNE), among others. You should also be sure that your preferred program is approved locally by the Nevada State Board of Nursing.
Licensing
In order to receive your RN license, you will need to take and pass the National Council Licensure Examination (NCLEX) for registered nursing upon completion of your ADN. To ensure that the program you choose will fully prepare you for the NCLEX-RN, peruse their curriculum and even contact the nursing faculty. You'll want the best possible chance of passing this important exam.
Program Outcomes
Many good schools measure program outcomes and can provide statistics on graduate satisfaction, which can say a lot about the program. Look for stats and facts on things such as:
Graduation rates
NCLEX-RN pass rates
Graduate satisfaction
Employment rates
An example of a school offering a properly accredited ADN program in Nevada is Truckee Meadows Community College, located in Reno.
ADN Program Admission Requirements in Nevada
Before applying to any ADN program, it's a good idea to make sure you fully understand the entrance requirements. While these requirements will vary from school to school, below is a sampling of what you might find for a Nevada ADN program:
GPA of at least 3.0 for all pre-requisite courses
Completion of the HESI Admission Assessment Exam with minimum scores
Submit all prior official transcripts
Tuition and Costs of ADN Programs in Nevada
One of the reasons ADN programs have soared in popularity is their affordability. However, you will need to be prepared to pay for a variety of expenses, including tuition, as well as other mandatory fees such as books, transportation, uniforms, and the like. Many students qualify for scholarships and/or financial aid, so be sure to contact your prospective school to see what may be available for you if needed.
To provide an example on cost, the associate degree program through Western Nevada College in Carson City charges students around $107 per credit for their program, plus applicable fees.
Advantages of ADN Programs
An ADN program offers numerous advantages over longer, more traditional nursing programs. The first is the shortened length; the 2-year program is especially ideal for those wanting to start earning a salary as a nurse as quickly as possible. The second is the accessibility of the program at a variety of smaller institutions, making class sizes generally smaller and coursework more interactive compared to larger schools. Lastly, due to the short time-frame and availability at smaller schools, an AND tends to also be a bit more affordable than other nursing programs.
LPN to RN Programs in Nevada
Some registered nurses start out as Licensed Practical Nurses (LPNs). In this circumstance, LPNs can enroll in a specialty LPN to RN bridge program, which allows them to advance to the registered nursing path in an accelerated amount of time. The curriculum builds upon the LPNs prior training and knowledge, preparing them for the NCLEX-RN examination.
LPN to ADN/BSN Programs
There are typically two choices an LPN has when going for an RN bridge program: the ADN or the BSN. In Nevada, students can opt for the College of Southern Nevada's LPN to ADN program, which takes just 3 semesters to complete. While there are currently no on-campus LPN to BSN programs in the state, national online options are usually available, with the student completing clinical requirements at an area healthcare facility or hospital.
Admissions requirements for LPN to RN programs in the state may include:
Current licensure as a practical nurse in Nevada
Cumulative GPA of at least 2.5
Satisfactory scores on the ATI test or KAT exam
BSN Programs in Nevada
A Bachelor's of Science in Nursing (BSN) is typically what people think of when they hear the words "nursing school". This traditional, 4-year degree is offered at larger universities in more urban areas. Increasingly, schools are offering alternatives to the traditional BSN, including the accelerated BSN as well as the RN to BSN.
Nevada offers roughly 5 schools throughout the state with accredited and approved BSN programs.
What To Look For in a BSN Program in Nevada
It's important to vet schools and BSN programs in your area to ensure that you choose one of high quality. Things like cost, location, and accreditation should be top considerations. If you already hold a bachelor's degree in another subject and want to pursue a nursing degree, you will want to look for a school that offers an accelerated BSN program. Additionally, if you are already a registered nurse looking to advance your career with a BSN, be sure to identify a school with a good RN to BSN program.
The University of Nevada, Reno is one example of a school that offers a fully accredited program in the state.
BSN Program Length in Nevada
For a standard, pre-licensure BSN program, 4 years is the typical length. Your education will consist of a mix of general education courses and more specific nursing courses. The accelerated BSN, designed for those who already have a degree and are working toward nursing as a second career, can take as little as 15 months. Lastly, RN to BSN programs in the state usually take 1-2 years to complete, depending on the prior nursing coursework taken.
BSN Program Admission Requirements in Nevada
BSN programs are popular and can be competitive, so you should ensure that you meet all requirements prior to applying. While you should always check with your specific school about their particular requirements, here are a few examples:
Must have a 3.0 or better GPA on selected pre-nursing coursework
Submission of all official transcripts
Must complete HESI exam
Tuition and Costs of BSN Programs in Nevada
BSN program costs can fluctuate wildly depending on the school, the type of BSN program you choose, and a variety of other factors. You will need to account for tuition, fees, and other indirect costs like textbooks, lab fees, and more. It's also good to keep in mind that in-state tuition tends to be lower than out-of-state tuition.
As an example, the cost of tuition for the BSN program at Nevada State College in Henderson is roughly $185 per credit hour. This doesn't include additional mandatory fees or expenses.
Advantages of BSN Programs
For those who want a traditional college experience and are certain they want to achieve higher career levels in registered nursing, a BSN is ideal. Jobs in areas like emergency medicine, healthcare education, pediatrics, and more are all attainable with a BSN degree. Because there are alternative degree options like the accelerated program and the RN to BSN program, it's a real education to acquire at any stage in your life.
MSN Programs in Nevada
One of the most advanced forms of nursing education, a Master's of Science in Nursing degree (MSN) is a popular option available in the state. This program is geared toward RNs who want to reach new heights in their careers and is the next step beyond a BSN. Jobs such as Clinical Nurse Specialist, Certified Nurse Midwife, Nurse Practitioner, and other specialties all require an MSN.
Over 3 schools in the state offer a properly accredited MSN program.
MSN Program Length in Nevada
MSN programs tend to be 2-3 years in length from start to finish. They are designed to fit around the schedules of busy working registered nurses, so the time frame can vary depending on how much time you spend on coursework. Sometimes prior nursing credits can be applied toward the degree, but this will depend on the program you choose.
MSN Admission Requirements in Nevada
MSN programs have some rigorous entrance requirements that you'll need to be aware of. While programs can vary, you can generally expect to find admission requirements similar to the following:
Hold a BSN degree from an accredited institution with a GPA of 3.0 or higher
Possess a current unrestricted nursing license in the state of Nevada
Interview with nursing faculty
Submit a letter of intent
Tuition and Costs of MSN Programs in Nevada
MSN programs can be quite costly, although the potential for a higher annual salary than most registered nurses with lower degrees can more than make up for it. Tuition will be a big expense, but indirect mandatory costs like books, labs, and transportation should also be considered. To provide an idea on cost, the MSN program at the University of Nevada, Las Vegas charges the standard tuition rate of $314 per credit, not including the mandatory differential fees for nursing courses or any other fees.
For NP programs visit:
Getting a Nevada Nursing License
Nevada State Board of Nursing has clear cut requirements to apply for licensure by either examination or endorsement.
If applying by examination you must complete the appropriate application and meet these qualifications for consideration:
Graduate from an approved school of nursing - official transcript sent to directly to the board from the School of Nursing
Registered for the NCLEX exam
Completed fingerprint card
If applying for licensure by endorsement you must submit the following documentation to the state board:
Completed application form with fees paid
Proof of education - a copy of official transcript or diploma sent directly to the board from the institution
Verification of license from the original state of licensure
Completed fingerprint card
Learn more about RN license information at the Nevada State Board of Nursing.
Accelerated Nursing Programs in Nevada
Future employers see the added benefit of having a degree in nursing and would encourage candidates to pursue a BSN or higher. There are accelerated programs at a few different colleges in the state that can provide what candidates need to meet the preference. Taking 12 to 18 months to complete an accelerated program could be the hand up you need to obtain your career goals. Full-time commitment is required because the program is quite intense and does not recommend working outside of the clinical hours required for completion. Eligibility and tuition can vary greatly depending on which program you choose.
Continued List of All RN Programs in Nevada
Here is a continued list of all RN Programs a continued list of all RN Programs a continued list of all RN Programs a continued list of all RN Programs a continued list of all RN Programs a continued list of all RN Programs.
Are we missing your school's program or need to update information listed? Please contact us so we can make the necessary changes.