Nursing Programs in Los Angeles, CA
Those in and around Los Angeles have a wide variety of world-class nursing programs right at their fingertips. Entry-level or advanced practice, L.A. has something for everyone.
To get started in nursing or to advance your nursing career, check out our accredited program listings sections below: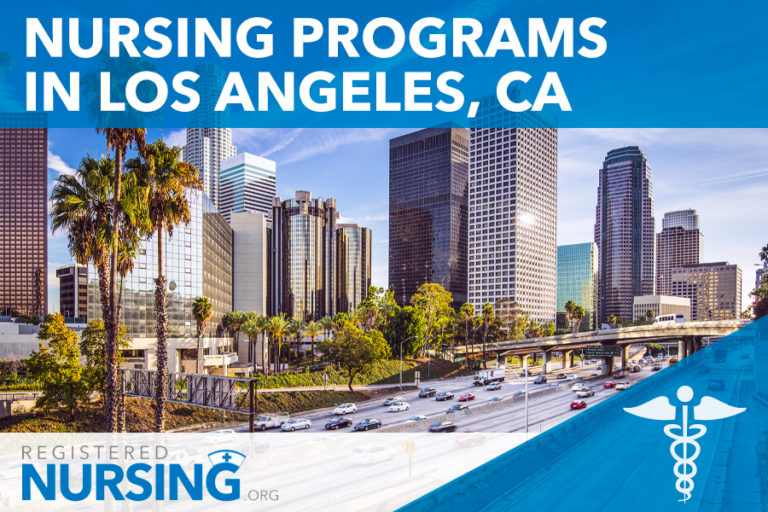 Entry Level ADN, BSN, & MSN Programs in Los Angeles, CA
Direct-entry nursing programs for those with no prior nursing degree are available in a variety of formats in Los Angeles. The Associate's Degree in Nursing (ADN) is the most basic, but there are also direct-entry opportunities for those looking to earn a Bachelor of Science in Nursing (BSN) or even a Master's of Science in Nursing (MSN).
LPN to RN Programs
For aspiring RNs with work experience as licensed vocational nurses, LVN to RN programs around Los Angeles and southern California offer an opportunity to earn an associate's degree in nursing and become prepared to take the NCLEX licensing exam. Pasadena City College offers a three-semester LVN to RN program that is approved by the California Board of Registered Nursing.
ADN Programs
Two-year ADN programs, like the one offered through LA City College, prep students for entry-level nursing roles. Students enrolled in this kind of program take a mix of nursing theory and clinical courses. Choosing a school with favorable completion and pass rates is crucial; LA City College graduates boast high NCLEX-RN exam pass rates.
Direct-Entry BSN Programs
With more hospitals requiring BSN-educated RNs, enrolling in this traditional, 4-year program right out of the gate is a wise idea. Colleges and universities all around the Los Angeles area offer BSN programs. California State University-Fullerton, for example, offers an entry-level BSN program for freshmen that includes courses such as Health Assessment, Foundations of Nursing Practice, and Community Health Nursing.
Find out more about California Accelerated BSN Programs
Direct-Entry MSN Programs
Entry-level master's programs, while rare, are available in the Los Angeles area. These programs are designed for students who already hold a bachelor's degree or higher in another discipline. Azusa Pacific University offers a fully accredited entry-level Master's in Nursing program that prepares graduates for certification as a clinical nurse specialist and/or nurse practitioner.
Find out more about California Accelerated MSN Programs
Los Angeles RN Program NCLEX-RN Pass Rates
Top Ranked Accredited Nursing Programs in Los Angeles
Listed below are the top nursing schools in Los Angeles based on our RegisteredNursing.org RN program rankings for California out of 132 other accredited programs offered in the state:
California State University, Fullerton - #10
California State University, Long Beach - #4
Glendale Community College - #9
Los Angeles Harbor College - #17
Rio Hondo College - #13
RN to BSN/MSN Programs in Los Angeles, CA
Bridge programs are specialized pathways where current RNs can earn a higher degree. Typically these programs are shorter, as they take into account the knowledge and training the nurse has already obtained in their diploma or ADN program. RN to BSN and RN to MSN bridge programs are readily available at many Los Angeles area schools.
RN to BSN Programs
The RN to BSN bridge program is a popular option that can result in a bachelor's degree in nursing in less than 2 years. California State University-Northridge, for example, offers this program in both part-time and full-time formats. Financial aid is readily available for those who qualify.
Learn more about California RN to BSN Programs
RN to MSN Programs
RN to MSN programs are designed for licensed RNs who know they want to enter advanced practice nursing. California State University-Dominguez Hills offers an RN to MSN program for RNs who hold a bachelor's degree in another field. While some BSN courses are taken in the program, it does not culminate in a BSN degree; students earn just the MSN.
Learn more about California RN to MSN Programs
APRN & Nurse Practitioner Programs in Los Angeles, CA
Those in Los Angeles looking to gain advanced nursing education have multiple options. Traditional MSN programs and post-master's certificate programs can help RNs become nurse practitioners, and doctoral programs in nursing (DNPs) allow nurses to reach the highest heights in nursing education.
MSN Programs
The traditional MSN is designed to be completed after a BSN. They typically take 2 years to complete and offer a variety of nurse practitioner specialties, including women's health, midwifery, adult-gerontology, nurse educator, and more. The University of Southern California, for example, offers an MSN with a Family Nurse Practitioner specialty. The program is delivered in an online format for maximum flexibility.
Learn more about California Nurse Practitioner Programs
Post-Master's Certificate Programs
For RNs who have earned an MSN but want to specialize, a post-master's certificate is a much more cost-effective option than earning another degree. California State University-Long Beach offers a post-master's nurse practitioner certificate in a variety of specialties, as well as one for nurse educators. These programs typically require less than 20 units to complete.
Learn more about California Post-Graduate Certificate Programs
DNP and Ph.D. Programs
At the top of the nursing education echelon, doctor of nursing practice programs are for those who wish to rise to the highest clinical nursing ranks. Likewise, the Ph.D. in Nursing is a pathway for nurses who want to earn a nursing doctorate in order to advance in academia. Those who hold an MSN are eligible to apply to Ph.D. and DNP programs, like the DNP pathways offered at Cal State LA. Students there are able to choose from a traditional post-MSN pathway or a DNP Nurse Anesthesia pathway.
Learn more about California DNP Programs