2023 - Best Nursing Schools in New Jersey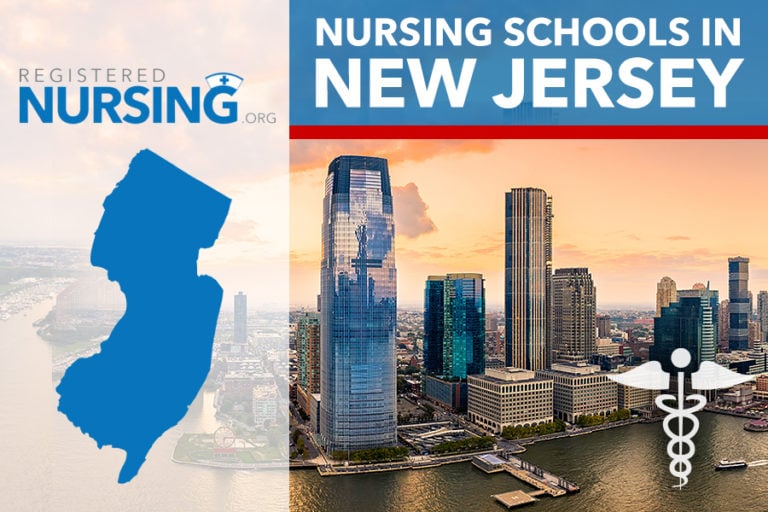 New Jersey is offering its nursing candidates, new and future, support and encouragement to pursue a nursing degree with an array of different incentives. These incentives include, but are not limited to: preferential job selection, salary increases, advancement opportunities and help with funding for a school. In fact, the Bureau of Labor Statistics reports the average salary for a registered nurse in the state at $89,690. New Jersey is looking at an average projected annual job opening of 2,000 new jobs per year over the next 5 years. Candidates are being encouraged to jump on board and join in the movement toward quality patient care.
For RN bridge programs visit:
2023 Best RN Programs in New Jersey
ADN Programs in New Jersey
A great gateway into the nursing profession, an Associate's Degree in Nursing (ADN) has been gaining in popularity. This 2-year degree is a quick and efficient way of becoming a registered nurse. You can readily find this type of program at local junior colleges, technical schools, and more.
Over 12 schools in the state of New Jersey offer an ADN program, making it a snap to find one to suit your unique needs.
What to Look For in an ADN Program in New Jersey
Researching the different schools and ADN programs in your area is crucial. A good program can be the difference in landing a great nursing job, so it's not something to take lightly. Here are some key things to look for when comparing schools:
Accreditation
Arguably the most important factor to consider when looking for a good ADN program is proper accreditation. Respected national organizations like the Commission for Education in Nursing (ACEN) and the American Association of Colleges of Nursing's Commission on Collegiate Nursing Education (CCNE), amongst others, will only lend their names to the best nursing programs. Aside from this, you'll also want to look for accreditation locally from the New Jersey State Board of Nursing.
Licensing
It's imperative that your ADN program fully prepares you to take the National Council Licensure Examination (NCLEX). This is the test you will have to pass in order to receive a nursing license from the New Jersey State Board of Nursing. Peruse your school of choice's curriculum, and perhaps even think about contacting the faculty, to ensure that the program produces graduates who excel at passing the NCLEX.
Program Outcomes
Looking at data of a school's past nursing graduates can shed some light on the program's success. Take a look at the following for your school of choice:
Graduation rates
Licensure exam pass rates
Graduate satisfaction
Employment rates
An example of a school offering a properly accredited ADN program in the state is Ocean County College, located in Toms River, NJ.
ADN Program Admission Requirements in New Jersey
Entrance requirements can vary slightly depending on the school you choose to attend. Generally speaking, you can expect to find the following:
Supply official transcripts from secondary school showing subjects completed and grades earned
Have a passing score on the TEAS test
Pass a criminal background check
Tuition and Costs of ADN Programs in New Jersey
Paying for your ADN education can take a lot of planning. You'll have to pay the main cost of tuition, which generally covers your courses. Then you'll need to pay for indirect costs like textbooks, uniforms, transportation, and other mandatory school fees. If payment is an issue, see what kind of aid is available from your school's Financial Aid department. You can also use scholarships to offset the cost.
To provide an example of cost, the tuition for the ADN program at Raritan Valley Community College, located in Branchburg, NJ, is $174 per credit for in-county students and $254 per credit for out-of-county/state students.
Advantages of ADN Programs
ADN programs are designed for those who want to become registered nurses but don't want to spend a lot of time in school. The 2-year program makes it easy to get in and out and start working in healthcare before students in traditional programs are even done with their coursework. It's also ideal for those located in less urban areas, as smaller community colleges are often where ADN programs are found.
LPN to RN Programs in New Jersey
Due to the popularity and expanded employment opportunities of registered nursing, many New Jersey Licensed Practical Nurses (LPNs) eventually opt to advance their education via an RN program. Luckily, there are specialized LPN to RN programs to help these nurses reach their goals.
LPN to ADN/BSN Programs
The LPN to ADN program pathway is the basic option for LPNs. This program type can be completed in a few semesters, often taking less than a year to complete, and poises the graduate to take the NCLEX-RN exam. Rowan College at Gloucester County offers a selective-admission LPN to ADN pathway for interested students. Those looking for a more intensive nursing education may opt for the LPN to BSN pathway, in which students complete baccalaureate coursework. Woodland Park's Berkeley College offers the only on-campus LPN to BSN program in the state.
Most LPN to RN programs in New Jersey will require the following:
Graduation from a board-approved LPN program
Current, unencumbered New Jersey LPN license
Some programs require prior work experience as an LPN
BSN Programs in New Jersey
A Bachelor's of Science in Nursing (BSN) is another educational option for becoming a registered nurse. This program is traditionally 4 years in length and is typically offered at larger universities in more urban areas. A registered nurse with a BSN has the opportunity to hold a wider variety of nursing jobs, including management positions, and has the potential to earn a higher salary. Additionally, many schools are now offering an accelerated BSN program as well as an RN to BSN program, making it one of the most versatile nursing degrees out there.
New Jersey has more than 12 schools throughout the state that offer an accredited BSN program.
What To Look For in a BSN Program in New Jersey
There are a few main factors to research when comparing BSN programs in the state. School location, cost, accreditation, and program outcomes are just a few of the things you should be looking for. If you have already completed a bachelor's degree or higher in another subject, then you may want to look for a school that offers an accelerated BSN program. If you're already a registered nurse looking to advance your career, finding a school that offers an RN to BSN program is a good idea.
Thomas Edison State University, located in Trenton, NJ, is just one school in the state offering an accredited BSN program.
BSN Program Length in New Jersey
A traditional BSN program (also sometimes referred to as a "Generic" or "Pre-Licensure" BSN) will take 4 years to complete. If you are looking into nursing as a second degree, an accelerated BSN can take as little as 15 months from start to finish, depending on the school. Lastly, RN to BSN programs, for those who already hold an ADN or nursing diploma, typically last around 2 years. It's always a good idea to inquire directly with any prospective school about their specific program lengths.
BSN Program Admission Requirements in New Jersey
You'll want to make sure you fulfill all the necessary requirements in order to apply for your program of choice. While admission requirements vary, the below is a sampling of what some schools in the state requirements for their BSN programs:
Cumulative GPA of 2.75 or better
Achieving a minimum standard grade of C+ or better in pre-requisite courses
Must write an essay that expresses an interest in, and commitment to, the nursing profession
Tuition and Costs of BSN Programs in New Jersey
It's important to fully break down the costs and fees of any prospective BSN program. Remember that you'll need to pay for tuition in addition to extra mandatory costs like books, lab fees, equipment, and more. Your school's Financial Aid department should be able to provide you with resources if you need help paying for your program of choice.
For example, the tuition for the accelerated BSN program at New Jersey City University is $11,733.45 per semester, plus a $1,343.75 nursing fee for a total of $13,077.20 per semester for in-state students.
Advantages of BSN Programs
A BSN will put you on a path of success in nursing, as it provides the opportunity to hold higher positions in the nursing world as well as higher salaries. In fact, a BSN is often necessary in order to advance in your nursing career. It's a great choice for those who are interested in a traditional 4-year degree at a larger school.
MSN Programs in New Jersey
Those wanting to achieve the highest level of nursing careers should aim for a Master's of Science in Nursing degree (MSN). This advanced degree is available for those who already hold a BSN and want to advance to nursing jobs including Clinical Nurse Specialist, Certified Nurse Midwife, Nurse Practitioner, and other specialties. These jobs typically come with much higher salaries than standard nursing jobs.
Over 10 schools in the New Jersey area offer accredited MSN programs.
MSN Program Length in New Jersey
Generally, you can expect an MSN program to take 2-3 years to complete. Many schools offering this program offer flexible schedules so that busy working nurses can complete the coursework. Online classes, evening classes, and part-time schedules are commonly offered. It's advised to inquire with any prospective school regarding the types of coursework schedules they offer.
MSN Admission Requirements in New Jersey
MSN programs can be competitive, so you'll want to be sure you carefully review the admission requirements for any program you are considering. Here is an example of the type of entrance requirements you may face:
BSN from an accredited institution with a recommended GPA of 3.0
Personal statement/essay
Two letters of recommendation
Professional resume
Tuition and Costs of MSN Programs in New Jersey
Costs can fluctuate wildly depending on which school and MSN program you are interested in. Be sure to properly compare program costs, including direct costs like tuition, as well as indirect costs like lab fees, books, transportation, room and board, and more. To provide an example of cost, the tuition and fees for the MSN program at Ramapo College of New Jersey in Mahwah are roughly $819 per credit.
For NP programs visit:
Getting a New Jersey Nursing License
New Jersey requirements for licensure are clearly laid out and require candidates to submit an application, fees and supporting documentation.
If you are applying by examination you must submit the following along with your notarized application:
Registration for NCLEX
Passport photo 2" x 2", signed and taken within the last 6 months
Proof of citizenship or immigration status
Proof of name change (if applicable)
Authorization for Criminal Background Check' form signed and completed
Applying by endorsement requires submitting the appropriate notarized application, ALL of the above information, and the following:
Verification of licensure from the original state-issued - either request from a state or NURSYS (if applicable)
Fingerprint cards completed - only if you live outside the metropolitan area of New Jersey
Learn more about NJ RN license requirements at the New Jersey Division of Consumer Affairs - NJ Board of Nursing.
Accelerated Nursing Programs in New Jersey
Fast-track your career by taking an accelerated BSN program and complete your degree in 12 to 15 months. Fast-tracking your degree will require full-time commitment as the course load and clinical hours run simultaneously within the program, which is why working while attending the program is greatly discouraged. Each program has different eligibility requirements that might mean candidates have to take additional courses before the start date of the program, these courses will also add cost to tuition and increase the amount of time until completion. For further tuition information contact the individual college programs.
Latest New Jersey NCLEX-RN Pass Rates and Statistics
Total Number of State Approved Schools: 49
Total Number of Test Takers in 2021: 3,900
2021 Average Statewide New Jersey NCLEX-RN Pass Rate: 84.0%
Continued List of All RN Programs in New Jersey
Here is a continued list of all RN Programs a continued list of all RN Programs a continued list of all RN Programs a continued list of all RN Programs a continued list of all RN Programs a continued list of all RN Programs.
Are we missing your school's program or need to update information listed? Please contact us so we can make the necessary changes.