2023 - Best Nursing Schools in Oklahoma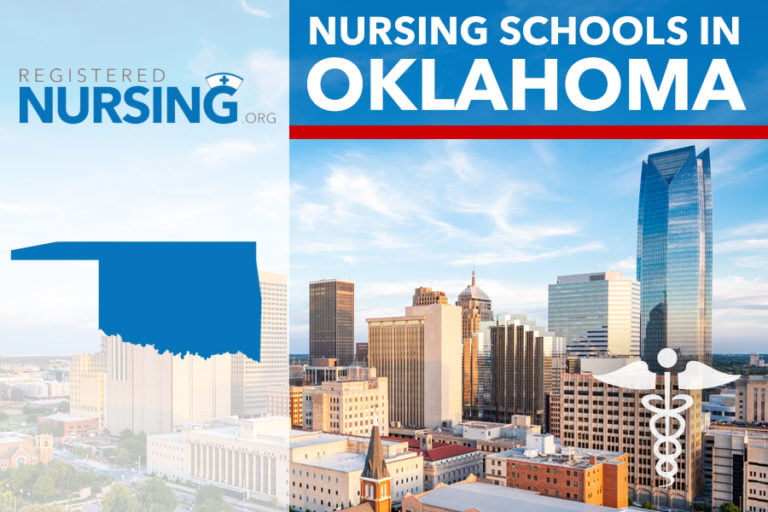 Quality patient-based care is where Oklahoma is pushing their health care system, with the help of a nursing staff that is gaining higher education and professional development. Programs for all different levels of nursing degrees are abundant in the state. With an average salary of $66,600 for Oklahoma registered nurses (per the Bureau of Labor Statistics), it's a career path worth considering.
For RN bridge programs visit:
2023 Best RN Programs in Oklahoma
ADN Programs in Oklahoma
Thinking of becoming a registered nurse, but have time or budget constraints? An Associate's Degree in Nursing (ADN) might be the ideal path. This nursing program lasts only 2 years, making it great for those who want to enter the healthcare workforce sooner. It also tends to be a more affordable route to an RN, as it's typically offered at local junior and technical colleges.
There are over 18 schools in the state with board-approved ADN programs.
What to Look For in an ADN Program in Oklahoma
To ensure that the ADN program you choose is legitimate, you'll want to look for some of the following:
Accreditation
Looking at a school and program's accreditation is a great way to check for quality. Any decent ADN program should have accreditations at the national level by organizations like the Accreditation Commission for Education in Nursing (ACEN) and/or the American Association of Colleges of Nursing's Commission on Collegiate Nursing Education (CCNE). It should also be approved locally by the Oklahoma State Board of Nursing.
Licensing
Upon completing your ADN program, you'll need to take and pass the National Council Licensure Examination (NCLEX) so that the Oklahoma State Board of Nursing can issue your RN license. Therefore, it's a good idea to do a little research into your preferred program's curriculum to ensure that it will prepare you to pass this exam.
Program Outcomes
Many schools provide statistics from program graduates regarding topics like the following:
Graduation rate
Licensure exam pass rate
Graduate satisfaction
Employment rate
An example of a school in Oklahoma that offers a properly accredited ADN program is Murray State College, located in Tishomingo, OK.
ADN Program Admission Requirements in Oklahoma
Admission requirements tend to vary from program to program, so it's advised to check with any prospective school about their particular procedures. Here are a few common requirements:
Minimum ATI TEAS score of 58.7% proficient
Minimum ACT composite score of 19 or better
Have a college retention GPA of 2.5 or a nursing pre-requisite GPA of 3.0
Tuition and Costs of ADN Programs in Oklahoma
The cost of an ADN program in the state boils down to a few main things. The first, tuition, is the main cost you'll need to focus on. The next thing you'll need to budget for is additional expenses, things like textbooks, lab fees, background and drug screenings, and other miscellaneous fees. When looking at your program of choice's costs, be sure to note whether or not it includes extra fees in the tuition cost.
As an example, the full cost for the ADN program at Rose State College in Midwest City, OK, is approximately $16,252.
Advantages of ADN Programs
Many nursing students choose an ADN program as their preferred route to becoming an RN due to the shorter time frame, affordable cost, and accessibility of schools that offer it. An ADN can be earned in half the time it takes to get a BSN, meaning that you can be earning money and gaining experience in the field before those in longer programs are even done with their schooling, which can be very attractive. These programs are also widely available, even in less urban areas, making it easy to find one in a convenient location.
LPN to RN Programs in Oklahoma
Licensed Practical Nurses (LPNs) in Oklahoma who wish to advance to registered nursing can opt to enroll in specialized LPN to RN programs. These programs build upon the knowledge and skills that LPNs have already acquired, making them shorter and affordable pathways for advancement. Students can choose from several LPN to RN options.
LPN to ADN/BSN Programs
The quickest route for LPNs to enter registered nursing practice is the LPN to ADN program. These can often be completed in less than one year. Northern Oklahoma College, for example, has several LPN to ADN routes, including one for students who did not graduate from an ACEN-accredited program.
LPNs who want to have a wider array of employment opportunities may wish to pursue the LPN to BSN program pathway. While a bit longer than the LPN to ADN route, this program type results in a coveted bachelor's degree. The University of Oklahoma Health Sciences Center offers an RN to BSN program with several flexible start times and program options (including full-time and part-time).
For either LPN to RN program type, students typically must hold an active LPN license and have a minimum GPA in order to be eligible.
BSN Programs in Oklahoma
For those wanting a traditional 4-year degree, a Bachelor of Science in Nursing (BSN) is an excellent option. This program is typically offered at larger universities and will allow a graduate to receive more advanced nursing careers and an increased annual salary. A traditional BSN is not the only option, though; if you already have a bachelor's degree in another field, some schools offer accelerated BSN programs. And current registered nurses can enter a shortened RN to BSN program in order to advance their careers.
Over 12 schools throughout the state offer board-approved BSN programs.
What To Look For in a BSN Program in Oklahoma
It's essential to ensure that the BSN programs you look into have things like proper accreditation, favorable program outcomes, and are in a convenient location. Cost is also a big factor, so be sure to carefully compare schools.
The University of Tulsa is one Oklahoma school that offers an accredited BSN program.
BSN Program Length in Oklahoma
A traditional BSN program typically lasts 4 years. For those who already hold a bachelor's degree, there are accelerated programs that can be finished in roughly 16 months. For an RN to BSN program, you can expect about 2 years from start to finish.
BSN Program Admission Requirements in Oklahoma
You can generally expect a school offering a BSN to require one or more of the following:
Copies of all official transcripts
Grade of C or better in all major core courses
Cumulative GPA of 2.5 or better
Tuition and Costs of BSN Programs in Oklahoma
The costs associated with your earning your BSN can be stressful. You'll need to consider tuition, textbooks, uniforms, lab fees, and more. One of the smartest things you can do before deciding on a program is to break down the required costs so that you can budget appropriately.
As an example of cost, the BSN program at the University of Oklahoma Health Sciences Center will run students between $52,000 and $55,000 per year, including tuition, fees, supplies, living costs, and more.
Advantages of BSN Programs
BSN programs are great for those interested in earning a healthcare degree at a 4-year university. Upon graduating with a BSN, you will have the advantage of being eligible for more advanced nursing jobs with higher amounts of responsibility and job growth. These nursing careers typically pay more as well. The other great thing about a BSN is the variety of programs available to help you earn it at any stage, including accelerated and RN to BSN programs.
MSN Programs in Oklahoma
Those wanting even more advanced nursing careers can earn a Master's of Science in Nursing degree (MSN). An MSN is needed for jobs such as Clinical Nurse Specialist, Certified Nurse Midwife, and Nurse Practitioner, among other specialties. The earning potential with this degree is much higher than with undergrad nursing degrees.
There are a handful of MSN programs in the state of Oklahoma.
MSN Program Length in Oklahoma
Because they are designed for busy working nurses, MSN programs can vary a bit in length. Generally, you can expect them to last 2-3 years. Some schools will offer the option of night classes, online classes, or other flexible scheduling.
MSN Admission Requirements in Oklahoma
MSN programs can be competitive. Admission requirements vary, but you can usually expect the following:
Completion of BSN from a regionally accredited institution
Current RN license
Overall GPA of 3.0 or above
Submission of 3 letters of recommendation
Tuition and Costs of MSN Programs in Oklahoma
Like ADN and BSN programs, you'll want to carefully consider the costs of your preferred MSN program, which will include things like tuition, books, lab fees, and more. To give you a better idea, tuition for the online MSN program at the University of Oklahoma will run you roughly $475 per credit hour.
For NP programs visit:
Getting an Oklahoma Nursing License
Candidates looking to obtain nursing licensure by examination or endorsement in the state of Oklahoma should include the following documentation with their application.
Application for licensure by examination include:
Proof of age and citizenship
Proof of education - transcript sent from the School of Nursing directly to the state Board
Background Check - with electronically submitted fingerprints or via fingerprint card
Register for the NCLEX exam - future successful completion required
Application by endorsement must include the preceding information, as well as these additional pieces:
Passing Score on NCLEX or SBTPE
Verification of licensure from originating state
Employment/continuing practice verification form
Learn more about OK RN license information at the Oklahoma Board of Nursing.
Accelerated Nursing Programs in Oklahoma
Upgrading your education can be a daunting thought unless you look into accelerated programs. There are several programs offered within the state of Oklahoma that can make the transition quick. Accelerated BSN programs in the state average about 12 months in length, keeping in mind that these programs are full-time studies, on-campus and run consecutively with clinical hours, making them intensive, but attainable. Most programs have required entrance courses that you would have to complete before the start date of the degree program, these courses will affect the overall time frame. Overall costs vary with regard to each individual program, so it would be recommended to look into fees at the specific colleges.
Latest Oklahoma NCLEX-RN Pass Rates and Statistics
Total Number of State Approved Schools: 46
Total Number of Test Takers in 2021: 2,113
2021 Average Statewide Oklahoma NCLEX-RN Pass Rate: 83.5%
Continued List of All RN Programs in Oklahoma
Here is a continued list of all RN Programs a continued list of all RN Programs a continued list of all RN Programs a continued list of all RN Programs a continued list of all RN Programs a continued list of all RN Programs.
Are we missing your school's program or need to update information listed? Please contact us so we can make the necessary changes.