Burn Care Nurse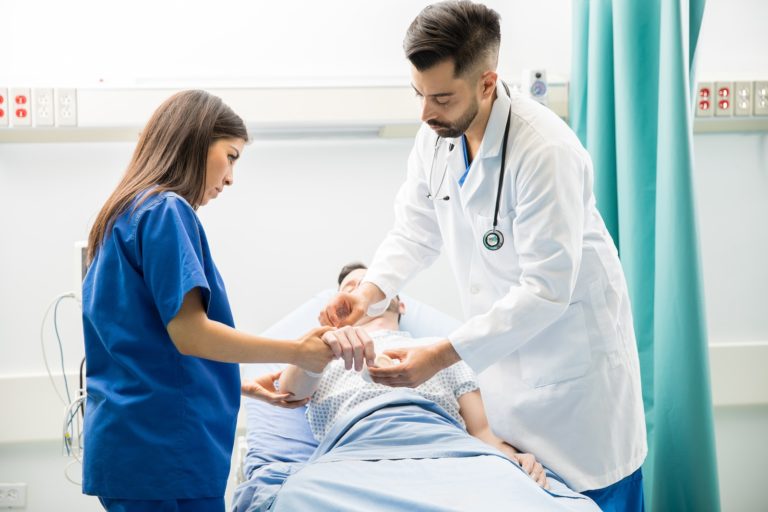 What Is a Burn Care Nurse?
A burn care nurse specializes in the care of patients who suffer from burn injuries, and in many cases, have also experienced other kinds of trauma. The burn care nurse treats and monitors burn wounds, and plays a critical role in the assessment of emotional and psychological trauma that so often accompanies a burn injury. This specialty calls for a wide range of clinical skills including triage, pain management, critical care, and trauma recovery.
Becoming a Burn Care Nurse
In order to become a burn care nurse, a nursing student must complete their degree and pass NCLEX-RN. Most nurses enter burn care after beginning their professional experience in the ICU or other trauma unit. In fact, most employers prefer an applicant who has at least some professional experience in critical care. Because burn injuries often carry severe emotional and psychological implications for the patient and their families, a high level of compassion is required for those entering the burn care nursing field.
What Are the Education Requirements for Burn Care Nurses?
Burn care nurses must hold either an Associate of Science in Nursing degree or a Bachelor's of Science in Nursing degree, as well as an active RN license. The amount of additional education desired varies from employer to employer. Some hospitals and healthcare employers require a burn care nurse who holds additional certifications such as Advanced Burn Life Support and Advanced Cardiovascular Life Support before being considered for BCU positions. Most employers prefer a burn care nurse have some level of work experience in the ICU or other critical care unit.
Are Any Certifications or Credentials Needed?
While there is no certification specific to burn care nursing, many hospitals and healthcare employers require applicants to hold other certifications critical to the care of burn patients. These may include:
Learn more about wound care certifications.
Where Do Burn Care Nurses Work?
Burn care nurses work primarily in the Burn Care Unit (BCU) or Intensive Care Unit (ICU) of hospitals. They may also work in a hospital's Emergency Room or Trauma Center, as well as in outpatient facilities that provide ongoing care and rehabilitation services for patients recovering from burn injuries.
What Does a Burn Care Nurse Do?
Burn care nurses treat a wide range of patients who are suffering from different types of burn injuries, which may include chemical or electrical wounds as well as accidental and non-accidental traumas, such as an automobile or household accidents. Burn care nurses use a variety of equipment and techniques to clean, bandage, and monitor burn wounds, as well as educate the patient and their caretakers on the ongoing treatment and dressing of burns, pain management techniques, and how to prevent infection. They also play an important role in monitoring the patient's emotional wellbeing and recommending additional mental health care interventions when appropriate.
What Are the Roles and Duties of a Burn Care Nurse?
Stabilization of acutely burned patients
Assess, dress and monitor burn wounds
Maintain patient's comfort, assess pain levels and assist in pain management
Administer medications intravenously, by injection, orally or by other methods
Monitor the patient's emotional well-being and determine whether mental health interventions are needed
Educate the patient's family and other caretakers in ongoing burn wound care, rehabilitation procedures and provide emotional support
May also help educate the community-at-large about burn prevention techniques and best practices
Burn Care Nurse Salary & Employment
The median salary for a critical care nurse, which includes many burn care nurses, is $68,250 with a range of $39,453 – $89,794. Factors that affect this salary range include geographic location, professional experience, education level, and quantity of professional certifications.
The employment outlook for RNs as a profession is very positive, with the U.S. Bureau of Labor Statistics predicting employment for all nurses to grow by 16% between 2014 – 2024. While this projected growth is mostly attributed to factors not related to burn care (aging population, preventative care, etc.), the demand for skilled critical care and trauma professionals will always be high.
Helpful Organizations, Societies, and Agencies