Occupational Health Nurse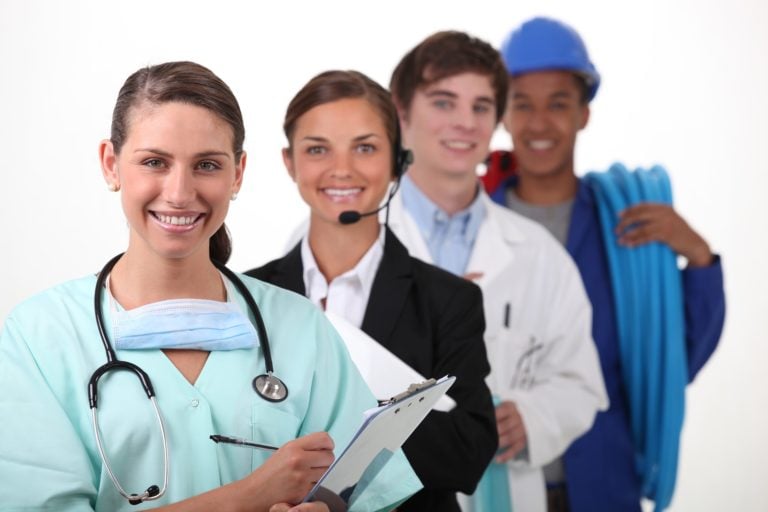 What Is an Occupational Health Nurse?
Occupational health nursing is the specialty practice of delivering health and safety programs and services to employees, worker populations, and association groups. Sometimes occupational health nurses are referred to as occupational and environmental health nurses (OHNs). Occupational health nurses focus on the promotion and re-establishment of health, the prevention of ailment and injury, and protecting workers from occupation-related and environmental hazards. OHNs have cumulative knowledge of both health and business that they utilize to promote a safe, secure, and healthy work environment while maintaining a company's bottom line.
Becoming an Occupational Health Nurse
A certified occupational health nurse is responsible for the health and safety of the workers in certain industries. Occupational health nurses are registered nurses (RNs) who typically have experience in community health care, ambulatory or critical care, or emergency nursing. Generally, OHNs will hold a 4-year degree in nursing and gain experience as occupational health nurses before fully entering the field.
What Are the Educational Requirements for Occupational Health Nurses?
To become an occupational nurse, you must first become a licensed registered nurse (RN). In order to become an RN, you will need to complete an Associate's Degree in Nursing (ADN) program or Bachelor's of Science in Nursing (BSN). Once either your BSN or ADN is completed, you are then eligible to take the NCLEX-RN exam, which upon passing allows you to become a registered nurse. Some occupational health nurses will be certified nurse practitioners who have obtained the equivalent of a Master's Degree in Nursing (MSN). Nurse practitioner (NP) occupational health nurses can work as a corporate nurses, clinical nurses, or clinical nurse managers, as well as nurse educators and nurse consultants. Many occupational health nurses have also obtained advanced degrees in areas like public health and business. Additionally, certified occupational health nurses can receive field training from the National Institute for Occupational Safety and Health (NIOSH).
Are Any Certifications or Credentials Needed?
Certification in occupational health nursing can be achieved via The American Board for Occupational Health Nurses, Inc. To become a certified occupational health nurse, you will first need to be a fully licensed registered nurse with at least 3,000 hours of work experience in the occupational health field within the last five years, or have a graduate level degree in occupational health. The last step of this process will be sitting for and passing the certification examination.
Where Do Occupational Health Nurses Work?
Roles of Occupational health nurses (OHNs) are highly diverse. OHNs can be clinicians, educators, case managers, consultants, or corporate managers. Some occupational health nurses will choose to remain in hospital settings so as to help develop and implement safety procedures; however, most will find employment outside of typical medical facilities, designing structured security protocols and healthy living guidelines for a wide variety of organizations across the country. OHNs might work in a specific office, or they might work on a consulting basis and out of private practice.
Occupational Health Nurse FAQs
An Occupational Health Nurse Practitioner, or OHNP, specializes in health and safety in corporate, industrial, governmental, and academic settings.
Education requirements to be an Occupational Health Nurse Practitioner are as follows:
Master's degree in nursing (MSN)

MSN in community health nursing
MSN in occupational health nursing, family nurse practitioner
Master's of public health, occupational health nurse
MSN in primary health, occupational health nurse practitioner
MSN in environmental health, occupational health nurse
Licensure requirements are typical of any nurse practitioner:
Registered Nurse license
Advanced Practice Registered Nurse license
Certification is optional but valued
Upon completion of a master's degree in nursing, graduates may sit for the national certification exam through the American Board for Occupational Health Nurses (ABOHN) if they want to pursue a career in the field. National certification as either a Certified Occupational Health Nurse (COHN) or a Certified Occupational Health Nurse-Specialist (COHN-S) is frequently sought as a way to advance careers and earn higher salaries as occupational nurses.
Aside from treating work-related injuries or illness and providing education to employees, OHNPs can also increase employee retention by making the work environment safe, reducing worker's compensation claims, and helping administration abide by OSHA, FMLA, and HIPAA regulations.
Occupational health nurses perform many roles in their day-to-day work, from patient education to medical records review to direct patient care. They face several challenges as well.
One challenge is the emotional toll they may experience. Sometimes occupational health nurses see patients who are severely injured on the job. They know that the worker's future can be seriously impacted depending on the injury. For example, a construction worker who sustains a back injury that renders him permanently unable to work. These situations can be emotionally draining.
Another challenge is reconciling efficiency and patient care. Healthcare is a business, and many times organizations (as well as employers) look for ways to reduce cost. In occupational health, sometimes worker claims are denied, leaving the worker unsure what to do. Since nurses are on the front lines of patient care, occupational nurses may need to explain the rationale for denied claims.
Sometimes occupational nurses need to have tough discussions with patients. For example, if a patient must be tested for drugs or alcohol and tests positive, the nurse might need to discuss these tough results and furnish them to an employer. There are also times when workers, unfortunately, exaggerate an injury with symptoms that are not consistent with clinical diagnoses. Having a hard conversation with patients can be extremely challenging.
What Does an Occupational Health Nurse Do?
When an employee claims that an illness or injury is work-related, an occupational health nurse (OHN) will investigate the circumstances surrounding the incident. They might look at an employee's medical records to determine whether or not the injury or illness could have been caused by a hazard inherent to a particular workplace environment. These nurses can also administer drug and alcohol tests and investigate other possible causes of workplace accidents. OHNs are often required for workers' compensation and medical insurance claims. In particular settings, occupational health nurses will screen new and prospective workers to make sure they're able to perform the duties that a given position requires.
What Are the Roles and Duties of an Occupational Health Nurse?
The OHN's responsibilities have expanded immensely to encompass a wide range of job duties, including (but not limited to):
Tending to injuries
Administering medication
Performing physical examinations
Performing rehabilitation therapy after certain injuries
Vision tests
Hearing tests
Drug or alcohol screenings
Counseling employees on physical and mental health issues and guiding them toward community resources and employee assistance programs
Coordinating and delivering services and programs
Counseling employees on physical and psychological health concerns and guiding them toward community resources and employee assistance programs
Acting as a kind of gatekeeper for various healthcare services, including rehabilitation and disability matters
Documenting all employee injuries and illnesses within the workplace
Conducting research on the effects of workplace exposures, gathering health and hazard data
Treating injuries and illnesses for employees, including follow-ups and referrals
Overseeing and implementing emergency and disaster preparedness programs and planning
Developing disease prevention programs, like smoking cessation, exercise, and healthy eating programs
Occupational Health Nurse Salary & Employment
The occupational health nurse profession is one of the faster-growing careers in the United States. Job outlook for OHNs indicates a growth rate of approximately 19% by the year 2022. OHNs are increasingly in demand due to companies prioritizing the need to take precautions against lawsuits, and to avoid illness and injury at the workplace,
According to payscale.com, salaries of occupational health nurses stretch from $49,000 to $87,000 annually, with a median annual income of $69,000. Geographic location will significantly influence the pay of occupational health nurses along with the amount of experience they have.
Helpful Organizations, Societies, and Agencies