2023 - Best Nursing Schools in Montana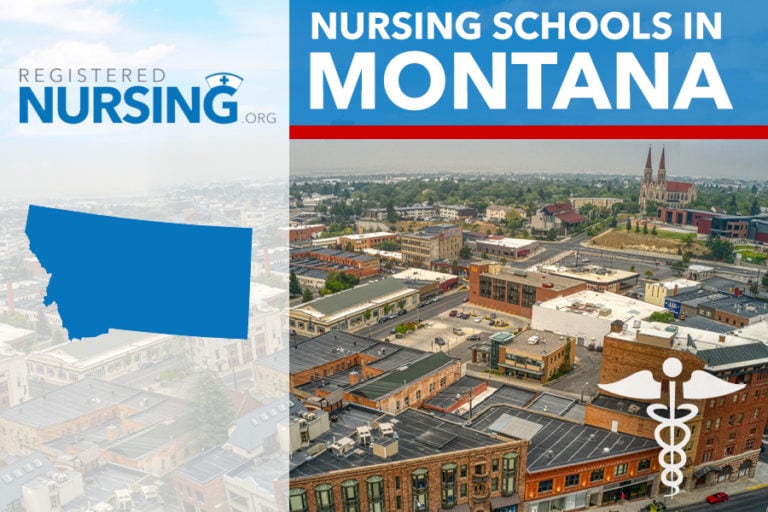 The state of Montana is placing its emphasis and mindset on a better-educated nursing industry. The nursing workforce in the state is one of the fastest-growing, and the Montana Department of Labor and Industry ranks registered nursing at the top of the list of the top 20 health care jobs with the most annual openings. With an average annual salary of $62,650 in Montana (per the Bureau of Labor Statistics, it's easy to see why registered nursing careers in the state are sought after.
For RN bridge programs visit:
2023 Best RN Programs in Montana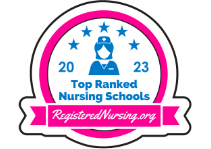 Selecting the best nursing school in Montana can be difficult. To make the process easier first look for a school that supports students towards licensure and beyond. A great way to measure this is through NCLEX-RN "pass rates." We have ranked the top 5 nursing schools in Montana by analyzing current and historical NCLEX-RN "pass rates", meaning the percentage of graduates who pass the exam, out of the 14 RN programs in the state. Programs reviewed include schools that offer an Associate in Nursing (ADN/ASN), BSN, or Direct-Entry MSN Degree.
For more information on our top nursing school rankings, see our Methodology Page (https://www.registerednursing.org/rn-ranking-methodology/).
1300 W Park St
,
Butte
,
MT
59701
Score: 97.71
Butte's Montana Technological University (Montana Tech) offers an excellent BSN degree that is also the first four-year program approved by the state in the last 78 years. Weaved into the curriculum are the core concepts of caring, communication, professionalism, critical thinking, and clinical judgment which prepare students to provide compassionate medical care to patients.
Program Details
Programs: BSN
Phone:

(800) 445-8324
1601 N Benton Ave
,
Helena
,
MT
59625
Score: 94.83
Located in Helena, Carroll College's BSN program offers students a nursing education rooted in clinical expertise, professionalism, and the delivery of holistic nursing care. This CCNE-accredited program integrates sciences, arts, humanities and clinical experiences to prepare nurses for real-world nursing situations.
Program Details
Programs: BSN
Phone:

(800) 992-3648
777 Grandview Dr
,
Kalispell
,
MT
59901
Score: 92.64
Kalispell's Flathead Valley Community College offers students an associate's degree in nursing pathway to an RN career. In just four semesters of study, students learn concepts in health promotion and disease prevention to implement high quality patient care.
Program Details
Programs: Associate in Nursing
Phone:

(406) 756-3822
1301 20th Street South
,
Great Falls
,
MT
59405
Score: 89.08
Located in Great Falls, the University of Providence is home to several outstanding nursing programs, including BSN and MSN pathways. These programs are built around evidence-based practice and produce graduates who are skilled and compassionate nursing leaders.
Program Details
Programs: BSN, MSN
Phone:

(406) 791-5258
1115 N Roberts St
,
Helena
,
MT
59601
Score: 88.73
Helena College's associate degree in nursing pathway prepares students to become a successful part of an interdisciplinary team of healthcare providers. The 5-semester curriculum gives students the knowledge needed to sit for the NCLEX-RN examination for nursing licensure.
Program Details
Programs: Associate in Nursing
Phone:

(406) 447-6900
ADN Programs in Montana
A great entry into the world of registered nursing, an Associate's Degree in Nursing (ADN) is an increasingly popular program. With a length of just 2 years, the ADN program is one of the quickest ways to become an RN. Look for ADN programs at smaller colleges throughout the state, like community and/or technical schools.
More than 10 schools in Montana offer fully accredited ADN programs.
What to Look For in an ADN Program in Montana
To ensure that you are choosing a quality program, it's advised to compare programs. Here are a few things that should be top considerations:
Accreditation
Proper accreditations from respected industry associations signify a legit ADN program. The Commission for Education in Nursing (ACEN) and the American Association of Colleges of Nursing's Commission on Collegiate Nursing Education (CCNE) are two of the main accrediting entities, and you should look for their logos on your program's website. You will also want to ensure your program's approval from the Montana Board of Nursing.
Licensing
Taking the time to review your school of choice's ADN curriculum is a good idea, mainly because you'll need the program to help you pass the National Council Licensure Examination (NCLEX) for registered nursing. This exam is taken upon completion of your ADN program and must be passed in order for you to receive a nursing license. The American Association of Colleges of Nursing reports that in 2015, 83.9% of new nurse grads in the state passed the exam and received a license.
Program Outcomes
Many schools collect data from prior program graduates, and this info is invaluable to prospective students. Check out your school's program outcomes on things such as:
Graduation rates
NCLEX-RN pass rates
Graduate satisfaction
Employment rates
Miles Community College, located in Miles City, MT, offers a fully approved and accredited ADN program in the state.
ADN Program Admission Requirements in Montana
Entrance requirements can vary, but we've collected a few from various Montana schools to give you an idea of what to expect:
Submit all official transcripts
Cumulative GPA of 2.5 and an extracted GPA of 2.85 for prerequisites required
Complete application and pay fees
Tuition and Costs of ADN Programs in Montana
While ADN programs tend to be relatively affordable due to their short length, many eligible students use financial aid and/or scholarships to help pay for school. You'll be responsible for covering the cost of tuition as well as miscellaneous fees which typically include textbooks, uniforms, equipment, and more.
To give you an example of what to expect regarding cost, the ADN program at Helena College University of Montana costs roughly $480 per credit.
Advantages of ADN Programs
It's no wonder ADN programs remain a popular choice for those considering a nursing career; their shorter length and more affordable nature make them ideal for those wanting to start their careers as soon as possible. Pair this with the fact these programs are widely available at smaller, more accessible schools, and you have a recipe for success. Plus, you can always build on your ADN degree and pursue a BSN or MSN later, so it's a great building block for the future.
BSN Programs in Montana
A Bachelor's of Science in Nursing (BSN) is another great, versatile nursing degree. As a more traditional 4-year program, BSN degrees are typically offered at larger universities throughout the state. Aside from the pre-licensure 4-year BSN, accelerated BSN degrees and RN to BSN options are widely available as well.
There are approximately 3 different schools in Montana that offer an approved BSN program.
What To Look For in a BSN Program in Montana
When considering the cost of a BSN program, remember that you'll have to factor in the main expense of tuition, along with additional expenses such as mandatory fees, textbooks, transportation, equipment, and more. Financial aid and scholarships are widely available for eligible students to help offset the cost of a BSN education. Your school of choice's Financial Aid office should be able to help you figure out the options that make sense for you.
Montana State University in Bozeman is one school in the state that offers a fully accredited BSN program.
BSN Program Length in Montana
The length for a traditional, pre-licensure BSN program is generally 8 semesters (4 years). The first two years are typically focused on the core curriculum, and by the last 2 years, students are studying in a clinical environment with patients. Schools offering an accelerated BSN, for those who already hold a bachelor's degree or higher in another subject, typically state that these programs last 15 months. Lastly, the popular RN to BSN bridge program, designed for current RNs who want to advance their careers with a BSN, will take approximately 1-2 years to complete.
BSN Program Admission Requirements in Montana
Competition can be stiff amongst BSN programs. While you'll want to fully research the entrance requirements for your school of choice, you will usually find the following:
Completion of required prerequisite courses with a minimum 3.0 GPA
Proof of vaccinations
Evidence of current completion of an approved CPR course
Tuition and Costs of BSN Programs in Montana
While schools offering BSN programs have typical cost categories, like tuition, mandatory fees, uniforms, books, and more, these costs can fluctuate greatly. Be sure to get a full breakdown of the required fees from your school of choice so that you can make an informed decision. If you need help paying for school, talk to a Financial Aid counselor.
For example, the estimated tuition for the BSN program at Montana Tech, located in Butte, is roughly $7,580 per year for a Montana resident (not including fees, supplies, or room/board), along with a $650 per semester nursing program fee.
Advantages of BSN Programs
With so many ways to become a nurse, you may wonder if a BSN degree is right for you. This program is ideal for those wanting to attend a traditional 4-year university, with the end goal of obtaining an advanced position as a registered nurse or a specialty that requires a BSN. Nurses who hold a BSN stand to make significantly more money than those with lower degrees, making it an excellent choice for those looking to earn more throughout their careers.
MSN Programs in Montana
Many ultra-specialized registered nursing careers will require a very advanced degree, such as a Master's of Science in Nursing (MSN). This program is designed for current RNs who are interested in careers such as Nurse Practitioner, Clinical Nurse Specialist, and others. A post-licensure degree like this will send your earning potential sky-high.
There is one main school in Montana offering an accredited MSN program, along with a few online options.
MSN Program Length in Montana
On average, you can expect an MSN program to last 2-3 years. This depends entirely on coursework previously taken, type of MSN specialty, and type of schedule the school offers. The MSN degree is designed to work around the schedule of current RNs, so they tend to offer flexibility with courses. Night courses, online courses, and other options are typically offered so that nurses can complete an MSN while continuing to work.
MSN Admission Requirements in Montana
The main school offering an MSN in the state, Montana State University, has these general requirements for admission:
Minimum undergraduate GPA of 3.0
Must hold a BSN from a nationally accredited upper-division program
Successful completion of undergraduate courses in physical assessment, community/public health, research, and statistics
Current unencumbered registered nurse licensure in Montana
Recommendation from the College of Nursing admissions committee
TOEFL score of 580 or computer equivalent, if applicable
Tuition and Costs of MSN Programs in Montana
MSN programs can be costly, but the earning potential upon completion of the degree can more than make up for it. You will, of course, be expected to cover tuition and other mandatory expenses, including lab fees, textbooks, and more. To paint a picture on real cost, tuition and fees alone for the MSN program at Montana State University are estimated at $5,712 per year for in-state residents, not including additional fees, materials, or room/board.
For NP programs visit:
Getting a Montana Nursing License
Montana Board of Nursing licensure regulations by examination or endorsement require the candidate to submit the following documentation:
Candidate must complete, sign and notarize an application, submit required fees, as well as include:
Proof of graduation from a state-approved institution - official transcript must be sent from the school to the state board directly
Registration for the NCLEX exam
Fingerprint/Criminal Background Check
By endorsement licensure, the candidate must include a completed applicable application, with fees, as well as:
Proof of education - official transcript sent from program direct to the state board
Verification of Licensure - NURSYS verification or by request to the originating state
Fingerprint/Background Check
Learn more about Montana RN license information at the Montana Department of Labor & Industry.
Accelerated Nursing Programs in Montana
Take your career into your own hands and look to accelerated programs to help fast forward your career goals. Twelve to eighteen months can get you a degree in nursing and propel your career forward. Clinical hours and course load can make for an intense experience, but upon completion you will have earned your BSN. Check course requirements to ensure you meet all entrance criteria before the first day of the program, these courses will add time and cost factors to completion. Tuition will depend on credit hours and possible housing costs.
Latest Montana NCLEX-RN Pass Rates and Statistics
Total Number of State Approved Schools: 14
Total Number of Test Takers in 2021: 553
2021 Average Statewide Montana NCLEX-RN Pass Rate: 83.9%
Continued List of All RN Programs in Montana
Here is a continued list of all RN Programs a continued list of all RN Programs a continued list of all RN Programs a continued list of all RN Programs a continued list of all RN Programs a continued list of all RN Programs.
Are we missing your school's program or need to update information listed? Please contact us so we can make the necessary changes.