MSN in Care Coordination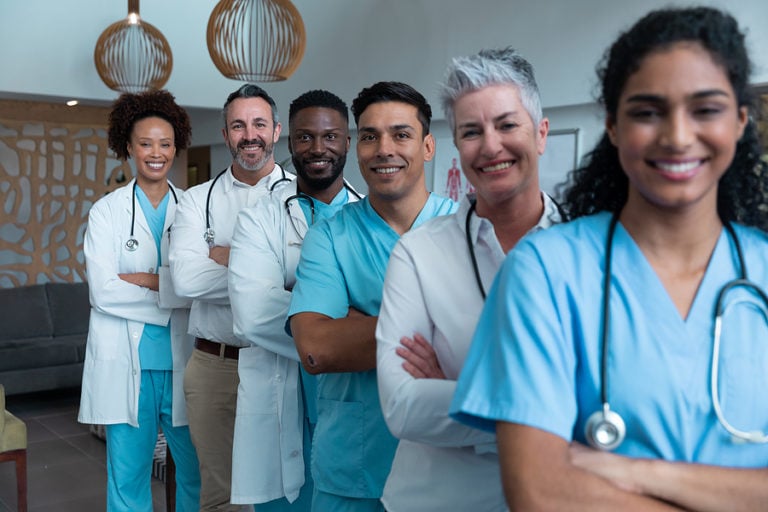 Healthcare is an ever-changing field with many moving parts that must work together to meet patient care needs. There are sometimes multiple healthcare workers tending to one patient, each with his or her role in the patient's care. A care coordinator's role is to unify all these "moving parts" and act as a liaison between them to address care needs appropriately.
For example, a patient discharged following a CHF exacerbation may need to follow up with their primary care provider, cardiology, nutrition services, pharmacist, and home health. A care coordinator helps to link all these specialty departments by arranging appointments, communicating with the necessary parties (including the patient), and ensuring follow-up. Those interested in this rewarding career pathway can enroll in a Master's of Science in Nursing (MSN) program in Care Coordination.
Which MSN in Care Coordination Program Is Right for Me?
Care coordination involves clinical knowledge and administrative acumen, which is why a master's-level nursing program is appropriate. When selecting an MSN program for the care coordination specialty, several factors should be considered:
Program Accreditation
Ensuring that the MSN program is properly accredited is essential when selecting a program. While some schools are regionally or locally accredited, national accreditation ensures no hiccups regarding licensing or finding a job. The MSN program should be accredited nationally by the Accreditation Commission for Education in Nursing (ACEN) or the Commission on Collegiate Nursing Education (CCNE) to meet educational standards.
On-Campus vs. Distance Learning
MSN in Care Coordination programs are often offered online, though some schools may offer on-campus options. On-campus programs allow nurses to interact directly with faculty and peers and utilize the school's resources. On the flip side, online programs offer greater flexibility and self-paced learning. Some nurses learn best through face-to-face instruction, while others like setting their schedules. Whichever method nurses prefer, there are options.
Sample Coursework
Nurses seeking their MSN in Care Coordination can expect to complete several theoretical courses that pertain to patient care. Capella University's website shows an example of the required courses. Courses for this program include:
Core Courses:
Communication, Collaboration, and Case Analysis for Master's Learners
Evidenced-based practice for Patient-Centered Care and Population Health
Quality Improvement
Biopsychosocial Concepts for Advanced Nursing
Healthcare Law & Policy
Economics & Decision-Making
Practicum/ Capstone Project
Care Coordination Specialty Courses:
Intro to Care Coordination
Healthcare Models and Care Coordination
Structure and Process in Care Coordination
Ethical and Legal Considerations
Leadership in Care Coordination
RELATED: MSN in Care Coordination vs MSN in Case Management and Care Coordination Certifications
Advantages of an Online MSN in Care Coordination Program
While in-person MSN programs are beneficial in terms of personalized, face-to-face instruction, online programs also have many benefits. For example:
Affordability
In many cases, online programs are overall more affordable. For example, there is no cost to commute or park. Online programs may also not be subject to out-of-state tuition, which helps provide a wider range of educational options for nurses. Additionally, because the courses are self-paced, nurses can take as many or as few courses as they choose, which helps to manage the cost of an MSN program.
Flexible Schedule and Program Length
One of the biggest perks of online MSN programs is flexibility. Nurses aren't constrained to a rigid lecture and clinical schedule – they can access the content anytime and anywhere. Students can also learn at their own pace, which means they can complete the program quickly or more slowly. This is especially helpful for busy nurses balancing work and familial responsibilities.
Accessibility & Convenience
Nurses work around the clock. The beauty of online learning is that nurses can access the content anytime and at their convenience. All that is needed is internet access and a computer or tablet. Most MSN programs are designed with the knowledge that the students are likely working nurses. To set them up for success, accessibility and convenience are necessary in an MSN in Care Coordination program.
Program Curriculum
The curriculum for an MSN in Care Coordination can vary between schools. Nurses learn the skills needed to develop a plan of care for patients to ensure their needs are met. Concepts that students can expect to learn include:
Patient-centered care planning
Population health management
Quality improvement
Leadership and management
Economics
Processes in care coordination
What Are the Career Options for Nurses with an MSN in Care Coordination?
Nurses with an MSN in Care Coordination can work in various environments such as hospitals, clinics, emergency rooms, long-term care facilities, and home health. Care coordinators are extremely important in today's healthcare arena as it becomes increasingly complex, so patients require guidance to navigate the healthcare system. Other roles nurses can hold with an MSN in Care Coordination are:
Care Nursing Organizations & Helpful Resources
OTHER SPECIALTY MSN PROGRAMS:
List of MSN in Care Coordination Programs
Are we missing your school's program or need to update information listed? Please contact us so we can make the necessary changes.