Labor and Delivery Nurse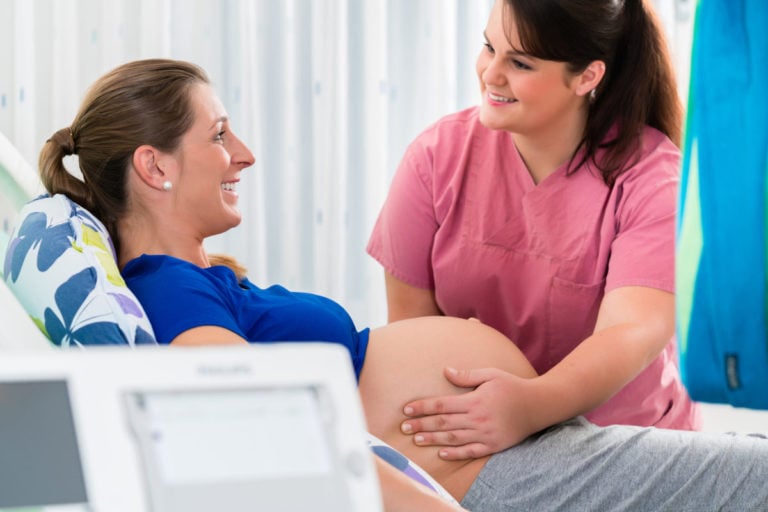 What Is a Labor and Delivery Nurse?
One only needs to look at population statistics to note that a mother's labor and delivery of an infant is one of the most common medical experiences to have. With that in mind, it's important to recognize that each woman's experience is unique, and has its own potential pitfalls as the patient and healthcare teamwork to bring a new life into the world. Labor and Delivery (or L&D) nurses are known for their calm and practical demeanor as they work with women of all ages and health outcomes to ensure everyone manages the birth with appropriate comfort measures and safety precautions.
Becoming a Labor and Delivery Nurse
Labor and delivery nurses have the complex job of advocating for both the mother and her yet-to-be born baby, which means that they require a finely honed set of ethics and deep understanding of the relationship between the two patients. L&D nurses remain calm when patient tensions run high and discomfort mounts, and often engage family members and spouses in how to bring comfort to their laboring partners. Nurses in this field take their responsibility for patient mental and emotional health seriously, as becoming a mother shifts the foundation upon which future relationships depend.
What Are the Education Requirements for a Labor and Delivery Nurse?
Not to be confused with a midwife or a doula, the Labor and Delivery nurse requires a degree from an accredited ADN or BSN program – a Bachelor's of Science in Nursing is considered highly competitive for job application. Every nurse must pass the state's NCLEX-RN examination for licensure in order to be considered as a 'registered' nurse. L&D nurses often have a strong interest in obstetrics and gynecology, and view themselves as strong advocates of mothers and their children in the healthcare setting.
Experienced nurses need at least 1 year of bedside nursing experience and are often required to work as a Postpartum Nurse prior to transitioning into the L&D role.
Any Certifications or Credentials Needed?
In addition to experience as a postpartum nurse, Labor and Delivery nurses require certification in Basic Life Support (BLS) and Advanced Cardiac Life Support (ACLS). At present, field-specific continuing education and certification programs that are offered for Labor and Delivery are through the National Certification Corporation (NCC), which cover the stages of labor in depth, best practices for Caesarian section birth, best practices in labor and delivery for various segments of the population, as well as anesthetics and pharmacology. The Inpatient Obstetric Nursing (RNC-OB) certification is typically required by most hospitals after a set period of employment. To be eligible to take the RNC-OB exam, the RN must have 24 months of experience in the field.
Where Do Labor and Delivery Nurses Work?
Labor and Delivery nursing is by no means a niche role given how common medical intervention is for birthing throughout the world. Nurses work in hospitals, birthing centers and as community resources. Senior nurses may opt to specialize further in this type of care and support, augmenting their training and experience to study issues like lactation and healthy birth and maternal outcomes in the community.
What Does a Labor and Delivery Nurse Do?
Working closely with the obstetricians and gynecologists in the ward, L&D nurses work in a hospital setting with other support staff to ensure that mothers and their birth team have a safe experience both laboring and delivering babies.
Working with a low patient ratio, some Labor and Delivery nurses work in the general ward, while others choose to specialize in working with high-risk groups – mothers with high-risk pregnancies, advanced maternal age, or those having issues with fetal development. High risk L&D facilities are more common in teaching hospitals and urban areas."
What Are the Roles & Duties of a Labor and Delivery Nurse?
Provides direct patient care in the maternal specialty area to both mother and infant
Evaluates patient care and plans according to best patient outcomes and facility resources.
Monitors, documents, and communicates mother, fetal and infant status to members of the interdisciplinary team.
Coordinates maternal patient care holistically, advocating for physical, emotional and psycho-social needs.
Evaluates learning needs of patient and partners, and provides education appropriate to circumstances.
Refers patient(s) care to ancillary support staff and specialists
Acts as preceptor or mentor to student nurses, support staff and new hires.
Adept at interpreting fetal heart monitoring and EKG readings
Provides appropriate nursing care for childbearing women from teens to advanced maternal age
Provides advocacy, education and care from pregnancy through to postpartum phases, including fetal and infant care
Advocates for room-in or single-room, family centered care philosophy
Labor and Delivery Nurse Salary & Employment
The average salary of the L&D RN is $55,426, with a range of $46,225 – $86,709. Location, experience, certifications, and experience affect salary. Jobs are forecasted to continue to grow in this field, as our population, and indeed the world's population, continue to grow.
Helpful Organizations, Societies, and Agencies