Forensic Nurse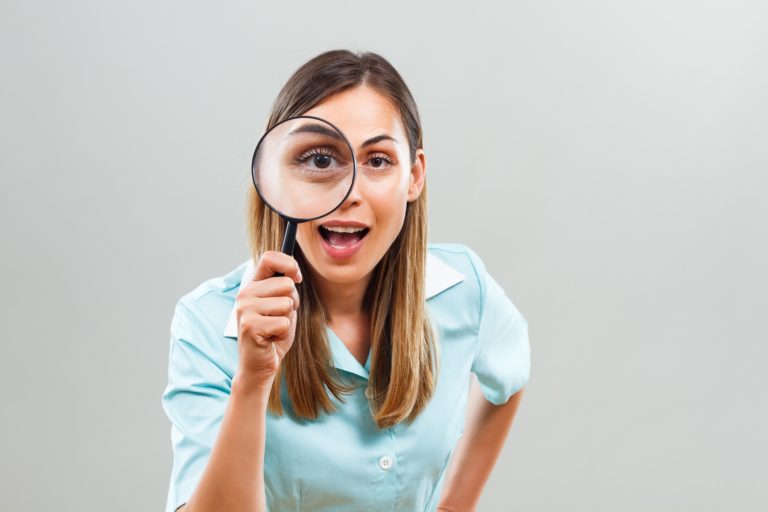 What Is Forensic Nursing?
Forensic nurses specialize in caring for patients who are the victims of trauma, violence, and abuse. They have a foundation in the criminal justice system as well as nursing. They are on the front lines when victims of crimes need help the most, providing sensitive, compassionate care while meticulously collecting relevant evidence that may be needed later in court. Some forensic nurses choose to specialize in sexual assault/trauma by becoming certified as Sexual Assault Nurse Examiners (SANE).
Becoming a Forensic Nurse
Those who are interested in forensic nursing should have an interest in not only direct patient care, but also being patient advocates. They should also have an interest in criminal justice and the legal system. Strong attention to detail is also a quality valued in forensic nursing. Forensic nurses are exposed to emotionally draining and potentially disturbing cases, so having a stable work-life balance and support from family and friends is essential.
What Are the Educational Requirements for a Forensic Nurse?
Completion of an accredited nursing program is required. Aspiring forensic nurses can obtain an associate's degree in nursing (ADN) or a bachelor's degree in nursing (BSN). While a master's degree in nursing (MSN) is not required, it may make a nurse more hirable. Additionally, specialty forensic nursing graduate degrees are required for certain types of forensic nursing certifications.
After completion of a nursing program, successful completion of the NCLEX-RN exam is required for licensure as a registered nurse.
A nurse may choose to practice as a registered nurse or advance to a nurse practitioner role specializing in forensic nursing.
Learn about post-master's forensic nursing certificate programs.
Any Certifications or Credentials Needed?
Obtaining certification in forensic nursing is highly recommended. While not necessarily required, certification demonstrates a commitment to the profession and a higher standard of care within the field of forensic nursing.
Registered nurses and advanced practice nurses can complete a formal forensic nurse specialist program. The American Institute of Health Care Professionals offers comprehensive training in forensic nursing to include 250 contact hours of continuing education. The requirements for this program include:
Completion of formal training as a registered nurse
A current/valid RN license
While an Advanced Forensic Nursing certification used to be offered through the American Nurses Credentialing Center, the ANCC retired it in late 2017.
Where Do Forensic Nurses Work?
Forensic nurses can work in a variety of patient care areas. In the hospital setting, forensic nurses may work in the following departments:
Emergency rooms
Urgent care departments assisting with trauma cases (intentional and unintentional trauma), injuries, and assault/abuse
In the community setting, forensic nurses may find work with:
Coroners
Medical examiners
Pathologists
Local government agencies
Non-profit organizations that serve trauma/abuse survivors
Forensic Nurse FAQs
A Forensic Nurse may be subpoenaed (ordered to attend court) under two circumstances:
As a "Fact Witness"- This involves the forensic nurse that delivered care to the patient/victim following the crime including interviewing, evidence collection, injury identification, and evaluation. This nurse worked specifically with the patient and can attest to the documentation they have provided. It is important to note that as a fact witness, the nurse may testify about anything observed or said during the exam but cannot provide an opinion on the causation of any injuries. For example, a nurse that collected evidence such as swabs for DNA can testify regarding his or her methods used to collect that evidence. The nurse may be asked to describe in detail how it was collected or stored.
As an "Expert Witness"- This designation is achieved after a forensic nurse has attained a high level of experience. It qualifies a nurse to provide special knowledge while testifying as to whether or not an injury is consistent with the patient's account of the assault. An expert witness may not be able to speak to the evidence collected and presented in court, but can provide general information about current practice and protocols that are based on experience and medical literature.
What Does a Forensic Nurse Do?
Forensic nurses have many duties that may differ based on where they work. Forensic nurses basically wear two hats — a nurse hat and a law enforcement hat. This unique, dual role ensures that victims of a crime receive the best quality care during a very emotionally and physically trying time. Victims of sexual assault or battery may not trust caregivers, or they may be afraid to report to law enforcement. Forensic nurses on the front lines can act as both caregivers and liaisons, limiting the number of interactions which, in turn, can help build trust with victims.
Forensic nurses who work in emergency departments/urgent care may:
Take a thorough patient history
Collect evidence such as debris, bodily fluids, bullets
Perform physical examinations
Photograph injuries/evidence
Perform wound care
Interview the patient and/or family
Report victims of assault/abuse to local law enforcement and Child/Adult Protective Services
Forensic nurses working in the community may:
Take blood/tissue samples
Respond to the scene of accident/death
Photograph injuries/wounds
Photograph crime scenes
Collect evidence
Assist with autopsies
Act as a deputy coroner
What Are the Roles and Duties of a Forensic Nurse?
Whether forensic nurses are employed in the hospital or community setting, working with deceased or living patients, their roles are the same. These include:
Collect data and complete thorough documentation
Act as a liaison between victims of assault and their families
Act as a liaison with law enforcement and social services
Testify in court
Provide comfort to victims and families
Provide resources to victims and families including mental health counseling, shelters, etc.
Sexual Assault Nurse Examiners (SANE)
A unique and important specialized pathway related to forensic nursing is the Sexual Assault Nurse Examiner (SANE). These are RNs who have at least 2 years of clinical practice under their belts and have completed the appropriate SANE training as mandated by the International Association of Forensic Nurses' (IAFN) SANE Education Guidelines. The training includes both didactic learning and clinical preceptorships to prepare these RNs for the medical forensic care of patients (either adults or children) who are victims of sexual assault/abuse. It's important to note that RNs interested in training to become SANEs should also consult their state regarding any specific regulations that must be met in their area.
Once the RN has completed this specialized training, they can become certified through IAFN. There are two choices for certification, which include:
Sexual Assault Nurse Examiner — Adult/Adolescent (SANE-A)
Sexual Assault Nurse Examiner — Pediatric (SANE-P)
Certification is granted upon successfully passing the required SANE examination (either SANE-A or SANE-P; some RNs choose to get dual certifications to treat both populations). These examinations are offered twice per year, in April and September. SANE-certified nurses must renew every 3 years; 45 contact hours are required for renewal.
What Do Sexual Assault Nurse Examiners Do?
Qualified SANE-A and SANE-P nurses spring into action once a rape or other sexual assault has been reported. They administer the Sexual Assault Evidence Collection Kit (SAECK; sometimes referred to as a Vitullo kit or rape kit). The SANE follows a multi-step procedure to collect the kit, explaining each chronological step to the patient as they examine them. The kit is then sealed and delivered to the appropriate authorities. Later on, a SANE may be asked to testify in court regarding the evidence collected. Studies have shown that evidence collected by SANE-certified nurses results in higher prosecution and conviction rates.
Aside from the clinical and legal aspects of working as a SANE, these nurses also provide important psychological and emotional comfort to sexual assault patients. A big part of their job is to make the victim feel safe, heard, and to help them heal.
Forensic Nurse Salary & Employment
Forensic nursing is a relatively new specialty. The unique role of a forensic nurse acting as a caregiver and crime specialist has led to many new career opportunities. According to PayScale.com, forensic nurses can earn between $46,509 to $90,960 annually. This may differ based on credentials, state, city, and organization.
The job outlook for forensic nurses is especially favorable, as there aren't currently enough to meet the demand across the country.
Helpful Organizations, Societies, & Agencies