2023 - Best Nursing Schools in Massachusetts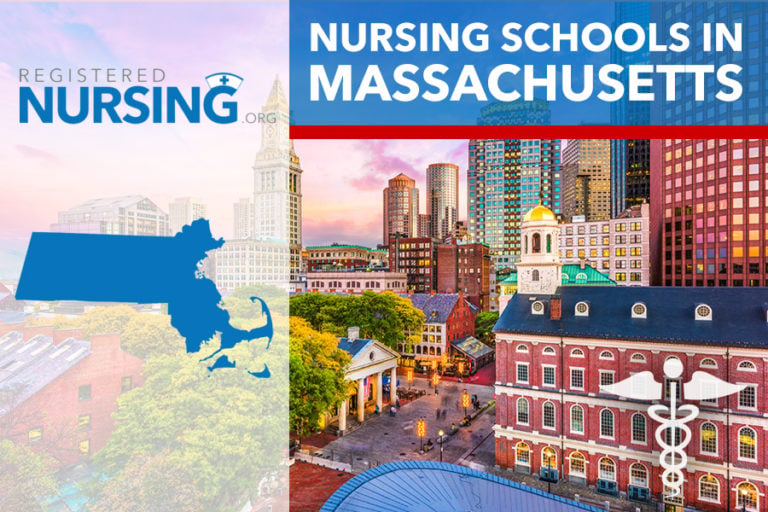 Evidence-based health care is how Massachusetts has been able to get almost 55% of its nurses to further their education. The state is looking to increase that average over the next few years and is providing incentives to the nursing industry. The number of new jobs annually is increasing by almost 20% per year. Nurses with a Bachelor's of Science in Nursing or greater are seeing the benefits of having a higher education with placement options, salaries, and diverse opportunities in specialties. Massachusetts is committed to supporting their nurses in reaching for more.
For RN bridge programs visit:
2023 Best RN Programs in Massachusetts
ADN Programs in Massachusetts
Many high school or mature students are searching for a path to a fulfilling and lucrative nursing career. Often, they begin their path by pursuing an ADN or Associate's Degree in Nursing. The degree is actionable with a high school diploma and a competitive GPA; classes are available at many public and private colleges throughout the state. With an ADN degree, students can apply to take the state's NCLEX-RN exam for licensure.
The state has about 20 technical and junior colleges that offer accredited ADN programming for students. With plenty of clinical time, students emerge with a firm grounding in patient care and health management.
What to Look For in an ADN Program in Massachusetts
Choosing between a number of well-appointed, well-reviewed ADN programs is a seemingly impossible task. To help students choose, we have outlined some of the core criteria that you'll want to look at, as well as tuition, location and faculty profiles. Read on to find out more:
Accreditation
How can a student know that a college will stand by its mandate for quality education, or in fact if the diploma they're awarded will carry weight with future employers? These questions are addressed in the process of accreditation – where regulatory agencies review the college or the program in question and provide a status update for whether the college meets their criteria. In Massachusetts, the New England Association of Schools and Colleges reviews and accredits colleges, while the Commission for Education in Nursing (ACEN) or the Commission on Collegiate Nursing Education (CCNE).
Licensing
One of the regulatory roles at the state Board of Nursing level is overseeing licensure of any program that wishes to offer an ADN degree. Each program is reviewed carefully on a rolling basis to determine if it meets the board's success criteria. Students should cross-check information to make sure that a college's advertised ADN program status matches the BoN status; this information can be found on the Education part of the state nursing board's website.
Program Outcomes
An ADN program's reputation is carried in part by its program outcomes – that is, how well students do in the program, during licensure, and in the workplace. In addition to the aforementioned metrics, here are some more factors that students should research:
Dollars per student spend
Job entry statistics
Licensure data (first/more attempts)
Faculty turnover
Student salary information
Boston College, located in Chestnut Hill is home to a forward-thinking faculty and student body. BC's ADN graduates are prepared for the rigors of professional nursing, improving the health care outcomes of their community.
ADN Program Admission Requirements in Massachusetts
Admission cut-offs and requirements are often discussed in the high school counselor's office, and for very good reason. They can actually keep you from entering the program that you wish to attend! While requirements vary, we've included some of the core criteria to help you understand what you'll need to do to enter the program of your choice.
Students must complete an online application
Students must submit all administration fees
Students must submit all official transcripts
Students must provide SAT and/or ACT test scores
Students must submit to background screening
Students must provide evidence of immunizations
Tuition and Costs of ADN Programs in Massachusetts
Regardless of how cost-effective tuition and program costs are, it's still a big expense for students to cope with – probably the biggest expense of their lives so far. With that in mind, everyone from guidance counselors to financial aid administrators tries to make the payment and fee schedule easily understandable to students. In addition to tuition, a school may separately list costs such as nursing uniforms and equipment, insurance, and housing costs, so it's wise to research fully before committing to a school of your choice.
Bunker Hill Community College in Chelsea clearly outlines the cost of attendance for students. Residents of Massachusetts can expect to pay about $220 per credit. There are additional fees for being a student, which include health insurance, parking permit, nursing equipment, and textbooks, as well as housing.
Advantages of ADN Programs
There are many advantages to pursuing an ADN program. Most notably, the smaller class sizes build an atmosphere of community learning. As well, due to the number of community colleges found throughout the state, the ADN program is accessible to most, if not all students who want a post-secondary degree. Finally, the amount of hands-on learning means that students graduate prepared to enter the nursing workforce, post-licensure.
*PLEASE NOTE
The following ADN programs have had a withdrawal of approval from the MA Board of Registration in Nursing:
Quincy College, Associate Degree Registered Nurse Program, Quincy, MA, effective May 9, 2018
Roxbury Community College, Associate Degree Registered Nurse Program, effective June 12, 2019
LPN to RN Programs in Massachusetts
For aspiring RNs who are currently Licensed Practical Nurses (LPNs), specialized LPN to RN program pathways exist. These programs are designed to transition LPNs into more intensive nursing practice and prepare them for the NCLEX-RN examination. LPN to ADN and LPN to BSN program options are readily available.
LPN to ADN/BSN Programs
LPN students can choose which RN degree they'd like to obtain. The quickest and most basic option is the LPN to ADN. These programs can usually be completed in about a year. Northern Essex Community College, for example, offers an LPN to ADN pathway that can be completed in 2 semesters (about half the time of their regular ADN program). For those looking to earn a bachelor's degree, the LPN to BSN is ideal. These programs tend to take closer to 2 years to complete. Fitchburg State University offers an LPN to BSN that requires 120 credits.
Typical admissions requirements for LPN to RN programs in Massachusetts include:
Active Massachusetts LPN license
Graduate of an accredited LPN program
Successful completion of any required exams or prerequisite courses
Letters of recommendation, resume, etc. may also be required
BSN Programs in Massachusetts
Roughly twice as long as an ADN, the BSN or Bachelor of Science in Nursing can be well worth the extra expense and a student's time. Many students and employers consider a BSN more valuable than their ADN counterparts and award jobs and remuneration accordingly. BSN graduates are also ideally positioned to pursue an MSN degree at some point due to their undergraduate work.
Despite the small size of the state, there are more than 15 BSN degree programs for students.
What To Look For in a BSN Program in Massachusetts
Want more technical and theoretical information than is offered at the ADN level? Pursue your Bachelor of Science in Nursing (BSN) degree. Doing so at a 4-year university of your choice will enhance your ethical and clinical knowledge of the nursing paradigm while preparing you to move upward in leadership as your experience grows.
Northeastern University's Bouvé College of Health Sciences educates its BSN students to provide competent, empathetic, and ethical healthcare leadership that caters to the areas of local needs.
BSN Program Length in Massachusetts
The average BSN program in the state is 4 years in length with summers off. Students can, however, pursue accelerated programming to shorten the time that they are in university. Applicants who hold their RN license already can apply for the RN to BSN track available at many universities. Additionally, courses are sometimes offered online to increase the flexibility of offerings for busy students.
BSN Program Admission Requirements in Massachusetts
BSN program requirements ensure that the university is able to continually meet its standards of excellence, and help the nursing profession by creating quality candidates for licensure. Criteria do vary from institution to institution, but read on to find out what the most common admission requirements are:
Negative drug screening
Background screening with no 'concerns'
Be a student 'in good standing' regarding fees and forms
Complete personal statement
Provide proof of immunization
Official transcripts must reflect a competitive GPA in core courses
Tuition and Costs of BSN Programs in Massachusetts
The rising cost of university balanced against the merit and value of a degree? It sounds like a sticky situation – fortunately, there is lots of help for students who are interested in investigating university costs. Schools make this information as transparent as possible on their websites, outlining the costs of tuition, housing, fees, materials, and other costs for students to start planning.
Worcester State University in Worcester has annual tuition costs of about $10,786, not including room and board or additional program expenses/fees. Students are encouraged to fully investigate their options for financial aid each year.
Advantages of BSN Programs
BSN programs position graduates to pursue leadership roles once they get some experience on the hospital floor. With 4 years of schooling, BSN nurses come to the job with extensive theoretical and technical knowledge and often, a drive to be upwardly mobile in their career path.
MSN Programs in Massachusetts
MSN or Master's of Science in Nursing graduates are able to enter a certain specialty of nursing that allows them to practice the advanced skills that they've gained through experience and classroom time. If an interest in mental health, neonatal care, or teaching appeals to you, you might want to investigate MSN options in your state.
More than five schools in the state offer MSN graduate studies, both on-campus and online. With varied offerings, students can meet the demands of their personal and professional obligations while working toward their graduate degrees.
MSN Program Length in Massachusetts
MSN programs are comprised of a select array of courses over 3 – 5 semesters. Generally, there are a small number of didactic classes (teaching and learning) and a large number of clinical rotations in your chosen specialty. Students are encouraged to carefully balance their work and studies in order to find success.
MSN Admission Requirements in Massachusetts
MSN programs have academic and professional requirements that vary from program to program. While the criteria do vary from year to year, and between specialties, we've listed some of the core components of a successful entry package in order to help you achieve your goals.
Application fee (non-refundable)
Official transcripts in a sealed envelope
Competitive GPA
Personal essay
Resume or CV
Letters of recommendation from professional associates
Ability to practice as an RN in Massachusetts
Tuition and Costs of MSN Programs in Massachusetts
Fitchburg State University requires students to complete about 40 credit hours to be eligible for graduate degree status, as well as hundreds of hours of clinical work. Per credit hour, tuition is about $347 for in-state residents. Fees, personal/professional equipment, and costs of living are calculated separately.
For NP programs visit:
Getting a Massachusetts Nursing License
Massachusetts nursing licensure regulations either by examination or endorsement require criteria such as:
Candidates should not only complete the application for licensure by examination they must also have:
Good moral character
Passport photo- within the past 2 years/signed
Proof of graduation - submitted by the nursing school
Final official transcripts - submitted by the nursing school
Registration for NCLEX exam
By endorsement licensure, you must submit/meet the above criteria and submit these additional documents:
Verification of licensure from original state obtained - request form or NURSYS (if applicable)
Proof of passing score on either NCLEX or State Board Test Pool Exam (SBTPE)
Non-US educated nurses must complete the CGFNS process
Accelerated Nursing Programs in Massachusetts
Accelerated programs in Massachusetts can take anywhere from 12 to 18 months to complete, while direct entry MSN programs can take 23 to 36 months to complete. Both programs are options for prospective students when moving from one BA to that of a nursing degree. Eligibility for admission requirements vary from one program to another, but must be completed before the first day of the degree program. Tuition cost will depend on a few factors including prerequisite courses needed, housing, if program is considered a graduate program, etc., check into the program on interest for further associated costs.
Latest Massachusetts NCLEX-RN Pass Rates and Statistics
Total Number of State Approved Schools: 42
2021 Average Statewide Massachusetts NCLEX-RN Pass Rate: 87.0%
Continued List of All RN Programs in Massachusetts
Here is a continued list of all RN Programs a continued list of all RN Programs a continued list of all RN Programs a continued list of all RN Programs a continued list of all RN Programs a continued list of all RN Programs.
Are we missing your school's program or need to update information listed? Please contact us so we can make the necessary changes.