2023 - Best Nursing Schools in Idaho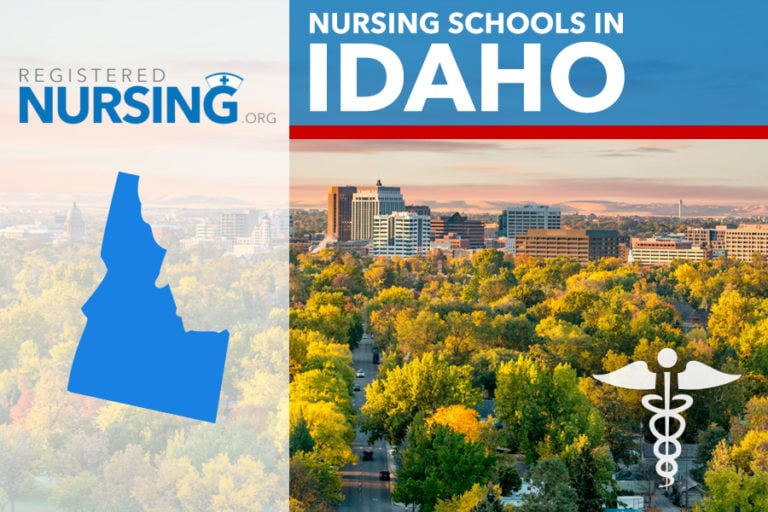 Throughout one of the largest but least populous states are quality post-secondary educational institutions that are committed to advancing the field of nursing. Located in such major centers as Boise, Coeur d'Alene, and Twin Falls, colleges and universities make use of the expansive terrain and concentration of science and technology industries that are peppered throughout the state to supply a stream of individuals who are committed to changing the dialogue surrounding patient care through evidence-based and empathetic nursing practice.
Known as the Gem State, Idaho is looking to the future of nursing as an ever-changing profession and has committed to their patients and nurses to provide opportunities for growth and development. The state has noted that nurses with a BSN or greater degree are better placed to accept greater job opportunities and have the added bonus of earning higher salaries. Idaho is looking at a projected increase in nursing positions of approximately 600 positions per year until 2022. Bachelor's of Science in Nursing (BSN) or a degree greater than this has become the primary focus of achieving their state goal of providing the best nursing care.
For RN bridge programs visit:
2023 Best RN Programs in Idaho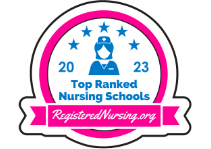 Selecting the best nursing school in Idaho can be difficult. To make the process easier first look for a school that supports students towards licensure and beyond. A great way to measure this is through NCLEX-RN "pass rates." We have ranked the top 5 nursing schools in Idaho by analyzing current and historical NCLEX-RN "pass rates", meaning the percentage of graduates who pass the exam, out of the 11 RN programs in the state. Programs reviewed include schools that offer an Associate in Nursing (ADN/ASN), BSN, or Direct-Entry MSN Degree.
For more information on our top nursing school rankings, see our Methodology Page (https://www.registerednursing.org/rn-ranking-methodology/).
1000 W. Garden Ave
,
Coeur d'Alene
,
ID
83814
Score: 96.32
North Idaho College offers a standout Associate's Degree in Nursing program to educate the nursing professionals of tomorrow. This competitive-entry program utilizes a robust curriculum that includes nursing theory in the classroom as well as clinical practice in real healthcare environments. LPNs are eligible for advanced placement within the program.
Program Details
Programs: Associate in Nursing, LPN to RN
Phone:

(208) 769-3300
500 8th Avenue
,
Lewiston
,
ID
83501
Score: 94.47
Lewis-Clark State College of Lewiston offers several nursing pathways for ambitious students. The school's traditional pre-licensure BSN program prepares students for a rewarding, patient-centered career in nursing in 4 years of study. LPN to BSN and a special Community College to BSN tracks are also available to accommodate students at multiple points in the RN journey.
Program Details
Programs: BSN, LPN to BSN
Phone:

(208) 792-5272
525 S Center St
,
Rexburg
,
ID
83460
Score: 92.49
BYU - Idaho prepares students for nursing excellence through its pre-licensure BSN program. Enrolled students take 4 semesters of general ed and prerequisite coursework before moving on to the final 4 semesters of the core nursing curriculum. Graduates of the program are known for their clinical reasoning skills, leadership, versatility, and safety.
Program Details
Programs: BSN
Phone:

(866) 672-2984
1600 S 25th E
,
Idaho Falls
,
ID
83404
Score: 92.28
The College of Eastern Idaho, located in Idaho Falls, is home to an Associate of Applied Science (AAS) degree in nursing as well as an LPN to RN option. CEI nursing grads boast high first-attempt NCLEX-RN pass rates, program completion rates, and job placement rates - making it a popular choice for students.
Program Details
Programs: Associate in Nursing, LPN to RN
Phone:

(208) 524-3000
1910 University Dr
,
Boise
,
ID
83725
Score: 90.44
The School of Nursing at Boise State University prepares nursing students to provide caring, holistic, and quality nursing services to diverse populations while also facilitating the development of leadership and interprofessional skills.
Program Details
Programs: BSN
Phone:

(208) 426-1000
ADN Programs in Idaho
The Associate's Degree in Nursing – also called the ADN – is an effective choice for students who are interested in the fastest track through post-secondary and licensure to a career as an RN, that is, a Registered Nurse. Typically, program length is 2 years or so, with summers off, and ADN programs are often available at community colleges throughout the state.
With more than five ADN programs offered at state colleges, Idaho's students and teaching nurses are working to overcome the needs of the healthcare industry while providing evidence-based, patient-centered care.
What to Look For in an ADN Program in Idaho
Different ADN programs emphasize slightly different skill sets and outcomes, however comparing each school's accreditation, licensure status and outcomes is an effective way to support the decision of which school you favor.
Accreditation
The Northwest Commission on Colleges and Universities (NWCCU) provides institutional accreditation to community and technical colleges in the state. This means that accredited institutions meet or exceed the standards for institutional quality. While the NWCCU accredits the institution, ADN programs are accredited individually by the Accreditation Commission for Education in Nursing (ACEN) or the American Association of Colleges of Nursing (CCNE). Whether or not an institution is accredited is available on the college or accrediting body's website. Students should ensure that their school choice meets accreditation standards.
Licensing
After your ADN degree has been granted, the next step in your professional pathway is to sit the NCLEX-RN exam for licensure. The Idaho Board of Nursing has vital information to ensure that the program you've enrolled in is actually eligible to have graduate students sit for licensure exams. Without the licensure component, students cannot use the title of "Registered Nurse".
Program Outcomes
Schools maintain a body of data to help them keep their accreditation and attract new students and faculty. Frequently available on the college website, this information is useful to students who are trying to decide which school choice to attend in an evidence-based fashion. Compare:
Total number of program graduates
Raw enrollment vs graduate data
NCLEX-RN exam pass rates (first attempt, not aggregate data)
Student experience data
With competitive entry for the program, North Idaho College welcomes students who wish to enter health sciences, specifically nursing. The program offers preferential placement for those who hold an LPN diploma.
ADN Program Admission Requirements in Idaho
While there may be a shortage of nurses in the field, that doesn't mean that nursing admissions can afford to be anything less than rigorous in their criteria. Admissions do change between institutions, but there are a number of similarities:
High school or GED transcript with posted graduation date
Record of all college-level credits
Cumulative GPA of 3.0 (cumulative) on prerequisite courses
Meet the ADN Admissions criteria for physical ability
Individual TEAS score of 60% or greater
Provide evidence of current CPR certification
Tuition and Costs of ADN Programs in Idaho
Subject to an array of federal and state regulations, Idaho ADN tuitions are roughly the same between institutions. Housing and associated costs like uniforms, nursing equipment, and student fees might vary but on the whole, in-state students can expect good value for their dollars at a community or technical college's ADN program. We've included a sample school to give you an idea of how much money your education may cost.
With campuses in Boise and Nampa as well as online offerings, the cost for an in-state student's tuition per credit hour is about $140 at the College of Western Idaho. This does not include additional mandatory fees or supplies.
Advantages of ADN Programs
While there is still the romantic appeal for a 4-year university degree, practical students may opt for a 2-year Associate's Degree in their discipline for any number of reasons. Foremost, the cost and time commitment are considerably less, which ups the value for most cash-starved students. In recent years, community and technical colleges have entered formal agreements with associated universities to streamline the transfer process for students that wish to carry on in their education. While academic quality is on par, junior colleges often feature a more hands-on approach to learning which appeals to some students.
LPN to RN Programs in Idaho
Some Licensed Practical Nurses (LPNs) wish to go back to school to advance their careers by becoming registered nurses. Luckily, LPNs in Idaho have the option of specialty LPN to RN bridge programs designed specifically for this purpose. LPN to RN programs essentially give LPN students advanced standing within the RN program they choose so that they don't have to repeat courses. Students enrolled in this type of program can graduate with either an ADN degree or a BSN degree.
LPN to ADN/BSN Programs
The most direct route for practical nurses is the LPN to ADN pathway, as it is the shorter of the two bridge programs. Many community colleges in Idaho offer this type of program, such as the PN to ADN bridge offering from the College of Eastern Idaho. Those wanting a higher-level registered nursing degree may wish to enroll in the slightly longer LPN to BSN program, which culminates in a bachelor's degree. Lewis-Clark State College offers an LPN to BSN pathway that can be completed in just four semesters of study.
For either of the LPN to RN program types, students will generally need to have an LPN license in good standing, be a graduate of an approved LPN program, and complete/provide proof of prerequisite courses. A minimum GPA may be required as well. Exact admissions requirements for LPN to RN programs will vary by school and program type.
BSN Programs in Idaho
When researching options for becoming a nurse, ADN programs are not the only option available to students. BSN or Bachelor of Science in Nursing programs are the bar to which all students are being streamed, either in a 4-year block of a university schooling, through an ADN-to-BSN bridge, or as RNs who wish to enter continuing education for professional development. BSN programs tend to prepare students differently for the rigors of clinical practice with more in-depth reading and theory work to expand their knowledge and skill set.
What To Look For in a BSN Program in Idaho
BSN applicants to university programs throughout the state are looking to become top-caliber nurses who are continual learners in their field and who are prepared to educate, serve and become involved in research and service in order to enhance the field of patient care for a diverse population base. Nurses are committed to a path of lifelong inquiry and education for their field and schools should match this.
The University of Idaho has a philosophy of holistic management of the patient's condition for healing. Nursing students, RNs and faculty strive to build upon this idea to improve patient care and nursing standards on a continual basis.
BSN Program Length in Idaho
Unless a BSN program is considered 'accelerated' or a bridge program between ADN and BSN or RN and BSN, the standard length of the bachelor degree program is 4 years or eight semesters. Students may find that some universities condense the standard length of programming into 2.5 years, but warn that the pace and amount of knowledge is intense.
BSN Program Admission Requirements in Idaho
Every school has unique requirements for admission to their nursing program; generally, this depends on funding and number of program spaces to fill, as well as the need of surrounding communities and state data. However, what follows is the standard admissions criteria so that students can get an idea of what may be expected of them.
Satisfactory completion of general education and program course requirements
Submit your official transcript and any other post-secondary documentation you may have
Ensure your GPA is 2.0 or higher for pre-requisite courses
Submit the appropriate application forms with fees if applicable
Visit your assigned Academic Advisor
Tuition and Costs of BSN Programs in Idaho
A baccalaureate degree represents a unique value depending on the specialty. With a starting hourly figure of $25 – $30, a BSN can be well worth the cost that it incurs in tuition. In order to help ease a student's transition to adulthood, universities publish their tuition rates, and may also lend insight on other costs like housing, uniforms, texts, and equipment. Tuition for the BSN at Boise State University, for example, runs just over $4,000 per semester. Additional fees will apply.
Advantages of BSN Programs
With double the number of credit hours, the health care industry favors RNs who have a BSN degree after their name. With this in mind, many hospitals, clinics, and health departments are looking specifically for candidates who have the extended learning that a BSN provides, as well as the additional experience due to more clinical placements. Finally, if you think you may want to pursue an MSN degree at some point, a BSN is a vital step in the process.
MSN Programs in Idaho
The Master of Science in Nursing (MSN) emphasizes various aspects of nurse education, public education, leadership, and specialty medical tracks. Often offered online for nurses with other personal or professional commitments, ideally, nurses in Idaho would complete their MSN in 2-3 years, depending on their prerequisites. Throughout the Gem State, there are two such universities that offer MSN programs, and both have online options, as well as a number of out-of-state universities from which RNs may choose.
MSN Program Length in Idaho
With a full-time course load, the average MSN degree program requires three to four semesters of full-time work. With the heavy clinical and theoretical components in graduate-level work, students should carefully consider their workload as they enter this phase of their education.
MSN Admission Requirements in Idaho
At the graduate degree level, standards of professional experience, practice, and pre-requisites are important. Institutions may vary, but admission criteria are similar for both MSN schools.
Degree from a regionally accredited institution
Current US RN licensure or its international equivalent
Evidence of good standing by the Idaho Board of Nursing
Evidence of current employment as an RN
Meet or exceed the minimum prerequisite course grade of "C"
Provide transcripts indicating a cumulative GPA of 3.0
Tuition and Costs of MSN Programs in Idaho
Compared to other states, MSN programs in Idaho are neither the most nor the least expensive. The Northwest Nazarene University School of Nursing and Health Sciences has per-credit-hour tuition of between $620 and $780 (depending on the MSN track chosen); additional fees are calculated separately per semester. Graduate students are expected to enter the program having procured nursing equipment and uniforms.
For NP programs visit:
Getting an Idaho Nursing License
Idaho requirements for nursing licensure by examination or endorsement must include a completed and notarized application package consisting of the following information:
Photo - taken with in the last year (2" x 2" or 2" x 3")
Completed census questionnaire
Completed 'Affidavit of Graduation' - sent from school directly to state board, after being notarized
Fingerprint Card - criminal background check
Registration for NCLEX-RN exam
Licensure by endorsement can be obtained by providing:
Completed, notarized application form
Census questionnaire
Verification of license form - via NURSYS if applicable
Satisfactory employment reference
Declaration of state residence
Completed, notarized affidavit of validity
Fingerprint card
Accelerated Nursing Programs in Idaho
In 12 months time you could earn your BSN in nursing, if you were to look at an accelerated program offered in the state. Accelerated programs are intense in nature due to providing candidates with 2 degrees in a short amount of time. Clinical hours run concurrently with course load, so it is recommended that students not work during this time. Entry requirements for these programs can require some candidates to have to complete specific courses before the program start date. Any additional courses that must be completed will also alter the amount of tuition for the program. Look into prerequisites and tuition costs for each program you are interested in applying.
Latest Idaho NCLEX-RN Pass Rates and Statistics
Total Number of State Approved Schools: 11
Total Number of Test Takers in 2021: 876
2021 Average Statewide Idaho NCLEX-RN Pass Rate: 89.0%
Continued List of All RN Programs in Idaho
Here is a continued list of all RN Programs a continued list of all RN Programs a continued list of all RN Programs a continued list of all RN Programs a continued list of all RN Programs a continued list of all RN Programs.
Are we missing your school's program or need to update information listed? Please contact us so we can make the necessary changes.