Domestic Violence Nurse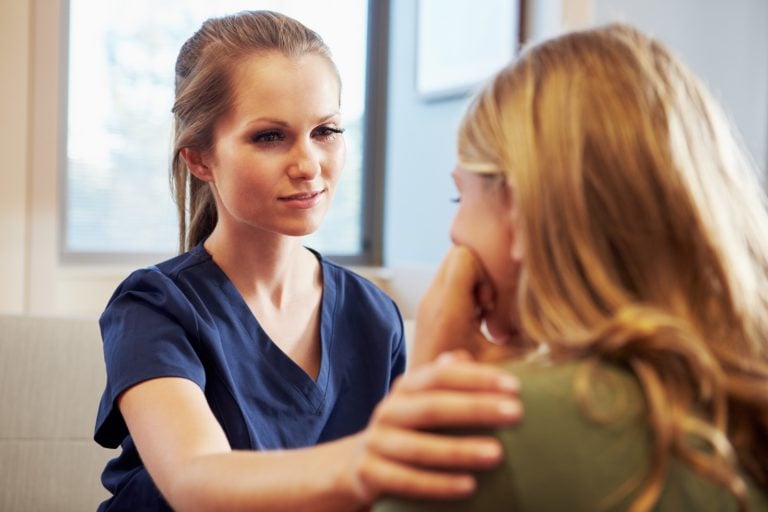 What Is a Domestic Violence Nurse?
A fairly new nursing specialty, the domestic violence nurse (also sometimes called domestic violence nurse examiner) takes care of patients who have been victims of domestic violence. An offshoot of forensic nursing, RNs in this specialty see patients of all ages, and are responsible for helping them heal and cope with the physical, mental, and emotional wounds of domestic violence. Aside from this, domestic violence nurses must document everything and keep meticulous patient records that may be called upon in court. They must provide compassionate, supportive, sensitive, and empathetic care to patients who may be traumatized or extremely fragile.
Becoming a Domestic Violence Nurse
An RN will need to earn a degree before he or she can consider becoming a domestic violence nurse. A few continuing education courses and certifications will help an interested nurse reach this goal. In addition to the education requirements, a domestic violence nurse will need to have excellent communication skills, be patient listeners, and offer non-judgmental support. Working in this specialty can be emotionally exhausting, so having a strong emotional resolve is crucial to being successful.
The following are skills that are typically mentioned in domestic violence nursing job descriptions. Exact requirements will depend on the employer and location, but in general a domestic violence nurse will need to able to:
Communicate compassionately and efficiently with domestic violence patients
Have excellent stress management skills
Document all treatment and interactions with a patient in an organized and detailed manner
Have keen observation skills, as patients may not want/be able to speak about what happened to them
Be knowledgeable about resources for domestic violence victims
Interact with doctors and law enforcement officers
To search and apply for open domestic violence nurse positions, visit our job boards.
What Are the Education Requirements for Domestic Violence Nurses?
A domestic violence nurse will first need to obtain an Associate's or Bachelor's degree in nursing. Following this, he or she will need to take and pass the NCLEX-RN. If forensic nursing courses weren't taken during degree coursework, an RN may want to take continuing education courses in this field. Many schools offer courses in applicable topics, such as forensic evidence collection and preservation. To advance as a domestic violence nurse, a Master's degree in nursing may be necessary.
Are Any Certifications or Credentials Needed?
While not required, many domestic violence RNs eventually go on to earn a Certification in Forensic Nursing (CFN). To be eligible for the CFN, these nurses will need to have at least 3 years of professional experience. Many domestic violence nurses also take the exam to become certified as a Sexual Assault Nurse Examiner (SANE). There are two designations for SANE certification; SANE-A refers to adults and adolescents, while SANE-P refers to pediatrics.
Where Do Domestic Violence Nurses Work?
Domestic violence nurses are most commonly employed in hospitals, however they can also be found in other health facilities, particularly community clinics. Public health agencies may also hire domestic violence nurses. In addition to this, many domestic violence nurses find employment and/or volunteer opportunities in support groups geared toward domestic violence and abuse victims, as well as shelters that cater to these victims. This type of nurse must be comfortable working with law enforcement and may regularly be called to testify in court.
What Does a Domestic Violence Nurse Do?
Domestic violence nurses must be experts in providing compassionate care to fragile patients who may be in a crisis state. They must offer physical, mental, and emotional support to these victims, who may be children, adults, or even elderly. Domestic violence nurses must be experienced enough to rely on their observation skills to expedite treatment, as some patients may find speaking about their injuries or experiences too difficult. They must be patient and try their best to get as much information out of a victim as they can without traumatizing them further. Aside from this, they must also use proper forensic techniques to collect and document any evidence that may be critical to the victim's case in court.
What Are the Roles and Duties of a Domestic Violence Nurse?
Examine, assess, and provide physical and mental treatment to domestic violence patients in an empathetic and gentle manner
Console patients so that the medical team can provide proper care
Collect information about the patient's injuries and experiences
Document the patient's injuries and story
Collect and preserve evidence for use in court
Connect a victim with available resources
Work with doctors and law enforcement officers to report a patient's injuries
Testify in court if necessary
Domestic Violence Nurse Salary & Employment
Domestic violence nurse salaries can be anywhere from $45,615 and $80,875 annually. The exact amount is dependent on place of employment, years of experience, level of education, city and state, and other factors.
As a relatively new specialty, domestic violence nursing is growing rapidly. With many healthcare facilities starting to hire this type of nurse, growth and salary advancement are inevitable. This specialty is ideal for nurses who have an interest in forensics as well as healthcare, and want the rewarding job of directly helping those who have been through a harrowing ordeal.
Helpful Organizations, Societies, and Agencies