2023 - Best Nursing Schools in Colorado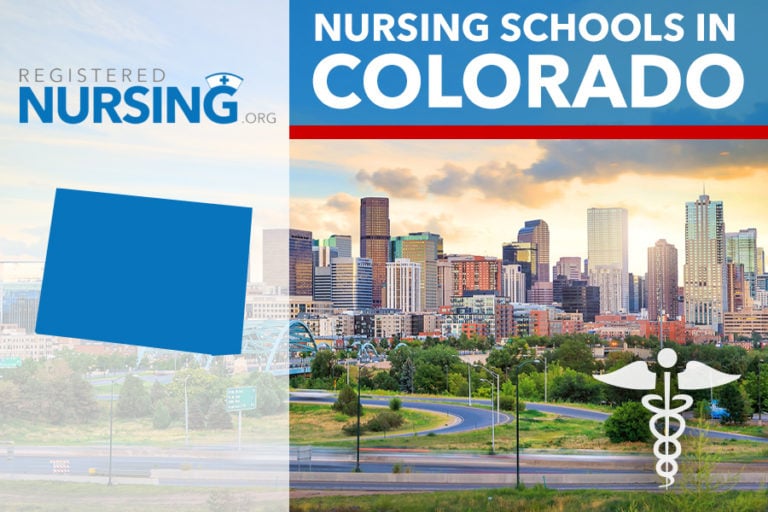 The state of Colorado is forecasting an influx of more than 20% highly-qualified nursing staff as being required by the year 2022. Colorado is committed to providing high standard nursing care to their patients, and with the state's aging population, there is a need for highly skilled and diversified nurses in the state. Nurses in Colorado with a Bachelor of Science degree in Nursing (BSN) earn more money hourly and find more job opportunities in more locations, including in a variety of urban and rural areas.
For RN bridge programs visit:
2023 Best RN Programs in Colorado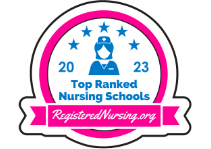 Selecting the best nursing school in Colorado can be difficult. To make the process easier first look for a school that supports students towards licensure and beyond. A great way to measure this is through NCLEX-RN "pass rates." We have ranked the top 10 nursing schools in Colorado by analyzing current and historical NCLEX-RN "pass rates", meaning the percentage of graduates who pass the exam, out of the 28 RN programs in the state. Programs reviewed include schools that offer an Associate in Nursing (ADN/ASN), BSN, or Direct-Entry MSN Degree.
For more information on our top nursing school rankings, see our Methodology Page (https://www.registerednursing.org/rn-ranking-methodology/).
4616 S Shields St
,
Fort Collins
,
CO
80526
Score: 99.32
Front Range Community College - Larimer is the hub of a prestigious associate's degree nursing program in Fort Collins, Colorado. With a number of diploma and degree options, FRCC meets the needs of today's expanding healthcare field.
Program Details
Programs: Associate in Nursing
Phone:

(970) 226-2500
5675 S Academy Blvd
,
Colorado Springs
,
CO
80906
Score: 97.64
At the foot of the magnificent Rocky Mountains, Pikes Peak State College is home to one of Colorado's choice Associate of Applied Science nursing programs. Nursing graduates from PPCC possess the technical skills and patient advocacy to make them a valuable asset in the clinical setting.
Program Details
Programs: Associate in Nursing
Phone:

(719) 502-2000
1011 Main St
,
Alamosa
,
CO
81101
Score: 96.22
Alamosa's Trinidad State - Valley Campus offers students numerous registered nursing pathways. Their popular ADN and LPN to ADN programs provide students with the guidance and skills needed to find success in the nursing workforce.
Program Details
Programs: Associate in Nursing, LPN to RN
Phone:

(719) 589-7000
5900 S Santa Fe Dr
,
Littleton
,
CO
80120
Score: 95.17
As part of the Denver-Aurora-Lakewood metropolitan area, Littleton is also home to the notable nursing program found at Arapahoe Community College. With ASN and BSN tracks and clear bridge procedures, ACC is committed to serving the medical profession through high-quality graduates.
Program Details
Programs: Associate in Nursing
Phone:

(303) 797-4222
1201 5th Street, WC 247
,
Denver
,
CO
80204
Score: 95.06
The Metropolitan University of Denver's nursing program offers three tracks to the coveted BSN in Nursing. Between the accelerated, traditional or completion options, MU is a core provider of high-quality nurses.
Program Details
Programs: BSN
Phone:

(303) 556-5740
501 20th St
,
Greeley
,
CO
80639
Score: 94.41
Located north of the Denver Metropolitan Area, historic Greeley is home to the University of Northern Colorado's School of Nursing. State-approved, UNC's bachelor's degree in nursing program trains leaders in patient care.
Program Details
Programs: BSN
Phone:

(970) 351-1890
3645 W 112th Ave
,
Westminster
,
CO
80031
Score: 94.04
The Westminster Campus of Front Range Community College is home to a nursing program created to meet the needs of a rapidly evolving healthcare system. Clinical experiences include acute, home health, and community agencies across the Denver metro area.
Program Details
Programs: Associate in Nursing
Phone:

(303) 404-5000
1401 19th St
,
Denver
,
CO
80202
Score: 93.21
Denver College of Nursing offers numerous RN degree pathways, including both ADN and BSN programs. The school's goal is to train the next generation of nursing leaders through a curriculum that emphasizes clinical skill, critical thinking, and more.
Program Details
Programs: Associate in Nursing, BSN
Phone:

(303) 292-0015
1402 Blake Ave
,
Glenwood Springs
,
CO
81601
Score: 92.62
Glenwood Springs' Colorado Mountain College offers an ADN program that prepares students for the NCLEX-RN exam and gives them the tools they need for a successful nursing career. The program also emphasizes early experiential learning through clinical experiences.
Program Details
Programs: Associate in Nursing
Phone:

(970) 945-7486
208 Edgemont Blvd
,
Alamosa
,
CO
81102
Score: 92.48
The nursing program at Adams State University prepares students for a successful career in nursing. The curriculum combines engaging coursework, hands-on training, and accessible faculty who are mentors and advisors.
Program Details
Programs: BSN
Phone:

(719) 587-7011
ADN Programs in Colorado
Many of the post-secondary institutions in the state have nursing programs; often, they offer the Associate's Degrees in Nursing (ADN). One of the fastest pathways to become an RN, ADN is typically a two-year program. Occasionally coursework is condensed so that the 4-semester course load falls into about a year and a half's time. Throughout Colorado, there are about 20 ADN programs offered through community colleges and private colleges – all are approved by the Colorado Board of Nursing for operation in the state.
What to Look For in an ADN Program in Colorado
In order to find the best fit for your learning style, location, and budget, it is important to consider a number of factors when weighing ADN programs:
Accreditation
The Accreditation Commission for Education in Nursing (ACEN) and the American Association of Colleges of Nursing (AACN) are the largest two institutions that assist schools and enforce regulatory policies to ensure that nursing students receive a top-quality education. In the interest of transparency, institutions that hold accreditation from one organization or the other are clearly listed in the state Board of Nursing documents.
Licensing
You will want to ensure that upon completing the ADN program at your preferred school that you will be eligible to take the NCLEX and thus become nationally registered as an RN. Last year, about 90% of the nursing students that took the NCLEX were successful, and many were from ADN program streams.
Program Outcomes
Each college or junior college provides information about graduates in statistics and publications. Designed to provide a measure of objectivity, this data is useful in helping students decide whether the program is a suitable match for their needs and goals. Be sure to read about:
The graduation rate for each cohort
NCLEX-RN pass rate
Student satisfaction data
Rate of post-secondary employment (related field only)
Located in Glenwood Springs and several other medium-sized communities around the state, Colorado Mountain College has an NCLEX pass rate of over 92% and offers a well-respected ADN program in a friendly and scientifically driven atmosphere for local students.
ADN Program Admission Requirements in Colorado
Each school has a specific set of entrance requirements that are unique to the environment, national and state employment demands, and the student cohort in a given year. However, admission criteria have some similarities across institutions:
Students must satisfy college-specific and program-specific entrance criteria
Students must provide evidence of GPA exceeding 2.5
Students must provide evidence of proficient scores in TEAS
Students must provide official transcripts from all former schools and programs
Tuition and Costs of ADN Programs in Colorado
There are easily enough ADN programs throughout the state to satisfy the needs of each RN student – and each of them has program costs that are unique. Students are encouraged to explore the full costs of the program they wish to apply to, remembering that beyond tuition, there are equipment, materials, textbook and sometimes clothing costs that students must incur in order to meet the needs of the program successfully. For example, the tuition portion of the ADN program at Lamar Community College is about $161 per credit hour in a 70-hour program over 4 semesters. Program costs are extra, as are room and board costs.
Advantages of ADN Programs
Offered through many junior and private college locations, ADN programming is very accessible to students throughout the state. With a timeline that is generally 2 years in length, programs are affordable; students graduate and in high-demand fields, can graduate in a prescribed timeframe and begin work quickly to pay down outstanding college costs. Colleges also make great use of technology in order to give their students the hands-on training required to enter the field.
LPN to RN Programs in Colorado
Colorado Licensed Practical Nurses (LPNs) who wish to become registered nurses can opt to enroll in an LPN to RN specialty program. The aim of these programs is to bridge the gap between practical and registered nursing skills and duties. There are a few different program types fall under the LPN to RN umbrella, including LPN to RN diploma programs, LPN to ADN, and LPN to BSN pathways.
LPN to ADN/BSN Programs
Many choose to pursue the most basic transition program; the LPN to ADN. This type of pathway can usually be completed in a year or less. Westminster's Front Range Community College, for example, offers an LPN to ADN that requires 54.5 total credit hours. Students interested in a more intensive option tend to go with the LPN to BSN pathway, which will provide them with a bachelor's degree in nursing. Colorado Mesa University offers an LPN to BSN that prepares students for employment in a number of different medical settings.
LPN to RN programs in Colorado typically require the following for admission:
Active Colorado LPN license in good standing
Proof of completion of any prerequisite courses (minimum GPA required)
Proof of graduation from an approved LPN program
Must pass a criminal background check
BSN Programs in Colorado
You may decide to earn a more advanced nursing degree at the start or midway through your career. With this in mind, many students consider the Bachelor of Science in Nursing (BSN) as a viable option. Usually, a complete course of study requires 4 years, and most programs are found through universities. A great example is the BSN offerings at Colorado Mesa University, though there are approximately 15 institutions and satellite campuses through Colorado that offer BSN credentials.
What To Look For in a BSN Program in Colorado
There are a number of options for freshmen or RNs to pursue their BSN. With that in mind, some of the criteria to look for in an on-campus BSN program are the size of the classes – while freshman lectures often have hundreds of attendees, smaller class sizes are far more common for hands-on and clinical rotations. Another great look-for is the credentials of the instructors. Easily searchable online, instructors and professors should have extensive experience and additional credentials that give students confidence with the quality of evidence-based instruction that they will be receiving.
The Metropolitan State University of Denver has an accredited nursing program that leads pre-licensure candidates down the path toward a rewarding nursing career via a BSN. With diligent and empathetic healthcare professionals as teachers and role models, students hone their desire to help patients, especially in the face of a global nursing shortage. Many universities make it easy for post-licensure RNs to pursue additional qualifications via continuing education in order to enrich their careers and patient practice.
BSN Program Length in Colorado
Typically, four school years or eight semesters, BSN programs have a standard length and pace. However, for those who have already passed the NCLEX, you may be eligible for an accelerated RN-to-BSN program through your school of choice. Candidates and nurses are encouraged to consult with their school's nursing program admissions personnel directly.
BSN Program Admission Requirements in Colorado
BSN programs vary from institution to institution, however, they do have a few elements in common:
Confirmed acceptance to your university of choice via letter
Activated online student account
Attend necessary orientation programs
Complete nursing application form
Provide official transcripts via your online account
Meet immunization standards and course grade prerequisites
Tuition and Costs of BSN Programs in Colorado
BSN tuition costs and associated equipment, uniform, textbook, and technology costs can vary greatly between schools. Students may find the effort of researching each school's tuition and full costs useful exercise in helping them decide where to attend. Particularly true of nursing programs, there are a large number of scholarships and grants available. The University of Colorado's on-campus BSN program tuition costs about $477 per credit hour for in-state residents. Additional costs (including room and board) are extra.
Advantages of BSN Programs
Successful completion of a BSN program has the advantage of preparing and providing greater career options in terms of advancement and flexibility. Earning potential for BSN graduates is also higher. RNs can also access an RN to BSN bridge program to help them continue their career.
MSN Programs in Colorado
For nurses who are determined to lead in their field, there is an increasing number of programs available at the Master of Science in Nursing (MSN) level. Today's MSN programs are building the leaders of tomorrow's nurses in pathways such as administrators, nurse educators, managers, and policymakers. Whether candidates are interested in clinical care, administrative or teaching environments, MSN options are designed to accelerate your nursing career.
MSN Program Length in Colorado
About 3 years in duration of full-time coursework, the RN to MSN program is like having a full-time job, as the graduate degree requirements are definitely taxing on both a learning and time-management level. Part-time studies are generally required to be completed within 5 or 6 years.
MSN Admission Requirements in Colorado
MSN admission requirements vary from program to program, however, some of the core criteria remain the same:
Graduate from an accredited in-state BSN program with a GPA of 3.0 or higher
Submit a professional portfolio and resume
Submit evidence of your RN licensure and transcripts from undergraduate programs and continuing education units
Be accepted as a student in good standing at the university of your choice
Have practiced as an RN for two or more years
Tuition and Costs of MSN Programs in Colorado
Tuition costs for MSN programs are definitely more money than their undergraduate counterparts. Tuition does vary from school to school and does not include the other necessary expenses that nurses will have to incur in order to complete their training, such as textbooks and materials, lab costs, clinical equipment or uniform costs since graduate students are expected to have most of these items as practicing nurses. For example, the University of Colorado at Denver's MSN program costs students about $600 per credit hour and does not include additional fees.
For NP programs visit:
Getting a Colorado Nursing License
For Colorado State regulations for licensure by examination or endorsement a completed application, including your Social Security Number along with the following items should be submitted:
Proof of citizenship or immigration status – completed affidavit of eligibility
Completed screening questionnaire
Name change documentation (if applicable)
health care Professionals Profiling Program – questionnaire to be completed
Transcripts to be mailed directly to the state nursing board
Proof of registration for the NCLEX-RN examination
Apply for endorsement of licensure can be done by providing all of the above documentation, as well as the following:
Current/active license from another state
NURSYS Verification request completed
Declare any and all other states licenses including state, issuance, expiration, number and status
Accelerated Nursing Programs in Colorado
If you are venturing into the world of nursing and you have evaluated all your options, then you will have come across accelerated nursing programs. Colorado has a number of colleges throughout the state that offer accelerated nursing degrees, some of these programs are quite intensive as you can imagine, and range from 12 months to 20 months in length with most being of a full-time nature. The admission requirements for these programs vary, which in turn means the costs for each program are dependent on how many prerequisite courses you may have to take, as well as the length of the program itself.
Latest Colorado NCLEX-RN Pass Rates and Statistics
Total Number of State Approved Schools: 28
Total Number of Test Takers in 2021: 2,234
2021 Average Statewide Colorado NCLEX-RN Pass Rate: 87.7%
Continued List of All RN Programs in Colorado
Here is a continued list of all RN Programs a continued list of all RN Programs a continued list of all RN Programs a continued list of all RN Programs a continued list of all RN Programs a continued list of all RN Programs.
Ranked
School
Program
Score
Website
11.
University of Colorado Anschutz Medical Campus

Aurora

,

CO

80045

| Phone:

(303) 724-1812

92.18
nursing.cuanschutz.edu
12.
Aims Community College

Greeley

,

CO

80634

| Phone:

(970) 330-8008

Programs:

Associate in Nursing

92.17
aims.edu
13.
University of Colorado - Colorado Springs

Colorado Springs

,

CO

80918

| Phone:

(719) 255-8227

91.41
johnsonbethel.uccs.edu
14.
Regis University

Denver

,

CO

80221

| Phone:

(303) 458-4126

Programs:

BSN, Accelerated BSN, Choice BSN

91.19
regis.edu
15.
Pueblo Community College Southwest

Mancos

,

CO

81328

| Phone:

(970) 564-6232

Programs:

Associate in Nursing, LPN to ADN

89.72
pueblocc.edu
16.
Colorado State University - Pueblo

Pueblo

,

CO

81001

| Phone:

(719) 549-2100

89.38
csupueblo.edu
17.
Colorado Christian University

Lakewood

,

CO

80226

| Phone:

(303) 963-3311

87.95
ccu.edu
18.
Pueblo Community College - Fremont Center

Durango

,

CO

81301

| Phone:

(719) 549-3200

Programs:

Associate in Nursing, LPN to ADN

87.58
pueblocc.edu
19.
Morgan Community College

Fort Morgan

,

CO

80701

| Phone:

(970) 542-3100

Programs:

Associate in Nursing, LPN to ADN

87.49
morgancc.smartcatalogiq.com
20.
Platt College

Aurora

,

CO

80014

| Phone:

(303) 369-5151

86.57
plattcolorado.edu
21.
Pueblo Community College

Pueblo

,

CO

81004

| Phone:

(719) 549-3200

Programs:

Associate in Nursing, LPN to ADN

85.76
pueblocc.edu
22.
Trinidad State Junior College

Trinidad

,

CO

81082

| Phone:

(719) 846-5011

Programs:

Associate in Nursing, LPN to ADN

82.81
trinidadstate.edu
23.
Colorado Mesa University

Grand Junction

,

CO

81501

| Phone:

(970) 248-1020

82.01
coloradomesa.edu
24.
Colorado Mesa University - Montrose

Montrose

,

CO

81401

| Phone:

(970) 248-1020

80.93
coloradomesa.edu
25.
Colorado Northwestern Community College CNNC

Craig

,

CO

81625

| Phone:

(800) 562-1105

Programs:

Associate in Nursing

80.80
cncc.edu
26.
Lamar Community College

Lamar

,

CO

81052

| Phone:

(719) 336-2248

Programs:

Associate in Nursing

75.73
lamarcc.edu
27.
Otero Junior College

La Junta

,

CO

81050

| Phone:

(719) 384-6831

Programs:

Associate in Nursing

70.41
ojc.edu
28.
Northeastern Junior College

Sterling

,

CO

80751

| Phone:

(970) 521-6600

Programs:

Associate in Nursing, LPN to ADN

64.85
njc.edu
Are we missing your school's program or need to update information listed? Please contact us so we can make the necessary changes.