2023 - Best Nursing Schools in South Dakota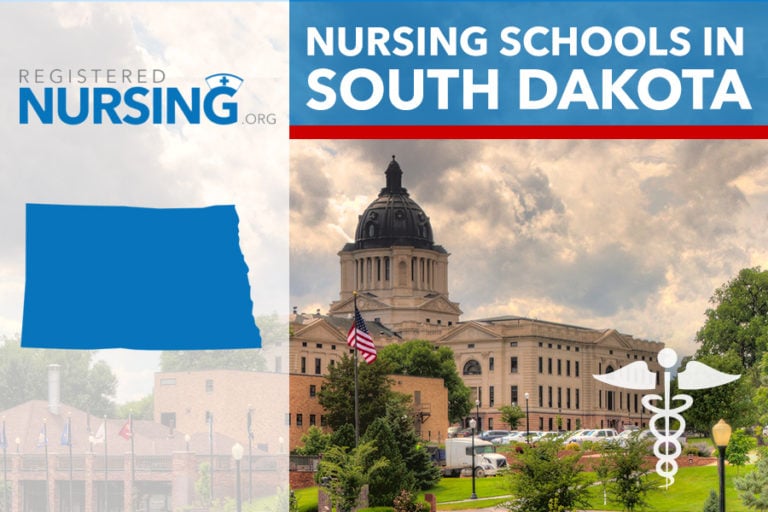 South Dakota is changing its health care system so that it reflects the importance of higher learning, thus providing a higher standard of patient care. The job opportunities in South Dakota will increase over the next 5 years by approximately 13%, equaling 300 or so open job opportunities per year. With the Bureau of Labor Statistics reporting the average annual salary for an RN in the state at $60,540, nursing will continue to be a top career pick for the foreseeable future.
For RN bridge programs visit:
2023 Best RN Programs in South Dakota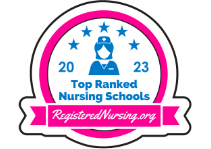 Selecting the best nursing school in South Dakota can be difficult. To make the process easier first look for a school that supports students towards licensure and beyond. A great way to measure this is through NCLEX-RN "pass rates." We have ranked the top 5 nursing schools in South Dakota by analyzing current and historical NCLEX-RN "pass rates", meaning the percentage of graduates who pass the exam, out of the 11 RN programs in the state. Programs reviewed include schools that offer an Associate in Nursing (ADN/ASN), BSN, or Direct-Entry MSN Degree.
For more information on our top nursing school rankings, see our Methodology Page (https://www.registerednursing.org/rn-ranking-methodology/).
2001 South Summit Avenue
,
Sioux Falls
,
SD
57197
Score: 95.73
For over 75 years, the Augustana University Department of Nursing in Sioux Falls, South Dakota has been offering students innovating nursing programs, such as their BSN pathway. Highly qualified faculty guide students through an exemplary curriculum which includes hands-on learning experiences and a liberal arts foundation. There is also an accelerated BSN track for students who hold a college degree and have completed prerequisite courses.
Program Details
Programs: BSN
Phone:

(605) 274-4721
1101 W 22nd St
,
Sioux Falls
,
SD
57105
Score: 93.58
Located in the heart of Sioux Falls, students at the University of Sioux Falls are taught nursing principles in a liberal arts, Christian-centered environment. Students can choose between a traditional BSN, an Accelerated BSN, or even an RN to BSN bridge program. USF's nursing programs boast a 98% first-time NCLEX-RN exam pass rate.
Program Details
Programs: BSN
Phone:

(605) 331-6771
100 Administration Lane
,
Brookings
,
SD
57006
Score: 92.06
A wide variety of nursing programs are offered at South Dakota State University in Brookings, including both traditional and accelerated BSN programs. With over 80 years of nursing education experience, South Dakota State students reap the benefits of experienced faculty, a state-of-the-art Healthcare Simulation Center, and a 100% job placement rate. In addition to this, one-third of the 120 credits in the traditional program are dedicated to clinical practice.
Program Details
Programs: BSN
Phone:

(800) 952-3541
414 E Clark St
,
Vermillion
,
SD
57069
Score: 91.72
The University of South Dakota, located in Vermillion, offers several nursing pathways - including a traditional BSN program. This 4-year track educates students with a comprehensive curriculum that includes general ed, foundational courses, and nursing courses. Grads are equipped with the knowledge and skills needed to provide outstanding patient care.
Program Details
Programs: BSN
Phone:

(877) 269-6837
2320 N Career Ave
,
Sioux Falls
,
SD
57107
Score: 90.87
Southeast Technical College of Sioux Falls, South Dakota offers students the opportunity to advance their education while gaining real-world experiences in a variety of venues. Students enrolled in the outstanding 42-credit AAS nursing program, designed as an LPN to RN bridge program, can even apply for 100% tuition assistance through the Build Dakota Scholarship program.
Program Details
Programs: LPN to RN
Phone:

(605) 367-7624
ADN Programs in South Dakota
An Associate's Degree in Nursing (ADN) is one of the quickest routes to becoming a registered nurse. These programs tend to be relatively short in length at approximately 2 years, and once completed you can take your exam for registered nurse licensure. ADN programs are widely available at junior and technical colleges and tend to be more affordable than traditional 4-year degrees at larger universities.
South Dakota offers roughly 5 ADN programs scattered throughout the state.
What to Look For in an ADN Program in South Dakota
There are a few important things to remember when comparing different ADN programs. Keep the following in mind:
Accreditation
You'll want to make sure that you are attending a legitimate, high-quality program. One of the best ways to do this is to ensure that your school of choice's program is properly accredited by industry organizations. A few national ones to look for include the Accreditation Commission for Education in Nursing (ACEN) and the American Association of Colleges of Nursing's Commission on Collegiate Nursing Education (CCNE). On a local level, you'll want to look for an endorsement from the South Dakota Board of Nursing.
Licensing
Take a look at a prospective school's ADN program curriculum and make sure that it will fully prep you to take the National Council Licensure Examination for licensure as a Registered Nurse (NCLEX). Once this test is passed you will be able to receive a license from the South Dakota Board of Nursing. In 2015, the American Association of Colleges of Nursing reported that 86.9% of new nurse grads who took their NCLEX in the state received nursing licenses.
Program Outcomes
Program outcomes and success rates are great comparison tools. Below are a few specific things to look for:
Graduation rate
Licensure exam pass rate
Graduate satisfaction
Employment rate
Oglala Lakota College, located in Pine Ridge, SD, is one school in the region that has an accredited ADN program.
ADN Program Admission Requirements in South Dakota
While each school and program will have its own admission requirements, you can expect to find something similar to the following:
Completed ATI-TEAS entrance exam
Submission of complete high school and college transcripts
Submission of completed application and payment in full of all application fees
Tuition and Costs of ADN Programs in South Dakota
It can be confusing to navigate the costs and fees associated with earning an ADN. You will have to factor in tuition costs as well as extras such as textbooks, uniforms, and other miscellaneous fees (which may or may not be included in the tuition cost).
As an example of what to expect, the ADN program at the University of South Dakota costs roughly $18,856 for South Dakota residents, including tuition, fees, housing, and more.
Advantages of ADN Programs
Earning your ADN is a relatively quick and cost-effective way to become a registered nurse. The shortened length, combined with the accessibility of the program, makes it a great choice for those wanting to enter the nursing workforce without much delay. With this degree, you will already be registered and most likely working when those going through 4-year programs will only be halfway done with school.
LPN to RN Programs in South Dakota
Licensed Practical Nurses (LPNs) in South Dakota can build upon their education to enter the ranks of the registered nurse. Specialty LPN to RN programs are often a quicker, cheaper way to become a registered nurse compared to entering a traditional program.
LPN to ADN/BSN Programs
Students who opt for the LPN to RN pathway can choose to pursue either an associate's degree in nursing (ADN) or a bachelor's of science in nursing (BSN). The LPN to ADN program is the shortest route, often taking less than 2 years to complete. Southeast Technical Institute of Sioux Falls offers a highly ranked LPN to ADN program which takes a total of 42 credits to complete. Those looking to expand their employment opportunities may wish to enroll in an LPN to BSN program, which is longer in length than an LPN to ADN. Aberdeen's Presentation College offers an LPN to BSN program that can be completed online, making it ideal for working LPNs.
BSN Programs in South Dakota
If you're wanting to take a traditional 4-year path to become an RN, a Bachelor's of Science in Nursing (BSN) might be for you. This is a slightly more advanced degree that will give you a greater variety of employment opportunities, along with a bigger paycheck. If you are already an RN wanting to advance your career, many schools also offer a shorter RN to BSN program, which is worth inquiring about.
Over 7 schools in South Dakota offer a BSN – either through a traditional program, an accelerated BSN, or an RN to BSN.
What To Look For in a BSN Program in South Dakota
It is a good idea to do your research and compare BSN programs to find the right fit for you. Cost, location, accreditation, and program outcomes are just a few of the things you'll want to consider when choosing a school for your BSN. It's also smart to look at the program options…does your school of choice have a regular 4-year program only, or do they offer an accelerated program? How about an RN to BSN program? Some schools will offer all 3 types, so be sure to do your research if you are looking for these options.
The University of Sioux Falls, for example, offers a fully accredited traditional BSN, accelerated BSN, and an RN to BSN.
BSN Program Length in South Dakota
The traditional BSN takes 4 years to complete. If you are looking to finish your BSN even faster, accelerated programs can take as little as 15 months from start to finish. If you're already a registered nurse, RN to BSN programs can take 1-2 years to complete, depending on what coursework you've already completed.
BSN Program Admission Requirements in South Dakota
Program admission requirements for a BSN will vary. Here are a few things most schools will require:
Minimum 2.75 cumulative GPA
Required ACT score of 20 (preferred score 22)
Three professional references
Personal essay
Tuition and Costs of BSN Programs in South Dakota
Paying for your BSN nursing education can be daunting. Not only will you have to think about tuition, but also extras such as textbooks, lab fees, uniforms, and other mandatory items. Be sure to contact your prospective school's financial aid department for information on payment options.
Presentation College, located in Aberdeen, SD, estimates their BSN tuition to be approximately $22,384 per year for full-time students.
Advantages of BSN Programs
A BSN is advantageous for a few reasons. First, you will be able to choose from a much wider pool of nursing job specialties with your BSN and will be poised to advance in your career. You will also have the potential to make more money than you would with just an LPN or ADN. It's also a great choice for those wanting the traditional 4-year schooling experience.
MSN Programs in South Dakota
To move even further up the nursing ladder, a Master's of Science in Nursing degree (MSN) is what you'll need. If you want to become a Clinical Nurse Specialist, Certified Nurse Midwife, Nurse Practitioner, or other specialized nurse, you'll have to obtain an MSN.
There are roughly 3 schools in the state that offer MSN degrees in a few different specialties.
MSN Program Length in South Dakota
Program length can vary, but most MSN degrees take 2-3 years to complete. These graduate-level degrees are designed around the busy working nurse, so they often offer flexible schedules, night classes, online courses, and more. It's wise to inquire with your school of choice to see what options are available to you.
MSN Admission Requirements in South Dakota
Admission requirements may vary, so be sure to vet any prospective schools fully so you will know what's required of you. Here are a few common ones to be aware of:
Bachelor's degree in nursing from an NLN or CCNE-accredited institution
Minimum 3.0 cumulative GPA
Current licensure as an RN with at least one year of professional experience
Three recommendations
Interview with faculty
Tuition and Costs of MSN Programs in South Dakota
You'll want to fully compare MSN program tuition costs and fees. Remember that most schools do not include extras such as lab fees and textbooks in the cost of tuition. As an example of what to expect, the estimated cost for an MSN/Family Nurse Practitioner degree at South Dakota's Mount Mary College is $635 per credit hour in tuition, along with $85 per credit hour in support fees and $110 per semester in nursing fees.
For NP programs visit:
Getting a South Dakota Nursing License
South Dakota regulations to become a licensed nurse by examination or endorsement require the candidate to complete the application, submit fees and provide further information.
Information needed to apply by examination includes:
Satisfactory Criminal Background Check - obtained with fingerprint cards
'Certificate of Nursing' - obtained from the nursing program or official transcripts
NCLEX registration - successful outcome after completion
Information needed to apply by endorsement includes:
Official transcripts sent to state Board
Completed Criminal Background Check
Verification of licensure from originating state
Employment verification
Learn more about SD RN license information at the South Dakota Board of Nursing.
Accelerated Nursing Programs in South Dakota
There are only a couple of accelerated programs to pick from in the state, but those programs are only 12 to 18 months in length and are offered as full-time studies. On-campus programs that offer students the opportunity to fast track through a degree program, as well as offer clinical practice. Before entering these programs there are specific courses that must be completed prior to entry into the accelerated program. These extra courses will impact overall tuition fees and time frames for obtaining your degree.
Latest South Dakota NCLEX-RN Pass Rates and Statistics
Total Number of State Approved Schools: 11
Total Number of Test Takers in 2021: 766
2021 Average Statewide South Dakota NCLEX-RN Pass Rate: 87.9%
Continued List of All RN Programs in South Dakota
Here is a continued list of all RN Programs a continued list of all RN Programs a continued list of all RN Programs a continued list of all RN Programs a continued list of all RN Programs a continued list of all RN Programs.
Are we missing your school's program or need to update information listed? Please contact us so we can make the necessary changes.