Vermont RN Programs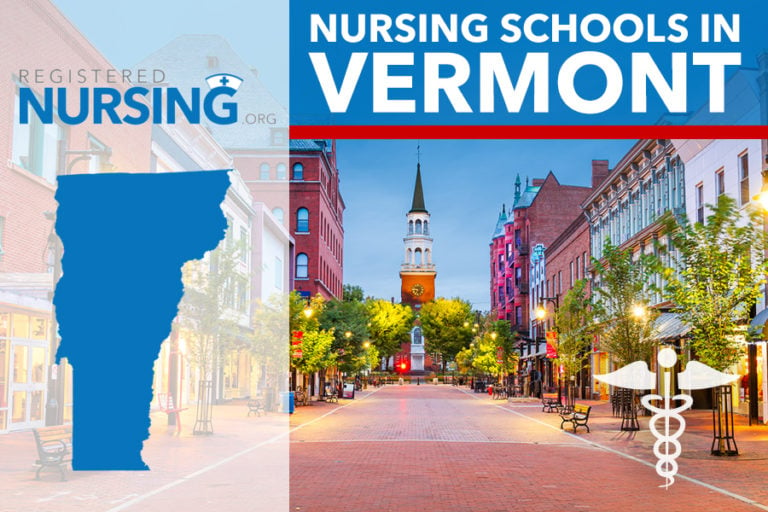 Looking to begin a rewarding and lucrative career in the healthcare industry? Look no further than Vermont! Becoming a registered nurse in the state has many advantages. The Vermont Department of Labor projects growth in the nursing industry, with over 225 jobs opening up each year. With an average yearly salary of $69,160 annually, it's no wonder why savvy students are opting to go to nursing school in the state. Whether going for your ADN, BSN, or MSN, Vermont schools offer it all.
For RN bridge programs visit:
ADN Programs in Vermont
Deciding to become a registered nurse is a big decision. If you're wanting to become an RN in a relatively short amount of time, consider a 2-year Associate's Degree in Nursing (ADN). Typically offered at community and technical colleges, ADN programs are popular with people wanting to get a start in the world of nursing.
There is one technical college in Vermont that offers an ADN program at more than 5 satellite locations across the state.
What to Look For in an ADN Program in Vermont
You will want to make sure the school you choose for your ADN program will legitimately prepare you to get your nursing license. The following are some key items to look for when considering schools and programs:
Accreditation
Proper accreditation lends legitimacy to nursing programs, but you'll need to know what accreditations to look for. National organizations such as the Accreditation Commission for Education in Nursing (ACEN) and/or the American Association of Colleges of Nursing's Commission on Collegiate Nursing Education (CCNE) are two to watch out for. You'll also want to ensure that your school's program is accredited locally by the Vermont State Board of Nursing.
Licensing
It's important that your school of choice's program fully prepares you to take the National Council Licensure Examination for licensure as a Registered Nurse (NCLEX).
Program Outcomes
The main indicator of a program's success is statistics of its outcomes, which many schools are happy to report. The following are all good indications of the school's reputation:
Graduation rate
Licensure exam pass rate
Graduate satisfaction
Employment rate
Vermont Technical College offers accredited ADN programs at their campuses, which include locations in Williston, White River Junction, St. Albans, Lyndon, Brattleboro, Newport, Springfield, Randolph Center, and Bennington.
ADN Program Admission Requirements in Vermont
ADN program requirements can differ, but here are some highlights of the admission requirements at Vermont Technical College:
Must supply official transcripts from high school and/or all colleges previously attended
SAT I or ACT results
Minimum Accuplacer scores
Personal essay required
Two signed letters of recommendation
Tuition and Costs of ADN Programs in Vermont
Tuition costs and other fees are a major part of going to school for your ADN. Remember that aside from tuition fees, you'll also be faced with additional mandatory fees for things like textbooks, uniforms, insurance, and more. These fees may or may not be included with the tuition price. Vermont Technical College's estimated ADN tuition for Vermont residents is approximately $16,471 for off-campus students, and $28,165 for on-campus students (includes room and board).
Advantages of ADN Programs
ADN programs are ideal for those looking to start their nursing careers quickly, as the relatively short length of 2 years means that you can enter the working world that much sooner. Because of the shorter length, these programs typically end up being less expensive than a traditional 4-year degree. If cost and time are of utmost importance to you, an ADN may be the perfect route to becoming a registered nurse.
BSN Programs in Vermont
A Bachelor's of Science in Nursing (BSN) is a great way to increase your career opportunities and earning potential in nursing. Jobs such as public health nurses and nurse educators can be obtained if you hold a BSN. You can take the traditional 4-year route to earn your BSN, or if you are already an RN, you can do a shorter RN to BSN program.
With roughly 4 schools in Vermont that offer a BSN program and a handful of others offering an RN to BSN, finding the right school in the area couldn't be easier.
What To Look For in a BSN Program in Vermont
There are many things to consider when looking into BSN programs. Cost, accreditation, and program outcomes are just a few of the components to choosing a great school. Be sure to inquire if your school offers the traditional 4-year BSN program or the shorter RN to BSN program if you already have your nursing license.
Castleton University in Castleton, Vermont is just one example of a school in the state that offers an accredited BSN program.
BSN Program Length in Vermont
There are a few different programs that can bestow upon you a BSN. The traditional BSN program lasts 4 years and is intended for those who don't already hold a nursing license. Some schools even offer an accelerated program to get you your BSN degree even faster. For students who are already license-holding RNs, the shortened RN to BSN program is another way to earn a BSN.
BSN Program Admission Requirements in Vermont
The following is a sampling of requirements you might come across when considering schools for your BSN:
Minimum high school GPA of 3.0
Minimum SAT scores of 500 each in critical reading and math (ACT of 21).
Nursing faculty approval
Tuition and Costs of BSN Programs in Vermont
A big factor for most in deciding on a school for a BSN is cost. Tuition fees can vary from school to school, and don't always cover extras like books, uniforms, or room and board (if needed). As an example, the estimated total comprehensive fees to earn a BSN at Southern Vermont College is $34,500 a year, including room and board.
Advantages of BSN Programs
A BSN will open you up to greater possibilities in the world of registered nursing. More nursing career options and greater salaries are just two of the reasons why taking the time to earn a BSN is a worthwhile venture. Whether you are starting out in nursing and want greater growth potential, or if you are already a registered nurse looking to advance, a BSN is a great building block for your healthcare career.
MSN Programs in Vermont
To reach an even higher caliber of nursing careers, a Master's of Science in Nursing degree (MSN) is available as a step beyond a BSN. This advanced degree can lead to nursing jobs including Clinical Nurse Specialist, Certified Nurse Midwife, and Nurse Practitioner, among other specialties. Keep in mind that you must already hold a BSN if you want to move ahead and earn an MSN.
MSN Program Length in Vermont
Roughly 3 years is needed to complete your MSN schooling. Many programs have flexible scheduling options, including night classes and/or online classes for working registered nurses to complete their training. Be sure to consider scheduling options at prospective schools for specific information about the length of their MSN programs.
MSN Admission Requirements in Vermont
While admission requirements for MSN programs vary, here are a few examples of requirements you'll need to have in order to enter a program:
BSN in nursing or an ADN with a Bachelor's degree in another field
Current Vermont nursing license
Graduate Record Examination (GRE)
College GPA of 3.0 or higher
3 letters of recommendation
Essay on why you chose a nursing career
Tuition and Costs of MSN Programs in Vermont
Paying for your MSN can seem challenging. While each program will have different tuition costs and fees, it's always advised to ask your college of choice what their tuition covers (some will cover books and extras, and others won't). Norwich University in Northfield, Vermont estimates their MSN program tuition at $7,620 per semester, along with a $575 technology fee and a $650 resource fee, amongst other fees.
For NP programs visit:
Getting a Vermont Nursing License
Vermont State regulations for acquiring a nursing license by either examination or endorsement have been set out as follows for each category.
If applying for licensure by examination you will need to complete an application, send fees and attach further documentation, such as:
Passport type picture 2" x 2" - signed and dated
Verification of education
Criminal Background Check
Registration for NCLEX - passing score upon completion
If applying for licensure by endorsement you will need all of the above information, as well as:
Verification of original licensure - via NURSYS (if applicable)
Meet practice requirements
Learn more about the VT RN License requirements at the Vermont Office of Professional Regulation.
Accelerated Nursing Programs in Vermont
Vermont has a BSN/MSN accelerated program, as well as a direct entry MSN program, both programs vary in length from 24 to 36 months. Program requirements must be met before entrance into these degree programs will be granted, and these programs are of a full-time nature. Financial assistance, for qualifying candidates, is also available for these degree programs. Tuition fees will be increased by any additional prerequisite course that needs to be taken. Fast track your degree, which means fast-tracking your future.