2023 - Best Nursing Schools in Wisconsin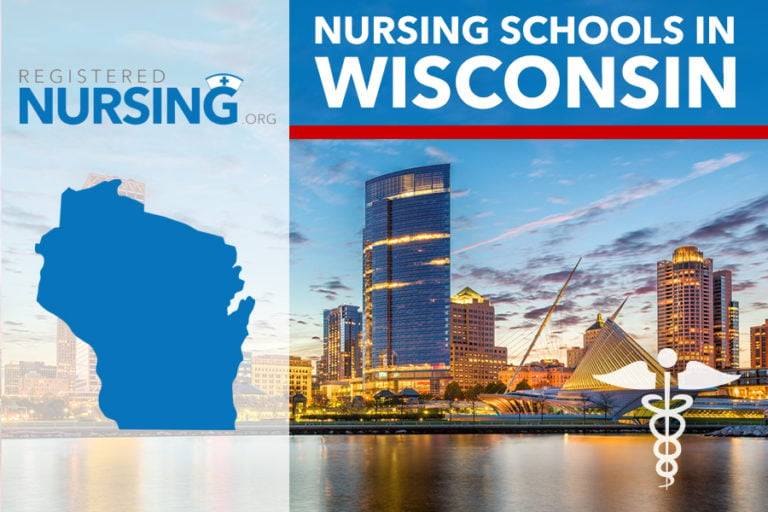 Wisconsin is supporting the upward trend of further learning by offering flexible learning schedules and supplying many jobs for aspiring registered nurses. Approximately 1,900 job opportunities per year are projected over the next 5 years, and the Bureau of Labor Statistics has reported that the median salary for a nurse in Wisconsin is approximately $76,850 annually. With Wisconsin area schools graduating roughly 3,000 nurses a year (according to the Wisconsin Center for Nursing), becoming a registered nurse in the state is more convenient than ever.
For RN bridge programs visit:
2023 Best RN Programs in Wisconsin
ADN Programs in Wisconsin
There are over 20 schools in the state that offer an Associate's Degree in Nursing (ADN). At just 2 years in length, an ADN is a great way to become a registered nurse without having to go through too much schooling.
Wisconsin has many different types of schools that can provide your ADN, including community colleges and technical colleges of all different sizes.
What to Look For in an ADN Program in Wisconsin
With the variety of ADN programs in the area, you'll want to choose wisely. Focusing on a school that is committed to preparing you for your licensure exam should be a top priority. Other important items to consider when choosing a school include:
Accreditation
There are a few main entities that can provide legitimate accreditation to an ADN program. Some of these include the Accreditation Commission for Education in Nursing (ACEN) and the American Association of Colleges of Nursing (AACN), but you will also want to look for schools that hold accreditation from the Wisconsin Board of Nursing.
Licensing
You will want to ensure that upon completing the ADN program at your preferred school that you will be eligible to take the National Council Licensure Examination for licensure as a Registered Nurse (NCLEX). Of the nearly 3,520 people who took the NCLEX exam in Wisconsin for the first time in 2015, 87.3% received licenses.
Program Outcomes
It is wise to inquire about the statistics regarding your school's ADN program. The following are all good indications of the school's reputation:
Graduation rate
Licensure exam pass rate
Graduate satisfaction
Employment rate
The Milwaukee Area Technical College, located in Milwaukee, Wisconsin is a great example of a school that offers an accredited ADN program in the state.
ADN Program Admission Requirements in Wisconsin
While different schools may have their own set of specific requirements, here is a sampling of requirements to enter an ADN program:
Completed Academic Skills Assessment test (Accuplacer or ACT) with mandatory benchmark scores
Completed pre-requisite classes (including Chemistry and Biology) with grades of C or higher
Submit required immunization documentation
Completed caregiver background check
Tuition and Costs of ADN Programs in Wisconsin
Tuition fees tend to vary from program to program. It's important to remember that tuition is just one portion of what you'll be paying for. Textbooks, fees, and uniforms are all examples of costs you may incur, and these may or may not be included in the price of your school's tuition. As an example, the estimated program cost for the 2-year ADN program at Chippewa Valley Technical College in Eau Claire, Wisconsin is $15,128 including tuition, fees, and books.
Advantages of ADN Programs
The advantage of going through an ADN program is the sheer amount of schools in the state that offer it, in addition to the shorter length of the program at just 2 years. These perks make it a snap to find a great program and get started with a rewarding nursing career very quickly.
LPN to RN Programs in Wisconsin
For Licensed Practical Nurses (LPNs) in Wisconsin, there are specialized programs designed to bridge the gap to registered nursing. Known as LPN to RN programs, they credit students for certain nursing courses that have already been completed in their prior coursework. This means that students can earn an RN degree in a fraction of the time.
LPN to ADN/BSN Programs
LPN students who wish to advance have the option of earning an ADN or a BSN degree through their transition program. The LPN to ADN is the basic option, leading to an RN degree in less than a year. Appleton's Fox Valley Technical College offers a full-time LPN to RN program that allows up to 19 credits of prior coursework. For those wanting a higher-level RN degree, the LPN to BSN option culminates in the ever-popular bachelor's degree. Herzing University offers an LPN to BSN program that can be completed in just 28 months.
LPN to RN programs in the state will typically require one or more of the following to be eligible for admission:
Transcripts from high school/colleges attended
Proof of current LPN licensure
TEAS exam scores
Completion of all prerequisite courses
BSN Programs in Wisconsin
Whether you are already a registered nurse looking to further your career or are just interested in a more advanced nursing degree from the get-go, a Bachelor's of Science in Nursing (BSN) is a great choice. A bit lengthier than an ADN program, a 4-year BSN program offers increased nursing career choices and earning potential. Larger universities tend to offer BSN programs. Roughly 20 schools all around the state offer BSN programs.
What To Look For in a BSN Program in Wisconsin
Because so many schools offer a BSN program in the area, there are many choices to consider. This makes it especially important to do the research and choose the right school and program for you. You'll want to assure that your school of choice has proper accreditation, is equipped to prepare you for your licensure exams, and has positive program outcomes. If you are already a registered nurse, you'll want to see if the school offers an RN to BSN program.
A great example of a school that offers an accredited BSN program in the state is Edgewood College located in Madison, Wisconsin.
BSN Program Length in Wisconsin
A traditional BSN program is 4 years in length. However, it tends to be shorter if you are doing an RN to BSN program or an accelerated program. Inquire with your school of choice about the program options available.
BSN Program Admission Requirements in Wisconsin
While each BSN program in will have its own unique set of requirements, here are a few requirements for admission that you might encounter when checking out schools in the area:
Cumulative GPA of at least 2.75 and a minimum 2.75 GPA for all science and math courses
Must complete a faculty interview
Curricular, extracurricular, community service and personal activities are also strongly encouraged to be a good candidate for the program
Tuition and Costs of BSN Programs in Wisconsin
The state boasts a wide variety of BSN programs, all with their own tuition fees. As with ADN and other nursing programs, you may also have to pay additional fees for textbooks, uniforms, CPR certification, health records, and more. At the University of Wisconsin Oshkosh, the 12-month accelerated BSN program will run students roughly $46,500 including course software and the NCLEX-RN prep course.
Advantages of BSN Programs
Earning your BSN is an excellent way to further your career if you are already a registered nurse, and is a great career opportunity if you are looking to start working in the nursing field. Whether you choose the RN to BSN route or start out with a traditional BSN, you cast a wide net of advancement options and earning potential.
MSN Programs in Wisconsin
With close to 15 schools in the state that offer a Master's of Science in Nursing (MSN), the opportunity to earn a post-graduate degree in nursing is practically at your fingertips. This advanced degree can lead to nursing jobs including Clinical Nurse Specialist, Certified Nurse Midwife, and Nurse Practitioner, among other specialties. You must already hold a BSN if you want to move on and earn an MSN.
MSN Program Length in Wisconsin
An RN to MSN program can last roughly 3 years, depending on the school and the previous coursework the student has taken. This program usually tries to accommodate the busy schedule of a working registered nurse. Some programs offer options to take full-time classes, part-time classes, or even online coursework.
MSN Admission Requirements in Wisconsin
Depending on your school of choice, requirements may vary slightly. Here is an example of some of the requirements you might face in a typical MSN program:
A bachelor's degree from an accredited nursing program
Cumulative GPA of 3.0 or higher
Must submit official transcripts and a copy of current Wisconsin nursing license
Must provide resume/CV and write a reflective essay
Complete a personal interview with a graduate nursing faculty member
Tuition and Costs of MSN Programs in Wisconsin
MSN program costs can vary from school to school. The non-nurse practitioner MSN program at Rasmussen College, located in Green Bay, Wisconsin, is under $15,000 including tuition and fees. For the MSN Nurse Practitioner tracks, tuition is estimated at just over $46,000.
For NP programs visit:
Getting a Wisconsin Nursing License
Wisconsin State Board of Nursing regulations for obtaining licensure are as follows:
Obtaining licensure through the examination process:
Completed application - with fees paid
Verification of education - Graduation or Completion form or official transcripts, sent directly to the Board via the institution attended
NCLEX Registration - passing score upon completion
Obtaining licensure through the endorsement process you must include the above information, as well as the following:
Verification of licensure from originating state
Learn more about WI RN license requirements at the State of Wisconsin - Department of Safety and Professional Services.
Accelerated Nursing Programs in Wisconsin
Working toward your degree, while working in your career can be a difficult task, but there is a bridging program offered by a couple of Wisconsin colleges that could help in obtaining your career goals. This program gives candidates the opportunity to pursue the program while working and gives candidates up to 5 years to complete the requirements. Accelerated BSN programs are also offered as an option and can be completed in 12 to 15 months. All prerequisite courses will add to the overall time frame and total cost of completing the programs. Tuition is based on the rate charged per credit hour required.
Latest Wisconsin NCLEX-RN Pass Rates and Statistics
Total Number of State Approved Schools: 41
Total Number of Test Takers in 2021: 4,463
2021 Average Statewide Wisconsin NCLEX-RN Pass Rate: 92.7%
Continued List of All RN Programs in Wisconsin
Here is a continued list of all RN Programs a continued list of all RN Programs a continued list of all RN Programs a continued list of all RN Programs a continued list of all RN Programs a continued list of all RN Programs.
Are we missing your school's program or need to update information listed? Please contact us so we can make the necessary changes.