MSN Degree Programs in Texas
If everything's bigger in Texas, so are the opportunities for Registered Nurses to specialize in a particular area by completing a Master's of Science in Nursing degree. Whether they want to become Family Nurse Practitioners or specialize as Mental Health NPs, licensed RNs are bound to find an online, on-campus, or hybrid program that aligns with their priorities. 
To earn a Master of Science in Nursing in Texas, students can choose from fast-moving bridge options (RN/BSN to MSN), stand-alone programs, and alternative direct entry programs.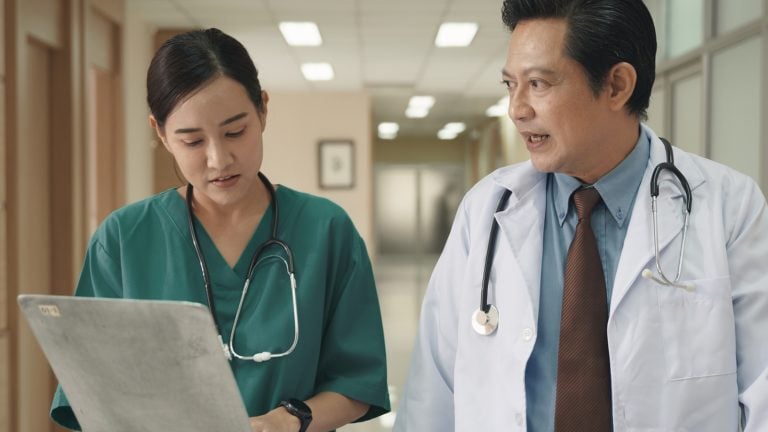 RN to MSN and BSN to MSN Programs
Licensed Registered Nurses in Texas can choose from several bridge pathways to earn their MSN. Some RN to MSN programs, which are designed for RNs with only an associate's degree, enable students to complete coursework online while attending clinicals on the weekends. Others include simulations to maximize the online learning experience and others still are fully in-person. The BSN to MSN is the most direct path to earning an advanced degree and typically allows for specialization within the program. 
Typical Program Length:
Approximately 5 full-time semesters for an RN to MSN
At least 3 full-time semesters for a BSN to MSN
Typical Admissions Requirements:
ADN or BSN from an accredited university (degree level may vary by program)
Minimum GPA of 3.00
Application with letter of intent 
Current, unencumbered license as an RN in Texas
Some clinical experience 
Resume and letters of recommendation 
Graduate Record Exam (GRE) scores (some universities) 
Accelerated & Master's Entry Nursing Programs
Sometimes, the path to becoming a licensed nurse isn't so straight and narrow. For career-changers with a non-nursing bachelor's degree, Texas has made it easier for them to enter the nursing profession. The University of Texas in Austin offers an Alternate Entry Master of Science in Nursing (AE-MSN) designed for such professionals. The in-person-only program is an intense, crash-course in nursing allowing students to specialize in Adult-Gerontology, Mental Health, or Pediatrics. Students also gain the competencies needed to sit for and pass the NCLEX-RN. 
Typical Program Length:
2.5 to 3 years of full-time study 
Typical Admissions Requirements:
Bachelor's degree from an accredited university in a non-nursing field
GPA of 3.0 or higher and submission of official transcripts
Graduate Record Exam (GRE) score
Completion of prerequisite courses in science and statistics
Application, resume, and statement of purpose 
Letters of recommendation
2023 List of MSN Programs in Texas
How can you earn a high-level salary in nursing in the state of Texas? By graduating from one of the more than 10 colleges that offer a RN to MSN program and earning your Master's of Science in Nursing degree. Salaries are directly related to the skills obtained while taking the MSN program and the job opportunities that are open once you have obtained your degree. Job opportunities such as nursing administrator, oncology nurse, critical care nurse, and other specialty patient-centered avenues are available to successful graduates who have completed the RN to MSN programming and clinical hours.
MSN Programs By City:
Abilene, TX
Arlington, TX
Austin, TX
Beaumont, TX
Canyon, TX
College Station, TX
Corpus Christi, TX
Denton, TX
Edinburg, TX
El Paso, TX
Galveston, TX
Houston, TX
Lubbock, TX
Prairie View, TX
Round Rock, TX
San Angelo, TX
San Antonio, TX
Tyler, TX
Wichita Falls, TX
Are we missing your school's program or need to update information listed? Please contact us so we can make the necessary changes.