2023 - Best Nursing Schools in Arizona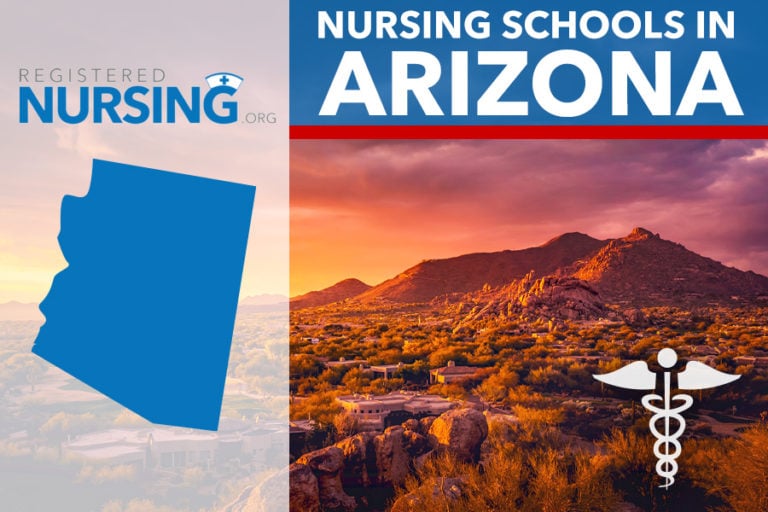 Arizona prides itself on having some of the most renowned hospitals with high quality nursing staff. The state research shows that by having a Bachelor's of Science in Nursing (BSN) there is a parallel to increased salaries, career advancement opportunities and a greater drive for furthering education. The trend for furthering education is on the rise, which in turn has a predicted employment rate increase of approximately 25% by 2022 in the state of Arizona. Arizona is committed to providing the best quality nursing care and encourages maximizing your potential for career advancement by furthering your education.
For RN bridge programs visit:
2023 Best RN Programs in Arizona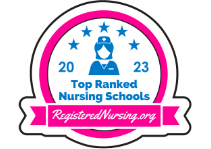 Selecting the best nursing school in Arizona can be difficult. To make the process easier first look for a school that supports students towards licensure and beyond. A great way to measure this is through NCLEX-RN "pass rates." We have ranked the top 10 nursing schools in Arizona by analyzing current and historical NCLEX-RN "pass rates", meaning the percentage of graduates who pass the exam, out of the 33 RN programs in the state. Programs reviewed include schools that offer an Associate in Nursing (ADN/ASN), BSN, or Direct-Entry MSN Degree.
For more information on our top nursing school rankings, see our Methodology Page (https://www.registerednursing.org/rn-ranking-methodology/).
615 N Stadium Ave
,
Thatcher
,
AZ
85552
Score: 99.12
Eastern Arizona College, located in Thatcher, offers an associate's degree pathway to registered nursing which focuses on stellar patient care using evidence-based nursing processes. Graduates of this 72-credit program go on to find employment in a number of healthcare arenas.
Program Details
Programs: Associate in Nursing
Phone:

(928) 428-8472
3000 N Dysart Rd
,
Avondale
,
AZ
85392
Score: 96.43
Estrella Mountain Community College, part of the Maricopa County Community College District (MCCCD), provides students with the quality district-wide associate's degree nursing curriculum that MCCCD is known for. EMCC's program offers small class sizes, affordable tuition, and the ability to earn a BSN degree concurrently (via a University partner) through the Concurrent Enrollment Program (CEP).
Program Details
Programs: Associate in Nursing
Phone:

(623) 935-8000
1620 W Fountainhead Pkwy, Suite 110
,
Tempe
,
AZ
85282
Score: 96.37
Arizona College's Tempe campus is dedicated to the art and science of nursing. The school's BSN program can be completed in just 3 years or less with qualified transfer credits, and includes 630 hours of clinical experiences. The curriculum utilizes real-life scenarios and simulations to better prepare students for nursing practice.
Program Details
Programs: BSN
Phone:

(855) 706-8382
9000 E Chaparral Rd
,
Scottsdale
,
AZ
85256
Score: 96.14
Scottsdale Community College's associate degree in nursing program is approved by the Arizona State Board of Nursing, assuring first-rate evidence-based teaching to eager nursing students. The city of Scottsdale welcomes SCC's nursing graduates with a variety of job and networking opportunities.
Program Details
Programs: Associate in Nursing
Phone:

(480) 423-6000
1833 W Southern Ave
,
Mesa
,
AZ
85202
Score: 95.79
Whether earning a degree or preparing to transfer, Mesa Community College's Nursing Department is both rigorous and flexible in accommodating nursing students through its ADN and Paramedic to RN programs. They also offer a Concurrent Enrollment Program to allow students to earn a BSN from a partner University alongside their ADN. Located in beautiful Mesa, Arizona, MCC's students are in demand across the nation.
Program Details
Programs: Associate in Nursing, Paramedic to RN
Phone:

(480) 461-7000
3300 W Camelback Rd
,
Phoenix
,
AZ
85017
Score: 95.64
With rapid expansion to meet the needs of students local to Phoenix and afar, Grand Canyon University is home to a notable Nursing Program with a Christian ideology. Students learn to promote health and wellness in their patients through BSN and MSN programs.
Program Details
Programs: BSN
Phone:

(602) 639-7500
550 N 3rd Street
,
Phoenix
,
AZ
85004
Score: 94.50
Phoenix's Arizona State University is committed to training skilled and professional nurses. Their traditional, prelicensure BSN offering utilizes clinical reasoning and innovation to prepare students for a rewarding career in registered nursing. Simulation experiences are included in the curriculum.
Program Details
Programs: BSN
Phone:

(602) 496-2644
1305 N. Martin
,
Tucson
,
AZ
85721
Score: 94.40
The College of Nursing in the University of Arizona is home to ethical and committed faculty members who work in the College's prestigious BSN and Master's Entry to the Nursing Profession (MENP) programs. An integrative approach to teaching and patient care offers students a first-rate nursing education.
Program Details
Programs: BSN, MSN
Phone:

(520) 626-6154
18401 N 32nd St
,
Phoenix
,
AZ
85032
Score: 94.03
Paradise Valley Community College is located in the sprawling urban environment of Phoenix, Arizona and thus is home to many professional and academic opportunities for nursing students. Widely renowned as a high-quality nursing program, PVCC's ADN graduates are ready for practice in the healthcare field.
Program Details
Programs: Associate in Nursing, Paramedic to RN
Phone:

(602) 787-6500
202 E Pine Knoll Dr
,
Flagstaff
,
AZ
86011
Score: 93.80
Northern Arizona Unversity of Flagstaff offers a variety of BSN-level nursing programs. In addition to the school's 5-semester traditional BSN program, which admits just 30 students per semester, they also offer an accelerated 2nd degree BSN pathway. Innovative instructional methods makes NAU a top destination for aspiring RNs.
Program Details
Programs: BSN
Phone:

(928) 523-2671
ADN Programs in Arizona
Students beginning their career as a nurse with an Associate's Degree in Nursing (ADN) diploma will learn core nursing skills that are expanded upon by clinical placement throughout the duration of the program. Usually lasting 2 years or so, successful nursing graduates will be eligible to test for the NCLEX exam upon graduation. Throughout the state, more than 20 community colleges and private colleges offer an ADN program with the intent to help students qualify as a registered nurse.
What to Look For in an ADN Program in Arizona
ADN programs – also called AAS programs throughout the state – adhere to rigorous standards to keep their accreditation in good standing. Students should carefully consider some of the look-fors in a great program to ensure that they can achieve their job aspirations once they graduate. The following factors are important for consideration:
Accreditation
The Arizona State Board of Nursing makes evidence-based regulatory decisions about nursing programs that operate throughout the state, as well as about individuals' fitness to practice registered nursing, both as service to the public. Unlike some other states, all colleges and universities that offer nursing programs throughout the state are accredited – no 'nursing program' is allowed to operate without accreditation. Accreditation takes place under board review.
Licensing
The state's Board of Nursing provides an online verification of nursing licensure that is free of charge to the public. Patients are able to check nurse licensure or privately file a complaint about an individual or nursing program. The licensure database is also accessible to healthcare employers and works closely with post-secondary institutions to ensure the integrity of the nursing profession.
Program Outcomes
ADN program outcomes are an important measurement tool for student choice, and excellence in the profession. The higher and more rigorous the programs are, the better the quality of applicants and graduates. Consider the following data:
Graduation and employment rates
NCLEX pass-rates
Parent, student, and campus satisfaction metrics
Loan repayment data (where not in conflict with student confidentiality)
Mohave Community College is but one example of an accredited program. With campuses in Bullhead City, Kingman Lake, Havasu City, and North Mohave, Arizona's medical policy-makers seek to ensure that AAS programs are accessible to students throughout the state.
ADN Program Admission Requirements in Arizona
Throughout the state, each school has slightly different admission requirements that students must provide in order to be admitted and be in 'good standing'. While each one is unique, some common admission elements are:
Complete all application documents in line with college timelines
Ensure residency and citizenship requirements are met with appropriate supporting documentation
Complete new student orientation package
Complete nursing statement of intent, pre-training/orientation, and health screening
Submit evidence of negative drug testing and negative at-risk health screening factors
Submit official transcripts
Submit documentation supporting a minimum ACT composite of 16, or a total SAT score greater than 790
Tuition and Costs of ADN Programs in Arizona
There are a variety of factors that determine tuition costs for nursing students. Some schools offer a yearly cost, some offer tuition information per credit hour. In specialized programs like the ADN, costs may or may not be included along with tuition. To complicate matters even more, there is often a different pricing structure for in-state students; financial aid is also available. For example, Glendale Community College gives in-county students a tuition-credit-hour cost of under $100 plus applicable fees for the college and the nursing program, as well as supplies, equipment, and uniforms.
Advantages of ADN Programs
Offered in a variety of disciplines, students that graduate with an diploma may go on to explore further education options at the bachelor's degree level (BSN for nurses) or take advantage of immediate career options. With lower tuition costs, it is often the case that AAS diploma graduates often have a lower debt-load when they are done school and enter the workforce. Often ideally suited for students who enjoy more hands-on workforce activities with only the minimum of theoretical 'book learning', the ADN nursing degree offers lots of flexibility on a short timeframe.
LPN to RN Programs in Arizona
Current Licensed Practical Nurses (LPNs) in Arizona may wish to continue their education by attending an LPN to RN program. Graduates of these accelerated programs are eligible to sit for the NCLEX-RN to earn licensure as a registered nurse.
LPN to ADN/BSN Programs
Typically, students can choose between the LPN to ADN pathway to earn an associate's degree in nursing, or the LPN to BSN pathway, which culminates in a bachelor's degree. The LPN to ADN is the quickest and most common route. Pima Community College, with multiple locations throughout the greater Tucson area, offers an LPN to ADN program which can be completed in 3 semesters (excluding prerequisite courses). While there are no campus-based LPN to BSN programs in Arizona, national online options do exist. LPN to RN program requirements typically include:
Completion of all prerequisite courses
Current, active LPN license
Graduate of an accredited LPN program
Up-to-date immunizations
BSN Programs in Arizona
Nursing is an exciting and rewarding profession and the professional designation carries acclaim and respect throughout the world. With the increasing knowledge and labor challenges in the healthcare industry, job openings and career advancement for RNs with a BSN degree are expanding steadily. BSN graduates who pass the NCLEX for licensure can then choose from a variety of practice areas and related disciplines (like policy and informatics) and begin to shape healthcare over the course of their lifetime. In many ways, a BSN degree is the foundation of your nursing career.
What To Look For in a BSN Program in Arizona
BSN students should be prepared to engage in a scientifically rigorous and culturally diverse learning environment. With experienced teachers and instructors who themselves have professional accreditation and acclaim, nursing students can take advantage of rich learning opportunities both in the classroom and in clinical rotation. Students should ensure that their teachers are members in good standing in the nursing profession and that the program itself is in good standing from an accreditation and licensure perspective.
Northern Arizona University is home to a renowned BSN program. The school offers a traditional program on a four-year timeline, as well as an RN-to-BSN option and an accelerated option for those who already have an undergraduate degree in another field. Demand is high, with as many as 600 applicants for 150 spaces every year.
BSN Program Length in Arizona
The typical length of a BSN program in Arizona is 4 years; however, each institution has the capability to offer programs that capitalize on a student's former experiences. Two methods that are often employed in this regard are the RN-to-BSN track and the Accelerated BSN track. While criteria vary by the individual and the program chair's discretion, either option usually takes about 2 years or half the time of a full BSN undertaken by a freshman student.
BSN Program Admission Requirements in Arizona
Throughout the state's 10 or so BSN programs, requirements for admission do vary. However, most requirements can be generally summed up as below. Students should ensure they contact the Admissions department during enrollment
Students have a GPA that exceeds the minimum program standard (could be as high as 3.4 given program demand)
Students have no record of academic dishonesty and otherwise meet university admission criteria
All transcripts from former institutions have been submitted
The student is 'in good standing' in all respects
Tuition and Costs of BSN Programs in Arizona
Tuition costs vary between states and between each institution. While a portion is paid by the taxpayer and from other government subsidies, tuition costs are definitely on the rise. While financial aid is available to most, it is important to consider the cost of tuition for the BSN programs that you're considering applying to. Phoenix's Arizona State University BSN program has in-state tuition costs that average about $977 per credit hour, depending on the program track in question.
Advantages of BSN Programs
The choice to pursue a BSN degree concerns more than the institution you attend. Some nurses find that university provides the knowledge, network, and confidence to improve your world, in addition to the skill sets that an AAS degree provides. For freshmen or those returning to school after time in the workforce, a BSN provides a bevy of experiences and opportunities for nurses.
MSN Programs in Arizona
MSN – or Master's of Science in Nursing – programs for nurses are increasingly common as what we learn about the human body, health and disease is expanding at a rapid rate. Those nurses that choose to complete their BSN and NCLEX may choose to continue their education by undertaking an MSN degree at their alma mater or other schools. At the present time, a few school offerings in Arizona have the MSN course track. Those that do are nationally accredited through the Commission on Collegiate Nursing Education. The state's MSN programs are licensed by the Arizona State Board of Nursing; students and their programs are connected to both the American Association of Colleges of Nursing and the Western Institute of Nursing.
MSN Admission Requirements in Arizona
With rigorous training at the undergraduate level, nurses may wish to carry on their studies and pursue a master's degree – known as an MSN. Admission to the University of Arizona's two MSN tracks is highly competitive. Candidates who wish to apply are advised to use the following information as a minimum entry requirement as criteria can change with demand.
Graduate with a BSN
NCLEX in good standing and without disqualifying incidents
Minimum 3.0 GPA at the undergraduate level
Record of all official transcripts
Prerequisite course load consisting of Chemistry, Anatomy & Physiology, Microbiology, Statistics, Human Lifespan Development, and Human Nutrition
3 professional letters of reference, mailed directly to Admissions
Tuition and Costs of MSN Programs in Arizona
Tuition for MSN students is definitely higher than for the AAS and BSN credentials but job mobility and advancement are attainable. For the online MSN programs at the University of Arizona, tuition is about $680 per credit hour (not including additional fees). Applicants are encouraged to contact the school's Bursar to discuss payment options, and whether financial aid may be available. Students are strongly advised against working while school is in session due to the rigors of the course material.
For NP programs visit:
Getting an Arizona Nursing License
Arizona requirements for nursing licensure are as follows for candidates by application and those from another state by endorsement:
Along with a completed application, the applicant must have ready:
Possess a diploma, associate degree, or Baccalaureate degree in nursing from a state approved institution
NCLEX exam with a passing score
Certificate of completion - sent directly to Arizona State Board of Nursing
Official transcripts - sent directly to the Board of Nursing
Proof of citizenship or immigration status
Fingerprint documentation
Nurses from other states may apply for endorsement to practice in Arizona. They should be prepared to submit the following information:
Current license from the former state of practice
NURSYS documentation for verification of former state license
Passing score on either the NCLEX-RN or State Board Test Pool Exam (SBTPE)
Fingerprint documentation
Proof of U.S. citizenship or equivalent documentation
Accelerated Nursing Programs in Arizona
Accelerating your career from RN to BSN, BSN to MSN or bridging programs from RN to MSN can have great advantages. Arizona offers these types of programs at four different colleges within the state making the option of attaining an accelerated degree more accessible. These programs can be quite an intense commitment as some of them are a full 12-month full-time commitment, whereas some of the bridging or part-time options can run for 30 months. The cost and admission requirements for these programs vary from one program option to another, depending on full-time course loads or individual online course options.
Latest Arizona NCLEX-RN Pass Rates and Statistics
Total Number of State Approved Schools: 33
Total Number of Test Takers in 2021: 2,091
2021 Average Statewide Arizona NCLEX-RN Pass Rate: 90.0%
Continued List of All RN Programs in Arizona
Here is a continued list of all RN Programs a continued list of all RN Programs a continued list of all RN Programs a continued list of all RN Programs a continued list of all RN Programs a continued list of all RN Programs.
Ranked
School
Program
Score
Website
11.
GateWay Community College

Phoenix

,

AZ

85034

| Phone:

(602) 286-8530

Programs:

Associate in Nursing

92.84
gatewaycc.edu
12.
Yavapai College

Prescott

,

AZ

86301

| Phone:

(928) 445-7300

Programs:

Associate in Nursing

92.81
yc.edu
13.
Glendale Community College

Glendale

,

AZ

85302

| Phone:

(623) 845-3000

Programs:

Associate in Nursing

92.14
gccaz.edu
14.
Creighton University - Phoenix

Phoenix

,

AZ

85012

| Phone:

(402) 280-2703

Programs:

Accelerated BSN

91.95
nursing.creighton.edu
15.
Northland Pioneer College

Show Low

,

AZ

85901

| Phone:

(928) 532-6111

Programs:

Associate in Nursing

91.94
npc.edu
16.
Chamberlain University College of Nursing

Phoenix

,

AZ

85021

| Phone:

(602) 331-2720

91.59
chamberlain.edu
17.
Chandler-Gilbert Community College

Tempe

,

AZ

85281

| Phone:

(480) 731-8000

Programs:

Associate in Nursing

90.10
cgc.edu
18.
Coconino Community College

Flagstaff

,

AZ

86005

| Phone:

(928) 527-1222

Programs:

Associate in Nursing

90.06
coconino.edu
19.
Arizona Western College

Yuma

,

AZ

85365

| Phone:

(928) 317-6000

Programs:

Associate in Nursing

90.06
azwestern.edu
20.
Pima Community College

Tucson

,

AZ

85709

| Phone:

(520) 206-4500

Programs:

Associate in Nursing

89.27
pima.edu
21.
Central Arizona College

Coolidge

,

AZ

85128

| Phone:

(800) 237-9814

Programs:

Associate in Nursing

89.14
centralaz.edu
22.
Pima Medical Institute, Tucson

Tucson

,

AZ

85716

| Phone:

(800) 477-7462

Programs:

Associate in Nursing

86.42
pmi.edu
23.
Cochise College

Douglas

,

AZ

85607

| Phone:

(520) 364-7943

Programs:

Associate in Nursing, LPN to RN

84.24
cochise.edu
24.
Phoenix College

Phoenix

,

AZ

85013

| Phone:

(602) 285-7800

Programs:

Associate in Nursing

84.09
phoenixcollege.edu
25.
Mohave Community College

Kingman

,

AZ

86409

| Phone:

(866) 664-2832

Programs:

Associate in Nursing, LPN to RN

81.12
mohave.edu
26.
Pima Medical Institute, Mesa

Mesa

,

AZ

85202

| Phone:

(800) 477-7462

Programs:

Associate in Nursing

80.02
pmi.edu
27.
Carrington College - Tucson

Tucson

,

AZ

85745

| Phone:

(520) 368-3028

Programs:

Associate in Nursing

79.37
carrington.edu
28.
Carrington College - Phoenix

Phoenix

,

AZ

85017

| Phone:

(602) 427-0660

Programs:

Associate in Nursing

78.42
carrington.edu
29.
Carrington College - Mesa

Mesa

,

AZ

85210

| Phone:

(480) 734-2378

Programs:

Associate in Nursing

65.16
carrington.edu
30.
Grand Canyon University - Tucson

Tucson

,

AZ

85719

| Phone:

(866) 585-2131

-
gcu.edu
31.
Arizona College of Nursing - Tucson

Tucson

,

AZ

85711

| Phone:

(520) 549-3041

-
arizonacollege.edu
32.
Brookline College

Phoenix

,

AZ

85021

| Phone:

(602) 242-6265

-
brooklinecollege.edu
33.
Arizona College of Nursing - Phoenix

Phoenix

,

AZ

85053

| Phone:

(855) 307-2829

-
arizonacollege.edu
Are we missing your school's program or need to update information listed? Please contact us so we can make the necessary changes.