2023 - Best Nursing Schools in Minnesota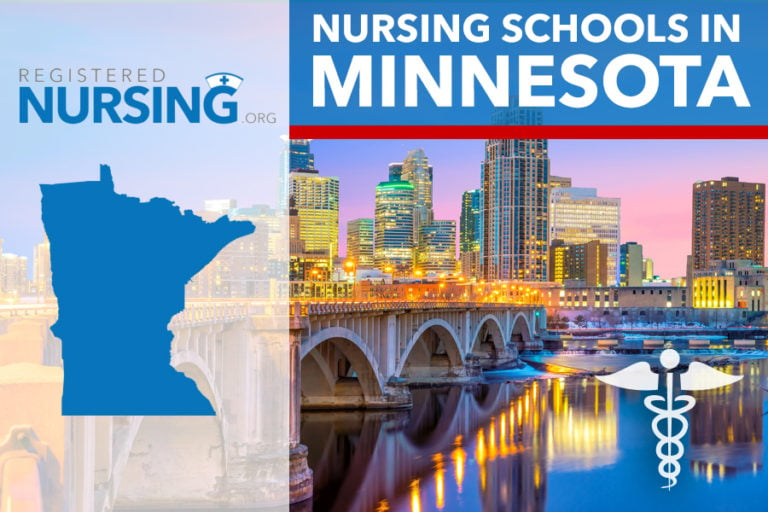 Minnesota is fostering the move toward a higher standard of patient care by encouraging advanced nursing degrees and professional development for registered nurses. The growth in the job market is estimated to require thousands of new, qualified nurses in the coming years. Educational opportunities abound in the state for new nursing students and registered nurses (RNs) looking to advance their careers. With the Bureau of Labor Statistics reporting the average RN salary at just over $80,000 in Minnesota, it's easy to see why it's gaining popularity as a lucrative and rewarding career choice.
For RN bridge programs visit:
2023 Best RN Programs in Minnesota
ADN Programs in Minnesota
An Associate's Degree in Nursing (ADN) program prepares graduates to provide quality, patient-centered care in various settings, including hospitals, clinics, and care facilities. This 2-year program is commonly offered at smaller institutions such as community and/or technical colleges. Many students choose this route to their RN license because it is relatively quick and tends to be less expensive than other options.
More than 25 schools/campuses offer a fully accredited and approved ADN program throughout Minnesota.
What to Look For in an ADN Program in Minnesota
To ensure you choose the right program, you'll want to compare schools and ADN programs thoroughly. There are a few key components to look for that will help you pick a quality program:
Accreditation
One of the best ways to check that your program of choice is worthy of your time and money is by ensuring it is appropriately accredited. Accreditations are bestowed upon ADN programs that meet rigorous standards of quality by organizations like the Commission for Education in Nursing (ACEN) and the American Association of Colleges of Nursing's Commission on Collegiate Nursing Education (CCNE). On the local front, you will want to look for programs approved by the Minnesota Board of Nursing.
Licensing
To officially become a registered nurse, you must pass the National Council Licensure Examination (NCLEX) for registered nursing upon completing your ADN degree. It's a good idea to review any prospective school's curriculum and NCLEX-RN pass rates to make sure you will be prepared for this critical exam.
Program Outcomes
Schools typically provide statistical reports on outcomes based on prior graduates of their ADN programs. These reports are a great window into the school's success. Be sure to check for favorable results regarding the following:
Graduation rates
NCLEX-RN pass rates
Graduate satisfaction
Employment rates
One example of a school offering a fully accredited ADN program in the state is Minnesota State College Southeast.
ADN Program Admission Requirements in Minnesota
Entrance requirements vary from school to school and are subject to change, so review your school of choice's requirements before applying. Below is a sampling of the types of conditions that ADN programs in the state can have:
Completion of the ATI TEAS exam with a score of 420 or above
Completion of all prerequisite courses
Cumulative GPA of 3.0
Tuition and Costs of ADN Programs in Minnesota
The cost of your ADN degree can shock you at first, but consider that the median wage for registered nurses in Minnesota is a bit higher than the national average. In general, you'll need to pay for tuition and any mandatory fees, and don't forget to factor in indirect costs such as textbooks and transportation. Most schools have financial aid departments that can help if you are worried about being able to pay for your preferred program.
For example, the estimated total tuition and fees for the ADN program at Lake Superior College in Duluth is $16,000 for Minnesota and out-of-state residents.
Advantages of ADN Programs
ADN programs are great because they will lead to highly desired registered nursing jobs in roughly half the time it takes to get a more advanced nursing degree. Plus, the shortened time frame combined with the prevalence of the program at smaller colleges means that it's typically less expensive than other programs. These two factors alone make it an increasingly popular choice for those wanting to start a career in registered nursing.
LPN to RN Programs in Minnesota
Registered nursing is within reach for those in Minnesota who are currently Licensed Practical Nurses (LPNs). Specialized programs, called LPN to RN programs, give practical nurses the education and training to become RNs without enrolling in a traditional RN program.
LPN to ADN/BSN Programs
The most popular pathways for practical nurses are the LPN to ADN and LPN to BSN programs. The LPN to ADN is the shortest route, typically requiring just a few semesters. For example, Hibbing University offers an LPN to ADN program that requires 64 total credits. There are also slightly longer LPN to BSN programs for nurses who wish to earn a bachelor's degree.
LPN to RN programs in the state often require the following:
Current LPN license
Proof of graduation from an accredited LPN program
Minimum overall GPA (usually 2.5 or higher)
Completion of any prerequisite courses
BSN Programs in Minnesota
Consider a Bachelor of Science in Nursing (BSN) for a more advanced option than an ADN. This 4-year degree is usually offered at more prominent, traditional colleges in more urban settings. A BSN degree can lead to such nursing careers as a school nurse, ER nurse, critical care nurse, and more. This more advanced nursing degree also comes with a higher salary potential.
Approximately 20 schools in the great state of Minnesota offer accredited BSN programs.
What To Look For in a BSN Program in Minnesota
Many recent nursing graduates will tell you you must find a school and BSN program right for you. Factor in the main things like cost, accreditation, and program outcomes, but don't forget to give equal weight to location and how transportation might factor into completing the program. If you already hold a bachelor's degree or higher in another field, you will want to look for a school offering an accelerated BSN program for this scenario. Also, if you are already a registered nurse via a diploma/certificate program, check to see if your school of choice offers an RN to BSN program.
Gustavus Adolphus College, located in St. Peter, MN, is an excellent example of a state school offering an accredited and approved BSN program.
BSN Program Length in Minnesota
A standard BSN program (sometimes referred to as "Generic BSN" or "Pre-licensure BSN") will take four years to complete. Accelerated BSN programs for eligible people typically take a little over a year to complete, depending on the school. Lastly, an RN to BSN bridge program will take 1-2 years to complete, depending on the program and the prior coursework conducted.
BSN Program Admission Requirements in Minnesota
Each school will have its own entrance requirements, so inquire with your school or contact an admissions counselor from your program of choice to ensure you fully meet the requirements before applying. As an example, BSN programs in the area tend to require things such as:
Minimum cumulative GPA of 2.85
Completion of all prerequisite courses with a grade of C or higher
Personal essay and interview required
Tuition and Costs of BSN Programs in Minnesota
While each school offering a BSN program in Minnesota will have different costs, most fee categories are the same. You must account for tuition, mandatory school fees, uniforms, books, etc. Remember that tuition tends to be more expensive if you are an out-of-state student. Room and board are also separate expenses, so check with your school if you require this.
To provide a cost example, the tuition for the BSN program at Metropolitan State University in Saint Paul is roughly $358 per credit for nursing courses.
Advantages of BSN Programs
There are so many reasons why students choose the BSN route to become an RN. Some pre-licensure students choose it because they want the whole 4-year university experience, while others want it so that they can hold higher and more skilled nursing positions. It's also a versatile degree; you can earn a BSN after completing an ADN or if you have already made a degree in another subject. It's also an excellent jumping-off point if you want to pursue a graduate degree in nursing eventually.
MSN Programs in Minnesota
A Master of Science in Nursing (MSN) is a graduate-level degree for those wanting to further their nursing skills beyond an ADN and BSN. This advanced program is required for nursing jobs such as Clinical Nurse Specialist, Nurse Midwife, Family Nurse Practitioner, and other nursing specialties. Aside from a general MSN degree, many schools offer specialized MSN degrees where you can choose your nursing focus.
There are roughly three schools in the state that offers some form of an MSN degree (either direct entry or for those who already hold non-nursing degrees).
MSN Program Length in Minnesota
The length of an MSN program in the state is typically 2-3 years from start to finish. This can fluctuate based on the specialty chosen and the type of coursework schedule offered; many schools offer part-time, online, or night courses to accommodate busy working nurses. Minnesota also provides a few MSN programs designed for those with a non-nursing bachelor's degree. These intensive programs tend to last around 16 months.
MSN Admission Requirements in Minnesota
Admission to MSN programs can be very competitive, so ensuring you meet all the entrance requirements is a good idea. An example of conditions you will face for most MSN programs in the state include:
Official transcripts from every post-secondary school attended
A completed bachelor's degree from a regionally accredited institution
Cumulative GPA of 3.0 or higher
Current unencumbered nursing license
Two years of recent clinical practice as an RN
Tuition and Costs of MSN Programs in Minnesota
While MSN programs can be expensive, the caliber of nursing jobs they lead to can make up for it quickly. You must account for tuition, fees, clinical components, textbooks, etc. Most grad students are eligible for financial aid to help pay for their MSN degree, typically in the form of student loans. Your school of choice can give you more information if you qualify. As an example of cost, the tuition rate for the 57-credit entry-level MSN at St. Catherine University is approximately $975 per credit. This does not include additional fees.
For NP programs, visit:
Getting a Minnesota Nursing License
Minnesota regulations for becoming a licensed nurse require specific information for application by examination or endorsement. These requirements include:
Completed application with fees paid
'Confirmation of Program Completion' - top portion by candidate, bottom portion 'Affidavit' completed by nursing program
Register for NCLEX
Provide proof of moral character - if required
To apply for licensure by endorsement include the following information:
Completed application and fees
Verification of licensure - request form or NURSYS (if applicable)
'Confirmation of Nursing Employment for Licensure by Endorsement' - top portion completed by candidate, remainder completed by current employer
Accelerated Nursing Programs in Minnesota
You can earn a degree or bridge your existing degree into a nursing MSN degree in 12 to 18 months, depending on program and prerequisites required. Candidates that hold a BA in another field can change direction and move into a BSN or MSN degree, programs of this nature are offered in a few colleges within the state. Candidates will find that the nature of these programs is intense as both clinical and course loads are run concurrently. Some bridging programs do allow for continued employment, while the accelerated programs recommend not working outside of the program requirements. Tuition for these programs varies depending on additional courses required, as well as other various factors.
Latest Minnesota NCLEX-RN Pass Rates and Statistics
Total Number of State Approved Schools: 43
Total Number of Test Takers in 2021: 3,715
2021 Average Statewide Minnesota NCLEX-RN Pass Rate: 82.1%
Continued List of All RN Programs in Minnesota
Here is a continued list of all RN Programs a continued list of all RN Programs a continued list of all RN Programs a continued list of all RN Programs a continued list of all RN Programs a continued list of all RN Programs.
Are we missing your school's program or need to update information listed? Please contact us so we can make the necessary changes.