2023 - Best Nursing Schools in Utah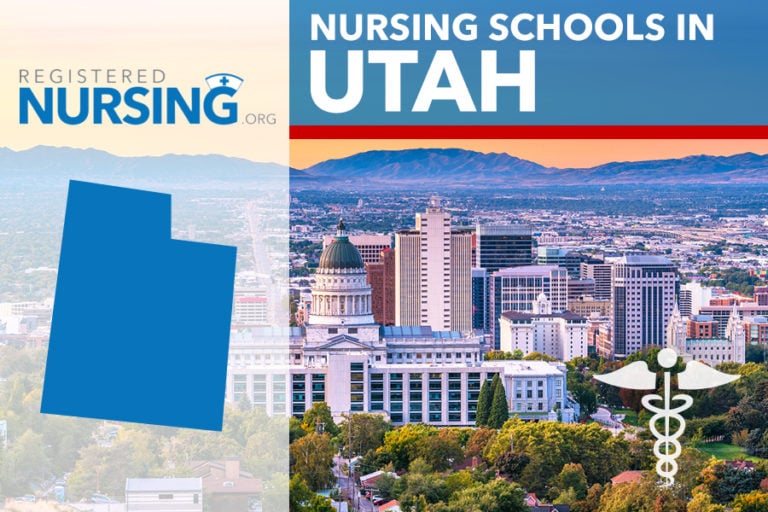 Becoming a registered nurse in Utah is a great way to earn a living while delivering much-needed quality care to the community. Jobs in the nursing profession are on the rise in the state, as the Bureau of Labor Statistics reports that the median wage for a registered nurse in Utah is approximately $72,790 annually. With Utah's mix of urban and rural areas, there are plenty of programs and schooling options to suit any prospective nursing student's needs.
For RN bridge programs visit:
2023 Best RN Programs in Utah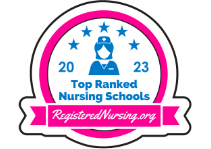 Selecting the best nursing school in Utah can be difficult. To make the process easier first look for a school that supports students towards licensure and beyond. A great way to measure this is through NCLEX-RN "pass rates." We have ranked the top 5 nursing schools in Utah by analyzing current and historical NCLEX-RN "pass rates", meaning the percentage of graduates who pass the exam, out of the 19 RN programs in the state. Programs reviewed include schools that offer an Associate in Nursing (ADN/ASN), BSN, or Direct-Entry MSN Degree.
For more information on our top nursing school rankings, see our Methodology Page (https://www.registerednursing.org/rn-ranking-methodology/).
551 KMBL
,
Provo
,
UT
84602
Score: 97.93
Brigham Young University is committed to increasing the number of nurses in Utah communities that are well versed in the 'Healer's Art'. Through BYU's full-time BSN program, nurses learn to promote health and healing while leading with faith and integrity, all while sticking to an evidence-based and patient-centered nursing model. Students have the benefit of a dedicated Nursing Learning Center to enhance their education.
Program Details
Programs: BSN
Phone:

(801) 422-4173
4001 S 700th E, Ste 700
,
Salt Lake City
,
UT
84107
Score: 95.51
The mission of Western Governors University's nursing programs are to improve the quality of healthcare by training nurses that excel in their field. Students enrolled in their BSN pathway take the pre-nursing curriculum in the first 6-month term, followed by the clinical nursing curriculum, which spans four 6-month terms. Clinicals take place in area partner hospitals.
Program Details
Programs: BSN
Phone:

(877) 435-7948
351 W University Blvd
,
Cedar City
,
UT
84720
Score: 95.24
At Southern Utah University, nursing graduates are taught with an emphasis on communication, critical thinking, and problem solving. Ethics and quality patient care are also integral elements of their program. All aspects are incorporated into the practical and theoretical components of their renowned BSN program.
Program Details
Programs: BSN
Phone:

(435) 586-7700
10920 S. River Front Parkway
,
South Jordan
,
UT
84905
Score: 95.01
A career in nursing will be one of great challenge and reward; Utah's Roseman University graduates are ready to accept that challenge. The school's BSN program takes just 18 months to complete, and with no more than 48 students enrolled at a time, personal attention is maximized. Graduates enter the field with the clinical skill and knowledge to affect positive change in the healthcare arena.
Program Details
Programs: Accelerated BSN
Phone:

(801) 302-2600
10 South 2000 East
,
Salt Lake City
,
UT
84112
Score: 91.73
The University of Utah, located in Salt Lake City, offers a pre-licensure BSN program with both fall and spring start times. The curriculum includes courses and instruction that train nurses for modern nursing practice, emphasizing evidence-based skills and competencies. The University of Utah's first-time NCLEX pass rates are consistently above the national average.
Program Details
Programs: BSN
Phone:

(801) 581-3414
ADN Programs in Utah
If you're looking to become a registered nurse in a relatively short amount of time, a 2-year Associate's Degree in Nursing (ADN) is a great option. Because these programs are shorter and more affordable than traditional 4-year degrees, they are increasingly popular. They also have the advantage of being widely available in most junior and/or technical colleges.
There are roughly 8 different schools in Utah that offer an ADN program at locations all across the state.
What to Look For in an ADN Program in Utah
Choosing a school to obtain your ADN will take some research and care. When looking into programs, it's important to consider the following:
Accreditation
Accreditation is one major way to be assured that your ADN program is up to standards. National organizations such as the Accreditation Commission for Education in Nursing (ACEN) and/or the American Association of Colleges of Nursing's Commission on Collegiate Nursing Education (CCNE) are just a few that you'll want to check for when researching your prospective school's accreditations. You'll also want to ensure that your school's program is accredited locally by the Utah Board of Nursing.
Licensing
The goal of nursing programs is to prepare you to take the National Council Licensure Examination for licensure as a Registered Nurse (NCLEX) It's a good idea to ensure that your program's curriculum will fully prep you for the exam.
Program Outcomes
A good school will happily report statistics on its program's success rates. The following are all good indications of the school's reputation:
Graduation rate
Licensure exam pass rate
Graduate satisfaction
Employment rate
Stevens-Henager College, which is located in West Haven (Ogden), is an example of a Utah area college offering an accredited ADN program.
ADN Program Admission Requirements in Utah
ADN programs can be competitive, and you'll need to ensure that you meet the mandatory requirements to be admitted. Here is a sampling of requirements that you may be subject to:
All pre-requisite courses completed with a grade of C or better, and a cumulative GPA of 3.0 for all pre-requisite courses
Provide results of the Kaplan entrance exam
Current BLS card holder
Pay application fees
Tuition and Costs of ADN Programs in Utah
Paying for school can seem stressful. You'll have to factor in the cost of tuition, as well as additional fees including textbooks, uniforms, and other extras. These fees may or may not be included with the tuition price; it is always wise to look at the breakdown of what your tuition will cover at your school of choice. The estimated cost for the ADN program at Weber State University in Ogden is around $1,800 for the first year and $550 for the second year, in addition to the regular 4-semester tuition fees.
Advantages of ADN Programs
There are so many routes to becoming a registered nurse, it's hard to know what the right choice is for you. ADN programs are ideal for those who want a shorter amount of time in school, or for those who are budget-sensitive, as ADN programs tend to be less expensive. Since ADN programs are usually found at junior and/or technical colleges, it can also be easier to find one close to where you live.
LPN to RN Programs in Utah
There are several specialty program pathways for Licensed Practical Nurses (LPNs) in Utah to become registered nurses. These LPN to RN completion programs bridge the gap between the practical nursing and registered nursing curricula. This makes the total program time much shorter and more affordable for LPNs.
LPN to ADN/BSN Programs
LPNs can choose between two program pathways to achieve an RN education. The first choice is the LPN to ADN program, which is the quickest route to registered nursing and can often be completed in a year or less. Ogden's Weber State University, for example, offers an LPN to RN program where students can earn either an Associate of Applied Science (AAS) or an Associate of Science (AS) degree, depending on how many credits they want to take.
Practical nurses can also choose the LPN to BSN program pathway for more advanced learning. This route culminates in the popular bachelor's degree in nursing and is a slightly lengthier program than the LPN to ADN. Located in Cedar City, Southern Utah University offers a BSN bridge pathway for both LPNs and paramedics.
To be eligible for either LPN to RN program route, students will generally need to meet the following requirements:
Be a graduate of an accredited LPN program
Hold an active, unrestricted LPN license in Utah
Have completed any prerequisite courses
Have a minimum GPA (usually 3.0)
BSN Programs in Utah
If you are willing to go through a lengthier program in return for greater career opportunities and earning potential, a 4-year Bachelor of Science in Nursing (BSN) might be for you. Jobs such as public health nurses and nurse educators can be obtained if you hold a BSN. In addition to a traditional 4-year BSN, there is also a shorter RN to BSN option available at many schools for those who are already licensed as registered nurses.
There are roughly 5 schools in Utah that offer BSN programs throughout the state.
What To Look For in a BSN Program in Utah
Choosing your BSN program can be a tough decision. You will want to take things like proper accreditation, cost, and overall program effectiveness into account when you are comparing BSN programs and schools. You may also want to see if any online courses are offered, and if you are already an RN, you'll want to inquire about whether an RN to BSN program is available at your prospective school.
A great example of a school that offers an accredited BSN program in the state is Brigham Young University located in Provo.
BSN Program Length in Utah
You can expect to be in school for 4 years if you are going for a traditional BSN. If you are interested in completing your BSN quicker than this, many schools are now offering accelerated BSN programs that can be completed in as little as 16 months. An RN to BSN program, for those who already hold a nursing license, can last 1-2 years depending on the program's schedule.
BSN Program Admission Requirements in Utah
While specific admission requirements tend to vary depending on the school, here are a few BSN requirements to consider:
Completed all pre-requisite courses with a grade of C or higher
List of community, school, and/or church service over the past 5 years
Impromptu essay with points given for content, organization, spelling & grammar, and more
Letters of recommendation
Tuition and Costs of BSN Programs in Utah
The cost of tuition and fees is one of the biggest things to factor in when considering going for your BSN. Remember that tuition may or may not include extras such as books, uniforms, and other mandatory fees. As an example, the estimated cost for a BSN at Utah Tech University (formerly Dixie State University) in St. George is the prevailing base rate for undergrad students, plus $75 per credit tuition differential.
Advantages of BSN Programs
Earning your BSN is an excellent way to enter the world of advanced nursing. Not only will you have more employment opportunities (and for jobs that require a higher degree of responsibility), but you will also get paid more than an RN who doesn't hold a BSN. Many large public and private universities offer BSN programs, so it's easy to find a world-class program in most bigger cities.
MSN Programs in Utah
To take your career beyond what a BSN can offer, a Master's of Science in Nursing degree (MSN) is what you'll need to achieve. This advanced degree can lead to nursing jobs including Clinical Nurse Specialist, Certified Nurse Midwife, and Nurse Practitioner, among other specialties. An MSN is available to you if you already hold your BSN degree.
With a handful of schools in Utah offering an MSN program, finding a program to suit your needs is a snap.
MSN Program Length in Utah
Depending on the program and the type of schedule you choose, an MSN can take roughly 2-3 years. Because you must already hold a BSN to go through an MSN program, many schools make it easy for working RNs to complete the program by offering flexible schedules and/or online classes.
MSN Admission Requirements in Utah
Admission requirements can vary, but here are a few that you're likely to see when comparing MSN programs:
BSN in nursing with a cumulative GPA of 3.0
Graduate Record Examination (GRE) scores, taken within the last 5 years
Personal statement
2 letters of recommendation
Tuition and Costs of MSN Programs in Utah
You can expect to incur some costs when going for your MSN. Each school will have its own tuition and fees, and it's important to inquire about what exactly tuition will cover so you know what additional expenses you may need to handle. As an example, Westminster College in Salt Lake City estimates its tuition costs for its MSN Family Nurse Practitioner program to be roughly $52,164.
For NP programs visit:
Getting a Utah Nursing License
Utah State Board of Nursing provides the license to RN's through either examination process or endorsement for candidates from other states.
If looking for licensure by examination in Utah, complete the application forms and submit the following supporting documentation:
Criminal Background Check - with fingerprints (2)
Register for the NCLEX - successful outcome upon completion
Official transcripts - either sent directly from the school to the Board or sealed in an envelope bearing the school stamp
Register for NCLEX - successful completion required
For licensure by endorsement you must in addition to the requirements above submit these few other pieces of documentation:
Verification of licensure from originating state of issuance
Learn more about UT RN license requirements at the Utah Department of Commerce - Division of Occupational and Professional Licensing.
Accelerated Nursing Programs in Utah
Become a BSN nurse within 12 months time when you take one of the accelerated BSN programs at a college in Utah. Accelerated programs are rigorous due to the nature of full-time studies and clinical hours required, but are well worth the time and effort. Most programs have entrance requirements that must be meet before being accepted into the program, each program has different requirements, so looking into the specific program requirements in recommended. Fees for these programs can vary depending on the college, additional course needed and housing possibilities.
Latest Utah NCLEX-RN Pass Rates and Statistics
Total Number of State Approved Schools: 19
Total Number of Test Takers in 2021: 2,629
2021 Average Statewide Utah NCLEX-RN Pass Rate: 79.9%
Continued List of All RN Programs in Utah
Here is a continued list of all RN Programs a continued list of all RN Programs a continued list of all RN Programs a continued list of all RN Programs a continued list of all RN Programs a continued list of all RN Programs.
Ranked
School
Program
Score
Website
6.
Westminister College

Salt Lake City

,

UT

84105

| Phone:

(801) 832-2152

90.93
westminstercollege.edu
7.
Dixie State University

St George

,

UT

84770

| Phone:

(435) 879-4810

90.03
health.dixie.edu
8.
Utah Valley University

Orem

,

UT

84058

| Phone:

(801) 863-4636

Programs:

Associate in Nursing, BSN

88.39
uvu.edu
9.
Weber State University

Ogden

,

UT

84408

| Phone:

(801) 626-6000

Programs:

Associate in Nursing, LPN to RN

86.61
weber.edu
10.
Joyce University of Nursing & Health Sciences

Draper

,

UT

84020

| Phone:

(801) 816-1444

Programs:

Associate in Nursing, BSN, MSN

85.16
joyce.edu
11.
Utah State University

Logan

,

UT

84322

| Phone:

(435) 797-9684

Programs:

Associate in Nursing, BSN

84.68
usu.edu
12.
Salt Lake Community College

Salt Lake City

,

UT

84123

| Phone:

(801) 957-7522

Programs:

Associate in Nursing

83.71
slcc.edu
13.
Fortis College in Salt Lake City

Salt Lake City

,

UT

84107

| Phone:

(801) 713-0915

Programs:

Associate in Nursing

75.85
fortis.edu
14.
Snow College

Ephraim

,

UT

84627

| Phone:

(435) 283-7000

Programs:

Associate in Nursing

75.54
snow.edu
15.
Provo College

Provo

,

UT

84604

| Phone:

(801) 333-7133

73.16
provocollege.edu
16.
Eagle Gate College

Murray

,

UT

84123

| Phone:

(801) 333-7133

69.32
eaglegatecollege.edu
17.
Stevens-Henager College

West Haven

,

UT

84401

| Phone:

(801) 392-1471

Programs:

Associate in Nursing

66.95
stevenshenager.edu
18.
Nightingale College

Salt Lake City

,

UT

84111

| Phone:

(801) 689-2160

Programs:

Associate in Nursing, BDN

58.74
nightingale.edu
19.
Arizona College of Nursing - Salt Lake City

Murray

,

UT

84123

| Phone:

(855) 706-8382

-
arizonacollege.edu
Are we missing your school's program or need to update information listed? Please contact us so we can make the necessary changes.