2023 - Best Nursing Schools in Arkansas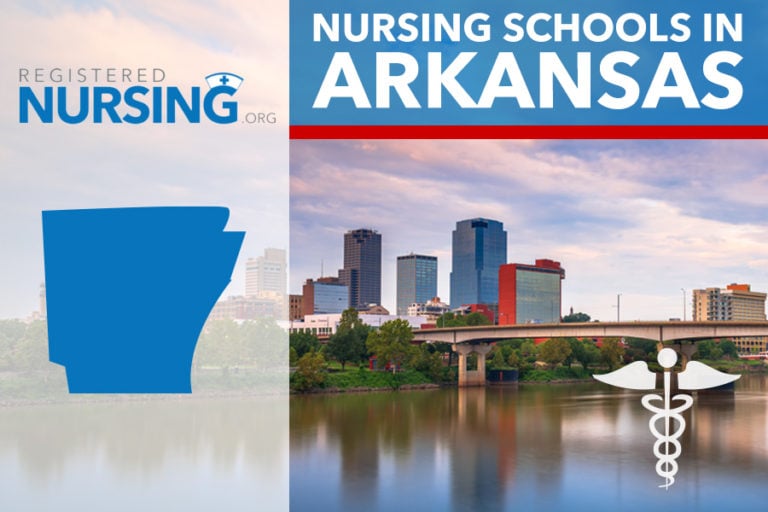 The national movement to increase the number of qualified nursing staff is being met aggressively by the state of Arkansas with an increase in enrollment to the Bachelor's of Science in Nursing (BSN) programs. The state has identified that a nurse with a BSN degree can earn approximately $3000 more each year as compared to nurses that hold the entry-level ADN qualification. Arkansas is changing the face of what nursing looks like in the state and is encouraging like-minded individuals to take this opportunity for growth and development.
For RN bridge programs visit:
2023 Best RN Programs in Arkansas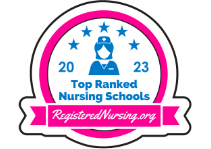 Selecting the best nursing school in Arkansas can be difficult. To make the process easier first look for a school that supports students towards licensure and beyond. A great way to measure this is through NCLEX-RN "pass rates." We have ranked the top 10 nursing schools in Arkansas by analyzing current and historical NCLEX-RN "pass rates", meaning the percentage of graduates who pass the exam, out of the 30 RN programs in the state. Programs reviewed include schools that offer an Associate in Nursing (ADN/ASN), BSN, or Direct-Entry MSN Degree.
For more information on our top nursing school rankings, see our Methodology Page (https://www.registerednursing.org/rn-ranking-methodology/).
915 E. Market Ave.
,
Searcy
,
AR
72143
Score: 98.33
Harding University is home to the renowned Carr College of Nursing, a prestigious program for those committed to receiving a high-quality nursing degree. Offerings include a full-time traditional BSN degree, as well as an accelerated 2nd degree BSN. With flexible options and clinical training that can integrate mission work, Harding graduates are highly sought after.
Program Details
Programs: BSN
Phone:

(501) 279-4475
2501 South Division Street
,
Blytheville
,
AR
72315
Score: 94.39
Arkansas Northeastern College offers an ADN program at its main campus in Blytheville, Arkansas. The program is designed to give students the skills and necessary knowledge required to successfully pass the NCLEX-RN exam and enter the wonderful world of registered nursing.
Program Details
Programs: Associate in Nursing, LPN to RN
Phone:

(870) 762-1020
2000 W. University St.
,
Siloam Springs
,
AR
72761
Score: 94.34
A leading private Christian school, John Brown University offers a 4-year BSN program to prepare students for a challenging yet rewarding healthcare career. The curriculum consists of a minimum of 122 semester hours, including courses such as Concepts in Community Health and Wellness, Health Assessment and Therapeutic Interventions, and more. Summer clinical trip opportunities are also available, where students are able to travel to places like Guatemala and Malawi to practice patient care.
Program Details
Programs: BSN
Phone:

(479) 524-9500
100 E University St
,
Magnolia
,
AR
71753
Score: 93.93
Magnolia's Southern Arkansas University offers a BSN program designed to prepare generalist RNs. The school's full-time curriculum requires 120 total credit hours, with cohorts starting in the Fall and Spring. With a high first-time NCLEX-RN pass rate and high employment rates for recent graduates, it's easy to see why SAU is a top pick for ambitious nursing students.
Program Details
Programs: BSN
Phone:

(870) 235-4000
1000 Campus Rd
,
Helena
,
AR
72342
Score: 93.88
Phillips Community College's ADN program measures student achievement by focusing on learning outcomes such as patient-centered care, clinical judgment, quality improvement, collaboration and teamwork, information management, and more. They also offer an ADN advanced placement track for LPNs and LPTNs.
Program Details
Programs: Associate in Nursing
Phone:

(870) 338-6474
606 N. Razorback Rd
,
Fayetteville
,
AR
72701
Score: 92.63
Students at the Eleanor Mann School of Nursing experience a premiere education from a first-class institution. University of Arkansas - Fayetteville is home to a number of excellent BSN options, including a traditional BSN as well as pathways for RNs and LPNs to earn a world-class BSN degree. The school aims to train nurses for a lifetime of skilled and compassionate patient care.
Program Details
Programs: BSN, LPN to BSN
Phone:

(479) 575-2000
1100 Henderson Street
,
Arkadelphia
,
AR
71999
Score: 92.62
Henderson State University, located in Arkadelphia, Arkansas, is home to an acclaimed BSN program with a flexible fit for new, transfer, and returning nurses. Mentorships and rigorous clinical training greatly assist nursing graduates in their new profession.
Program Details
Programs: BSN, LPN to BSN
Phone:

(870) 230-5000
4301 W Markham St
,
Little Rock
,
AR
72205
Score: 92.01
Home to an acclaimed BSN degree program, the University of Arkansas for Medical Sciences engages nursing students in a rigorous core schedule and excellent clinical opportunities, weaving clinical practice and nursing theory into the curriculum. The college is now also offering a BSN honors program for incoming Juniors with outstanding academic records.
Program Details
Programs: BSN
Phone:

(501) 686-7000
1 College Dr
,
Bentonville
,
AR
72712
Score: 91.28
Located in one of the fastest growing regions in the country, Bentonville is home to the NorthWest Arkansas Community College campus, an eminent choice of schools for those who want to pursue a nursing career. The school offers a popular ADN degree program that arms students with a broad knowledge base in nursing, perfect for those looking to enter the ranks of the registered nurse.
Program Details
Programs: Associate in Nursing, LPN to RN
Phone:

(479) 636-9222
1515 Pioneer Dr
,
Harrison
,
AR
72601
Score: 91.25
The city of Harrison, Arkansas is home to North Arkansas College. Convenient for local students, the college's department of nursing guides pre-service nurses toward excellent, evidence-based care through its ADN degree program. The full-time curriculum prepares students to utilize communication, clinical reasoning, professional behavior, and lifelong learning to provide excellent nursing care to patients of all ages.
Program Details
Programs: Associate in Nursing, LPN to RN
Phone:

(870) 743-3000
ADN Programs in Arkansas
Arkansas' college nursing program is a great place for high school graduates to begin their careers in the nursing profession. Successful graduates will be able to take the NCLEX exam, which allows them to license to practice as a registered nurse throughout their home state and in other states through the process of endorsement. Arkansas has more than 15 colleges, universities and college networks like ARNEC established to create quality RNs through Associate's Degree in Nursing (ADN) programming.
What to Look For in an ADN Program in Arkansas
Nursing programs use a variety of evidence-based methods and standards of professional practice to ensure that students are educated in accordance with best practices in nursing and graduate with the skills that they require to be the first point of contact as a nursing professional. Potential students may consider a number of factors to ensure that they receive a high-quality education, including:
Accreditation
Each institution is responsible for maintaining program requirements and standards of practice that ensure that nursing education remains at the high level that U.S. citizens have come to expect inpatient care. The Accreditation Commission For Education in Nursing (ACEN) ensures that programs meet state, national, and world standards in nursing education.
Licensing
The Arkansas State Board of Nursing was established in 1913 at the state level to ensure that the state had an evidence-based and continuing interest in citizen health and well-being. For over 100 years, the board has helped nurses, patients, and institutions in various ways. The board provides nursing guidelines and then enforces them at the regulatory level and the practical level.
Program Outcomes
ADN program outcomes are a good benchmark to measure one school against another or to measure how a college improves over time. There are several outcome benchmarks that are worthy of consideration when applicants are selecting schools to apply to. Among them:
Graduation statistics
Employment statistics
NCLEX data
Long-term salary information
Student and graduate satisfaction survey data
East Arkansas Community College offers an Associate of Applied Science Nursing Program. Located in Forest City, the college improves its success criteria year over year and contributes to the strong network of nurses in the region.
ADN Program Admission Requirements in Arkansas
College programs are ethically committed to endorsing the right mix of entrance criteria to ensure they have a successful cohort of graduates that meet the regulatory and licensing requirements. Each institution is unique; however, they do share some admission requirements:
All application documents and forms completed and submitted ahead of college deadline
Be admitted to the college in question
Successfully pass a state and national criminal background check
Successfully pass a drug screening
Have an overall GPA of 2.5 – 3.2, depending on yearly program requirements and demand
Successfully passed math and language prerequisite courses
Successfully complete the Nursing School Aptitude Examination with a minimum combined score of 40
Submit a Nursing Application to the Nursing Department
Submit all official transcripts
Complete any pre-work required for entrance to the program
Tuition and Costs of ADN Programs in Arkansas
Determining the appropriate tuition costs on a yearly basis is a complex equation. Deciding how much value each school provides for tuition is another matter entirely, and determining this equation is a matter of personal preferences and goals. Some schools break down tuition costs separately from other attendance costs and fees; others provide a per-credit-hour cost. North Arkansas College currently has per-credit-hour tuition and associated costs that range from $85 – $115 for in-county students who are taking pursuing a nursing diploma.
Advantages of ADN Programs
There are a number of advantages to pursuing an ADN program as the first step in your nursing career. Whether to attend an ADN program or pursue RN qualifications through a 4-year degree is a hotly contended issue across the country. When polled, ADN grads report that convenience is a major factor in why they choose to complete the first leg of their professional pathway at a community college. With local locations and courses offered during the daytime and evening, ADN programs allow students to work around the other commitments in their lives while receiving a high-quality education.
LPN to RN Programs in Arkansas
Licensed Practical Nurses (LPNs) in Arkansas looking to continue their training to enter registered nursing can do so via an LPN to RN bridge program. These programs build on the knowledge and skills already acquired through the nurse's LPN education and experience.
LPN to ADN/BSN Programs
LPNs in Arkansas can choose between earning their ADN degree through an LPN to ADN program, or they can opt to earn a baccalaureate degree in nursing through the LPN to BSN pathway. For example, those interested in the LPN to ADN may enroll in a program such as North Arkansas College's 63-credit option, which is designed to be completed in 3 semesters and includes courses in Anatomy & Physiology and Pharmacology. Those looking for an LPN to BSN program can expect to study for closer to 2 years depending on how many courses they are able to transfer. Arkansas State University offers an LPN to AASN that boasts limited class sizes.
BSN Programs in Arkansas
Across the nation, there is a movement to ensure that all nurses continue their education to complete the Bachelor's of Science in Nursing (BSN) degree program – either through online courses, continuing education, bridge programs, or as freshmen in a 4-year program option. While it mostly depends on the individual's path and goals, often as a person matures, they seek extra responsibilities – these are easier to attain on the job with a more advanced degree like a BSN. Nurses who are interested in moving beyond bedside care, or even having the flexibility to do so if they want to, means that a BSN is worth the time and financial commitment.
What To Look For in a BSN Program in Arkansas
BSN programs are offered in more than 10 state universities throughout Arkansas. With programs ranging from 2.5 to 4 years, depending on prerequisites and course/clinical load, there are a number of factors that potential students should look for when choosing a BSN program. To find the school that is the best fit for you, it's important to look beyond cost to factors such as what class sizing looks like between freshman and senior year, and also while you're on clinical rotation. There is no substitute for smaller class sizing – smaller classes mean greater individual attention from professors and proctors, and results in higher rates of learning.
The University of Central Arkansas has offered exemplary nursing programming to meet the needs of patients, clinics, and doctors since 1967. With several specialty tracks and a number of flexible timelines, the program is accredited by the Commission on College Nursing Education and has maintained continuous approval by the Arkansas Board of Nursing. The program's core mandate is to provide a dedicated, renowned nursing faculty, and strive for continual gains in mentor partnerships, student metrics, scholarly acclaim and service to the immediate and statewide communities that they serve as an institution and as licensed nurses."
BSN Program Length in Arkansas
BSN programs are about 4 years long, however, depending on the flexibility of the institution and program in question, programs may be shortened or tailored to individual student needs. Often, students who are upgrading from ADN qualifications to a BSN degree can take advantage of the school's RN-to-BSN track if the school has one available. Bridge programs like the one described here generally take about half as much time as a traditional format program, or about 2 years.
BSN Program Admission Requirements in Arkansas
Admission requirements for admission do vary throughout the state's more than 10 BSN programs depending on the demand for nurses; however, no program's requirements are so unique that they cannot be generally discussed as below. Please consult your school of choice to see how specific program admissions may vary:
Create an online account
Request that official copies of all transcripts be sent to your school choices
Request ACT and/or SAT test scores be sent to your school choices
Pay all applicable admission fees
Meet the university's admission standards
Meet the nursing program's admission standards (minimum
Minimum 2.75 cumulative high school GPA and minimum 21 ACT composite/1450 SAT combined scores
Tuition and Costs of BSN Programs in Arkansas
BSN tuition costs are subject to different pressures each year – understanding this concept helps attendees understand why tuition and associated costs can vary so greatly. BSN programs themselves are roughly 4 times the amount of a college ADN program. At Harding University, tuition and on-campus fees are approximately $9,200 per semester – costs for clinical items and equipment are not included in these totals.
Advantages of BSN Programs
There are several distinct advantages to pursuing a BSN, either as a freshman or returning student using an institution's RN-to-BSN pathway. Throughout the United States, state boards of nursing are raising the bar to ensure that nursing degrees at the BSN level help nurses attain the right amount of skills and knowledge for care and due diligence in today's bourgeoning health care field.
MSN Programs in Arkansas
As the health care field continues to expand in terms of medical advances as well as what we know about the human body and disease, it's important that nurses continue to develop their skillsets to meet the needs of the profession today. To this end, there is a growing need for nurses to achieve their Master of Science in Nursing (MSN) and several pathways have been created for nurses to pursue this track at various times in their career. The University of Arkansas is one such program that allows students pursuing a post-baccalaureate degree in nursing to specialize in one of several concentrations in order to be of best use to patient populations. Graduate students may pursue such tracks as Nurse Educator and Nurse Executive Leader, depending on their interest in practice versus policy.
MSN Program Length in Arkansas
The path to achieving your MSN degree can last about 3 years depending on your choice of school and prior nursing qualifications. Online and part-time MSN degree programs can provide some flexibility to working nurses with professional and personal commitments.
MSN Admission Requirements in Arkansas
Nurses who successfully pass the BSN coursework may be eligible to continue on to the graduate level, depending on their interests and experience. MSN requirements do vary between universities and entrance admissions are often quite competitive as classroom ratios are small. Most universities have the following or similar criteria for students who wish to apply:
BSN diploma from an NLNAC- or CCNE-accredited program with a grade of 'C' or better in all courses
Have successfully passed the NCLEX and licensed to practice as an RN in Arkansas
Have completed some continuing professional development as part of their ongoing licensure requirements
Record of all official transcripts submitted to the MSN Admissions office in question
Professional endorsements addressed to the Admissions departments in question
Tuition and Costs of MSN Programs in Arkansas
Given the quality of instruction in each MSN program, tuition fees and costs for these professional degrees are notably higher than for undergraduate and college-level courses. Ranging in length from 2 – 4 years of study depending on course load, courses are approximately $800 per credit hour for in-state residents and do not include campus housing or additional student costs. Depending on the institution in question, there may or may not be graduate fees that are rolled into the per-credit-hour costs.
For NP programs visit:
Getting an Arkansas Nursing License
Arkansas regulations for nursing licensure are as follows for candidates by application and those from another state by endorsement:
Along with a completed application, and successful completion of a board approved nursing program the applicant must have ready:
Criminal background documentation, including fingerprints
Verification of graduation from a nurse from the nursing school attended
Valid U.S. Social Security Number
Passing score on the NCLEX-RN
Valid physical/mailing and email addresses
Official transcripts
Nurses from other states may apply for endorsement to practice in Arkansas. They should be prepared to submit the following information:
License verification from NURSYS
Fingerprint documentation
Proof of citizenship or immigration status
Valid U.S. Social Security Number
Valid physical/mailing and email addresses
Accelerated Nursing Programs in Arkansas
Once you have made the decision to become a nurse you might consider looking at an accelerated program. Taking an accelerated BSN program at one of the state colleges can have you earning your degree at a faster rate. Most courses can be completed in 13 months, but are a full-time on campus commitment. These courses have varying prerequisites that need to be meet before being accepted into the accelerated program. The cost for these programs is dependent upon having to take any prerequisite courses, although the estimated program cost for just the accelerated BSN portion is over $10,000 though exact costs depend on a variety of factors.
Latest Arkansas NCLEX-RN Pass Rates and Statistics
Total Number of State Approved Schools: 30
Total Number of Test Takers in 2021: 2,055
2021 Average Statewide Arkansas NCLEX-RN Pass Rate: 82.0%
Continued List of All RN Programs in Arkansas
Here is a continued list of all RN Programs a continued list of all RN Programs a continued list of all RN Programs a continued list of all RN Programs a continued list of all RN Programs a continued list of all RN Programs.
Ranked
School
Program
Score
Website
11.
National Park College

Hot Springs National Park

,

AR

71913

| Phone:

(501) 760-4222

Programs:

Associate in Nursing, LPN to RN

91.23
np.edu
12.
Arkansas Tech University

Russellville

,

AR

72801

| Phone:

(479) 968-0237

Programs:

BSN, LPN to BSN

87.14
atu.edu
13.
Arkansas State University

Jonesboro

,

AR

72467

| Phone:

(870) 972-2100

Programs:

Associate in Nursing, BSN, MSN, LPN to BSN

86.51
astate.edu
14.
University of Arkansas at Monticello

Monticello

,

AR

71656

| Phone:

(870) 460-1026

Programs:

Associate in Nursing, BSN, LPN to RN, LPN to BSN

85.29
uamont.edu
15.
University of Arkansas - Fort Smith

Fort Smith

,

AR

72904

| Phone:

(479) 788-7000

85.14
health.uafs.edu
16.
Arkansas Rural Nursing Education Consortium (ARNEC)

Nashville

,

AR

71852

| Phone:

(870) 845-2454

Programs:

Associate in Nursing

84.39
arnec.org
17.
University of Arkansas at Little Rock

Little Rock

,

AR

72204

| Phone:

(501) 569-3000

Programs:

Associate in Nursing, BSN, LPN to RN

82.86
ualr.edu
18.
Arkansas State University - Mountain Home

Mountain Home

,

AR

72653

| Phone:

(870) 508-6114

82.09
asumh.edu
19.
College of the Ouachitas

Malvern

,

AR

72104

| Phone:

(501) 337-5000

Programs:

Associate in Nursing

77.06
coto.edu
20.
Baptist Health College Little Rock

Little Rock

,

AR

72210

| Phone:

(501) 202-6200

Programs:

Associate in Nursing, LPN to RN

71.25
bhclr.edu
21.
University of Arkansas Community College at Batesville

Batesville

,

AR

72501

| Phone:

(870) 612-2000

Programs:

Associate in Nursing, LPN to RN

71.14
uaccb.edu
22.
East Arkansas Community College

Forrest City

,

AR

72335

| Phone:

(870) 633-4480

Programs:

Associate in Nursing, LPN to RN

69.93
eacc.edu
23.
Arkansas State University - Newport

Newport

,

AR

72112

| Phone:

(870) 512-7800

Programs:

Associate in Nursing

67.32
asun.edu
24.
University of Arkansas at Pine Bluff

Pine Bluff

,

AR

71601

| Phone:

(870) 575-8000

35.15
uapb.edu
25.
University of Arkansas Community College at Morrilton

Morrilton

,

AR

72110

| Phone:

(501) 977-2000

Programs:

Associate in Nursing, LPN to RN

-
uaccm.edu
26.
Southern Arkansas University Technical - Camden

East Camden

,

AR

71701

| Phone:

(870) 574-4500

Programs:

Associate in Nursing

-
sautech.edu
27.
Southeast Arkansas College

Pine Bluff

,

AR

71603

| Phone:

(870) 543-5900

Programs:

Associate in Nursing, LPN to RN

-
seark.edu
28.
South Arkansas Community College

El Dorado

,

AR

71730

| Phone:

(870) 862-8131

-
southark.edu
29.
Black River Technical College - Pocahontas

Pocahontas

,

AR

72455

| Phone:

(870) 248-4000

Programs:

Associate in Nursing

-
blackrivertech.org
30.
Arkansas State University - Beebe

Beebe

,

AR

72012

| Phone:

(501) 882-8860

Programs:

Associate in Nursing

-
asub.edu
Are we missing your school's program or need to update information listed? Please contact us so we can make the necessary changes.