Best Nursing Schools in Indiana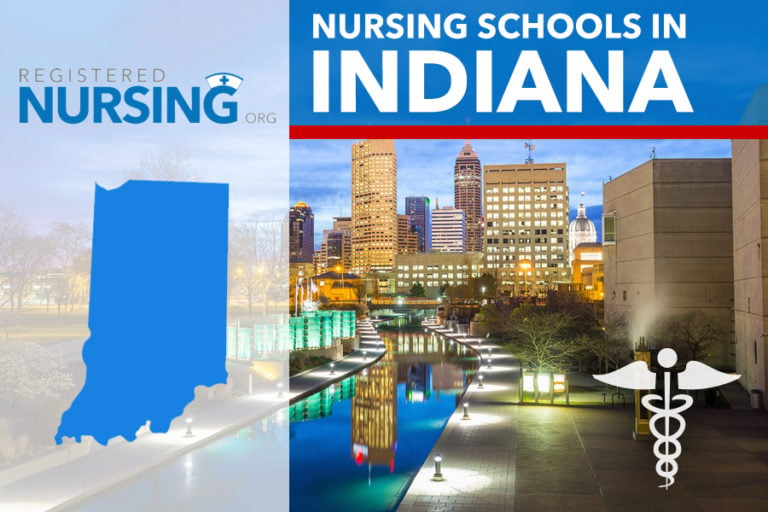 Indiana is strongly trending toward a higher level of care for their patients and is calling on the nursing industry to help with their plight. There is a need for nurses that possess a degree greater or equivalent to a Bachelor of Science in Nursing (BSN). The state predicts an estimated increase of 2,200 nursing jobs annually; these positions offer a higher salary to candidates that possess a BSN or greater degree. Indiana currently has approximately 49% of its nurses with a BSN, by being part of that movement the state will be well on its way to successfully reaching its goal.
For RN bridge programs visit:
Best RN Programs in Indiana
ADN Programs in Indiana
Becoming a nurse is an academic path that can be tough, and in recent years, there are more paths to that career goal than ever before. The ADN or Associate's Degree in Nursing is one such way for students to begin their post-secondary pathway without too much time or dollar investment. With a program length that is generally 2 years, and offerings at many vocational, technical or community colleges throughout the state, an ADN is an accessible and affordable option for students interested in RN licensure.
At present, more than 25 technical and community colleges offer the Associate's Degree in Nursing to dedicated students. With high NCLEX pass-rates, many students choose a two-year degree as their first stop in lifelong learning.
What to Look For in an ADN Program in Indiana
With all the offerings on a college campus, how do you make sure you pick the right ADN program for your learning? Colleges advertise success metrics, which makes it easier to do an apples-to-apples comparison on factors like accreditation, licensing and program outcomes. Read here for more information.
Accreditation
There is all manner of rankings that compare aspects of one college to another; however, 'accreditation' means that there is a standard of education in place. A degree from one institution means the same thing as a degree from another institution, giving both students and employers confidence. The North Central Association of Colleges and Schools (NCACS) accredits Indiana's colleges. Nursing programs are subject to both the overarching accreditation process as well as industry-specific accreditation via the Accreditation Commission for Education in Nursing (ACEN) or the American Association of Colleges of Nursing (CCNE).
Licensing
The ADN program that you decide upon should definitely enable you to sit the state's NCLEX-RN exam for licensure once you have your diploma. With a passing grade on your licensure testing, you'll be eligible to pay applicable annual fees and receive your RN license. In order to make a transparent process from start to end, the state Board of Nursing ensures that nursing programs have the necessary components and practice to makes sure licensure is achievable for diligent students. Statistics report that over 80% of students at the college level received satisfactory grades on the RN exam.
Program Outcomes
How do you determine which of your school choices are going to take your academics seriously? It's best, in this case, to compare data between schools to see what the outcomes of the program were like from year to year. This type of info is widely available and can greatly help you decide which school is right for you. Check up on:
What kinds of students enter the program (mature vs recent graduates)
Student enrolment numbers
Post-diploma hiring data
The number of enrolments compared to graduates
ADN Program Admission Requirements in Indiana
Admission requirements are subject to the area, state, and federal forecasts for industry shortages, as well as faculty and facility needs. That being said, there are a number of similarities for ADN programs throughout the state. Below is a sample of what you'll probably find when you apply:
Official high school transcript and college transcript if applicable
Complete the online application and submit processing fees
Submit evidence of up-to-date vaccinations
Complete the background and safety check prior to registration
Complete all prerequisite credits
Be a student 'in good standing' in the overall admissions process
Tuition and Costs of ADN Programs in Indiana
College tuition for public institutions throughout the state are basically on par with one another – it's in the best interest of the state to offer an affordable, accessible pathway to students who will become part of an educated and technically savvy workforce. While there is some variance across the state, the cost of tuition at a sample school has been outlined for you.
Bethel University, for example, charges just under $16,000 per semester in tuition for full-time students. Nursing students have additional fees to pay for lab classes, testing, insurance for malpractice, uniforms, and other expenses.
Advantages of ADN Programs
ADN graduates are a sound economic addition to their communities in both rural and urban America. The programs' accessibility ensures that education toward nursing licensure is achievable for all, and ADN grads are a significant pathway to overcoming shortages in healthcare.
LPN to RN Programs in Indiana
Indiana Licensed Practical Nurses (LPNs) who are interested in furthering their education have the option of enrolling in an LPN to RN program. These programs prepare practical nurses to earn a registered nursing degree and to take and pass the NCLEX-RN examination.
LPN to ADN/BSN Programs
The most basic pathway to registered nursing is via the LPN to ADN program. Students who choose this route are awarded an associate's degree in nursing after a few semesters of transitional coursework. Ancilla College offers an LPN to RN that culminates in an ADN degree and can be completed in 2 semesters. For those looking for a bachelor's degree, the LPN to BSN pathway is an excellent choice. Indiana State University offers an LPN to BSN program that has both part-time and full-time attendance options and is completed online with local clinical experiences.
Most LPN to RN programs in Indiana will require the following for admission:
Hold a current, unencumbered Indiana LPN license
Submit all college transcripts
Complete a criminal background check
Must have completed any prerequisite courses with a passing minimum grade
BSN Programs in Indiana
Interested in a more advanced nursing degree? Many high school and ADN graduates hit the lecture hall to earn their BSN or Bachelor of Science in Nursing. Usually consisting of 4 years of study, BSN degrees are becoming increasingly common. Class sizes can be large, and BSN degrees are undoubtedly more expensive, however, students find that they are a value-added option as a BSN increases mobility and career options once new nurses hit the floor. Just like ADN graduates, however, BSN students need to become licensed RNs through the countrywide NCLEX procedure.
What To Look For in a BSN Program in Indiana
BSN students are immersed in an atmosphere of technical skills and compassion for patients that help them form ethical decision-making on the job. Graduates strive for high-quality collaborative environments and try to advance public health policy for everyone.
Purdue University is home to a renowned BSN program. Proud to shape the largest demographic of healthcare workers in the country, Purdue faculty empowers nurses to be leaders in health management and communication. BSN graduates work from neonatal intensive care to gerontology throughout the world, in hospitals, clinics, and communities.
BSN Program Length in Indiana
BSN programs average about 4 years in length, depending on the number of credit hours that a student might engage in from semester to semester. The course load is designed to provide an intensive yet balanced approach to nurse education, with time allotted for courses, coursework, clinical, reflection and personal time. Accelerated programs, summer sessions, and bridge programs for returning students can shorten BSN length.
BSN Program Admission Requirements in Indiana
Each school balances its admissions process from year to year to keep in line with program demand, labor forecasts, and faculty decision-making. That means that each institution varies slightly in how they select the ideal candidate for the program. The most common criteria are listed below to help you prepare:
The competitiveness of your transcript and personal profile is important
Be in good standing with the university
Early application is not required but can be helpful
Pass abilities testing and ensure immunizations are up to date
Pass drug testing, background check
Tuition and Costs of BSN Programs in Indiana
University education is often the first investment of capital in a student's future and the expense can be daunting. Luckily, jobs in nursing are on the rise. Virtually all universities publish their tuition and living rates annually to help students plan how to meet their financial commitments for education every year. Students at the University of Saint Francis in Fort Wayne can expect to pay just under $33,000 per year in tuition; books, materials, room, and board, as well as fees, aren't included in this price. All students should apply for financial aid on an ongoing basis to help meet their academic and financial goals.
Advantages of BSN Programs
BSN program 'pros' outweigh the 'cons' when it comes to the quality and length of the program. Offered in more urban environments, students are exposed to a range of diversity and care practices that they might otherwise miss. Class sizes can be large in the first year, but faculty quality and outreach shape student ethics and values from the outset of their education. Many universities are connected with major hospital systems, which results in a robust series of clinical placements.
MSN Programs in Indiana
Want to become a leader in mental health, pediatrics or oncology? Consider advancing your degree to pursue graduate-level studies and a Master's of Science in Nursing (MSN) diploma. MSN degree holders have better payment options and a lot of leadership responsibility in their organization or in the community. At the MSN degree level, you will also have options to teach nursing practice and theory to the next generation of RNs.
MSN Program Length in Indiana
Many courses are offered in a hybrid online/on-campus format that respects the commitments that established nurses often have to their professional and personal lives. Taken over a 1-2 year span of time, nurses will develop a plan for a specialty. On average, requirements to graduate are about 50 hours of classroom time, offset with several hundred hours of clinical placement.
MSN Admission Requirements in Indiana
Master of Science in Nursing programs are not as common as other degree types, require dedicated faculty and are very competitive to enter. The following requirements are generally expected from their applicants:
Evidence of a BSN from a regionally accredited institution
Apply to the appropriate track of coursework with your credentials
Have a state RN license in good standing
Have an undergraduate GPA minimum 3.2; check competitive marks to verify
Submit GRE scores of at least 400/150, and 4.0 on analytic writing
Have taken the pre-requisite courses within the last 5 years
Submit a resume and personal statement
Tuition and Costs of MSN Programs in Indiana
In an effort to promote the value of advanced practice nursing care, Indiana has some of the most comprehensive MSN fees. For example, the University of Southern Indiana has MSN fees that are approximately $450 per credit hour for the in-state students; however, there are additional fees for university services, parking, and administration.
For NP programs visit:
Getting an Indiana Nursing License
Indiana State nursing licensure requirements by examination or endorsement:
A completed application and subsequent paid fees, must also include the following documentation:
Original photograph - signature and seal from dean/administration of nursing program
Certificate of completion - with original signatures sent directly to the board from the institution
Copy of GED - if applicable
Criminal background check
Confirmation of paid fees and registration for NCLEX
By endorsement the candidate will have to include an application, as well as:
Original photograph with signature
List of licenses/certifications from other states
Verification of licenses/certifications
Official transcripts or NURSYS verification - must be sent directly to the board from the institution
Criminal background check
Accelerated Nursing Programs in Indiana
Accelerated BSN programs or bridged RN to MSN programs are offered across the state in more than a dozen different locations. These programs allow nurses to obtain their degrees at a faster pace, some in as little as 12 to 18 months. Although these programs are shorter in duration they are also quite intensive in delivery and require students to attend full-time, while maintaining clinical requirements. When looking at these programs and the overall cost, you should make note of any entrance requirements that might alter the tuition, and factor in housing costs if applicable. Prerequisites for each program vary a little and must be meet prior to entrance into the program.
Continued List of All RN Programs in Indiana
Here is a continued list of all RN Programs a continued list of all RN Programs a continued list of all RN Programs a continued list of all RN Programs a continued list of all RN Programs a continued list of all RN Programs.
Are we missing your school's program or need to update information listed? Please contact us so we can make the necessary changes.