2023 - Best Nursing Schools in Kansas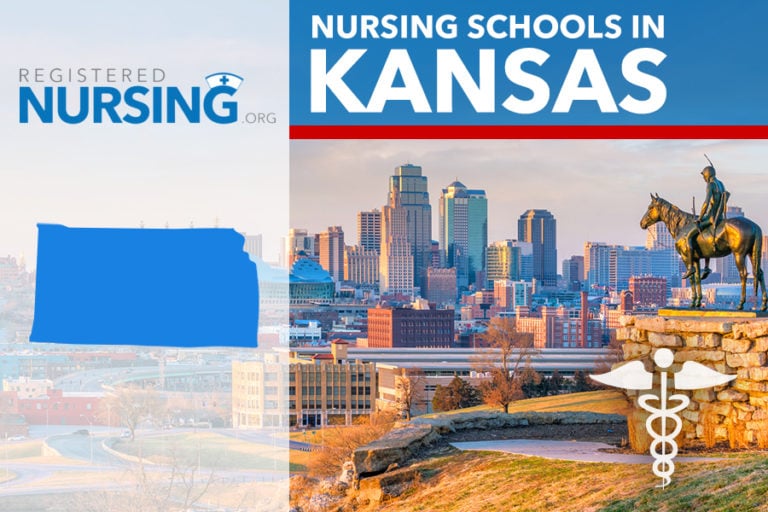 With the trend of nursing care moving toward a higher standard, Kansas is moving toward a model of promoting higher education. Nurses are being compensated on average 45% more in annual salaries if they attain a Bachelor of Science in Nursing (BSN) or a greater degree. Kansas is challenging its nursing industry to move toward that higher standard of care by promoting higher education. The state is seeing an influx of jobs over the next few years at an estimated rate of 18% and is committed to meeting their goal and empowering nurses to join in the challenge.
For RN bridge programs visit:
2023 Best RN Programs in Kansas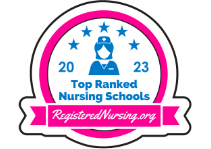 Selecting the best nursing school in Kansas can be difficult. To make the process easier first look for a school that supports students towards licensure and beyond. A great way to measure this is through NCLEX-RN "pass rates." We have ranked the top 10 nursing schools in Kansas by analyzing current and historical NCLEX-RN "pass rates", meaning the percentage of graduates who pass the exam, out of the 32 RN programs in the state. Programs reviewed include schools that offer an Associate in Nursing (ADN/ASN), BSN, or Direct-Entry MSN Degree.
For more information on our top nursing school rankings, see our Methodology Page (https://www.registerednursing.org/rn-ranking-methodology/).
1020 N 2nd St
,
Atchison
,
KS
66002
Score: 95.60
Benedictine College of Atchison offers a 4-year BSN program in the "2+2" format. This means that students will complete liberal arts, general ed, and prerequisite coursework in the first 2 years of the program, followed by core nursing classes in the junior and senior years.
Program Details
Programs: BSN
Phone:

(913) 367-5340
618 Eighth St
,
Baldwin City
,
KS
66006
Score: 95.05
Baker University is located in beautiful Baldwin City, and is home to an innovative BSN degree program in partnership with Stormont Vail Health. Through high-fidelity simulation labs and international service learning opportunities, Baker University offers students a robust educational experience. Baker grads are compassionate, dedicated, and confident in their advance of nursing science and practice.
Program Details
Programs: BSN
Phone:

(888) 866-4242
4100 S 4th St
,
Leavenworth
,
KS
66048
Score: 94.90
Leavenworth's University of St. Mary offers an exceptional 4-year traditional BSN program for interested students. Those enrolled receive a well-rounded nursing education over 125 total credits, with both classroom and clinical experiences. The University of St. Mary also offers generous scholarship opportunities of up to $15,000.
Program Details
Programs: BSN
Phone:

(800) 752-7043
2562 Centennial Rd
,
Salina
,
KS
67401
Score: 94.62
Salina Tech's associate degree in nursing program is designed as an LPN to RN program. Through a carefully designed curriculum of classroom learning, simulations, and clinical experiences, students will become prepared to care for patients with professionalism, confidence, and effective communication.
Program Details
Programs: Associate in Nursing
Phone:

(785) 309-3100
200 S 14th St
,
Parsons
,
KS
67357
Score: 92.99
Parsons is home to Labette Community College, which has offered a nursing program since 1968. Their ADN program is both ACEN-accredited and board-approved. It is a bi-level program, where both LPN and RN coursework is taken, and students can conclude at the completion of the LPN portion of the curriculum, or finish the entire ADN program. Upon graduating from the full program, students are eligible to sit for the NCLEX-RN examination.
Program Details
Programs: Associate in Nursing
Phone:

(620) 421-6700
12345 College Blvd
,
Overland Park
,
KS
66210
Score: 91.51
Johnson County Community College, located in Overland Park, Kansas is home to an excellent nursing program. Graduates are lauded for using effective collaboration with various members of the health care team in their work environment.
Program Details
Programs: Associate in Nursing, LPN to RN
Phone:

(913) 469-8500
1 Kellogg Circle
,
Emporia
,
KS
66801
Score: 90.47
Emporia State University offers a traditional BSN degree pathway for prospective registered nurses. The program boasts small class sizes and a curriculum that emphasizes clinical experiences through nearby healthcare sites as well as lab simulations. Most students enter the program at the sophomore level and complete three years of major-specific courses.
Program Details
Programs: BSN
Phone:

(620) 341-1200
3901 Rainbow Blvd
,
Kansas City
,
KS
66160
Score: 90.38
The University of Kansas Medical Center - School of Nursing lies at the heart of Kansas City, offering a BSN program for ambitious students. Upon the completion of the required 124 credit hours, which include 678 hours of clinicals and labs, program grads are well prepared to provide quality care to patients of all ages.
Program Details
Programs: BSN
Phone:

(913) 588-5000
600 Park St
,
Hays
,
KS
67601
Score: 89.65
At Fort Hays State University, students have the opportunity to learn from caring faculty and mentors who are focused on student success. This competitive major admits students to the Department of Nursing undergraduate program on a semi-annual basis.
Program Details
Programs: BSN
Phone:

(785) 628-4000
1701 S Broadway St
,
Pittsburg
,
KS
66762
Score: 89.56
Pittsburg State University's Irene Ransom Bradley School of Nursing offers a reputable pre-licensure BSN degree. With stellar faculty who are dedicated to their students, this program boasts an impressive 97% retention rate. Internship and research opportunities are also widely available to enrolled students.
Program Details
Programs: BSN
Phone:

(620) 231-7000
ADN Programs in Kansas
A decisive choice for many high school students, pursuing an ADN or Associate's Degree in Nursing is a great way to start a lucrative and rewarding career. Many ADN programs are 2 years in length, or less if students opt for an accelerated program. Search out ADN programs in the state's public and private colleges to begin your healthcare career path.
The state has over 20 ADN programs offered through community and technical colleges to ensure that nursing education is accessible to all who wish to pursue it.
What to Look For in an ADN Program in Kansas
With 20+ programs that offer the same ADN degree upon graduation, how is a student to know which school is the best fit for them? After the obvious questions of commuter or live-away, and public or private, students can consider some of the following metrics to ensure that they are making an evidence-based decision on where to spend their education dollars and their time.
Accreditation
While it seems like 'everyone' has an accreditation that meets state and federal standards, it is important for students to ensure that every school they consider has appropriate accreditation in place. While the opposing view is that accreditation is unnecessary, it serves a real purpose for students who can measure how much they're learning against other programs, and for employers who can evaluate candidates with the same degree. The Commission for Education in Nursing (ACEN) and the American Association of Colleges of Nursing's Commission on Collegiate Nursing Education (CCNE) are the two main accrediting bodies for nursing – your college choice's website should bear the logo of either.
Licensing
The Kansas Board of Nursing works with each program in order to ensure that students who graduate are ready to sit and pass the NCLEX examination according to course outcomes and faculty teaching ability. It is only with an NCLEX 'pass' that candidates can be called 'registered nurse' and thus be eligible to practice. Recent data shows that more than 88% of RNs passed the NCLEX on their first attempt.
Program Outcomes
Every year, colleges and universities collect data on students, programs and hiring information to compare against their college competitors and labor forecasts. With this data, colleges are able to attract and market to various student populations. Students can use this information to evaluate whether their program may be the right choice or not for their education. Consider the following outcomes and how you might fit in:
How many students graduate each year
How many students the program admits each year
NCLEX pass-rate information as compared to other schools and states
How many students found jobs in healthcare, post-licensure
Student satisfaction
Johnson County Community College, located in Overland Park is home to a rigorous ADN program that meets state and national accreditation and licensure standards.
ADN Program Admission Requirements in Kansas
Program requirements can vary between schools, but we've listed some of the more common criteria to let you know what you're up against:
Provide official transcripts from all secondary and college sources
Prerequisite courses must have a GPA of minimum of 2.5
Application and 'fees arranged' status as per college due dates
Original, self-authored personal statement
Letters of recommendation may be considered
Complete drug and background checks
Tuition and Costs of ADN Programs in Kansas
Tuition is considered separately from many of the other costs associated with it. Usually calculated per semester or per credit hour, tuition costs are much lower at the college level. Students may further control costs by living at home and applying to a public school that is in their home state.
Students at North Central Kansas Technical College – Hays campus can expect to pay about $4,600 each year in tuition for in-state residents. Material costs, which include insurance, uniforms, equipment, and books, are approximately $3,000 extra. Living costs are calculated separately.
Advantages of ADN Programs
ADN programs continue to be a popular choice of nursing students, many of whom go on to upgrade their education as time and finances allow. With a two-year timeline and the ability to take the same exam for licensure, many ADN students see good value in the length and cost of the program when compared with the BSN. Smaller class sizes and a variety of programs offered throughout the state are other benefits to the ADN.
LPN to RN Programs in Kansas
Kansas Licensed Practical Nurses (LPNs) are able to take advantage of specialty LPN to RN bridge programs in order to advance to registered nursing careers. These programs build upon the nurse's prior experience and can culminate in either an ADN degree or a BSN degree.
LPN to ADN/BSN Programs
Depending on the student's future goals, they may wish to pursue either the LPN to ADN or LPN to BSN program. LPN to ADN programs are ideal for those who want to enter the RN workforce quickly, as it is the shortest route to a registered nursing degree. Programs such as Metropolitan Community College's LPN to ADN offer allow students to complete their coursework in as little as one year. For those looking to earn a bachelor's degree in nursing, the LPN to BSN program is ideal. Washburn University's LPN to BSN program allows qualified LPNs to receive up to 18 hours of college credit towards the degree.
BSN Programs in Kansas
Bachelor of Science in Nursing (BSN) programs are offered at universities and satellite campuses throughout the state. Generally found in more urban environments, BSN programs are often double the length of their ADN counterparts. With large class sizes and many faculty, the programs are diverse, exposing students to a broad range of clinical experiences.
Kansas has more than 15 BSN programs offered throughout the state.
What To Look For in a BSN Program in Kansas
The best BSN programs are not confined to a particular state, rather, to a particular mission and mandate to educate nursing students by modeling empathy, respect for diversity, and a drive to treat and prevent health care problems in an empathetic and evidence-based fashion.
Newman University in Wichita has an excellent reputation as a private university that turns out first-rate nursing graduates. Newman students graduate with the skills and ethics needed to be an excellent generalist in the core areas of nursing while having the foundation of a solid education when and if they want to pursue their MSN. The program has both accreditations through the CCNE and licensure through the state board of nursing.
BSN Program Length in Kansas
Traditionally, baccalaureate programs in nursing are four years long, with summers off. This works out to about 120 credit hours in order to earn a BSN degree. In recent years, changes to our health care system have increased the demand for nurses – as such, there are now a number of accelerated programs and RN-BSN bridge programs that account for a student's prior experience and then 'make up the difference' in schooling.
BSN Program Admission Requirements in Kansas
Fully researching the entrance requirements for your school of choice will net you valuable information about how to proceed. While schools do vary in their criteria, here are some of the most common admission requirements for the BSN track:
Minimum 3.0 GPA
Proof of vaccinations, background check, and drug screening
Meet or exceed admission standards
ACT composite score of 21
Status is 'fees arranged' with the university
Compelling personal statement on an appropriate topic
Tuition and Costs of BSN Programs in Kansas
Costs between universities within the state can vary greatly and depend on a number of factors. It's important to get a full cost breakdown of all the expenses you will incur from year to year. These might include nursing supplies and uniforms, insurance, room and board, university fees and tuition. After careful evaluation of the costs, be sure to apply for all financial aid, and look into campus work opportunities.
For comparison points, the estimated tuition for one credit hour at Kansas State University is about $300. Room and board are about $7000 per semester.
Advantages of BSN Programs
There are a number of advantages to pursuing a BSN program. In addition to a diverse school and clinical environment, nursing faculty are often attracted to larger university campuses in order to continue their own professional growth. As well, those students who graduate with a BSN are well-positioned to take the next step in their career with ease, due to the value of their degree.
MSN Programs in Kansas
MSN or Masters of Science in Nursing degrees are reserved for those RNs who are looking to become specialists in a certain area of health care like gerontology or pediatrics. The graduate program is offered at a number of schools both online and on-campus and degrees are available full and part-time.
Kansas offers many options for students who are interested in pursuing an MSN degree on-campus. There are more than five schools across the state that offer programs at the graduate level.
MSN Program Length in Kansas
MSN programs vary in length from 1.5 intensive years of study and placement to as much as 5 years of part-time courses. At the graduate degree level, it is expected that many students will have personal and professional commitments aside from school.
MSN Admission Requirements in Kansas
There is a small but growing number of MSN programs in the state, as demand on our healthcare system continues to grow. Entry to the MSN stream is highly competitive. While institutions vary in accordance to their requirements for admission, there are some similarities between programs. Read on to see which criteria may apply to your MSN program:
Kansas RN license in good standing – able to practice in the state
Have a BSN from an accredited university in the region
Have a GPA that exceeds 3.0
Have completed undergraduate pre-requisite courses within the last 5 years
Attached a professional resume and personal statement as well as 3 letters of professional recommendation
Attend an interview with a faculty panel
Tuition and Costs of MSN Programs in Kansas
At the University of Kansas, graduate students can expect to pay about $500 per credit hour for the 40 or so credit hours in their course of study. On par with most other college and university programs, administration fees, lab and service fees, housing, food and equipment costs are calculated separately from the price of tuition.
For NP programs visit:
Getting a Kansas Nursing License
Kansas requirements for nursing licensure by either examination or endorsement should include:
Candidates need to complete, sign and date the application, include the fees, send additional documentation such as:
Criminal background check - fingerprint card, completed and signed
Official transcripts - showing completion of nursing program and degree obtained (must be sent from the school)
Registration for NCLEX examination
Application and affidavit to be signed and notarized
For licensure by endorsement include the above requirements and these additional pieces of documentation:
Request for verification of licensure from original state of issue - NURSYS request form (if applicable)
Accelerated Nursing Programs in Kansas
An intense 12 months of full-time studies and clinical hours can get you the career opportunities you are looking for upon becoming a nurse. Earning an accelerated BSN degree can put you at the top of the list when applying for job opportunities. Before beginning in the accelerated program you might be required to complete a few prerequisite courses, which can add a bit of time to the 12-month degree. These required courses will add to tuition costs, but they must be completed before entry into the program. Tuition costs vary from one program to another and can increase due to a variety of factors.
Latest Kansas NCLEX-RN Pass Rates and Statistics
Total Number of State Approved Schools: 32
2021 Average Statewide Kansas NCLEX-RN Pass Rate: 84.4%
Continued List of All RN Programs in Kansas
Here is a continued list of all RN Programs a continued list of all RN Programs a continued list of all RN Programs a continued list of all RN Programs a continued list of all RN Programs a continued list of all RN Programs.
Ranked
School
Program
Score
Website
11.
Kansas Wesleyan University

Salina

,

KS

67401

| Phone:

(785) 827-5541

89.50
kwu.edu
12.
Barton Community College

Great Bend

,

KS

67530

| Phone:

(620) 792-2701

Programs:

Associate in Nursing

89.44
bartonccc.edu
13.
Mid America Nazarene University

Olathe

,

KS

66062

| Phone:

(913) 782-3750

88.34
mnu.edu
14.
Garden City Community College

Garden City

,

KS

67846

| Phone:

(620) 276-7611

Programs:

Associate in Nursing

87.75
gcccks.edu
15.
Dodge City Community College

Dodge City

,

KS

67801

| Phone:

(620) 225-1321

Programs:

Associate in Nursing

87.05
dc3.edu
16.
Washburn University

Topeka

,

KS

66621

| Phone:

(785) 670-1010

86.37
washburn.edu
17.
Wichita State University

Wichita

,

KS

67260

| Phone:

(316) 978-3456

85.58
webs.wichita.edu
18.
Bethel College

North Newton

,

KS

67117

| Phone:

(316) 283-2500

85.28
bethelks.edu
19.
Butler County Community College

El Dorado

,

KS

67042

| Phone:

(316) 322-3140

Programs:

Associate in Nursing, LPN to RN

85.02
catalog.butlercc.edu
20.
Hutchinson Community College

Hutchinson

,

KS

67501

| Phone:

(620) 665-3500

Programs:

Associate in Nursing

84.80
hutchcc.edu
21.
Coffeyville Community College

Coffeyville

,

KS

67337

| Phone:

(620) 251-7700

Programs:

Associate in Nursing

83.93
coffeyville.edu
22.
North Central Kansas Technical College

Hays

,

KS

67601

| Phone:

(785) 625-2437

Programs:

Associate in Nursing

83.44
ncktc.edu
23.
Cloud County Community College

Concordia

,

KS

66901

| Phone:

(800) 729-5101

Programs:

Associate in Nursing

82.07
cloud.edu
24.
Kansas City Kansas Community College

Kansas City

,

KS

66112

| Phone:

(913) 334-1100

Programs:

Associate in Nursing

80.00
kckcc.edu
25.
Colby Community College

Colby

,

KS

67701

| Phone:

(785) 462-3984

Programs:

Associate in Nursing

79.70
colbycc.edu
26.
Newman University

Wichita

,

KS

67213

| Phone:

(316) 942-4291

79.42
newmanu.edu
27.
Neosho County Community College

Chanute

,

KS

66720

| Phone:

(620) 431-2820

Programs:

Associate in Nursing

79.11
neosho.edu
28.
Fort Scott Community College

Fort Scott

,

KS

66701

| Phone:

(620) 223-2700

Programs:

Associate in Nursing

73.69
fortscott.edu
29.
Seward County Community College

Liberal

,

KS

67901

| Phone:

(620) 624-1951

Programs:

Associate in Nursing

72.96
sccc.edu
30.
Rasmussen College

Overland Park

,

KS

66210

| Phone:

(913) 491-7870

Programs:

Associate in Nursing

-
rasmussen.edu
31.
Hesston College

Hesston

,

KS

67062

| Phone:

(620) 327-4221

-
hesston.edu
32.
Donnelly College

Kansas

,

KS

66102

| Phone:

(913) 621-8700

Programs:

Associate in Nursing

-
donnelly.edu
Are we missing your school's program or need to update information listed? Please contact us so we can make the necessary changes.