2023 - Best Nursing Schools in Tennessee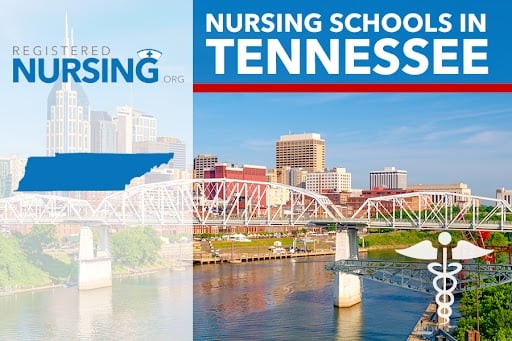 The Tennessee healthcare system is evolving to one of great complexity. Registered nursing is a highly sought-after career field, and the state is looking to hire an estimated 1,800 new nurses per year for the next five years. With the Bureau of Labor Statistics reporting the annual mean salary for a registered nurse in Tennessee at $66,680, it is a worthwhile endeavor to earn your nursing degree through one of the state's many programs.
For RN bridge programs visit:
2023 Best RN Programs in Tennessee
ADN Programs in Tennessee
A great place to start if you are looking into a career as a registered nurse is an Associate's Degree in Nursing (ADN). This program is relatively short at just 2 years in length, and widely available at many junior and technical colleges throughout the state. Once you go through the ADN program you will have the opportunity to take your licensure exam to become a registered nurse.
There are over 15 schools in Tennessee that offer ADN programs, making it easy to find one in a location near you.
What to Look For in an ADN Program in Tennessee
There's a lot to consider when looking for a good ADN program. Here are a few things to remember when comparing schools and programs:
Accreditation
Schools that offer legitimate programs are usually accredited, meaning that they follow certain rigorous standards of excellence. You'll want to look for accreditations from national organizations like the Accreditation Commission for Education in Nursing (ACEN) and/or the American Association of Colleges of Nursing's Commission on Collegiate Nursing Education (CCNE). You'll also want to be sure the program is fully vetted by the Tennessee Board of Nursing.
Licensing
The ADN program you choose should prepare you to take the National Council Licensure Examination for licensure as a Registered Nurse (NCLEX). Once you pass this exam, you'll be able to receive your RN license in the state of Tennessee.
Program Outcomes
A great way to ensure that your potential school's program is up to par is by taking a look at its outcomes. The following are all good indications of the school's reputation:
Graduation rate
Licensure exam pass rate
Graduate satisfaction
Employment rate
As an example, Walters State Community College in Morristown, TN, is one of the many schools in the state with an accredited ADN program.
ADN Program Admission Requirements in Tennessee
It's important to remember that each school may have slightly different admission requirements. Here are a few common ones:
Successfully complete all pre-requisite courses with a grade of C or better
Complete computer competency requirement
Score a minimum of 75% on both the reading and math portions of the HESI A-2 nursing pre-admission exam
Tuition and Costs of ADN Programs in Tennessee
Understanding how much an ADN program costs is crucial. Aside from the big expense of tuition, you'll also have to factor in things like textbooks, uniforms, and other additional fees. Some schools roll these extras into the cost of tuition and some don't, so it's always wise to check with any prospective school to see what's included.
To give you an idea of potential cost, Columbia State College in Columbia, TN, estimates their in-state ADN program tuition to be roughly $11,457. This does not include extra fees such as textbooks, achievement exams, NCLEX application fees, and more.
Advantages of ADN Programs
The great thing about obtaining an ADN degree is that it gets you into the healthcare workforce much faster than a traditional 4-year nursing program. Because of the shortened length, and the fact that it's offered at junior colleges, ADN programs also tend to be less expensive. It's a perfect choice for the budget-conscious student looking to start their nursing career as quickly as possible.
LPN to RN Programs in Tennessee
A popular alternative route to registered nursing, the Licensed Practical Nurse (LPN) to RN bridge program is an excellent option for current practical nurses in the state. These programs offer an accelerated curriculum, taking into account prior courses taken. Students can earn either an ADN or a BSN degree.
LPN to ADN/BSN Programs
The quickest option for practical nurses to earn their RN degree is via the LPN to ADN program. Often, this program pathway can be completed in just a year or less. For example, Motlow State Community College, with locations throughout Tennessee, offers a renowned LPN to ADN pathway.
For those wanting a more intensive RN program, LPN to BSN programs exist. These programs take a little longer to complete but culminate in the coveted bachelor's degree in nursing. East Tennessee State University offers an LPN to BSN pathway, which primes the nurse for immediate employment or for continuation into a graduate degree program.
LPN to RN programs in Tennessee usually require the following for admission:
Minimum cumulative GPA (usually 2.5 or higher)
Completion of all prerequisite courses
Graduate of an accredited LPN program
Current, active LPN license
BSN Programs in Tennessee
A little more schooling can earn you a Bachelor's of Science in Nursing (BSN). This degree lasts the traditional 4 years and will open up many more opportunities for employment and earning potential. A lot of schools also offer a shorter RN to BSN program for those who already hold a nursing license.
Tennessee boasts over 25 schools that offer BSN programs all throughout the state.
What To Look For in a BSN Program in Tennessee
It's extremely important to do some research and compare BSN programs to find the right fit for you. Cost, program outcomes, location, and accreditation are just a few of the things you'll want to vet to be sure the program is a good one. The program type is also something to consider; accelerated BSN programs, as well as RN to BSN programs, may be available at some schools.
Lincoln Memorial University, located in Harrogate, TN, is a great example of a school offering a properly accredited BSN program in the state.
BSN Program Length in Tennessee
A direct BSN program will be 4 years in length. Depending on the school, shortened accelerated programs may be available. If you are already a nurse, an RN to BSN program can take roughly 1-2 years to complete. Be sure to inquire at prospective schools about what kind of BSN schedules and program options are available.
BSN Program Admission Requirements in Tennessee
While BSN program requirements vary, the following is a sampling of what you might come across when researching schools:
Satisfactory completion of general education and program course requirements
Academic transcripts from all postsecondary schools attended
Cumulative GPA of 2.75 or higher
Tuition and Costs of BSN Programs in Tennessee
The cost of earning your BSN has a few basic components. First, you'll need to pay for tuition, which is the main cost of attending a school with a BSN program. Then, depending on what your school's tuition includes, you'll need to pay for extras such as textbooks, lab fees, uniforms, and other miscellaneous items. The estimated cost of tuition for a BSN at Tennessee Wesleyan University, located in Athens, TN, is estimated at $28,100 – or $325 per credit hour.
Advantages of BSN Programs
BSN degrees are perfect for someone who has the time and ability to complete a traditional 4-year program. In return, earning your BSN will grant you the opportunity to earn a greater amount of money and obtain a wider array of jobs in the nursing field. For those who are already nurses, a BSN will allow them to advance further in their careers.
MSN Programs in Tennessee
A Master's of Science in Nursing degree (MSN) is ideal for RNs wanting to move into jobs including Clinical Nurse Specialist, Certified Nurse Midwife and Nurse Practitioner, among other advanced specialties. This graduate-level degree offers increased earning potential as well.
With a handful of MSN programs in the state, continuing your education in nursing is right at your fingertips.
MSN Program Length in Tennessee
MSN programs can vary, but most of them take roughly 2-3 years to complete. A lot of this depends on the type of schedule your program offers, as many schools design their MSN programs around the needs of busy working nurses. Online, night or part-time schedules may be available depending on the school.
MSN Admission Requirements in Tennessee
You'll want to inquire about MSN admission requirements with any prospective school as they can vary. The following is an example of some typical requirements:
BSN degree from an accredited program
Minimum 3.0 cumulative GPA
RN experience and licensure
GRE or MAT scores within the last 5 years
Tuition and Costs of MSN Programs in Tennessee
Careful consideration should be placed on comparing MSN program costs and fees, as they can vary widely depending on the school and the program. As an example, the estimated tuition and fees for an MSN at Middle Tennessee State University is approximately $601 per credit hour for in-state students. Additional fees may be required.
For NP programs visit:
Getting a Tennessee Nursing License
Tennessee has set out regulations for obtaining a nursing license that requires candidates to provide more documentation along with a paid application.
Applying for licensure by examination requires the corresponding application, fees and supporting documentation:
Declaration of citizenship form
Proof of Education - official transcripts sent to the Board or a copy of diploma
A signed affidavit from a notary public
Criminal Background Check
Registration for NCLEX - eventual passing score
Applying for licensure by endorsement requires the appropriate application, fees, the above documentation, and this additional information:
Verification of Licensure from originating state - either by request or NURSYS
Learn more about TN RN license information at the Tennessee Department of Health - Board of Nursing.
Accelerated Nursing Programs in Tennessee
If you could take 12 to 18 months out of your career and apply it to earn a higher degree what would you do? Twelve to 18 short months in one of the accelerated programs offered within the state could send your career on the fast track for opportunities and advancement. Employers are seeing the same benefits and are offering incentives to nurses that are looking to attend bridging programs, these programs are generally offered while the candidate is still working; accelerated programs require a full-time commitment. Prerequisites vary depending on program and college, as do tuition costs, look closely at each program to ensure it meets your individual needs.
Latest Tennessee NCLEX-RN Pass Rates and Statistics
Total Number of State Approved Schools: 47
Total Number of Test Takers in 2021: 4,070
2021 Average Statewide Tennessee NCLEX-RN Pass Rate: 87.9%
Continued List of All RN Programs in Tennessee
Here is a continued list of all RN Programs a continued list of all RN Programs a continued list of all RN Programs a continued list of all RN Programs a continued list of all RN Programs a continued list of all RN Programs.
Are we missing your school's program or need to update information listed? Please contact us so we can make the necessary changes.