Nursing Careers & Specialties for RN's
Nursing is not for everyone. It takes a very strong, intelligent, and compassionate person to take on the ills of the world with passion and purpose and work to maintain the health and well-being of the planet. No wonder we're exhausted at the end of the day! Donna Wilk Cardillo
One of the greatest aspect of nursing as a profession is the ability to work in many types of environments and in many different roles. It is a field which is constantly evolving.
Registered Nurses (RNs) can work bedside with the sickest patients or opt to care for those who are mostly well. They can work directly with patients or indirectly by collaborating with the interdisciplinary team or others involved in healthcare to help patients.
For every individual temperament and personality exists a nursing specialty. The pace of a working environment can be fast and full of adrenaline, or a slower pace with lots of time to spend bonding with patients and families, or somewhere in between. RNs can have a great amount of pressure to do everything perfectly and quickly with extremely high stakes or may work in an environment that is more relaxed with basically "well" patients who want to chit-chat while they wait for their physician's appointment. RNs can work with every age and population from very sick premature newborns to the elderly at the end of life from school children to adults who are undergoing elective plastic surgery. The options are nearly endless.
RNs have the option of working in hospitals, long-term care facilities, clinics, physician's offices, prisons, from home, as a traveling nurse in hospitals across the country, and in many other roles.
And, as the political healthcare environment continues to grow and evolve, RNs are finding that the options are growing quickly. The options for RNs are many and they just keep growing!
Where do RNs work?
Nurses work in many different areas of healthcare and the roles often vary within each environment. All of them basically can be differentiated by either direct or indirect patient care areas.
Direct Patient Care RN
The RN works "at bedside" in collaboration with the interdisciplinary team and his/her primary role is to work "hands-on" with a patient. This RN works "hand-on" with patients.
Indirect Patient Care RN
The RN works in collaboration with the Bedside Nurse and interdisciplinary team to support the care of patients. This RN may not be as "hands on" as a direct patient care RN.
RNs can work in a variety of healthcare settings, including:
Hospitals
Skilled Nursing Facilities
Outpatient Settings
Physician Offices
Clinics
Insurance Companies
Government
Community Health
Elementary or High Schools
Universities
Correctional Healthcare Facilities
How Much Money do RNs Make?
According to the US Bureau of Labor Statistics the 2015 median salary for a RN was $67,490. However, the 5 highest paying States in the US pay an average of $83,800 - $101,260.
Many factors affect the salary of a RN. These include location, experience, specialty, certifications and education.
Location
The State in which the RN lives will affect salary greatly. The top 5 highest paid States in May 2015 were California, Hawaii, Massachusetts, Alaska, and Oregon.
Median annual salary for each of the highest paid States in May 2015 was:
Experience
Experience in nursing is irreplaceable. Usually the most widely accepted experience for employers is as a direct patient care RN, or Bedside RN, at least at the beginning of the RNs career. It is essential the New Graduate RN get at least 1 year of Bedside experience. I'll caveat this statement by saying that there are always some exceptions! But, for the most part, this is true even for RNs who wish to work in indirect patient care roles. Therefore, finishing school and getting that first Bedside RN job as fast as possible is the best way to improve lifetime earning potential. And besides, working closely with patients in a Bedside RN capacity is why most nurses chose the profession!
Specialty
Specialties with the highest need and skill set tend to pay more and be in higher demand. It is not a coincidence that the US Bureau of Labor and Statistics ranked the highest paying RN healthcare environment as "General Medical and Surgical Hospital."
The top 5 highest paid places to work for RNs in 2015 were:
General Medical and Surgical Hospitals
Physician's Offices
Home Health Care
Skilled Nursing Facilities
Outpatient Care
Are Registered Nurses in Demand?
Employment is expected to grow by 16% from 2014 to 2024. This is well above the national average for all occupations of 7%. Driving factors for this include the aging population, changing political environments regarding insurance coverage, RNs reaching the retirement age, or RNs changing careers both within nursing or leaving the field.
Some specialties are only available to RNs with a Bachelor's of Science in Nursing (BSN)
Infection Control
Quality Control
Case Management
Healthcare Informatics
Assistant Nurse Manager
Charge Nurse
Nurse Educator
Clinical Development Specialist / Training & Development Specialist
Research available RN jobs.
Salary Comparison Tool
This tool will allow you to easily search and compare the average salaries of various careers in nursing for many cities and locations across the U.S. You can search by city and state. Salary data is provided through the BLS.
Select Career Type
Select State
Select City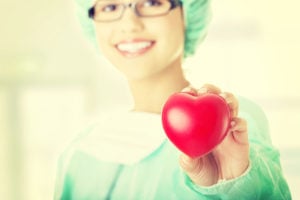 Cardiac Catheterization Lab nurses are highly qualified nurses who meet the challenges of their patient load and procedures in order to help save lives. They assist in specialized cardiac and vascular procedures like angiograms, stent placements, and heart monitoring, while informing patients and families of lifestyle, exercise and dietary changes that could prolong or improve patient outcomes. Most cath lab nurses work in hospitals and outpatient clinics and see regular patients as well as emergency cases.
Learn more about how to become a Cardiac Catheterization Laboratory Nurse >>>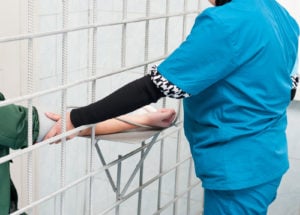 Correctional nurses are a highly valued part of the corrections team. A demanding role, corrections nurses are the front-line response for patient/offender healthcare needs. With extensive training that spans triage and medical/surgical, as well as a holistic approach to treating the patient - but within the firm boundaries of the penal system, the correctional nurse is concerned for patient health as well as the overall safety and security of themselves, their fellow corrections employees, inmates and the general community.
Learn more about how to become a Correctional Nurse >>>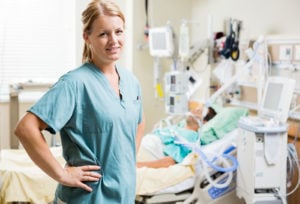 Intensive Care nurses, sometimes called 'Critical Care' nurses or simply ICU nurses are a highly specialized and trained subsection of the nursing profession. With a low patient to nurse ratio, the ICU nurse is responsible for the individual tasks and subtasks that are involved in caring for a patient in order to stabilize their condiiton. Frequently, intensive care nurses work with patients out of surgery, post-trauma, during complicated phases of disease, and those who are transitioning to end of life care measures. ICU nurses can choose to specialize by patient population or by affliction; common specializations include neo-natal ICU (NICU nurse), pediatric ICU (PICU nurse), surgical ICU or medical ICU to name but a few.
Learn more about how to become an ICU Nurse >>>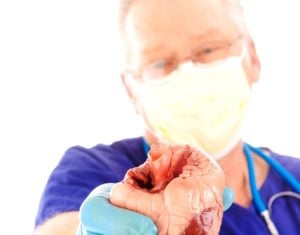 Organ procurement coordinators are registered nurses who oversee and assist in the process of organ transplant surgeries. They help prepare the deceased body for transplant, help to match a donor to a recipient, and coordinate with doctors and surgeons regarding transportation of the organ. Most coordinators are RNs who have a surgical background and complete the Certified Procurement Transplant Coordinator examination.
Learn more about how to become an Organ Procurement Coordinator >>>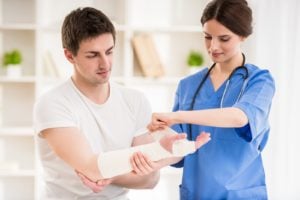 Orthopedic nurses deal with musculoskeletal issues including broken or fractured bones, arthritis, joint replacements, and more. They monitor patients before, during, and after orthopedic surgeries and assist in casting and wound dressing. Orthopedic nurses also help patients get on a pain management schedule and help administer pain medications. Most orthopedic nurses are RNs with a BSN who have passed the Orthopaedic Nurses Certification exam.
Learn more about how to become an Orthopedic Nurse >>>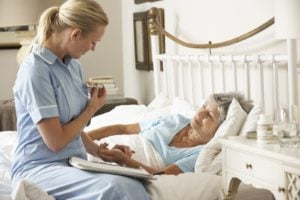 Palliative care nurses provide compassionate nursing care to patients with chronic or terminal illnesses. They help patients with pain and symptom management to ensure that they carry out their final days in comfort. These nurses work in hospitals, nursing homes, assisted living facilities, and private homes, or wherever a patient requires this type of care. They also often provide emotional support to the patient and their friends/family.
Learn more about how to become a Palliative Care Nurse >>>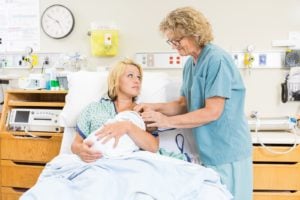 Postpartum nurses provide physical and emotional care for mothers and newborn babies following a delivery. They work in hospitals and birthing centers and often work alongside lactation consultants and labor and delivery nurses to ensure that a new mother recovers from the birth properly and is educated on caring for an infant. They also provide important pain management and postpartum monitoring for the new mother.
Learn more about how to become a Postpartum Nurse >>>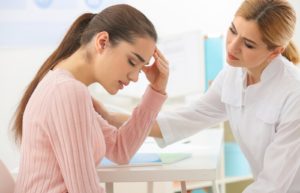 Psychiatric nurses care for patients who suffer from mental health illnesses as well as those struggling with addiction and substance abuse problems. They assess and monitor patients, work with an interdisciplinary team including psychiatrists and social workers, and help administer medications. Psychiatric nurses work in hospitals, medical offices, mental health facilities, schools, correctional facilities, and in community settings where mental healthcare is needed.
Learn more about how to become a Psychiatric Nurse >>>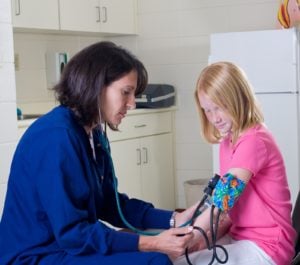 School nurses attend to the physical and mental health of children on a school campus. They treat and assess illnesses and injuries, and alert parents and emergency services when a health issue is severe. School nurses provide health education to students and work with teachers, parents, and administrators to promote health in the school system. They work in a variety of educational institutions and may travel between schools in a district.
Learn more about how to become a School Nurse >>>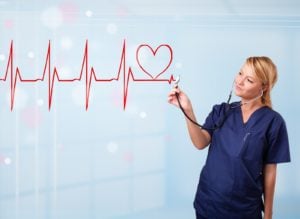 Telemetry nurses care for patients with heart problems who have moved out of the ICU. They specialize in monitoring the readings of electrocardiogram, or EKG, machines and alerting the doctor to any dangerous changes. They also monitor other vital signs including blood pressure and breathing patterns and may assist the doctor with diagnoses, treatments, or procedures. Telemetry nurses also educate patients on cardiac health and may recommend lifestyle or diet changes to promote a healthy heart.
Learn more about how to become a Telemetry Nurse >>>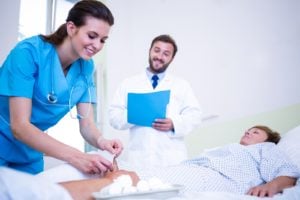 Wound care nurses treat patients with ostomies and serious wounds. This includes wound debridement, cleaning, and bandaging, amongst other things. Wound care nurses also help doctors assess whether further treatment such as antibiotics or surgery is necessary. This type of nurse also helps care for bedridden patients who have bedsores, people suffering from complications of diabetes, and may work in a hospital, nursing home, or other long-term care setting.
Learn more about how to become a Wound Care Nurse >>>