Do not limit yourself.  The opportunities for nurses are almost endless and many nurses gravitate between areas of practice.
As a nurse, an educator, an attorney, and the President of the Kansas State Board of Nursing, JoAnn Klaassen wears many hats. With an extensive background in the field and a second term on the Board, Klaassen uses her expertise to help shape policy and tackle other complex issues that face nurses in the state. Read on to find out more about her volunteer roles, her suggestions for those interested in nursing, and much more.
DISCLAIMER: The opinions expressed in this Q&A belong solely to JoAnn Klaassen and are not meant to represent those of the Kansas State Board of Nursing.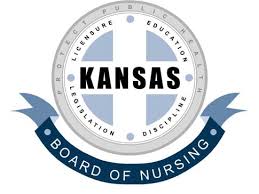 What is your career background? How did you end up in your position?
As a nurse I have largely focused my clinical work in psychiatric-mental health nursing and I have been a nurse educator in a number of settings for several decades, most recently as a Clinical Associate Professor at the University of Missouri-Kansas City teaching both undergraduate and graduate courses.  I managed an innovative educational program targeted to rural nurses and have conducted several international medical mission trips.  Research and publications have been in the areas of rural nursing and the use of innovative technology in nursing education.
As an attorney, I practiced with a plaintiff's firm on medical malpractice, personal injury, nursing home abuse, and products liability cases.  The legal cases involving nurses were particularly valuable for helping me to teach legal and ethical concepts to nursing students.
RELATED: How to Become a Nurse Attorney
I was recruited to serve on the Kansas Board of Nursing (BON) by a state department head who knew me.  I have been on the BON for six years and have two years remaining on my second (and final) four-year term.
Tell us about the Kansas Board of Nursing and what they do for nurses.
The Kansas BON is a remarkable agency that, like all state BONs, exists to protect the public by regulating nursing practice in the state.  The BON regulates through the Nurse Practice Act and related regulations which establish licensure and performance requirements for nurses and criteria for nursing education programs.
The BON is composed of a mix of volunteer advanced practice, RN and LPN nurses and public members who operate as an amazingly talented, hard-working and cohesive group.  We meet quarterly as a Board and as various committees.  During the legislative session we may call an additional meeting to address any critical legislative issues.  The Board of Nursing agency has its own Executive Administrator, a number of education specialists and investigators as well as IT personnel and support staff.  We are assigned two Assistant Attorney Generals to work with disciplinary cases.
The Kansas BON has an excellent reputation nationally for being responsive to Kansas nurses, assertively protecting the public, and being innovative in its use of technology applications.  For example, before the National Council of State Boards of Nursing set up NURSYS, the national licensure information system, Kansas already had a digital licensure processing system in place.  Kansas has one of the nation's fastest turn-around times for licensure processing and we regularly audit ourselves.  We are known for our financial accountability and integrity in dealing with the legislature and with other states.  We often partner with expert nurses to examine current issues and to develop guidance or policy.  Our nurses pay one of the lowest licensure fees in the nation.  Additionally, Kansas became the 30th state to join the Enhanced licensure compact in 2018.  We will "go live" in the compact in July, 2019.
What kind of tasks do you perform day-to-day?
Since the BON members are all voluntary, most of us have other full or part-time positions.  That means that most of our work is done in our quarterly meetings.  As the President, I often receive calls/emails about policy issues, significant financial concerns, personnel needs or legislative initiatives.
Since I also currently serve as the Investigative Committee Chair, I also spend part of every week responding to certain categories of investigative cases.  The Investigative Committee considers and processes most of the investigative cases in a one-to-two day meeting each quarter.
Other committees in the Kansas BON include the Education Committee, Continuing Education Committee, Financial Committee, Practice Committee and the Advanced Practice Committee.  Each of these committees is comprised of BON members and other expert nurses who address current issues and concerns.
Board staff work exceptionally hard making site visits to nursing education programs, processing licenses and responding to consumer and nurse concerns.  Our IT personnel are constantly updating our systems to better serve our nurses.
What are some issues or topics facing nurses today that need to be addressed?
There are so many topics and issues facing nurses today from nurse fatigue to the highly technical nature of nursing to the ever-changing regulatory environment for nurses.  For example, The American Academy of Nursing (AAN) is now recommending that all new RNs in acute care complete a mandatory nurse residency program.  While there are valid reasons to make this recommendation, it also adds a layer of complexity and cost to the services provided by health care agencies and an additional level of education for newly licensed RNs.  There may be regulatory implications as well.  While many urban hospitals already have residency programs, many other, often smaller, hospitals do not.
Other issues facing nurses today include violence in the workplace, the opioid crisis, scope of practice intrusion by paraprofessionals, and role delineation for advanced practice nurses.  Of note to many nurses is the increasing legalization of marijuana for both medical and recreational use.  The practice implications for nurses are many, including how to manage patients who use marijuana, understanding the effects and adverse actions of marijuana, and knowing state laws that impact nurses using marijuana.
Good nurses have developed an internal value system that exhibits compassion, integrity and service.
In your opinion, what makes a good nurse?
Good nurses have developed an internal value system that exhibits compassion, integrity and service.  Good nurses are wise enough to engage in life-long learning.  Good nurses recognize the complexity of the human condition and advocate to do what is right even when confronted with difficulty, ambiguity, and opposition.  Good nurses are dedicated to and collaborate to achieve excellent patient care.  Good nurses genuinely love and enjoy nursing.  Conversely, good nurses are not consumed by the job or profession.  They know that a career in nursing should be part of a life lived well, not be their entire life.
What can (or should) nursing students do in school to ensure success in the future workforce?
Nursing is a challenging profession requiring high levels of empiric knowledge, interpersonal wisdom, and clinical skill.  That means that nursing education must become a priority.
Use every available avenue to enhance scientifically-based knowledge.  Ask for help and information when needed.  Maximize opportunities to learn in a clinical setting and be prepared before showing up in clinical.  Mistakes are inevitable so use them to learn.  Be curious about the various nursing opportunities as nursing is a richly broad profession.  Find someone who is an excellent nurse to be a mentor.  Remember that, when you graduate, you have met the minimum requirement to enter the profession.  Your learning has just begun.
Any other advice you have for those interested in nursing as a profession?
Do not limit yourself.  The opportunities for nurses are almost endless and many nurses gravitate between areas of practice.  Thus, a nurse who starts out in acute medical-surgical nursing may end up in home health or administration.  Nursing is one of those professions that pairs well with other professional degrees.  There are many nurses with both business and nursing degrees or social work and nursing degrees.  Increasing numbers of large health care centers are using nurses with law degrees as risk managers.
RELATED: Nursing Careers & Specialties for RNs
Treat your nursing license with respect.  Nursing is consistently the most admired profession.  The public views nurses as caring, competent, honest professionals.  We want to keep it that way!
Additional Kansas Nursing School Information